As an avid collector of all things Michael Jordan since the early 1990s, I've experienced the waves of change on everything from his sneakers to his NBA jersey. I've tried to embrace it, but still feel hesitant at times—it always takes a minute to process new additions or tweaks before I make my judgment. Once you become a hardcore collector, you notice these things instinctively. Even though it comes off as nitpicking, I really just cherish how things were. I want to be able to represent my favorite athlete's gear as he wore it on court: Like Mike. That said, the Nike Chicago Bulls Jordan jersey teased recently doesn't do it for me.
When news broke about Nike becoming the official apparel outfitter for the NBA again, I was jumping for joy. Fast-forward to the Nike x NBA jersey unveiling, and I liked what I saw. The addition of the NFC tags seems promising, as do the moisture-wicking capabilities. Being able to unlock info about your favorite players through the jersey is something I look forward to, especially if it impacts sneaker releases.
These advances make sense for players currently in the league, but how should Nike embrace and reintroduce classics for greats like Jordan? Not like this.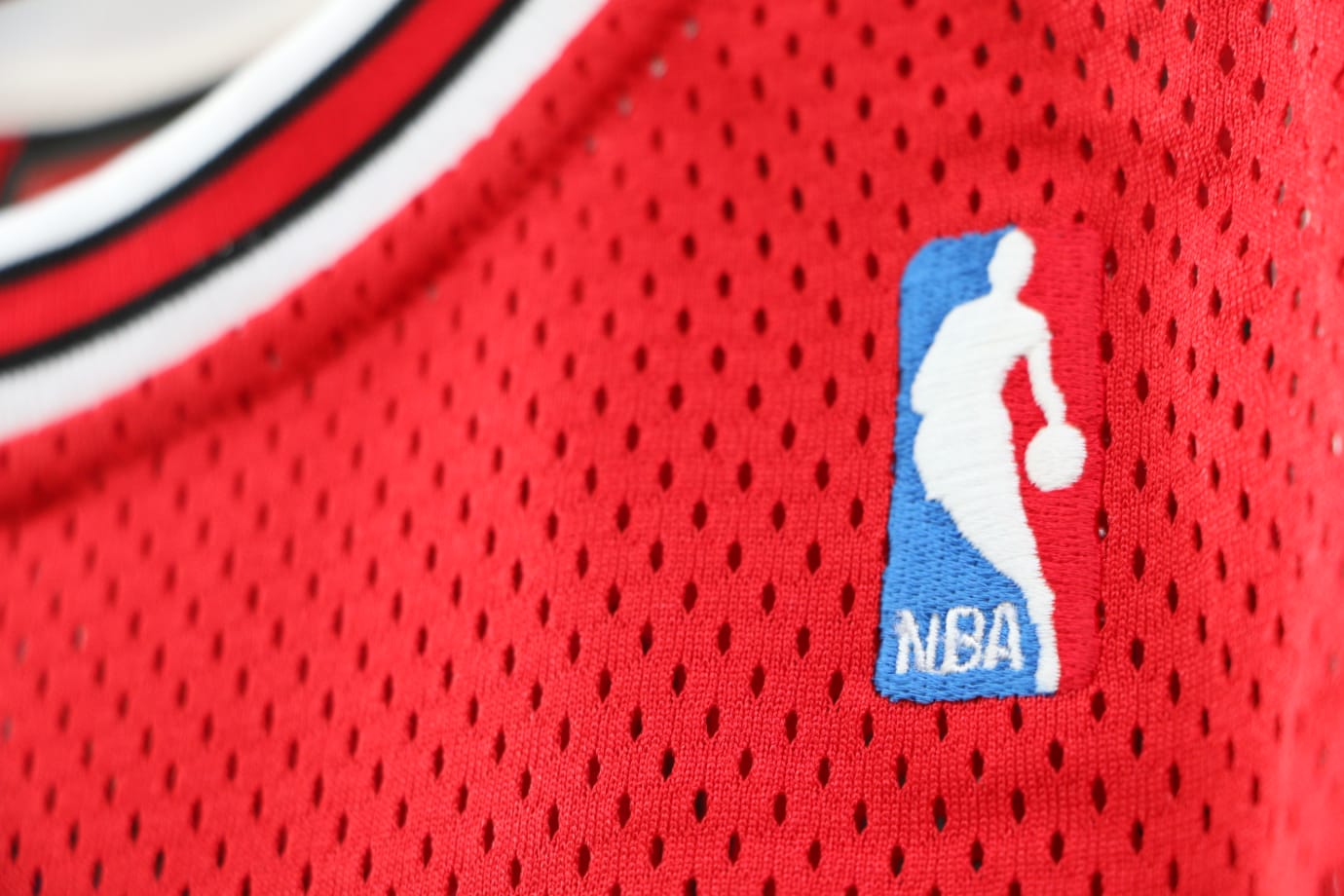 A couple of years ago, the NBA logo was relocated the rear of the jersey in an effort to make room for ad placements expected to hit uniforms in the then-future. That was a tough one to accept. The NBA is a business, though, so we understood it. But now that Nike has re-created an old jersey with new branding, it feels more like a historical inaccuracy.
Am I in the minority with this opinion? Maybe, but after sounding off on social media about the Jordan jersey, I received a flood of comments agreeing. Give us all the new tech, but don't give us a jersey that is inaccurate. Jordan wore a different style jersey from year to year, but he never wore a jersey with a Nike Swoosh on the chest and the NBA logo on the back. As a throwback, Jordan's jersey should be a clearer representation of how we remember him. Surely there is some orientation of the necessary logos that can better reflect what he wore in his heyday.
Last year, Jordan released Space Jam replica jerseys to celebrate the 20th anniversary of the film. I own the original Champion Space Jam jersey, and when I compared it to the 2016 retro, the latter fell short. The Champion is built with heavy screen print, along with a uniform cut that fits great on the body. It was an accurate representation of what Jordan wore in the movie, and it felt like I had a piece of memorabilia. When the 2016 version dropped, I was looking for all those characteristics that made that first jersey great. Instead, I was disappointed: The team name, numbers and Jordan's name were all stitched, which isn't close to what Jordan wore at all.
Unfortunately, it looks like the same will be true for Nike's upcoming Jordan Chicago Bulls jersey.
Marvin Barias is a longtime Air Jordan fanatic and Sole Collector contributor. Follow him on Instagram here.