In celebration of three decades of the Air Max 90, Nike introduced its new Air Max 90 FlyEase (along with the Air Max 2090 and Air Max Verona) last week. The sneaker combines the classic Air Max 90 design with the brand's innovative FlyEase technology. The goal was to create a lifestyle shoe that was quick and easy to get into. 
Nike's FlyEase concept debuted on the LeBron Soldier 8. Since then, it's been featured in more than 20 footwear styles across running, basketball, and sportswear—most recently in the Air Zoom UNVRS and the Air Jordan 1 FlyEase. In the past, the technology has shown up in the form of zippered uppers and cable-and-strap systems. But for the Air Max 90, Tinker Hatfield, who designed the original Air Max III (aka Air Max 90), and his brother Tobie, who created the first and many FlyEase technologies, worked together to implement a version that wouldn't require your hands at all. 
The Air Max 90 FlyEase features a flexible heel that collapses when the wearer steps into the shoe. The heel then snaps back into place to secure the fit. According to Nike Air Max designer Dylan Raasch, the heel was partly inspired by the look and function of a shoehorn. "We have this pendulum because it helps. It was the best way to do that," he explains. "We tried a bunch of different systems and they started breaking or it didn't allow you to put the shoe back on. But when you have that slide in-and-out action… We were thinking a shoehorn is actually developed that way, so we used that shape to inspire this back piece. A lot of the work was how you bring these two pieces together where it's a seamless transition, where it doesn't look like it's too awkward or out of place. Everything is thoughtful. The shape, the sculpting, how big the piece was, what the material was made out of. We spent a lot of time looking at every little element." 
FlyEase was initially designed to help improve athletes' lives. Development in technology was constantly inspired and driven by insights from athletes. "When you're there to compete, you're there to compete," British parasport athlete Hollie Arnold, who was at the Air Max launch event in London, says of the FlyEase technology. "You have a routine and you want to be efficient with everything, so imagine having something like this or something that zips on spike shoes. It takes me five minutes to make sure my spikes are ready. That's five minutes I could be concentrating on my competition."
But this time around, Nike wanted to design something for the everyday wearer via a more lifestyle shoe. "I always do this thing where I slip my shoes off without untying the laces," says Raasch. "That's how I take them off and I was like, 'Why don't we look at that?' It's something that people do. With performance shoes you're like, 'What are the things that will help me perform better?' With this, it's like, 'What's gonna help my life be easier or simpler or what will help me get through the day faster?'"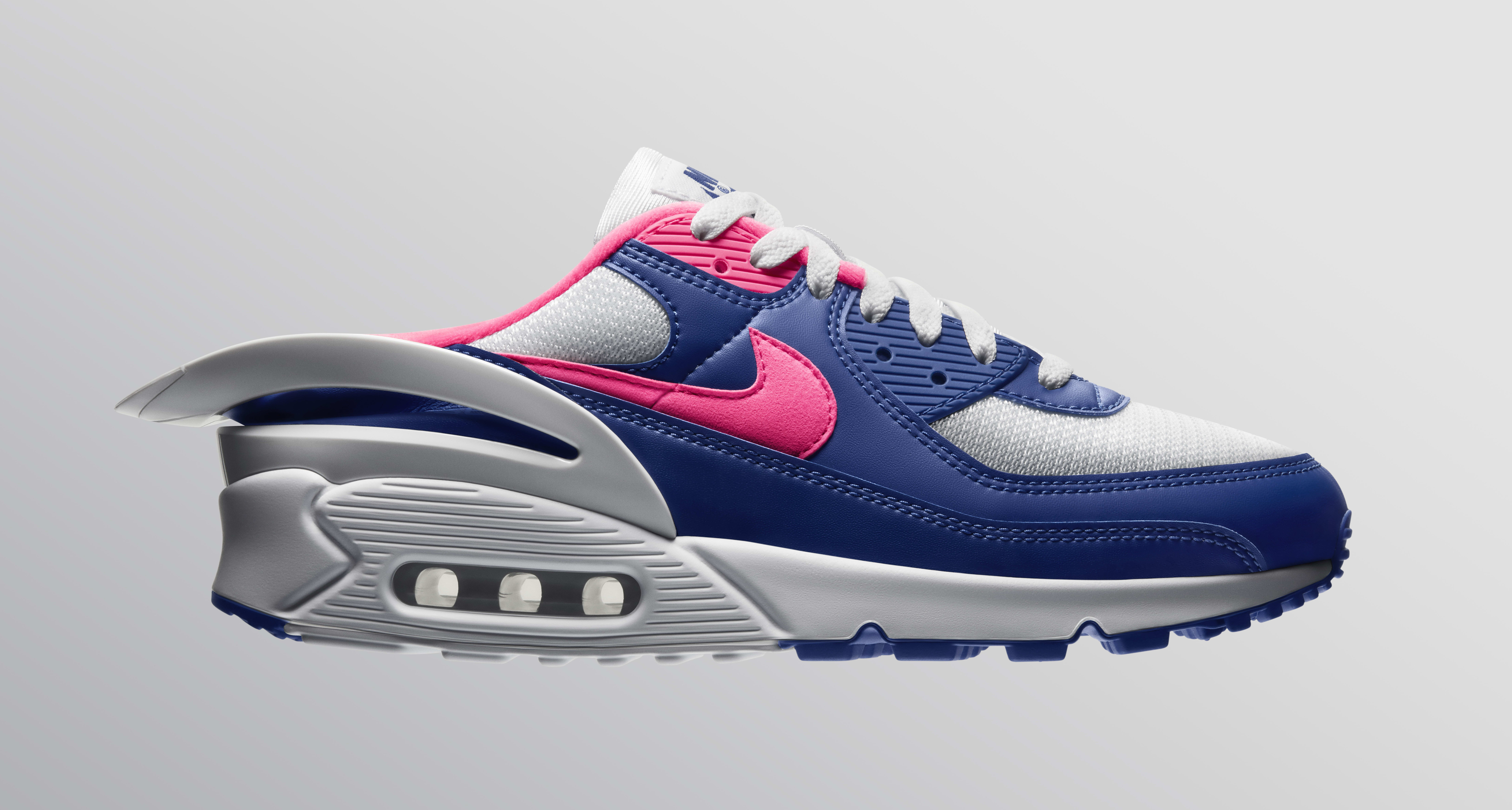 It can be tricky to reimagine a classic sneaker. Fans are often sentimental about icons and want the original to remain intact. They remember its history and are attached to the nostalgia, what the sneaker meant to them. The Air Max 90 is one of those classics, no doubt. Introduced in 1987, the original Air Max was an all-new running shoe built around the largest Air bag—the brainchild of former aerospace engineer Frank Rudy—Nike had ever placed in a sneaker. It was designed by Tinker, who was famously inspired by the Centre Georges Pompidou in Paris to make the six-chambered Air bag in the heel visible on the outside. Over the years, what started as an innovation for athletes, became something more. It was no longer just for sport, but also style. In the '90s, kids rushed to stores to cop their favorite Air Maxes—often the Air Max Plus, Air Max 95, or Air Max 97. Today, through its ties to music, streetwear, and sportswear, the sneaker has remained one of the most beloved Nike footwear styles. Brands, designers, and artists—all fans of Air Max—like Virgil Abloh, Undefeated, Skepta, and Sean Wotherspoon have worked on their own versions. If you ask someone what their favorite sneaker is, an Air Max is a common answer. 
Raasch says Nike understands this. It's why they didn't change much from the Air Max 90 we know, and exactly why Tinker and Tobie led the project. "They can mess with their own design," he says. "If you have Tinker doing it to his own shoe, he's gonna be the one who approves it. I think if we were to do it I'd be like, 'This is gonna freak me out if he doesn't like this.' I think it was good that they set the bar. When you see it I think you'll be like, 'Ok. They wanted to keep things very authentic.' They didn't start moving stuff around 'cause sometimes designers have the tendency to be like, 'What can I do to change it?'"
"This one was straight forward, keeping an icon what it was and just adding a detail," he continues. "This was all about not disrupting what was there."
The Nike Air Max 90 FlyEase will be available on Nike.com and at select Nike Sportswear retailers beginning March 9.