When it was announced this past March that Big Sean had signed a deal with Puma it came as a surprise to many. The Detroit rapper had been a long time member of the Adidas family, and releases multiple projects with them in the past. His close relationship with Kanye West made the deal even more intriguing because we have seen how Adidas' number one ambassador reacts to his friends and family joining other brands in the past. 
Although it was met with some initial shock, Sean is ready for what the future holds between himself and Puma. "I feel like they're a brand that wants to take chances with the artists they work with," Sean tells Sole Collector.
"I've dealt with other brands before, and I feel like this is how it was always supposed to be. I'm sitting here designing my first collection, we are working on shoes and apparel, and not only do they respect my ideas, but they want to really make them work. That's something I've never experienced from such a big corporation before."
While fans and consumers still await Big Sean's debut collection with the brand, the two are furthering the partnership with the launch of a new campaign with Champs Sports. "The Moment" campaign will share the stories of athletes and musicians on their journey to success. Sean is the first artist who will be featured.
Since his debut project Finally Famous dropped back in 2011, Big Sean has become one of the most recognizable faces in hip-hop. Not only has he accumulated successful albums and chart topping singles, but Sean has also become a big ambassador for his hometown of Detroit. He is one of only five people with a key to the city, and in 2015 even started the Sean Anderson Foundation to support the education, health, and the well-being of Detroit school aged youth.
"I always try to give back to the city because of all they've given to me. They put me on the map," says Sean. "They're the ones who push me over the edge to be a global artist."
It is this love and support for his hometown of Detroit that have contributed to Sean's various accomplishments throughout his career. "One of my biggest breakout moments is probably when I started to focus on the message in my music," says Sean. "I started to focus on what it meant to me, and how people were going to feel after they heard the music."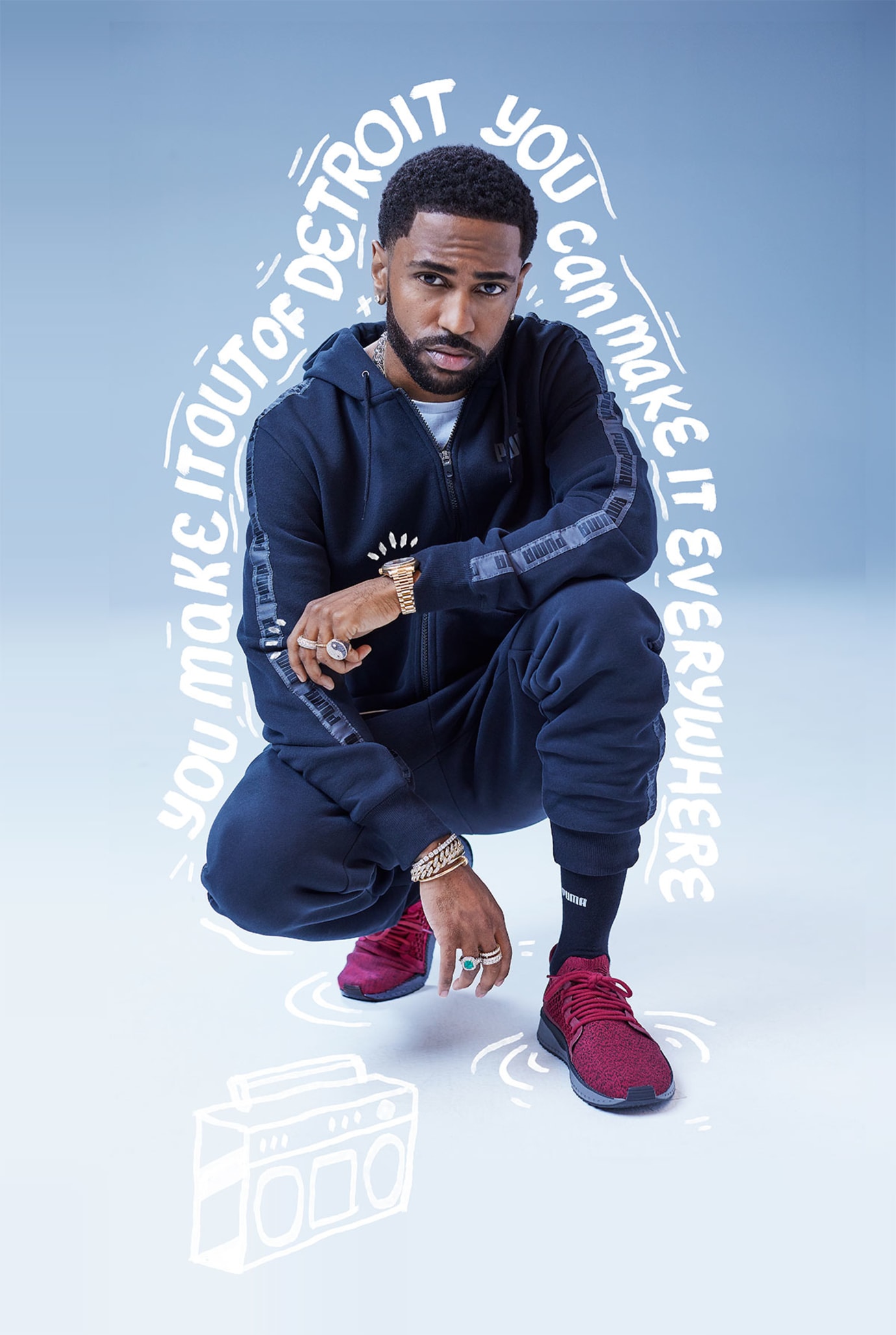 Aside from the music, Sean has also always been big into style, and has taken inspiration from many things throughout his life. Of course, guys like Nigo, Pharrell, and Kanye West have all lent some inspiration to Sean over they years, but so has his Detroit upbringing.
"The city of Detroit is just born and bred with a certain type of style that I incorporate into all my things," Sean tells Sole Collector. His father's style while he was growing up was also a big inspiration to Sean's wardrobe today.
"He was always rocking crazy things. He had these crazy leather pants, different types of leather pieces and jackets, animal print shirts, and just crazy things I used to look at when I was little," says Sean.
His style is unique to him, and it is something that is certainly a welcomed addition to the Puma team alongside the likes of other ambassadors like Rihanna and The Weeknd.
"What's great about Puma is that they are letting us design our own sneakers from scratch, letting us design our own clothes," says Sean. "When a company does that I feel like they are putting their full faith in you."
Big Sean's "The Moment" campaign with Champs and Puma officially launched this past weekend with an event at Champs' new Chicago flagship location. Along with sharing his stories from Detroit that helped shape his career, the campaign also shows Sean sporting the new Puma Tsugi Netfit Evoknit "Triumph Red" that will be releasing in stores nationwide on Sept. 26.
Regarding his future work with the brand, the Detroit rapper says, " I think it's the start of something legendary."