Kanye and adidas are in it for the long haul, announcing yesterday adidas + KANYE WEST, a "YEEZY-branded entity creating footwear, apparel, and accessories for all genders across street and sport."
The extension includes upcoming Yeezy stores, Yeezy performance gear, and a Yeezy-dedicated design team headquartered in the Three Stripes' Portland offices. What it doesn't lay out is a timeline for product or how the deal will play out.
So the real question: Does it make 'Ye a billionaire? The answer: Maybe?
While a source informed TMZ that the partnership is worth ten figures, it's not a no-brainer for this deal to push Mr. West into the billionaire boys club. Adidas isn't disclosing the numbers behind the deal and neither is Kanye, but for comparison's sake, when LeBron signed his rumored $1B-plus lifetime deal with Nike last December, he had been with the brand for 12 years, with annual shoe line sales well north of $300 million.
Paul Swinand, analyst at investment research firm Morningstar, said he couldn't guess what the deal would be worth to the rapper, but did say, "I think it's smaller than most people realize."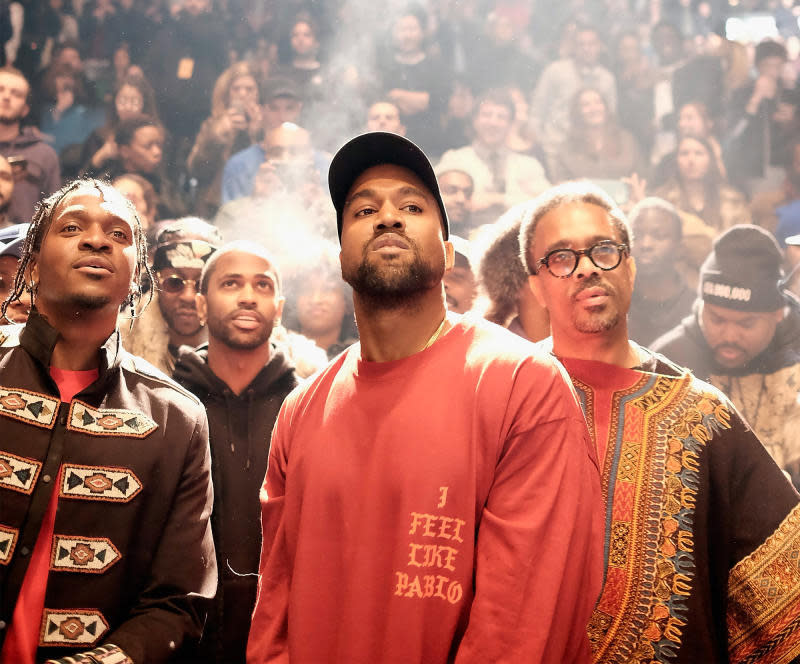 While Yeezys have been a strong play for adidas in terms of creating buzz, they're still hyper-limited in pairage (and thus sales dollars) and have just three seasons' worth of history, so it's not a comparison of apples to apples. And LeBron is an athlete, a business model that's proven in the industry. Making an artist the face and driver of an entire lifestyle and performance brand–not just a line–is uncharted territory with no real number history–that suggests a lower figure.
Jonathan Komp, an analyst at Baird, says Kanye's payday on the deal is TBD.
"It's hard to know at this point–it's early to speculate. We don't have a lot to go by in terms of timing or specifics on product," he said.
This long-term deal is new territory for the industry. Sure, adidas was the first sportswear brand to capitalize on the power of hip-hop celebrity by partnering up with Run-D.M.C. to push their products in the '80s. Cohorts like Pusha T, Big Sean, and 2 Chainz have all gotten a chance to put their stamp on adidas product, but not to the extent of the true creative freedom that Kanye now has.
Even though the jury is still out on what this will mean for the demand on Yeezy products, Camilo Lyon, analyst with Canaccord Genuity, is bullish. He added that West must've been closely monitoring how Nike and LeBron James negotiated their extension.
"Kanye knows LeBron got $1 billion," he said, "So this is multiple hundreds of millions at least."
Lyon says the deal is likely structured to incentivize continued success: "If I'm adidas and I want him for the long term, I would structure a deal that was heavily weighted in longer-dated stock and have all the goals locked. If I were Kanye, I would go for cash. So it will probably be somewhere in the middle."
Komp and Lyon (who, it's worth noting, wears a pair of the Yeezy Boost 350s regularly) said the fledgling partnership has a lot of potential. Look at the trickle down effect that adidas has seen on other products that Kanye hasn't even had his name attached to, let alone been spotted wearing.
"I would say adidas has been brilliant in drafting off of the [Yeezy] success: you can see it in the Tubular and NMD, there's a halo effect created," Lyon said. "It's created a buzz around adidas that it hasn't had in a very long time."
An expanded Yeezy line could also revive basketball and other performance categories that adidas hasn't been strong in lately. Several of the brand's athletes, including James Harden and Carlos Correa, have already expressed interest in having West design product for them to wear in their respective sports.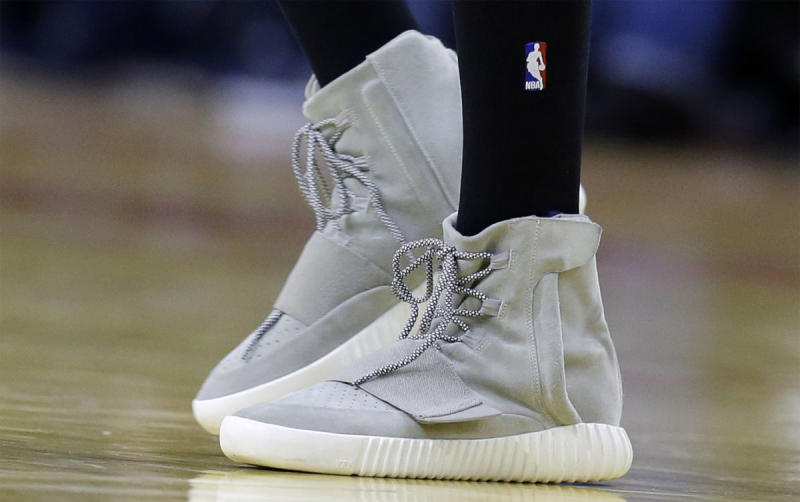 "Maybe this is the next-stage evolution of what athleisure turns into, which I believe to be a more casual, chic look, and the Yeezy line plays very well to that," Lyon said. "It's fashion and performance, without looking solely athletic."
Komp said the upside on lifestyle was definitely there, but that performance gear remains a question mark. In a research note released yesterday after the announcement he mentioned that there haven't been non-athlete male celebrities who've successfully helped performance product.
"Now that he has a dedicated group with more direction, other categories is probably the biggest opportunity here, but it's kind of hard to know timing and magnitude of those benefits and what it could mean," he said.
Swinand said historical precedent also suggests that partnering with musicians usually doesn't work out: Even though initial sales of Reebok's Jay-Z and 50 Cent lines were massive, they fell off sooner rather than later.
"The market believes [these artists] are leading indicators. But in the long run, do they really matter?" he said. " And adidas has stubbed their toe so many times on this–if you look at Justin Bieber [former face of Adi's NEO line], they were gushing over him just a few years ago."
Brands are almost always better off just investing the money, the design talent and the retail efforts in their core line, he said.
Lyon, however, said you can't write off Yeezy.
"How can you be against the biggest fucking brand that's come out in the past three years?" he said.