At this stage in the game, Supreme's history with Nike SB (specifically the Dunk model) is nothing short of prolific. First introduced in 2002, it was the first shoe the brands collaborated on and is still getting special makeups nearly 20 years later. That much is common knowledge among sneakerheads, but what's less known is how the OG Dunks came to be, and the fact that they almost didn't happen altogether.
Complex recently spoke with some of Supreme's first designers including Augie Galan and Geoff Heath, both of whom shared insight on the early days of the brand's relationship with the Swoosh. According to Heath, the partnership got off to a rocky start to say the least.
"Nike was trying to get into skateboarding, so they hit up James [Jebbia, Supreme founder] for all this information because he's got a skate shop in New York, Supreme, and they see what's going on. They ended up doing their own thing and did not include James," Heath said. "He gets all pissed off, calls me up and says, 'Hey, you know the Nike font? Can you make 'Fuck Nike' T-shirts in that Nike font?' No problem—banged it out real quick. He comes over and tells us the story: They had wined and dined him twice and left him in the dust." 
The "Fuck Nike" T-shirts were produced in 2001 and regularly resell for upwards of $2,000 today, but they were only the beginning of the story. Somehow, Jebbia was able to mend his relationship with Nike SB, and by the following year, Supreme would release what has gone on to become one of the most coveted Dunks in existence. 
Heath says Jebbia wanted to create an SB Dunk superior to the other collabs making waves at the time, namely Alphanumeric, Chocolate, and Zoo York. To do so, he lifted the "Black/Cement" and "True Blue" colorways from the Air Jordan 3 and reimagined them on the SB Dunk Low.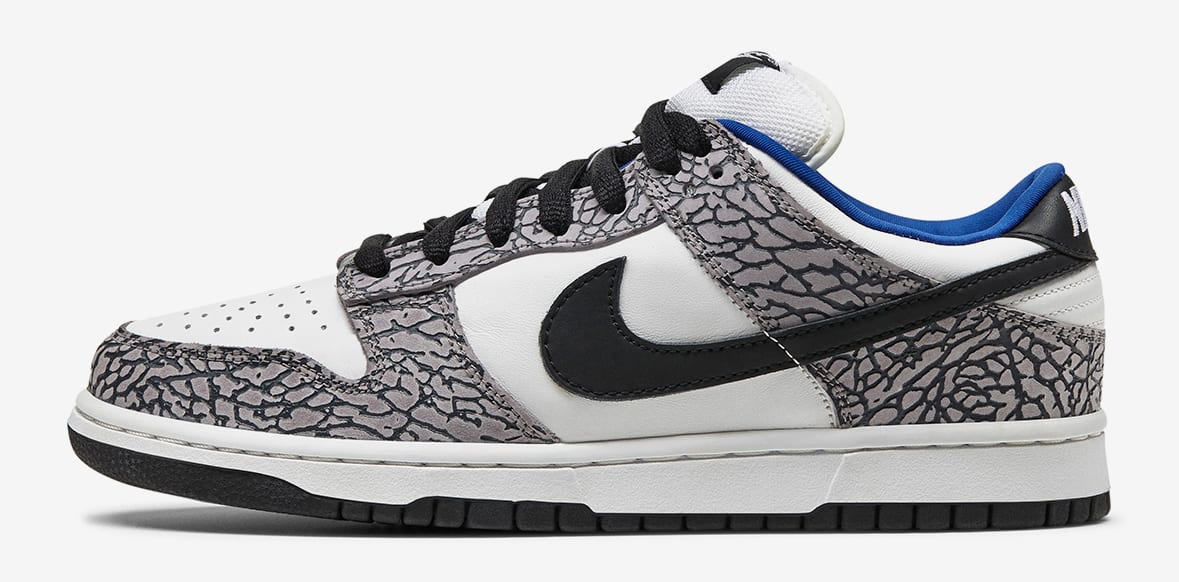 "The minute we set that elephant Dunk off, that was it," Galan said. "Supreme made a Nike and everyone wanted a piece of it. By the time we put out those elephant-print Dunks, I think the hype for sneakers was already there. It was just not nearly as hardcore as it is now, but it was there for sure." 
To read the full oral history with Supreme's former designers, visit Complex.