Puma has been on a steady upswing in recent time, so much so that the brand announced today that 2019 was the most successful year in the company's history.
Along with the announcement of its Q4 earnings, the brand revealed its full-year 2019 report, with CEO Bjørn Gulden elaborating on some of its success.
"2019 ended with a very strong fourth quarter for us with revenues being up 20.6 percent reported (18.3 percent currency adjusted) and EBIT up 47 percent," Gulden said. "All regions and all product divisions were up by double digits. This made 2019 the best year in Puma's history with a revenue of € 5.5 billion (around $5.9 billion) and an EBIT of € 440 million (around $478 million). I am very proud of what the team has achieved and think this performance shows the global potential of the Puma brand."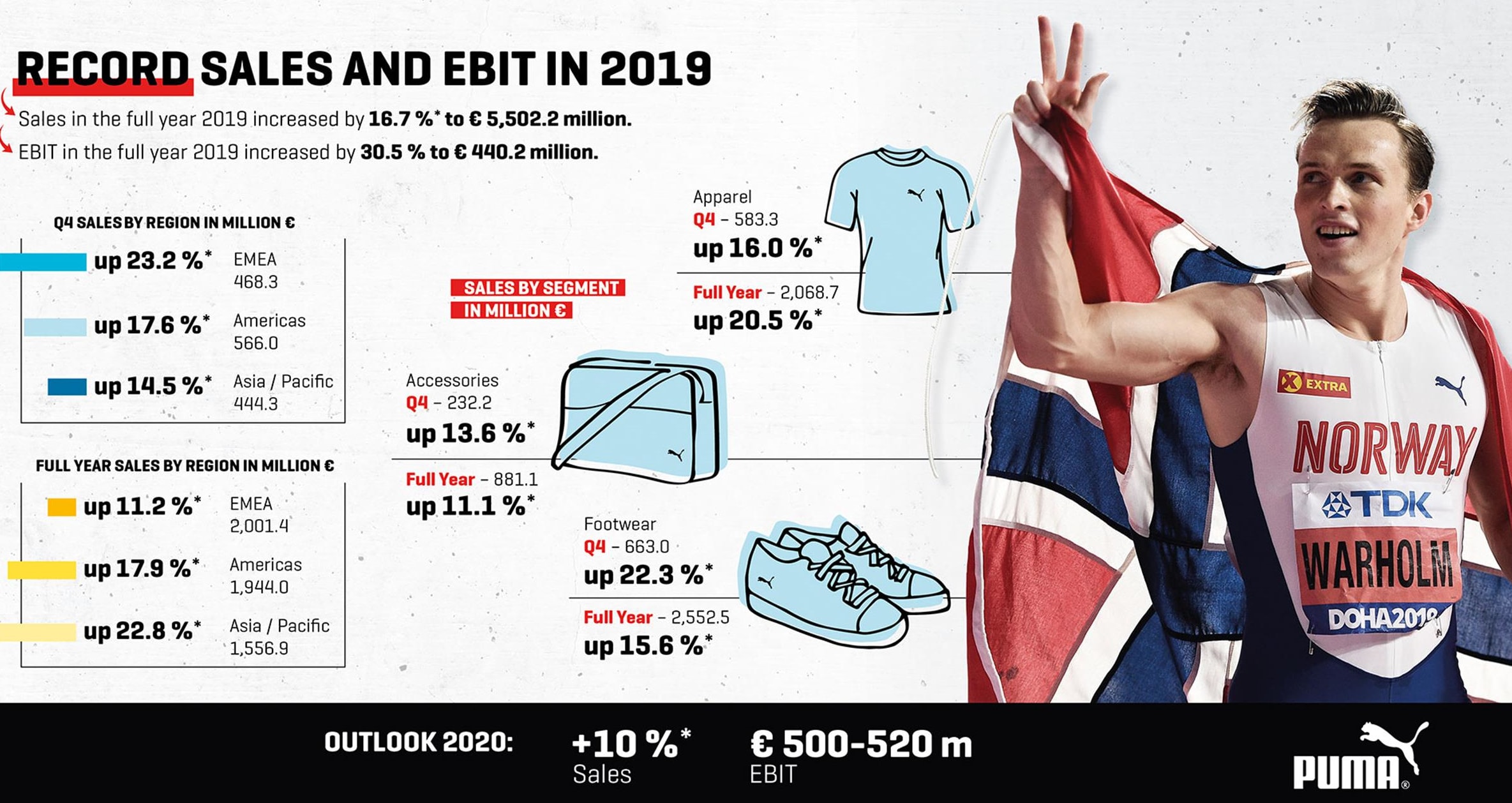 Notable numbers from Puma's earnings include a 22.3 percent Q4 and 15.6 percent full-year uptick in footwear sales, while apparel increased 16 percent and 20.5 percent, respectively. For Q4, the brand is touting its new partnerships with J. Cole and Balmain as well as the championship win by Puma athlete and Formula 1 driver Lewis Hamilton. Other recent moves not mentioned in the report include the brand's signing of rising NBA players including Kyle Kuzma and RJ Barrett.
Despite its growth, Gulden warns that Puma faces a challenging obstacle moving forward in the Coronavirus outbreak. "The business in China is currently heavily impacted due to the restrictions and safety measures implemented by the authorities." Gulden said. "Business in other markets, especially in Asia, is suffering from lower numbers of Chinese tourists. Given the current uncertainty around the virus it is of course impossible to forecast its impact on the business. We will do everything we can in the short term to minimize the damage and remain very positive in the long term both for our industry and for Puma."
Puma's Q4 and full-year 2019 results can be viewed in their entirety here.