On Thursday afternoon, Kylie Jenner posted a photo on her Instagram, as she does frequently. The photo in front of her G-Wagon racked up its usual millions of likes, but also had a much smaller pocket of people talking because of the sneakers she was wearing. Jenner was in a pair of "MF DOOM" Nike SB Dunk Highs from 2007, the latest rare pair in here recent string of posts that has included "What The" Dunk Lows and Colette x Air Jordan 1s.
Some OG sneakerheads felt some type of way. Other could care less. My gatekeeping colleague, and noted MF DOOM fan, Matt Welty and myself decided to give our thoughts. 
Here's what we think.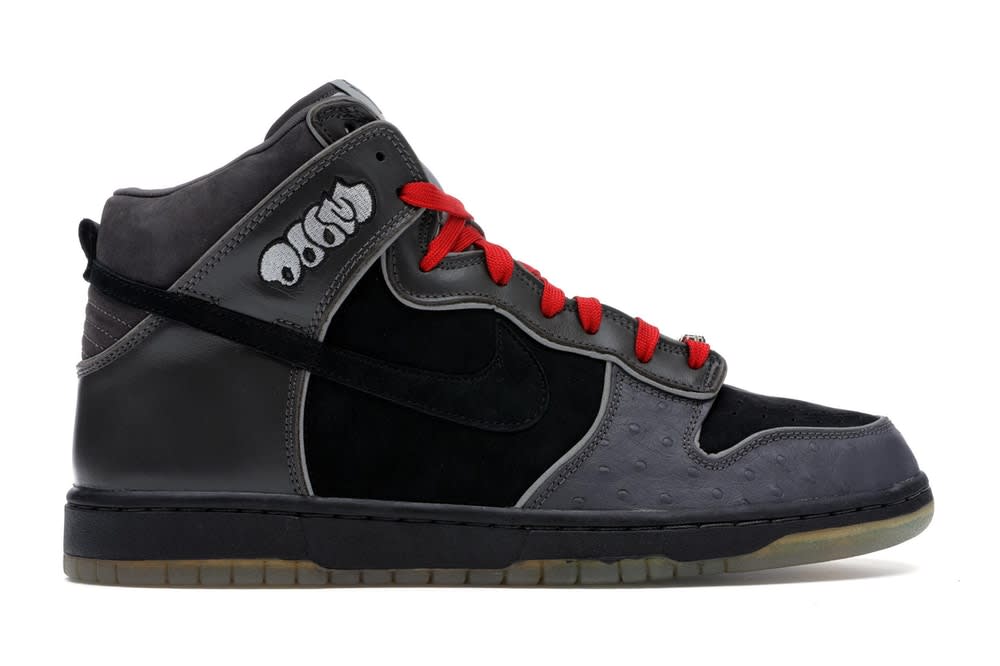 What's your connection to the MF DOOM Dunk?
Mike DeStefano: The MF DOOM Dunk is one of those pairs I remember learning about when I first got into Nike SBs back in high school. When it actually came out in 2007, I was in middle school and still very much only getting new shoes two or three times a year depending on how much wear-and-tear I was putting on them (and how convincing I could be with my parents). But the MF DOOMs were one of "the ones" when it came to SBs. I knew they were valuable. Admittedly, I had no idea who MF Doom even was. The shoes are the reason I initially discovered the cult-favorite underground rapper. The shoes themselves are amazing. The ostrich leather wrapping the toe box, Doom mask on the tongue, and graffiti embroidered on the lateral ankle flap are the type of details that make SBs so great to me. That being said, I am far from a fan of MF DOOM, the rapper. I've maybe heard a couple minutes of his music. It just isn't my thing. The shoes have always been a pair I'd like to own cause of their execution. I get their significance, as well as Doom's in hip-hop, but the connection starts and stops there for me.
Matt Welty: MF DOOM was one of my favorite rappers. I bought Operation Doomsday back in 2002. When the Dunks were set to come out, I almost had a heart attack from the hype. I took the day off of work from my summer job at Foot Locker to cop at my local skate shop, Identity. The night before the release, I saw on MySpace that the store would be releasing them a day early, and it was in 45 minutes. I panicked. Threw on a 10 Deep 5-panel hat, The Hundreds T-shirt, camo cargo shorts, and un-DS'd my Mork & Mindy Dunks. Hopped in my Toyota Solara, backed out of the driveway, and sped down back roads at 70+ MPH. It started to rain, I ran to the shop, and found that there were 10-15 people lined up outside the store around 11:45 for the midnight release. They finally let us in the shop and let us know that the shoes are going to be $250! Me, a broke 20-year-old, swiped my American Express and hoped it went through. Walking back to my car, feeling victorious but guilty, I had my jaw drop. I had backed out of the driveway so fast that I had hit the side of the garage and ripped the right headlight out of the car. It became a much more expensive purchase. I haven't got myself to wear them yet.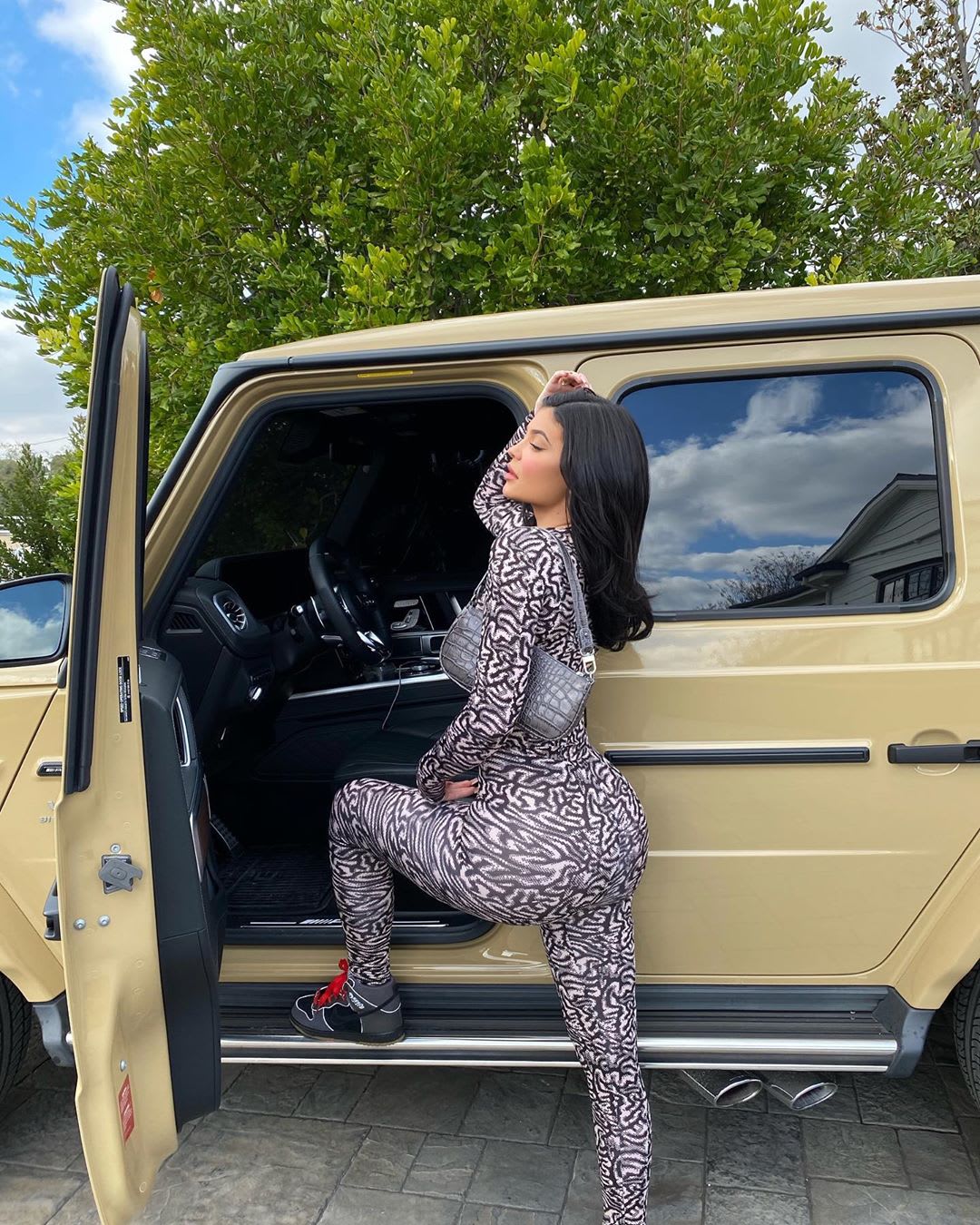 How did you feel when you saw Kylie wearing the sneaker?
MD: Kylie Jenner's sneaker spree on Instagram is incredible. It makes it even better she's wearing rare pairs like "What The" Dunks and Colette x Air Jordan Is that get old sneaker guys all bent out of shape. I hope she wears "Paris" Dunks and OG "Neutral Grey" Is from 1985 next. The fact that sneaker YouTube legend Franalations is partially responsible for this happening makes it even better. Seeing Welty blow a gasket in the office and contemplate selling his pair yesterday was something to behold.
 
Jenner is one of the biggest names on the planet. Remember when Kim Kardashian started dropping early looks at Yeezys on social media? It's the same idea here. Seeing people like that in shoes they probably don't know much about might not please sneaker purists and MF DOOM fanboys, but I could care less. Wear what you want. Old SB Dunks are the trendy thing in sneakers right now. Travis Scott is a large part of that happening. She is connected to him. It all makes sense. For all we know, she rides around in her Ferrari blasting DOOM songs. There's much more important things to worry about than the shoes she has on her feet in a photo. 
MW: I told Dre, the owner of Project Blitz, he was a dick for selling the shoes to Kylie Jenner. I'm not here to judge who's listened to what, but I can bet you my life savings that she's never listened to one DOOM song. Travis Scott on the other hand, maybe he has. This is probably one of the last deadstock pairs in her size, she's going to wear them once, and then toss them somewhere, never to be seen again. All while driving the resale price up. I get it, you want to flex for Instagram, get likes, get sneakerheads on your shit, prove your not-so-secret boyfriend Travis Scott that you wear his gifts. It's cool. Just don't front like this is your thing. People are going to say, "But she wore Red Octobers back in the day!" Or Ian Connor put her in Supreme back in the day. Yada, yada. Save that for someone who cares. As an Aremnian-American, I'm one of the biggest supporters of the Kardashians. So don't hit me with that, either. Even if that doesn't apply to Kylie. Dre's a good friend of mine, so is Franalations, who sold the shoes to Dre who sold them to "Kylie." Get your money, boys.
How do you feel about celebs, who may or may not care about sneakers, wearing old, expensive shoes?
MD: In short, who cares. Not everyone who loves sneakers has to be a walking encyclopedia who knows color codes and release dates. If "having to be there" was the sole criteria for owning rare, expensive, and old shoes then I would be eliminated just based on my age alone. Sure, certain celebrities really care about sneakers on a deeper level. They study the history and know the difference between "Chili Red" and "Solar Red." It has been said that Kylie's MF DOOM Dunk Highs, for example, were probably one of the last deadstock pairs left in such a small size. Oh well. Until she was seen in them, they were buried in some storage unit in a dusty box. Shoes are meant to be worn. If more celebrities want to get in on the fun and bring old pairs back from over a decade ago, I'm all for it.
MW: Buy what you want. Spend your money the way you want. Just don't front that you've been down since day one when you haven't. That's all I ask.