If you happened to tune into the game between the Seattle Seahawks and Philadelphia Eagles this past Sunday, you were probably pretty disappointed if you're an Eagles fan. One of the more frustrating plays of the Seahawks' 17-9 victory came in the third quarter, when Eagles quarterback Carson Wentz fumbled the ball. It ended up being recovered by Seahawks defensive end Quinton Jefferson. For the casual sports fan, it was run of the mill play. However, a sneaker fan with a sharp eye may have noticed something else during the replay.
Jefferson wasn't just wearing standard team-issued Nike cleats covered in Seahawks colors. The 26-year old laced up a special pair of Nigel Sylvester x Air Jordan 1-inspired cleats designed by his close friend and sneaker customizer Kendall Rocque, aka Kr0que. In fact, Rocque has been outfitting the defensive lineman with 1-of-1 cleats inspired by some of his favorite pairs of sneakers all season.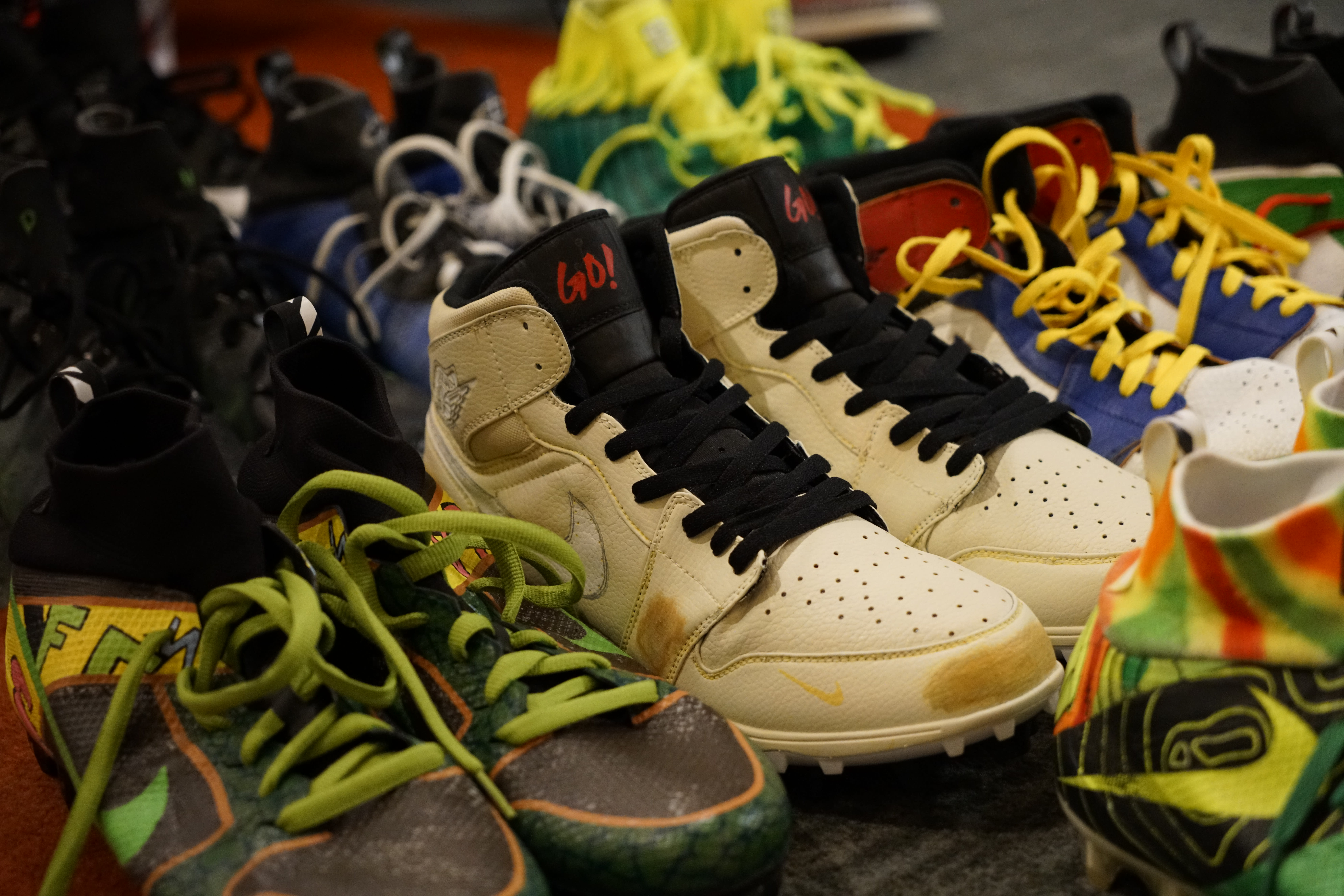 "A lot of times the NFL wants it to be code, everybody uniform. But I was like, man, I want to express myself on the field," said Jefferson. "[The NFL is] supposed to be fun. You should be able to have fun with your cleats and clothing. You see the NBA doing it. It's just something cool, something to get the fans engaged."
The Saturday afternoon prior to the game, Jefferson sat down with Sole Collector to talk about his cleats. He came prepared, greeting us in the team hotel lobby with an equipment bag filled with 11 pairs of customs. He's clearly a player who cares about his style too, showing up in a Chrome Hearts hoodie, Stone Island pants, and the red Supreme x Nike SB Dunk Low. The cleats he packed were inspired by some of his favorite sneakers—Atmos x Nike Air Max 1s, "Weatherman" KD 4s, and Union x Air Jordan 1s—to name a few. Most were painted to resemble their original inspirations, while the Union and Nigel 1s were actually the real uppers with custom Lunarlon midsoles and spiked bottoms ready for the gridiron.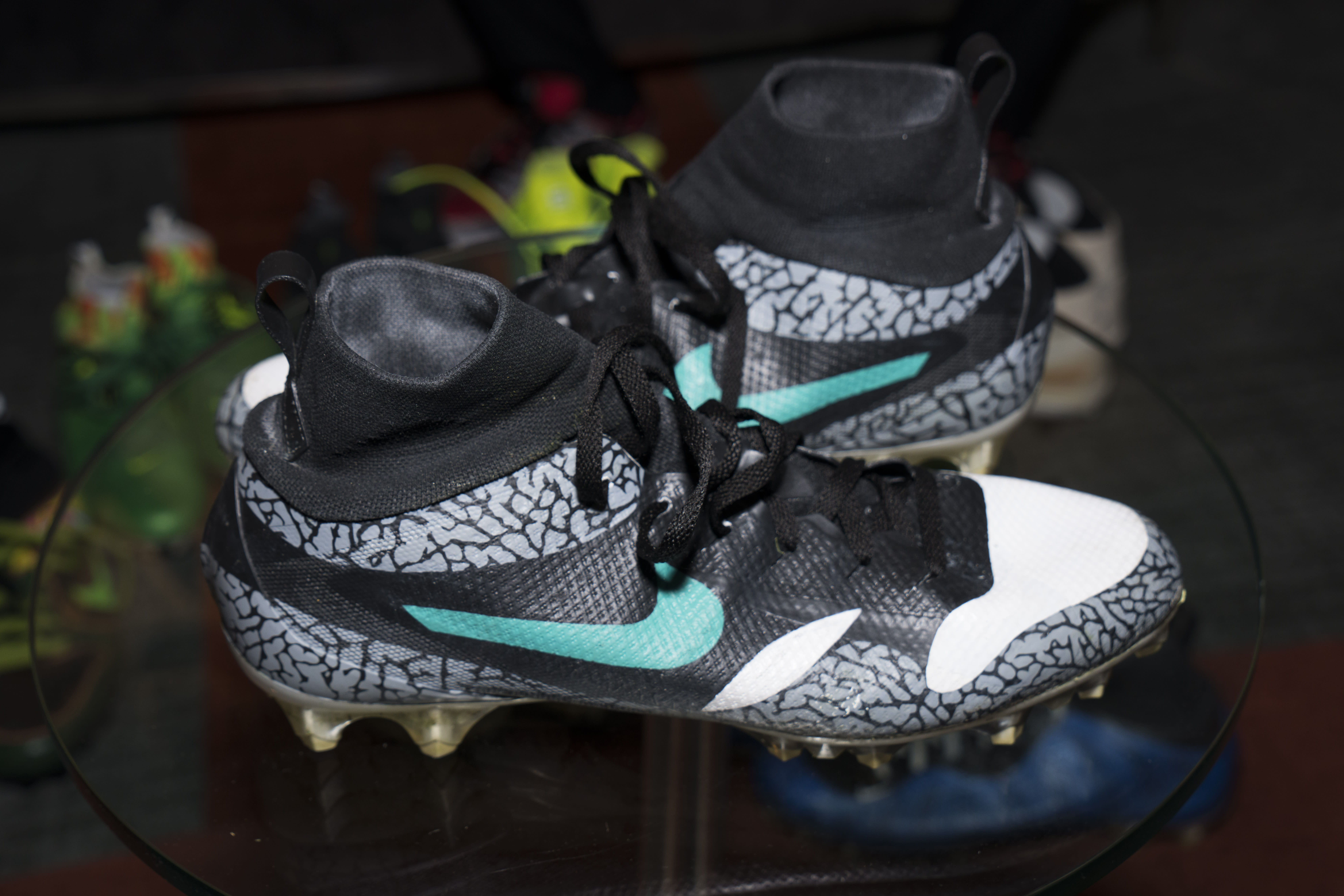 "D-linemen, nobody really cares for us or knows who we are. We don't get a lot of face time. A lot of times now people attach something to me like, 'Oh, that dude from the Seahawks has the cool cleats.' I might've been doing some stuff on the field before, but they really wouldn't know or take notice or even care. It does bring a little bit of notoriety to you."
Jefferson isn't the only player in the league getting recognition for his footwear on Sundays though. Odell Beckham Jr.'s weekly footwear inspired by the Nike archive has become must-see. Stefon Diggs, who was actually Jefferson's college teammate at the University of Maryland, is also using his cleats to express himself each game, commissioning popular customizer Dan Gamache, aka Mache, to paint him special pairs with themes ranging from Starbucks to Stone Cold Steve Austin. One of Diggs' pairs, painted as a nod to Future's DS2 album, is the Pro Football Hall of Fame because he wore them during the "Minneapolis Miracle".
"I think it's an easy eye catcher. Your face isn't as visual as in basketball. You do it in other ways like and first thing that can grab your eyes is what? Cleats. I feel like people maybe pay a little bit more attention to it now. But for me, I just love wearing a different color cleat than my uniform. I just feel like it looks nice." Diggs told SC.
"[Diggs] is one of those dudes that obviously has a personality and a flair for fashion," said Gamache. "To have someone who's a little more conscious about his presentation, it's a cool responsibility. I'm sure glad that he buys into where my creativity is."
The biggest hurdle for players expressing themselves this way, so far, has been the NFL itself. Unlike the NBA, whose players can wear just about any sneaker they want on the court, the Shield is not nearly as relaxed. Beckham Jr. and Jarvis Landry were both asked to remove their flashy customs in a game earlier this month during halftime. Jefferson recalls being told to switch out of his Union x Air Jordan 1s before the first quarter even concluded back in week 10. While not always an issue, it would be nice to see the NFL loosen up its uniform code a little bit so these customs can become more commonplace.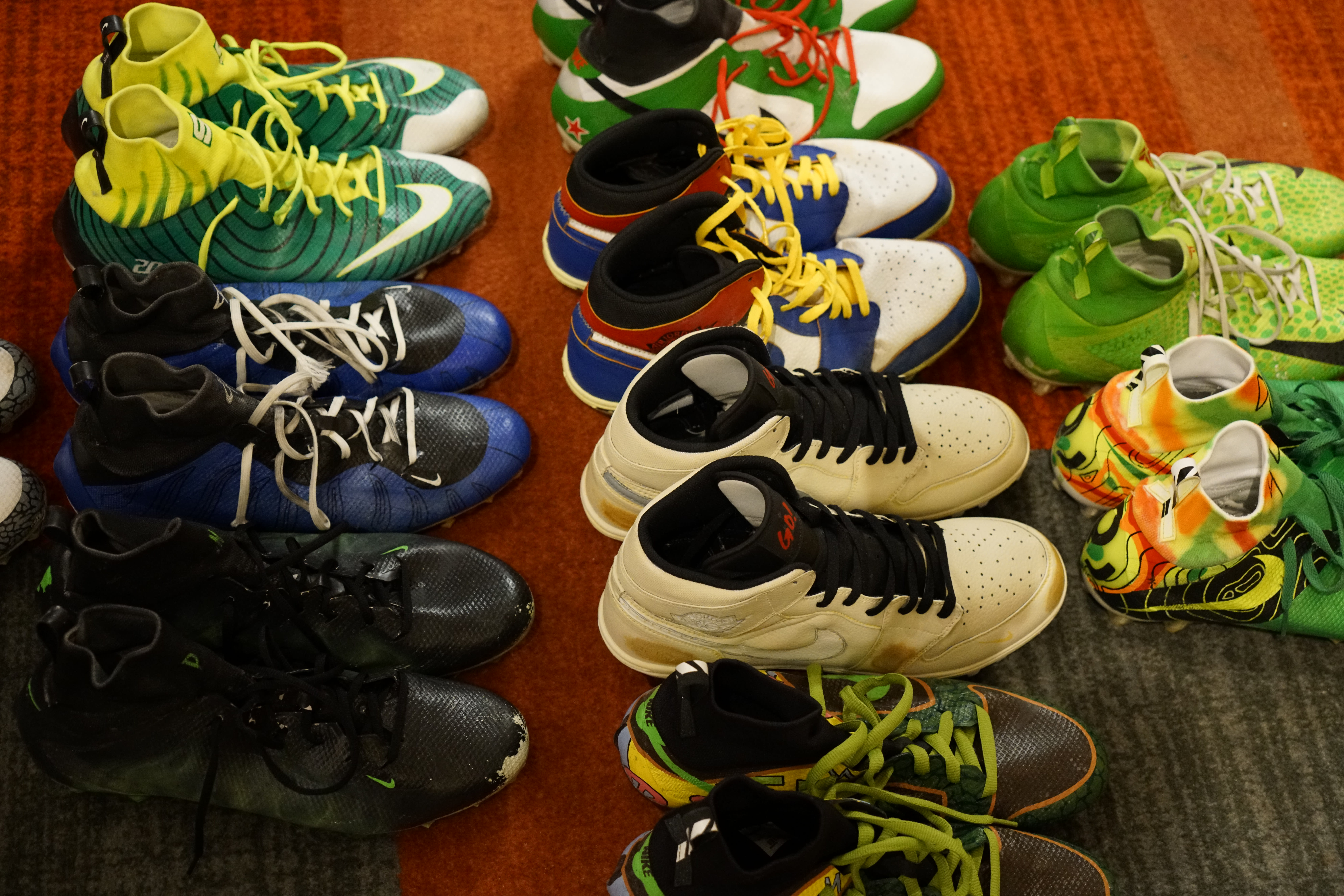 "I'm trying to push the limits to see what they'll let slide or when they'll make me stop. Honestly, I don't even care. I'm going to wear them until they tell me to take them off," said Jefferson. "[The NBA rules] are dope. You get to see how guys really are. They can express themselves through their sneakers. It's just fun for the league. People check to see what PJ Tucker's wearing. People check to see what Bron's wearing. I feel like it just helps the brand as a whole. I feel like [the NFL] should loosen up a little bit because it's not hurting anybody by wearing some cool custom cleats. Hopefully, maybe next year, maybe in a few years, they'll see that and start letting guys have some fun. That's all it is at the end of the day."