Since the Nike Kyrie 4, Benjamin Nethongkome and Kyrie Irving have been working together to create some of the best on-court basketball footwear that the Swoosh has to offer. Continuing their relationship with the Kyrie 6, the two have brought along elements that have made their past models great while still trying to improve and stay unpredictable. 
Of course when creating a basketball sneaker, performance is the top priority, but with Irving's line in particular it goes far beyond that. With help from high profile collaborators the likes of Spongebob, Friends, and Concepts, the Irving line makes a strong case for Nike Basketball's best off-court line as well.
For the rollout of the 6, Irving and Nethongkome wanted to focus more on something that is close and meaningful to Irving, the number 11. Irving's father Drederick wore number 11, "K" is the 11th letter in the alphabet, and the extensive preheat collection was designed to represent 11 international cities Irving has a strong connection to. 
We caught up with the Benjamin Nethongkome at the Brooklyn Nets' practice facility to talk designing the sneaker as well as what is to come from the new model. Check out the full interview below.
I want to start off with the design of the actual shoe and the main differences between the Kyrie 5 and 6. 
Designing the 6, we didn't want to be the type of like, "Hey, let's just abandon the 5 and go on and something completely different." From 4 to 5 we made a leap, which is a pretty good one. And then there are some things we want to retain, like the technology with the Zoom Turbo. That thing just feels amazing on your foot.
Moving onto the 6, we wanted to bring that chassis with us on our journey—but without forgetting where we came from. We heard rumors that the shoe was hard to get in and also that the underfoot was a little firm from testers and from consumers. So those are two things I take with me, like "Dang, I can do better with that." So we looked at different foam durometers, foam thicknesses and came with the new formula. Or not new formula, but a preexisting one that we haven't used for Kyrie yet. That, in combination with the Zoom bag just feels really good underfoot now. 
So when you play in the Kyrie 6, so you can feel a difference, underfoot wise, between the 6 and 5. And then from an entry standpoint with orthotics or ankle braces, the 6 is just more of a traditional tongue, lace, get in, lace up, strapped in, you're good to go. So those are the things we looked at, like just improving it incrementally to make it better than the last. And the shoe just feels amazing. And lastly, the way Kyrie plays on court, he needs an extra court feel in the forefoot—just like grip. So we wrapped up the traction from the bottom to the sidewall and also on top of his toe to really gave him that high instance of sensation in court feel that he hasn't had before. Those are three things I will look at for sure.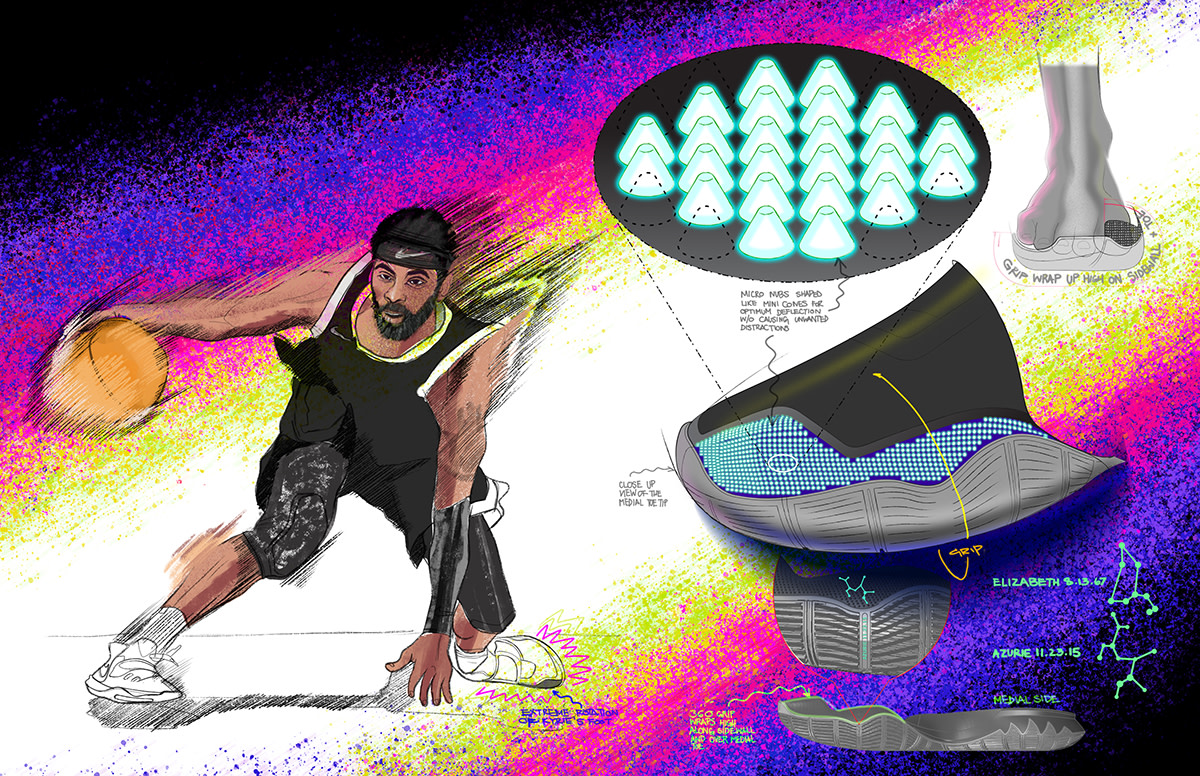 You mentioned the Zoom Turbo bag. A lot of people say it's one of the best Nike basketball's ever had. Have you taken the same one? Added to it?
It's the same exact set up, 'cause we love it so much. That bag took years in development—like a good two years. To bring that in with us was something special that he wants to take because he loves the way it feels, and we finally got something that he likes. Let's not like deviate from it so fast.
Are there any other Nike shoes besides the Kyrie line that kind of played into the design of this one?
From Nike, I'll say, yeah. We looked at this pre-2012 era, maybe 2011. But we looked at outside of basketball for inspiration because he came up in the era. He's like, "Yo man, when I came up playing ball in Jersey, I feel like these are the shoes I liked a lot back then. I'm just trying to restore the feeling." To do that, we looked at past models he'd worn, Air Jordan 2 and some 11s. And even like the Yeezy collection—he liked the way that they looked from an appearance standpoint. And there's just that element of look good, feel good, feel good, play good. We combined all that into one entity and that's what the Kyrie 6 became.
Especially lately, a lot of basketball sneakers have been transformed into lifestyle sneakers. And Kyrie has one of the leading lines in that in the sense that it has all the lifestyle collaborations and people wear Kyries off the court more than a lot of other basketball shoes. How did that factor into this, this new Kyrie 6?
Off the jump I was like, "Hey man, the 5 was really high performance. The 6, dude, I want to make sure that you get out there like, court culture, street culture." That's important to him. He wants to walk through the tunnel wearing the Kyrie 6, so that was taken into consideration. We didn't want to just skimp on this request. We had to, not reverse engineer, but find ways to plug into innovation without compromising looks and also not compromising performance. That was just like kind of like a dance movement back and forth to make sure you don't forget that detail, but also make sure this doesn't under deliver on performance.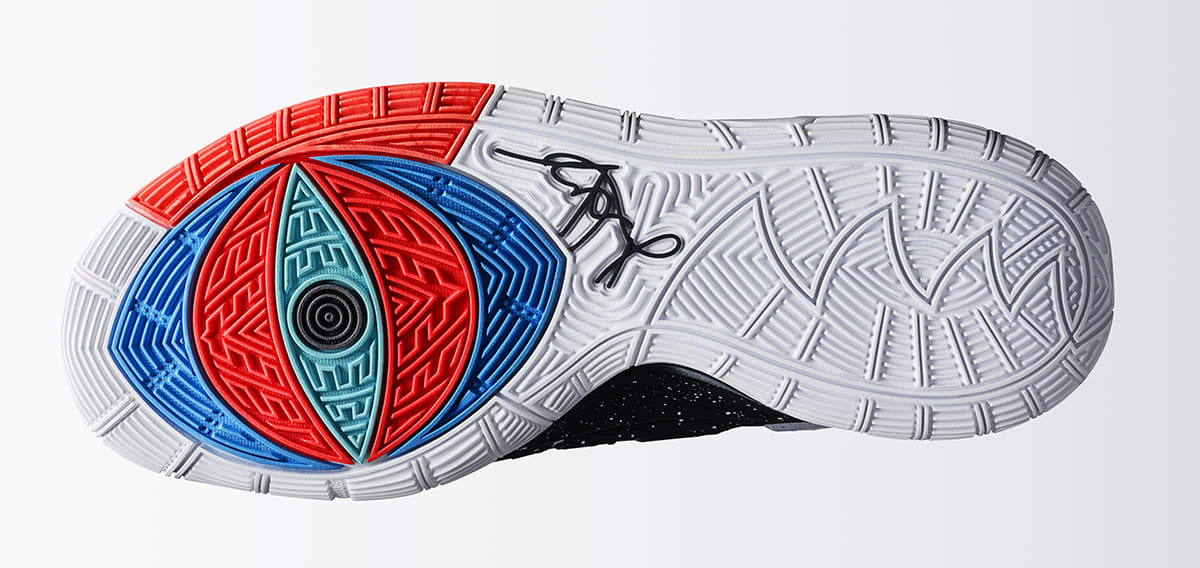 Kyrie's love for skating is also another thing that's influenced his line a lot. Obviously, we've seen the Lobsters, the Ray Guns, and more. Can we expect to see some more of that with the 6?
Man, we got some love for SB coming out. So there are partners who want to collaborate with us and Kyrie shared his affinity for skate. That's something that's potentially in the near future.
So are there any other crazy PEs or colorways we can expect? 
We're trying to advance our game and I feel like it's becoming a little more predictable of what's to come in different seasons. I think for the 6, we took a different approach—even like with collaborations. He wants us to be nomadic, like, "Yo, no features." We're like, okay, that's possible, but your life journey, and your product journey is so long—a whole year—there's going to be moments where it makes sense to insert collaboration or partners. For the most part we kept that journey—if we keep adding more collabs that's expected. People are like, "Yo, okay that's another friend." That's another Taco, or whatever. So now, how do we do an ill shoe that has the same level of hype as a collab without having a collab? And that's a challenge we face. And also from a PE's perspective, like as you saw, like the reverse SpongeBob, alternate SpongeBob, those are flames, but it won't be as special without a collab. So we're having to recalibrate how we think and how we pursue life cycle with the 6.
How does a collab like the SpongeBob collection come to fruition? That's such a large scale thing with something like SpongeBob.
Kyrie sees like the cultural impact SpongeBob has on not only kids, and the spectrum of consumer base for SpongeBob. That's how he wanted his products to feel—he wants to deliver across dads, soccer moms, this kid who loves SpongeBob, that basketball player, just to get the whole spectrum. Like, "can we do that?" How that came about was I think he's all about impacting basketball, and using basketball as a platform to impact everything around it. And SpongeBob just lives in basketball in so many ways, and it made sense to him.
The Preheat Collection, all the city exclusives—what went into the idea of having 11 shoes release at the same time in 11 different cities?
11 means so much to him … I don't want to take his thunder, but like some of the things are like the letter K is the 11th letter in the alphabet. His jersey's 11 because his dad wore it. It's just all these things. But that was the number he picked because of his affinity for that. And also there's so many—he wanted to do 50 cities. Or like he wanted to do 82 shoes. And it was like, from a financial gain, it's just impossible to do something like that and also be profitable. So we distilled it to 11, which makes sense. That's still a lot for a Preheat. Last year we did Taco and that was it. The year before that we did Confetti, and that was it. Now we're doing 11 shoes from one drop, so that was crazy. He picked the cities because he wants to lead a global impact. He talks about healing the world, and heal the world to him is like, I want to just use basketball as a platform and tell these stories of healing. So these are the cities that impacted my life and shaped who I am, and I want to celebrate the cities through my lens. There's those hologram graphics with the eyes on it because that's like Kylie's vision of his interpretations about cities and that image. 
I'm sure the design of the six started before Kyrie decided to sign with the Nets. Could his impending free agency have any sort of impact on the design of the shoe?
Not from a product design standpoint, but more from a colorway standpoint it does impact it. Working for Nike Basketball, you have to be nimble and understand that players get moved around every now and then. So we're pretty flexible when it comes to that sort of stuff. But from the shoe design standpoint, it didn't deviate our plans because he moved to a different team, only just maybe some storylines and narratives, and colors. But that's about it.
Can the Nets fans look forward to a lot of fun things from the Kyrie space?
I mean Brooklyn is like—come on, man. Brooklyn's got so much energy and life in it. Like, there's hip-hop, there's art, there's sport. We're going to continue to celebrate that even further as we continue this journey.