The Jordan 11 "Concord" returns this Saturday for the first time since 2011, which means people whose translucent soles have turned golden brown will have an opportunity to pick up a fresh replacement. The latest version of Tinker Hatfield's favorite Jordan sports two key elements enthusiasts will approve of—higher cut patent leather and the number "45" instead of the traditional "23" on the heel, a nod to the original pair Jordan wore upon his return to the league in 1995.
December's Air Jordan 11 releases have became known for the pandemonium they've caused. A true-to-form reissue like the 2018 "Concords" would be a top pick had they released any other year. Holiday 2018 is completely different than previous times. General release Jordans aren't the hot ticket item on everyone's wish list like they once were. The reality is that "Concords" could still be available come Monday morning, which creates an unfamiliar scenario for Jordan Brand and buyers.
Should the sneakers not sell out instantly, it wouldn't necessarily be a sign of the declining health of shoes bearing the Jumpman logo. If anything, it's a sign of the ongoing overall shift. Basketball shoes, including Jordans, dominated the market for decades. A run of those proportions is unprecedented in any business. But, all good runs must eventually come to an end or shift to point where competition catches up to the leader.
The emergence of Boost in 2013 coupled with the arrival of Kanye West to Adidas were the first time Nike and Jordan's reign faced real competition. Shoe wearers realized there were other cool options besides just Jordans. Currently, the dad shoe trend is still holding strong and higher-end fashion houses have gained followings for their footwear offerings. Jordans aren't seen as the only option for peak flyness as they once were. But the wide range of choices creates a healthier sneaker culture. For Jordan Brand, that means it has to find ways to make people care about shoes they've already bought over and over.
Every month brings a slew of Jordan options to the point where sneakerheads are suffering Jordan fatigue. It's something the company recognizes. In late 2017, company execs expressed a desire to make Jordans more limited, perhaps as part of the Swoosh's  "edit and amplify" strategy. What they didn't promise to do was decrease the number of offerings. Approximately 30 different retros released between September and November, with another 11 slated for December. Notable entries like the "Orlando" 10 and "Court Purple" Jordan 1 get lost in the sauce when the company cranks out that many variations in a short span of time.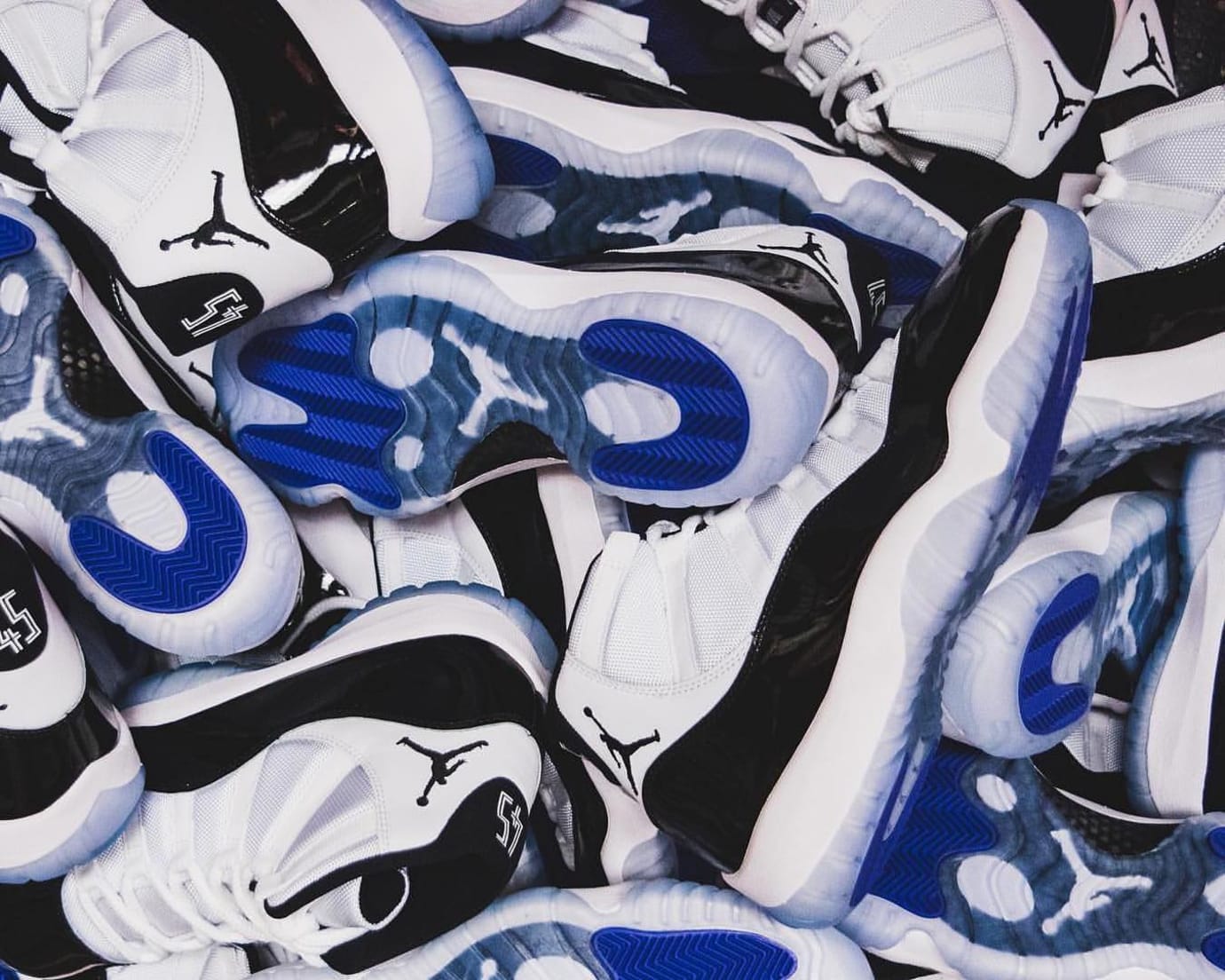 While they may not sell out immediately, it is likely the "Concords" will sell through for many stores. Most pairs will be gone by the close of business Saturday while a few odd sizes may linger for a few days. It's a scenario I watched play out at a local chain store earlier this year during the Black/Cement 3 release. Curiosity led me there after witnessing so many friends scoring pairs online. I wanted to see how things were going offline, and the results were somewhat shocking.
People were walking in and buying their pairs with ease on release day. There was no long line to stand in and no raffle tickets to worry about. It's been a lifetime since a coveted Jordan turned into such an easy cop. The fact that this scene occurred shortly after noon made it even more surreal. Imagine sleeping in and still being able to buy a hot shoe hours after the store opened.
I took it all in as I stood there. The place buzzed with activity. Music blasted, the register rang and everyone—store associates and customers—was all smiles. There were no riots, no one was pissed because they missed out, and no store associates got cursed out. It's the way a popular shoe release should function. If the scenario repeats itself this Saturday, it's not a situation that should be seen as a negative. I'd say we reached a sweet spot where everyone has finally gained what we've wanted all along—better quality retros and a fair shot at buying them when they drop. That's not a bad proposition at all.