Concepts released the "Purple Lobster" Nike SB Dunk Low last week to much fanfare, and the hype surrounding the release had it feeling like the mid 2000s again. One online shopper even ended up spending $10,000 to secure their pair—accidently.
According to California skate shop The Berrics, one unlucky customer purchased a pair of the "Purple Lobster" Dunk Low on its Canteen online store on the morning of the release. The problem is, the skate shop co-founded by Eric Koston didn't even drop the exclusive pair online. All of the pairs were sold via raffle. A single pair was put on The Canteen web shop at the exorbitant price of $9,999 as a placeholder.
"Initially, the placeholder was set so customers could find the raffle we were hosting in order for a chance to purchase this high demand shoe," said Canteen Manager Anthony Reyes. "As for the pricing, I first set it to $1,000 so no one would buy it. I soon realized that some bots didn't have their spending limit adjusted to the retail price of $100—and I didn't want to cancel a bunch of $1,000 orders—so I bumped it up to $10,000 thinking no one's card would ever go through for $10,000 without alerting their bank they were going to spend that much."
As it turns out, this particular customer was trying to finesse the system with a bot. In a lovely instance of karma, their bot picked up the $10,000 pair, along with $956.98 worth of additional tax and shipping costs. Good news for the buyer, Canteen was kind enough to issue a refund despite their policy prohibiting bots and stating that all sales on limited product were final.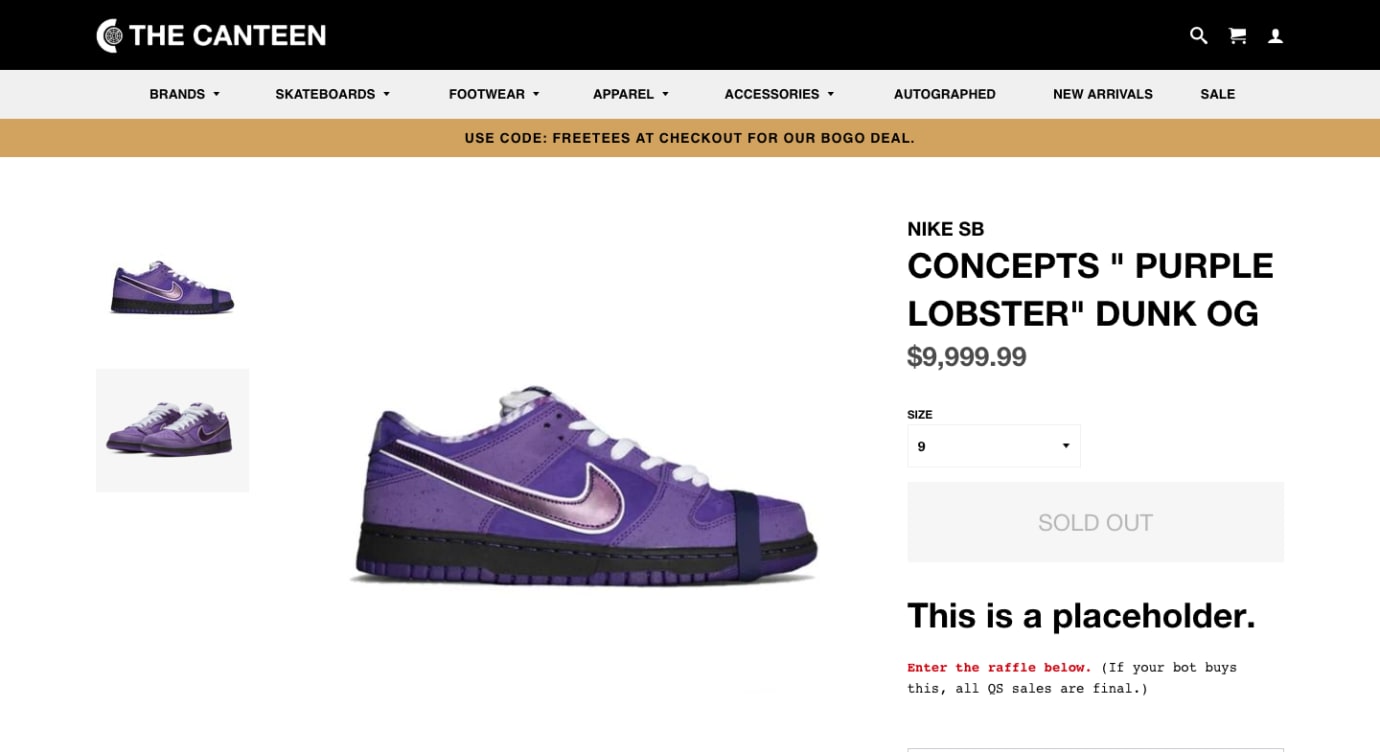 "The customer reached out within 10 minutes of the purchase asking us if this was really the price. To which we replied, 'Yes, that's the price we set, there's no mistake about it,' along with the image attached from our site (seen above)," Reyes told Sole Collector. However, they did end up refunding the customer. "$10,000 is a lot of money. That could change someone's life drastically; we knew that the time it would take to get the refund back would be a lesson in itself. We genuinely just want people who are going to wear/skate the shoes to have a fair chance at buying them. Bots will clear us out in seconds… we care more about customer service than a quick buck."