Joshua Hunt's upcoming book, University of Nike: How Corporate Cash Bought American Higher Education, is shedding new light on Nike's deep ties to the University of Oregon, but some of the key parties involved are disputing Hunt's findings.
Back in 1994, Dave Frohnmayer took over as the president of the University of Oregon. At the time, the university was in financial trouble and aimed to increase outside funding to stay afloat. One year later, the Ducks football team appeared in the Rose Bowl for the first time in 37 years. Nike co-founder Phil Knight took note of his alma mater's success, looking for ways to become further involved with the school. However, according to Hunt, a decision by Frohnmayer almost severed the ties between both parties forever.
Knight had made prior donations to his former school, including a $27.4 million gift in 1994 to renovate the library that would be renamed in his honor. Going forward, Knight aimed to improve the football program with various donations. He would donate $8 million to help fund the building of the Moshofsky Center, a new indoor practice facility for the team. From 1994 to 1996, Knight would end up donating roughly $35 million to the school for various projects. Nike began outfitting the football team (along with other notable universities) in 1996, a partnership that that remains intact to this day, and has become known for the vast array of uniform combinations the team has worn from season-to-season. The foray into college sports proved lucrative for the Swoosh until a major financial crisis in Asia in 1998 halted demand for the products. This was accompanied by the PR nightmare highlighting the poor working conditions in Nike's overseas factories. Still, Knight continued to pour money into the University of Oregon's various projects.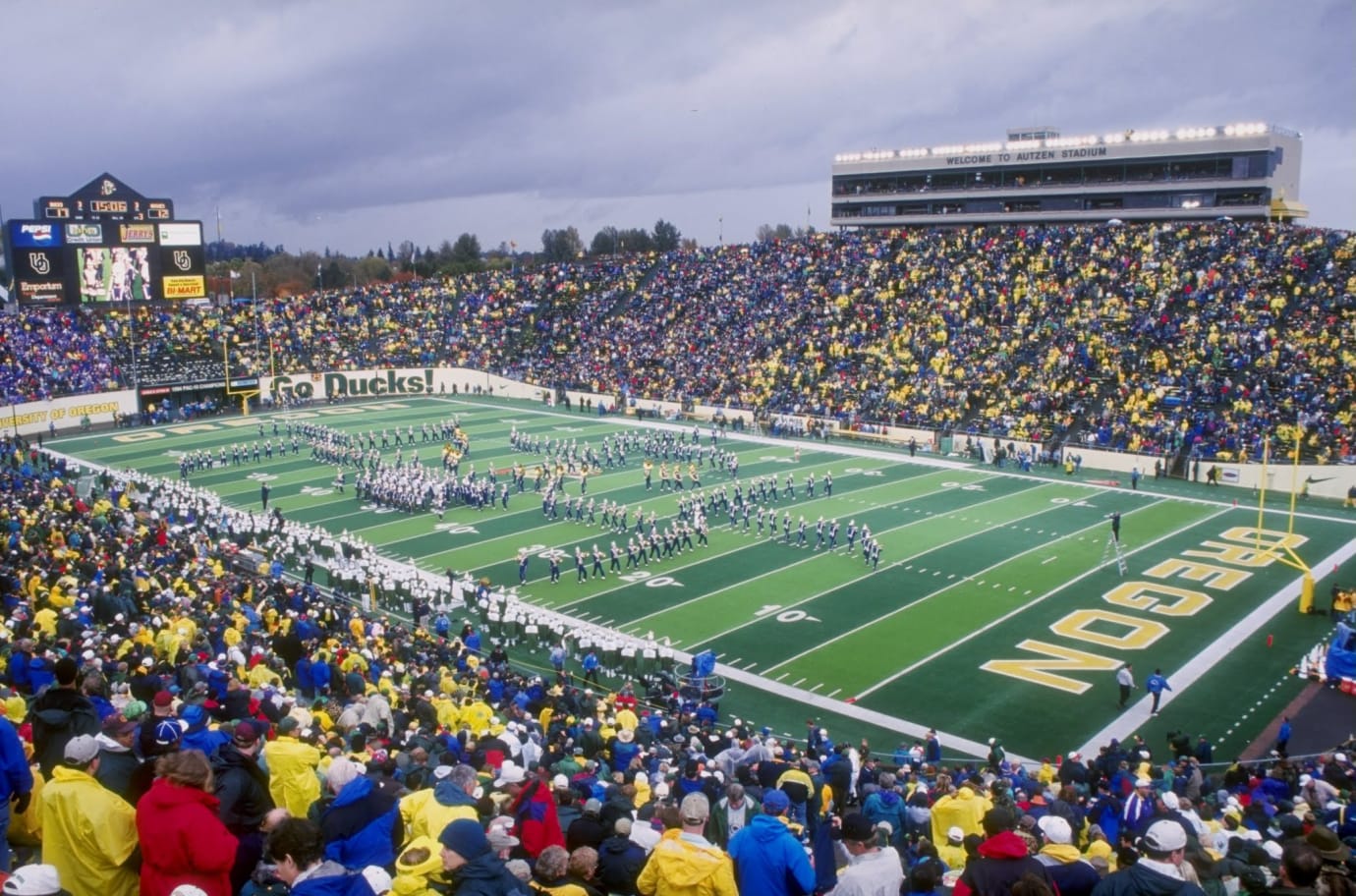 This brings us back to Frohnmayer. His children—Kristen, Katie, and Amy—suffered from a rare and fatal disease called Fanconi Anemia (FA). In response to this, the Frohnmayer family started the Fanconi Anemia Research Fund non-profit in 1989 to raise funds for to investigate treatment for the fatal disease. Sadly, Katie passed away in 1991 due to complications with the disease at the age of 12. Six years later, 24-year old Kristen also passed away from her complications with FA.
The Fanconi Anemia Research Fund would become another one of Knight's recipients. He began donating an annual $1 million gift to Fronhmayer's organization. However, Hunt claims that in 2000 the donations suddenly stopped coming in as the result of the University of Oregon signing on to support the Workers Rights Consortium (WRC) for one year amid growing tension and student protests related to Nike's working conditions, a cosign that Knight took rather personally, according to author Joshua Hunt. Knight also allegedly withdrew a $30 million pledge to renovate the school's Autzen Stadium saying that UO, "Inserted itself into the new global economy where I make my living. And inserted itself on the wrong side, fumbling a teachable moment."
"If I had to do it over, I would have given him a courtesy call to make sure he knew how things were proceeding," Frohnmayer reportedly wrote after the pair's falling out. "I did not do that, and my regret is enormous."
Hunt explains that while the University of Oregon was struggling to cope with the lack of donations that typically came in from Knight, Frohnmayer's family was as well. Knight cutting his funding to the Fanconi Anemia Research Fund meant that the non-profit could not move forward with certain projects as it was closing in on a cure for the disease. The fund reportedly only raised half the money it did the year prior when Knight cut his donation.
Despite Hunt's assertions, the Frohnmayer family is vehemently disputing the information presented in the book. David's wife, Lynn, issued a statement to Sole Collector claiming that Hunt failed to exercise due diligence in his reporting. 
"Contrary to what is reported by Joshua Hunt in his book, University of Nike, Phil Knight continued to donate to the Fanconi Anemia Research Fund (FARF) during the period in which the University of Oregon was a member of the Workers' Rights Consortium (WRC)," reads Lynn's statement. "I am forever grateful for Mr. Knight's generous support for Fanconi research. I'm saddened that Mr. Hunt's book apparently ignored my request to check the facts."
Phil Knight and the University of Oregon have not responded to Sole Collector's request for comment at this time. 
University of Nike: How Corporate Cash Bought American Higher Education is available now.