Earlier this season, one of baseball's biggest stars made headlines when he came up to bat with his loud and vivid Supreme x Louis Vuitton custom cleats. Washington Nationals All-Star Bryce Harper was spotted wearing these and immediately caught the attention of even non-baseball fans.
It's no secret that Major League Baseball still lacks the appeal and flair of counterpart sports leagues such as the NBA and NFL. To be fair, MLB has seen an increase in popularity amongst young fans, its intended target, over the past few years. Earlier this year, Forbes reported that baseball was the most-played sport by the younger generation in the U.S., with interest steadily increasing. It appears that efforts are heading in the right direction and intentions are meant well, but there's still one aspect within baseball that could offer or be exploited more, so to gravitate younger fans to baseball—sneaker culture.
Former Cy Young pitcher David Price is adamant about the positive effect letting players show their personalities through their style will have on younger fans. He believes there's "definitely room" for the sneaker fashion to grow within baseball.
"Baseball needs to let us express ourselves with our shoes," the Red Sox lefty said. "These young kids want to see sick shoes. They want to see sick colors. They want to see guys from Venezuela having that flag on their shoe. They want people to be able to represent and express themselves through their shoes."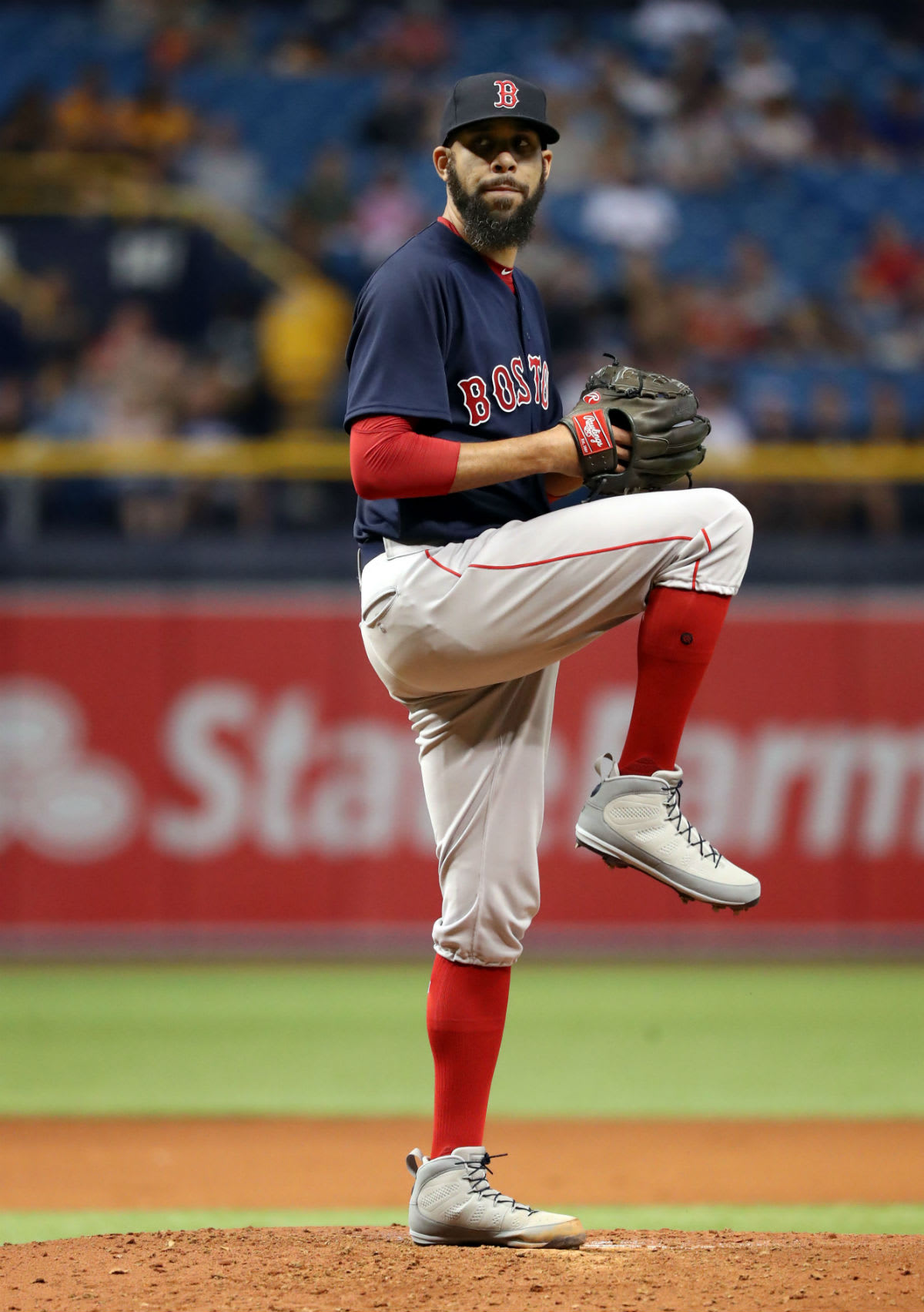 Another former Cy Young winner and Nike Baseball Athlete, Dallas Keuchel, is also on board with Price's thoughts. He hasn't been shy about saying that MLB's fashion sense is "not good at all."
"We're miles behind football and basketball," Keuchel said. "I think that both the NBA and NFL do a great job getting their players out there to let the fans see the different aspects of who they are as a player and as a person."
As if two former Cy Young winners vocalizing their thoughts wasn't enough, reigning World Series champ and Adidas Baseball Athlete, Carlos Correa, also chimes in.
"I think that what (MLB) should do is let the players show their personality and show their swagger," the former American League Rookie of the Year said. "Every time they take the field, I think fans get more involved (when) they see some nice cleats and some swagger out there. They definitely love it. We want to be able to attract more fans to the game of baseball. I think what you wear helps a lot."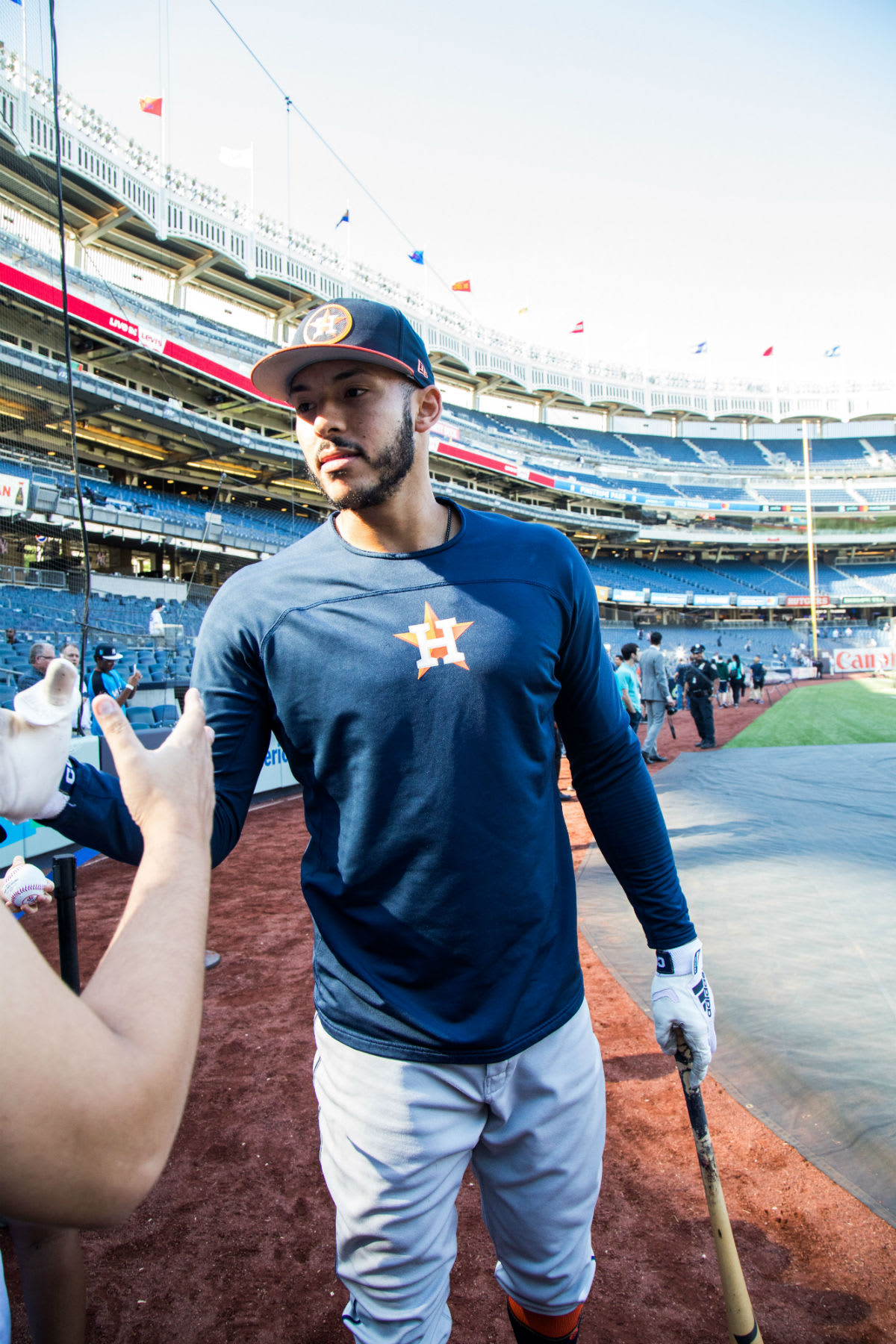 MLB has publicly said that it's trying hard to think of ways of how it can be more fun and engaging to help attract younger fans. The pace of game has been a constant topic in those conversations, and the league has begun implementing a pitch clock and limiting mound visits in hopes that it'll speed things up. However, it's not so much about the pace or length of the game that could use more help, as it is the element of entertainment.
"That is where baseball is lacking a lot," Keuchel stresses. "A lot is said about the time limit about baseball, but a lot of it has to do with how MLB markets their players. I feel like people are willing to watch a longer sporting event if there's entertainment value in there."
It wasn't long ago that baseball captivated the public's attention when the home run battles where taking place almost every night in the middle to late '90s, but even with MLB's recent efforts to help gravitate the sport to an even playing field with other major sports, they currently implement uniform restrictions that perhaps may be holding back their biggest opportunity to reach a younger demographic.
New York native and Jordan Brand Athlete Dellin Betances believes MLB can reap the benefits of being more understanding of the fact that kids could gravitate toward baseball based on what players are wearing on their feet.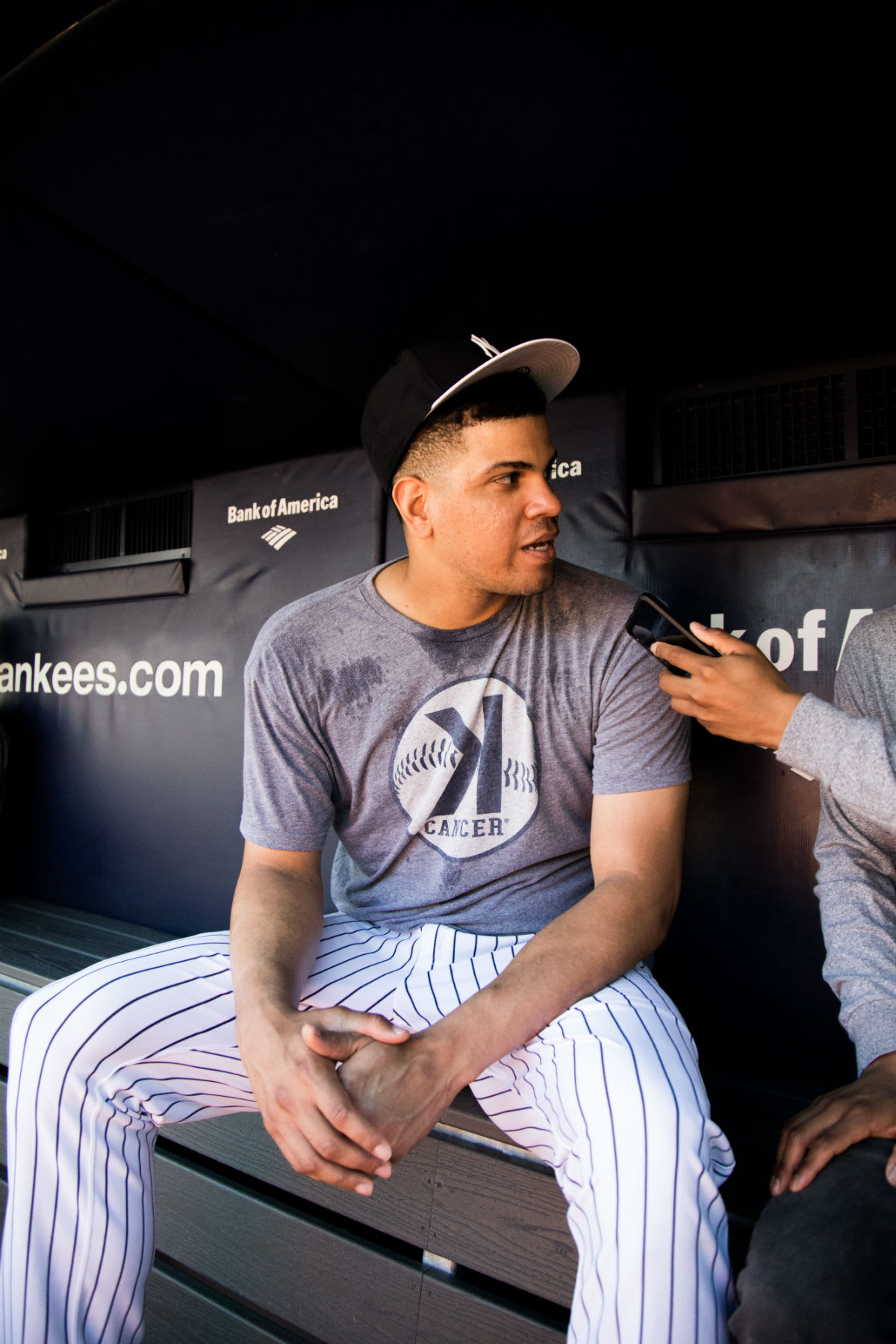 "If they give us a chance to go crazy with our shoes, allows us to wear different colors or animations (and) different things you can do to a cleat, it'll attract different crowds—the younger crowd," the Yankees right-hander said. "I think that's something that they'll enjoy. It doesn't really take away from the game."
Betances believes this will get the youth involved and make it enjoyable for the kids when they see their favorite players wearing cool cleat designs. Keuchel agrees that rocking a nice pair of cleats would add entertainment value to the sport and that MLB could learn a thing or two from how other leagues market their players.
"You got guys signing $200-million shoe deals and they get input on what they want, this and that, colorways, and everything. With baseball, I think they've kinda subdued with how guys can kind of reflect themselves on the fans, and ultimately the younger generation is what's going to take this game to the next level. If you want kids to start playing ball, you want kids to come out to the ballpark and see Aaron Judge wearing a sick pair of cleats, or any of the Yankees in general—or the Dodgers or the Cubs."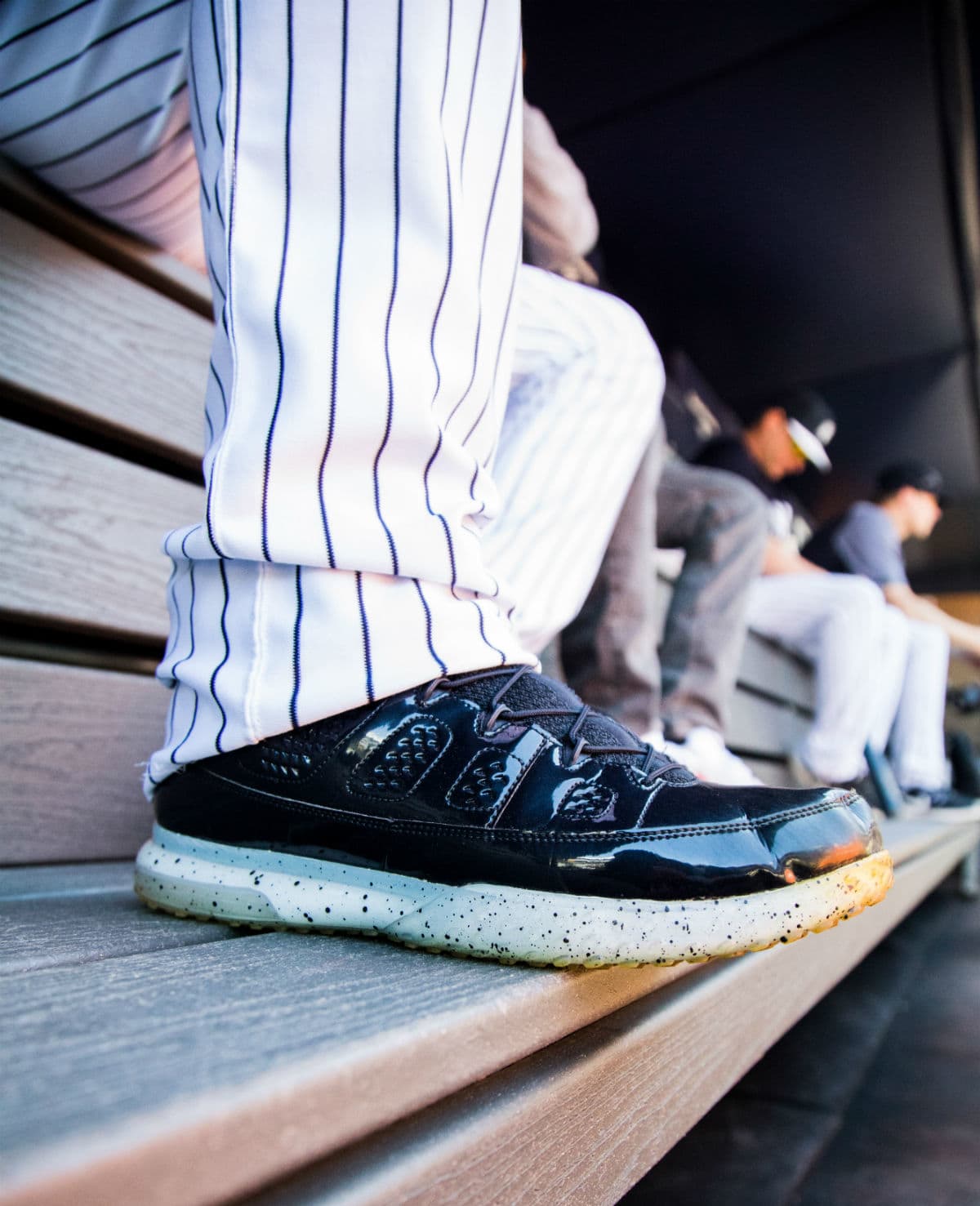 Both the NBA and NFL have made strides to make their respective leagues more fun and entertaining, especially for the younger crowd. Unlike baseball players, NBA players have the advantage of actually wearing sneakers to play. This has been a huge staple in how athletic brands market star players—something that resonates well with young fans. One of the greatest, if not the greatest player to ever live, Michael Jordan, is at the forefront of how the NBA, Nike and ultimately he himself got it right when it came to marketing the Jordan Brand and its sneakers. That effort helped captivate the younger generation of fans that followed and paved the way for the sport to grow. In the process, those efforts also helped catapult a sneaker culture into the phenomenon it is today.
When you have stars like LeBron James, Steph Curry, Kevin Durant and James Harden among others with their own signature sneakers, it helped that these brands were able to see how each player was able to captivate fans with their personalities, popularity, interests and high-level play. Of course, the NBA assists that effort by providing a national and, at times, international stage to be showcased. All of these things have helped the league's popularity rise over the last couple of years. The NFL isn't far behind behind either.
With players like Odell Beckham Jr., Antonio Brown, Julio Jones and Ezekiel Elliot lighting up the end zone, it's easy to see why kids are drawn to these sports and ultimately want to be like them. This notion doesn't mean that baseball isn't fun, cool and appealing. In its own right, baseball is perhaps the most fun sport to play. However, when it comes to watching and attending a game for pure entertainment, it can be long and boring at times, even for the die-hard fan. Price, who's been with Jordan Brand since 2013, thinks he might have a solution for how MLB could open up their uniform restrictions going forward.
"Make (it) a time thing. You get five years in, you get to do stuff to your cleats. They still need to be team colors. The Red Sox can't be wearing gold shoes. Guys take a lot of pride in creating these shoes. The young kids man, they absolutely love that stuff. They eat it up. If we're gonna try to get that younger generation to like baseball, to target those young kids, this is something that Major League Baseball needs to do."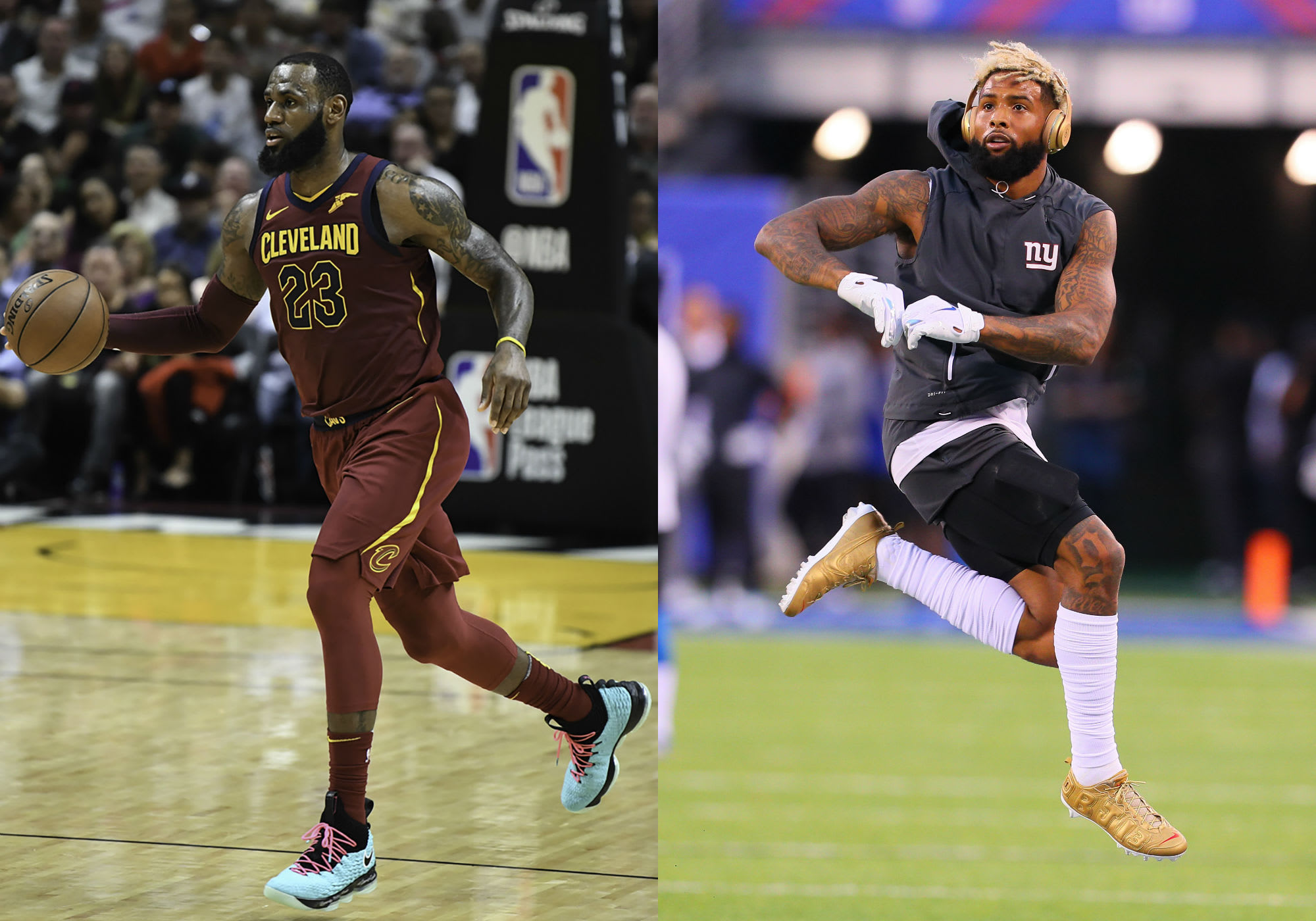 Last season, MLB introduced "Players Weekend," which gives players the opportunity to showcase their personalities through custom in-game footwear. It was a casual Friday-esque moment for the sport. Players wore outlandish colored uniforms with their own nicknames and were able to wear any custom cleats they chose, regardless if they matched or not. MLB is bringing it back this season and it'll be interesting to see what cool designs pop up, and which players decide to flex on other sneakerheads.
Price (Jordan), Keuchel (Nike), Betances (Jordan) and Correa (Adidas) all have relationships with their respective brands, but share the same thought process equally. They all want themselves and others to be able express themselves on the field. Although neither of them have yet to design a signature cleat and/or shoe, it's only a matter of willingness, effort and marketing strategy for MLB and their brands to design a signature model. Correa has recently been wearing Astros-colored custom James Harden sneakers during batting practice and warm-ups. He tells me they're really comfortable, and loves to wear his adiZeros during games.
"My favorite shoes, I'll say (are) the Human Races. Those are the ones that I love 'cause they look great obviously, but they're (also) comfortable. You can walk hours with them on. You'll have no problem with them. I like my adiZeros. They're light. They're comfortable. Obviously I'm a shortstop, (so) I gotta be quick out there. So I feel they're the perfect combination of style, comfort, and speed." Of the four players interviewed, Correa has been the one mostly flirting with the idea of an adidas "Carlos Correa Boost" shoe.
"Yeah, we've been talking about it. We'll have some plans coming in the future. That's definitely something I want to finish, my own signature shoe," the young power hitter said. If and when that shoe does arrive, it'll be an opportunity for MLB to capitalize on the kind of appeal that can draw.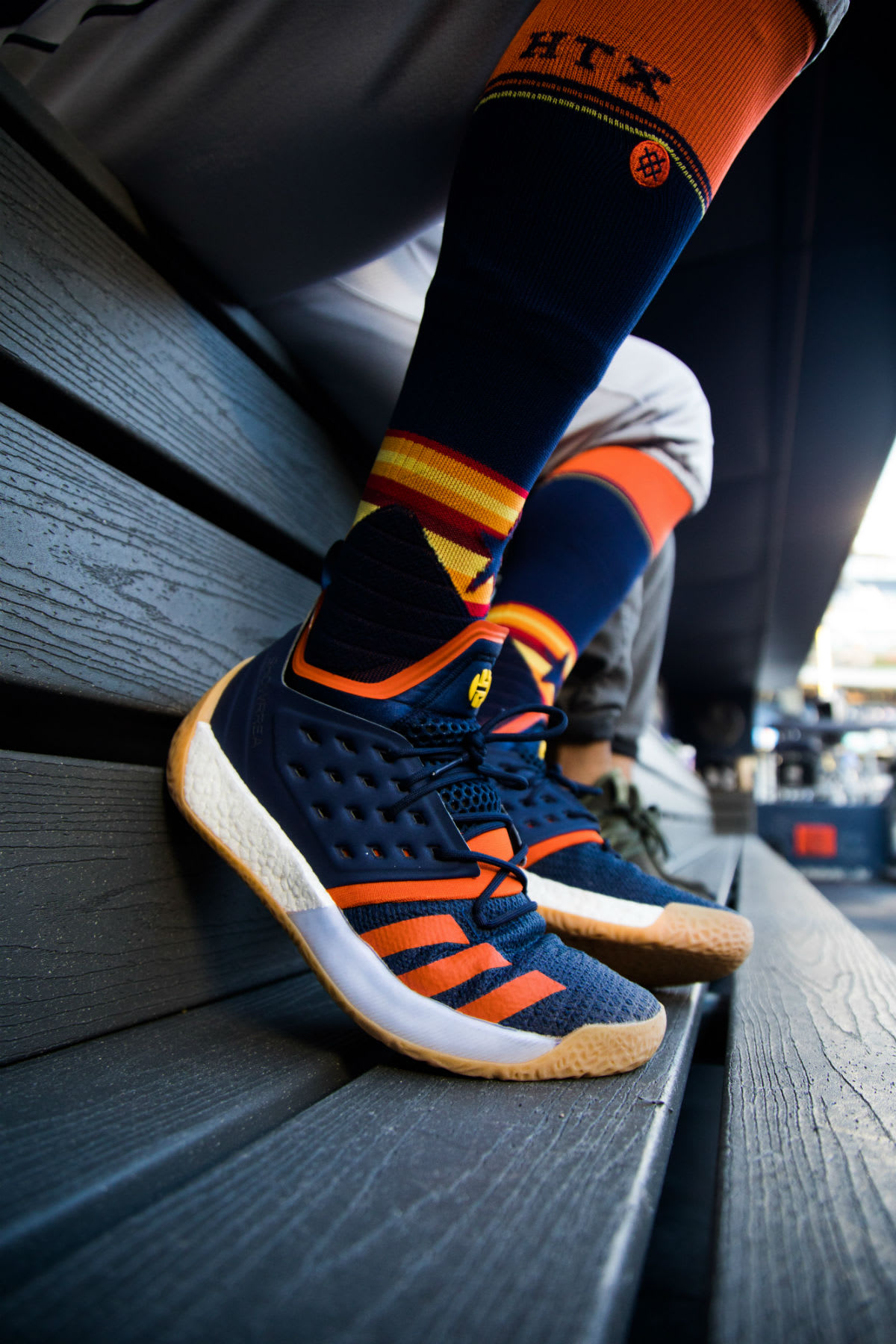 Keuchel, who went to school for apparel design, has thought about one day designing footwear after his playing days are over. "I got a few ideas that I haven't told anybody and no one has come out with it yet. I'm hoping they don't. [laughs] I don't wanna let anyone know my ideas. I think outside the box a little bit and that will be good post career. Hopefully I'm playing this game for a very long time. We'll see what happens."
Betances would also love the opportunity to design his cleat with Jordan someday. "It would be a crazy experience just to have your own shoe. It's just harder in the sport of baseball 'cause you don't wear cleats outside. So one day if I can design my own pair of turfs or something, I think that'll be pretty cool."
With the way fans interact with one another and players, primarily through social media, MLB could benefit from loosening their uniform restrictions. The move could potentially open the door for athletic brands to see how certain players can be marketed and target to appeal that younger crowd—using players' personalities, popularity and interests. Of those interests, the footwear culture phenomenon is a big one and probably the most relatable to young fans. Both the league and the brands could use that to their advantage and exploit the sneaker culture going forward. Mike Trout and Bryce Harper have their own cleats, but before them, it worked with Ken Griffey Jr., Bo Jackson, Hideo Nomo and Deion Sanders. With today's resources, who's to say it can't be tried with today's stars?