Luke Tadashi is one of the many kids who grew up in Los Angeles in the early 2000s infatuated with the sport of basketball. More than anything else, he loved the mini 'fro rocking shooting guard for the Los Angeles Lakers—a young Kobe Bryant.
"Growing up, Kobe was everything. He was as close to a God as you could get in LA," said Tadashi.
Now 25 years old, the co-founder and lead designer of Los Angeles-based clothing brand Bristol Studio is getting the chance to portray his love for basketball in a new way through fashion. "In a sense, without basketball I never would have found design," he says. "From a design perspective, the silhouettes I grew up wearing like baggy snap pants and long XXL white tees drove me into this space even further."
Bristol Studio is slated to drop its second capsule collection with Adidas later this year, but the relationship blossomed organically years prior. In 2016, the brand had models rock old school Adidas Basketball sneakers like the Crazy 8, Crazy 1, and infamous Kobe 2 in its lookbooks, which caught the attention of a rep at the Three Stripes.
"Someone from their team saw it and was like, 'Man, this is really cool. We haven't seen this era of our brand interpreted this way,'" says Tadashi.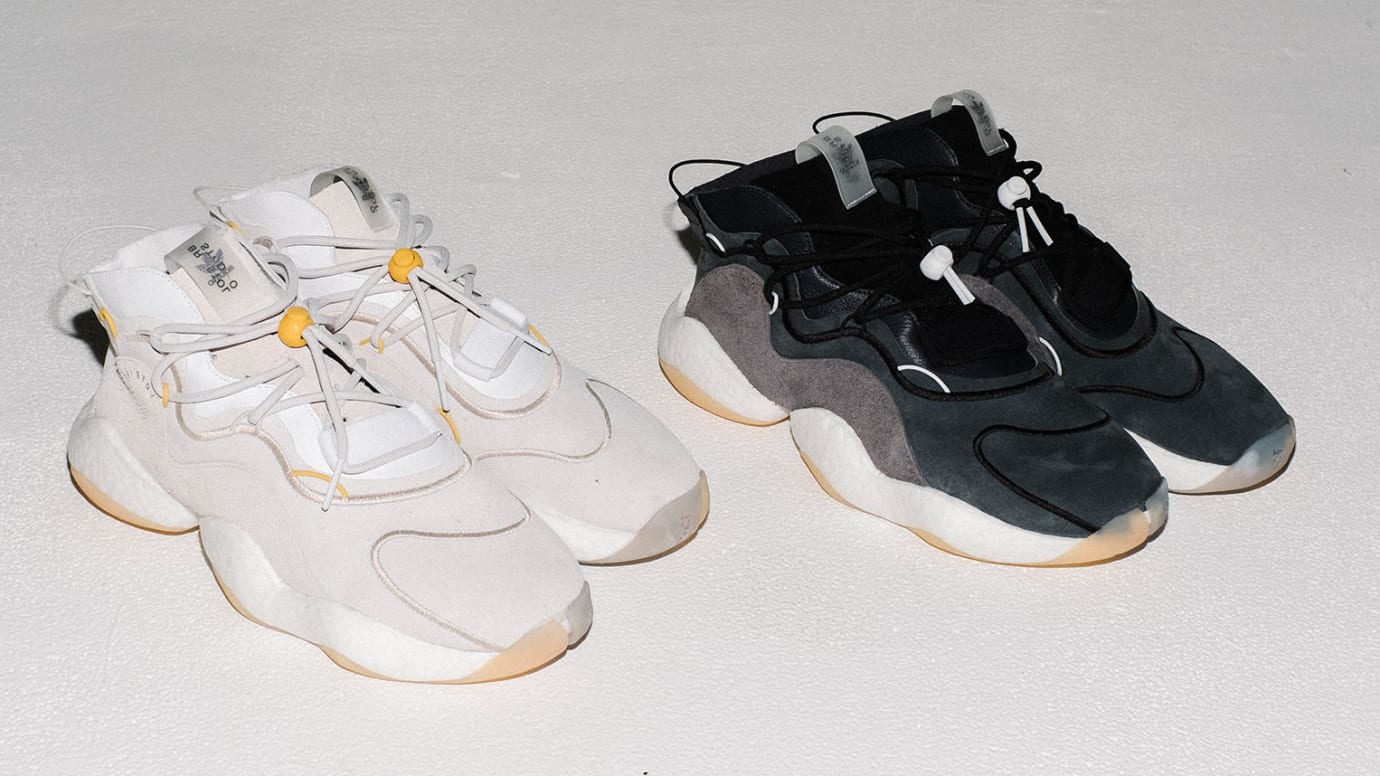 The first official collab from the brands dropped during 2018 NBA All Star Weekend in Los Angeles this past February. It consisted of two different interpretations of the newly unveiled Crazy BYW silhouette—a modern rework of retro Adidas basketball designs that fused Boost cushioning with the brand's Feet You Wear technology from the '90s.
"I think in their eyes it just made perfect sense that we would be that brand that would kind of carry the torch since we were already so heavily interested in that era of basketball, culture, and streetwear," said Tadashi.
Like the All Star Weekend release, the upcoming project aims to pay homage to L.A. and its rich basketball culture without simply splashing purple and gold all over a silhouette. The Crazy BYW makes a return alongside the new Crazy BYW LVL 2—a low-top model that also reinterprets old basketball sneakers from the brand's archive. Both models feature premium suede uppers along with transparent paneling to give the shoe a more deconstructed look--something also popularized recently in part by Virgil Abloh's "The Ten" collection with Nike.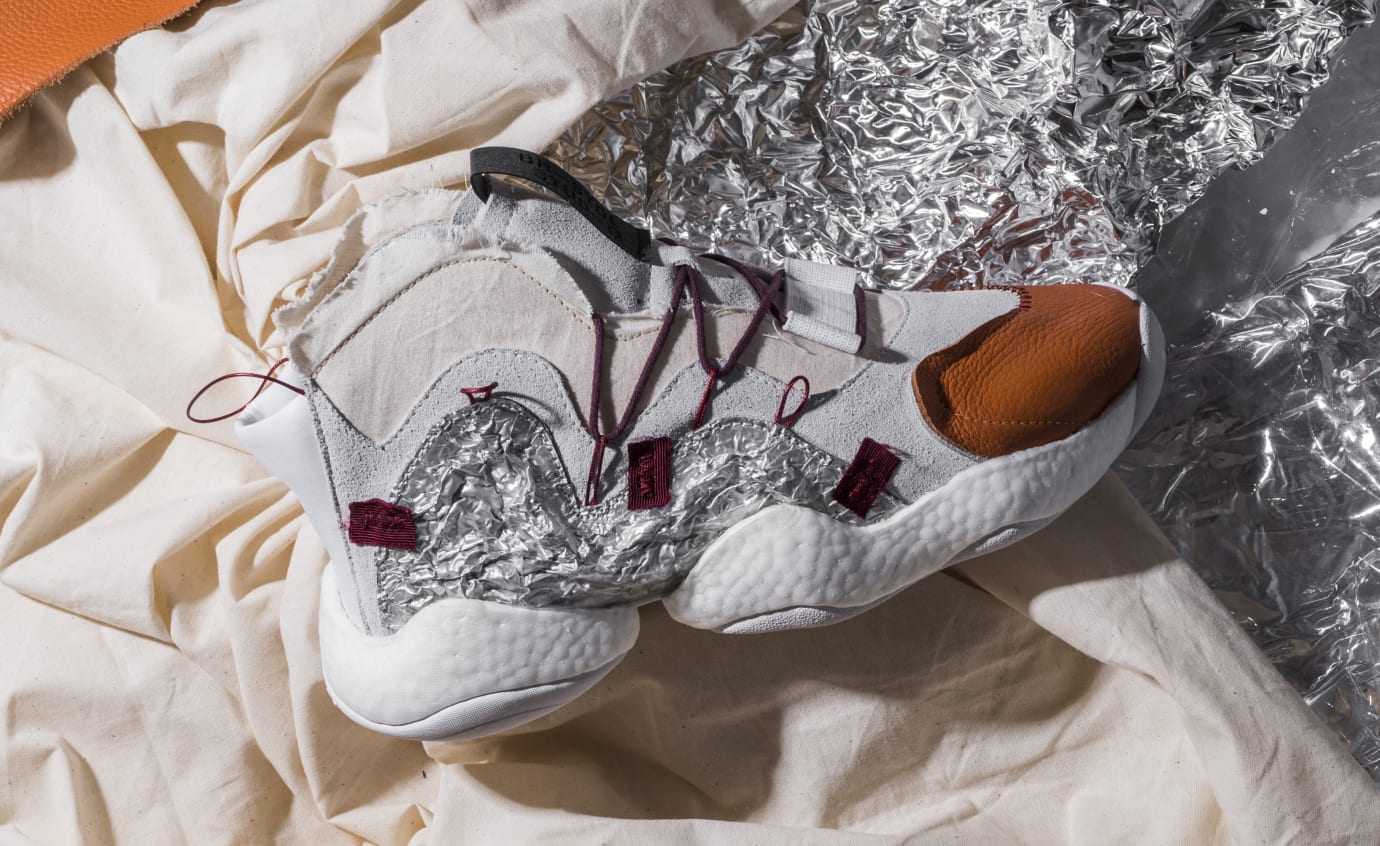 Along with this project, Bristol Studios has also linked up with renowned customizer The Shoe Surgeon for three more takes on the Crazy BYW that further push the boundaries between art and sneakers. Each shoe is given a three dimensional quarter panel to evoke the feeling of sculpted art. Unconventional materials are used on each including plastic, metals, silicone, paper, and hardened plaster. This project will not be released, but was designed exclusively for Bristol Studio's Spring/Summer 2019 presentation.
"The theme is that we are really trying to say, 'How can we elevate a sports product to a place where someone can look at it and say it could fit as well off the court as it does on the court.'"
As far as what's next in the sneaker space, Tadashi says he would love to put his spin on the Adidas Pro Model 2G, a sneaker frequently seen on Nick Young this past NBA season. "With the whole "dad sneaker" trend, I think there would be a lot of demand for it. But also that was like the most comfortable shoe ever, and I wore it all the time."
In the meantime, expect the next Bristol Studio x Adidas collection to make its way to retailers some time this November.