Shepard Fairey, founder of Obey clothing, is known for his famous street art, viral imagery, connection to the notoriously anonymous artist and colleague Banksy, and his overall rebellious personal aesthetic. Like most kids growing up in the punk rock, socially conscious, and anti-authority hip-hop golden age that was the 1980s, Fairey connects the inspiration for his artwork to his love for skateboarding.
"The very first print that I ever made on paper was of a policeman grabbing a kid with a skateboard and it was accompanied with the text 'prevent police boredom, skateboard' so that idea of poking fun at a waste of taxpayer money and abuse of authority and being a little bit snarky and defiant and that really comes from punk rock and skateboarding," said Fairey.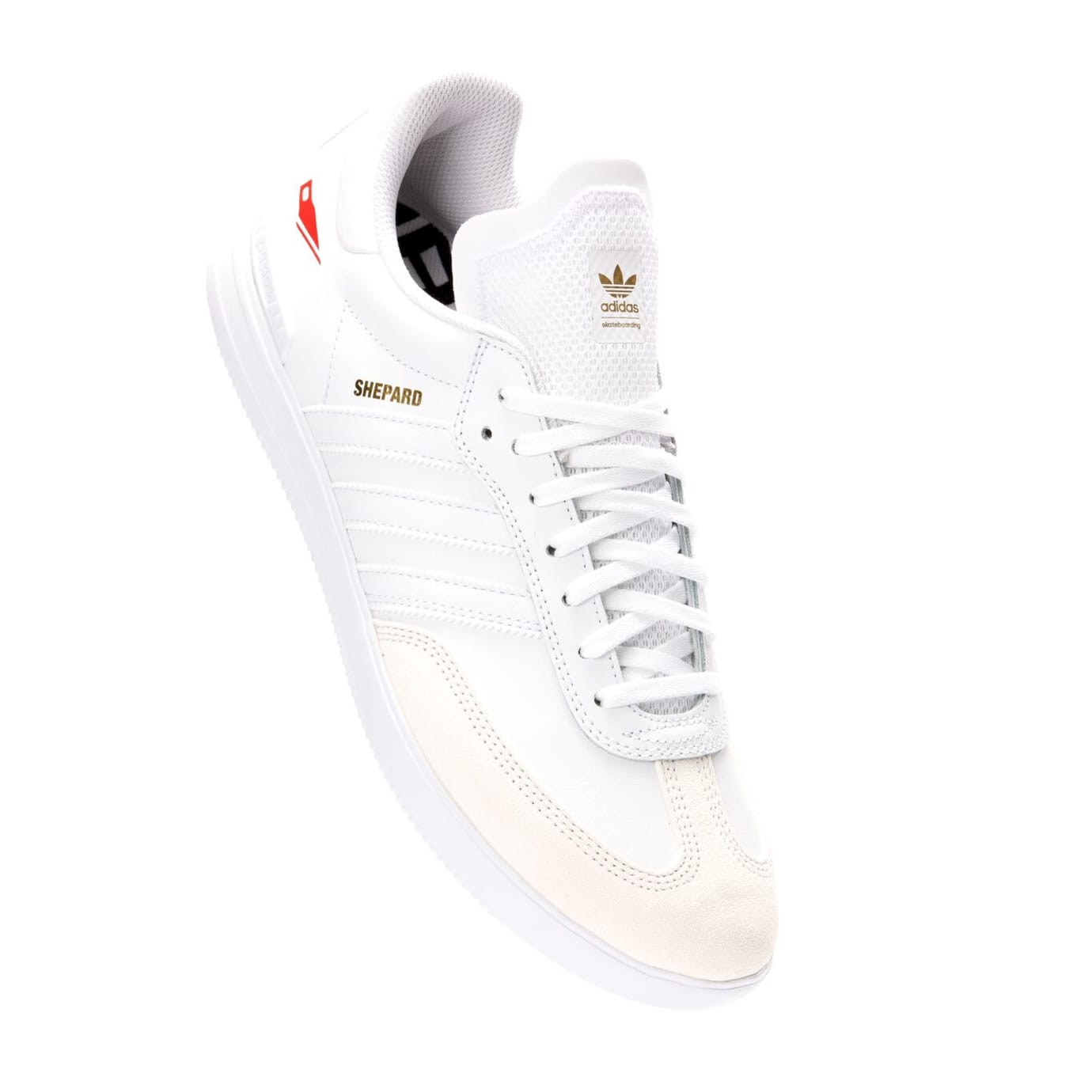 At the forefront of Shepard's salad days was the brand with the Three Stripes. "Vans and Converse dominated the first couple years of my early skating career but influence from groups like Run-D.M.C. and the Beastie Boys prompted a strong and long-lasting shift to Adidas footwear," said Fairey.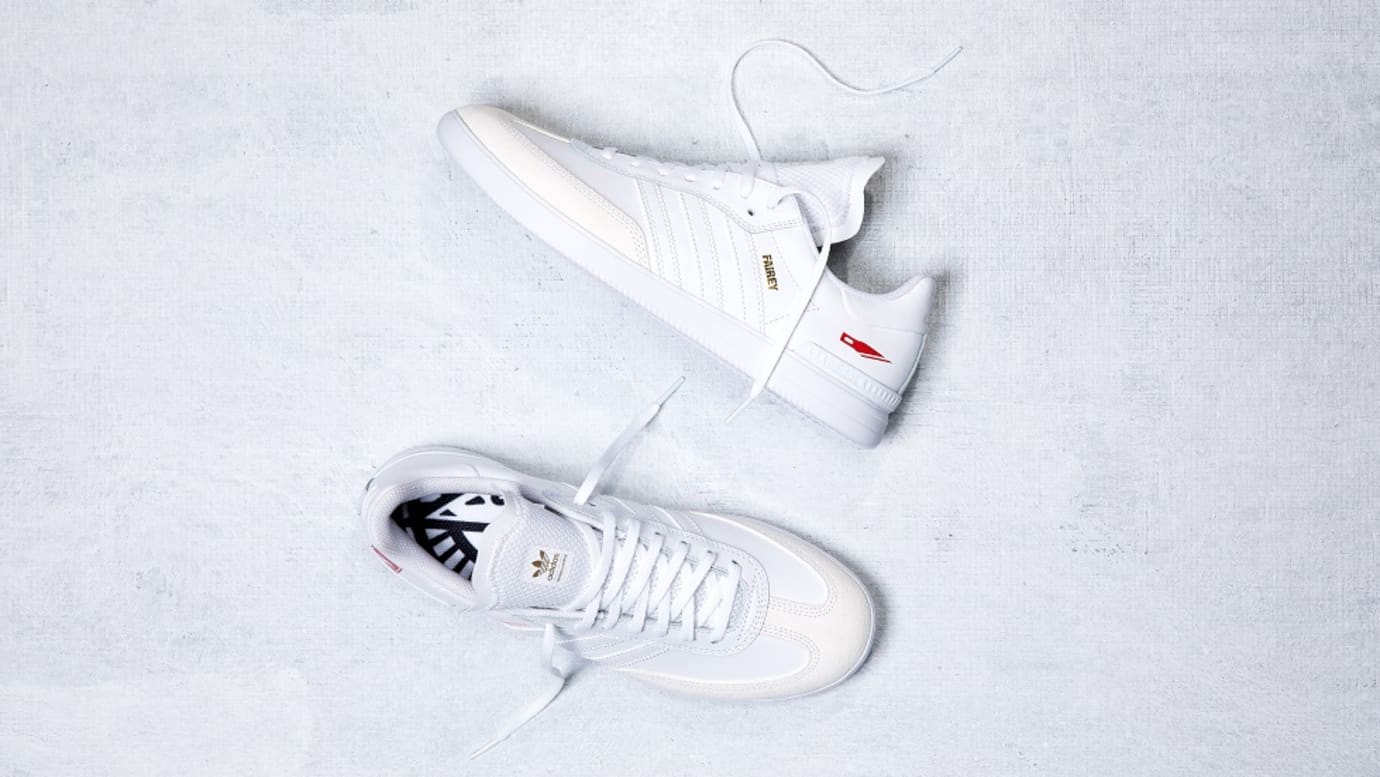 "Carrying a specific affinity for the Samba silhouette when it came to shredding and everything else in between, I didn't need much persuading when it came it choosing a style for this collab," he stated. 
The Shepard Fairey x Adidas Samba ADV features several personal touches from the artist himself. The sneaker's all-white upper includes heel icon logos that vary from an X-Acto knife to the classic Obey Giant logo, his most recognizable and famous graphic. "My idea was, let's offer these different icons that reflect my career in art and street art and punk rock and everything so you know there's my star icon, the razor blade from the X-Acto, and the broken bottle that symbolizes rebellion and angst," said Fairey.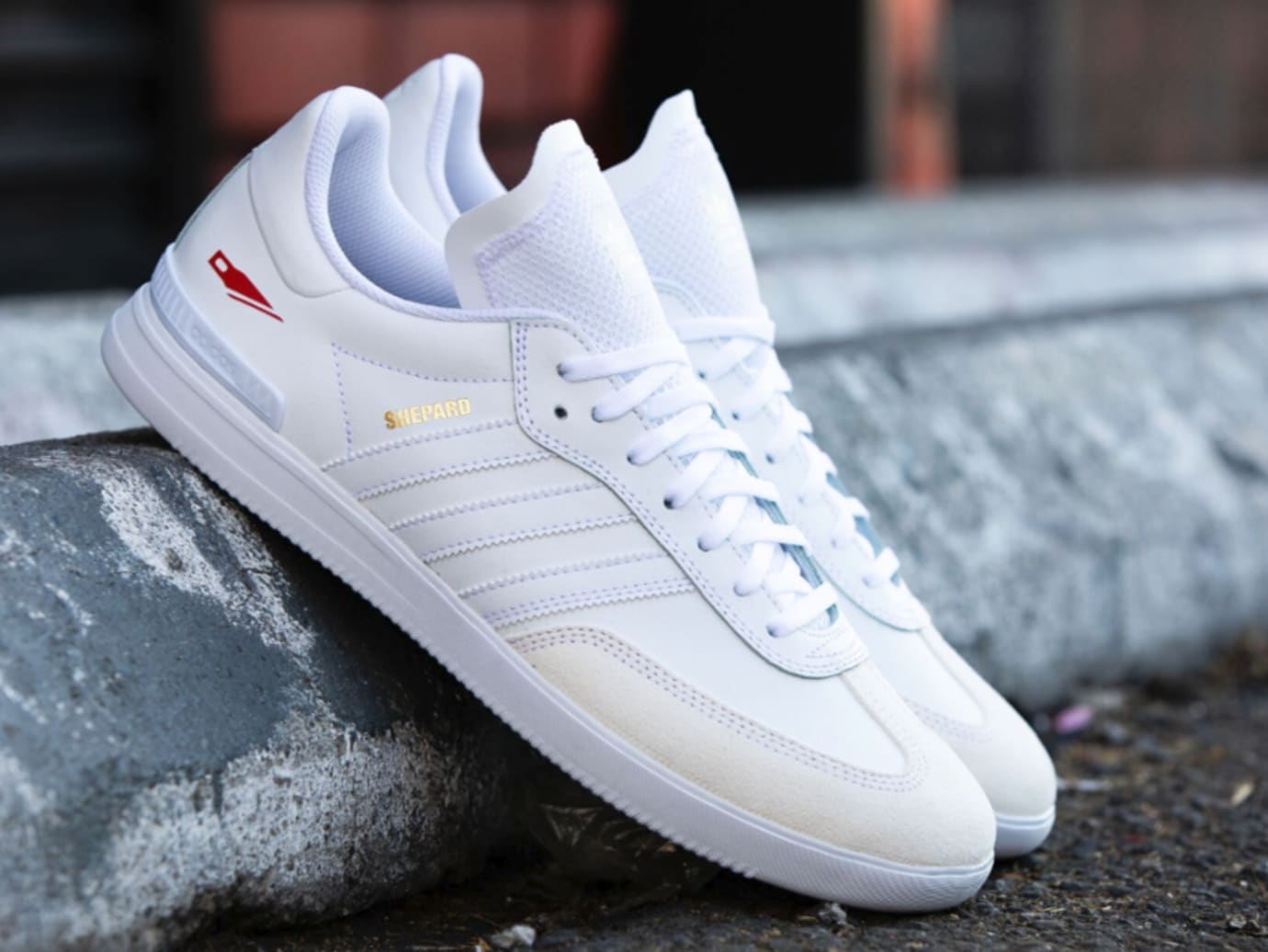 An all over "star gear" print covers the insole while "Shepard" and "Fairey" sit near the three stripes in the iconic gold foil where "Samba" usually rests. The sneaker comes as part of a $300 Shepard Fairey starter kit that also includes stickers, stencils, spray paint, a bucket, and a skateboard deck. A rebellious attitude and Banksy's phone number are not included. 
The limited collection is being sold exclusively at the Beyond The Streets gift shop in Los Angeles through July 6, with a portion of the profits going towards Homeboy Industries, a non-profit that provides services for former gang members.