This is the future. At least, that's what Eliud Kipchoge, the Nike-sponsored runner responsible for the world's fastest marathon time, had to say about the brand's new Flyprint material upon seeing it. This latest piece of innovation from Nike uses 3D printing to create uppers for performance sneakers, with the first of them to utilize it being the Zoom Vaporfly Elite Flyprint.
The shoe will look immediately familiar to anyone who's been paying attention to recent advances in running footwear. Its sole is the same as that of the Zoom Vaporfly Elite—the sneaker Kipchoge wore when he logged the world's fastest marathon time at Nike's Breaking2 event last May. (Note that because of the perfectly crafted conditions of the event, it didn't count as a new world record.) Gone is the Flyknit upper, though, and in its place are converging strands of Flyprint, a textile that looks something like fishing line that's been spun out by a spider with mechanical precision.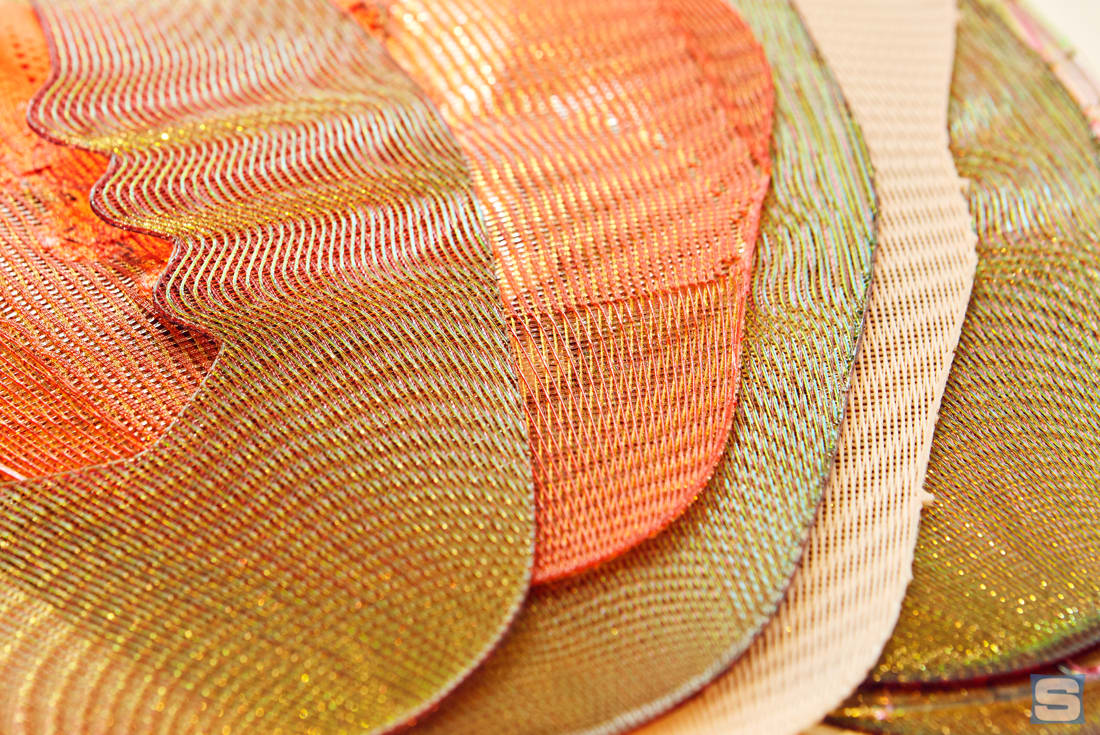 Nike has quietly used 3D printing for prototyping, where the speed of production creates a huge advantage over traditional sneaker materials, for years now, but the rollout of Flyprint marks the first time it's using it to a performance end. The push in this direction was a direct result of Kipchoge's needs. While the original Vaporfly Elite obviously suited him just fine for Breaking2, the rainy weather at the 2017 Berlin Marathon sparked a desire for a shoe in the same vein that could better handle moisture.
"The biggest challenge that he had for us was really how do we handle rain, humidity, and moisture. Because that was one of the things that was kind of slowing him down," explained Roger Chen, who works in digital innovation design at Nike, in an interview with Sole Collector. "Pretty much every footwear upper, as it starts raining the water gets absorbed; it gets heavier. We took that back internally to our design team and started brainstorming some different options."

The designers at Nike came up with Flyprint, which they describe as a hack of typical 3D printing. They hope that they can reinvent the possible applications of the process in footwear through this, using 3D printing something like a paint brush to create each line with intention and purpose. What began as something more linear in early prototypes (like the one seen below) was tuned to open up with curves accommodating the needs of Kipchoge's feet. The lines widen for flexibility, then narrow to lock down the ride. Key in this evolution was the introduction of diamond-shaped lattices that allowed for more natural expansion and contraction of the upper.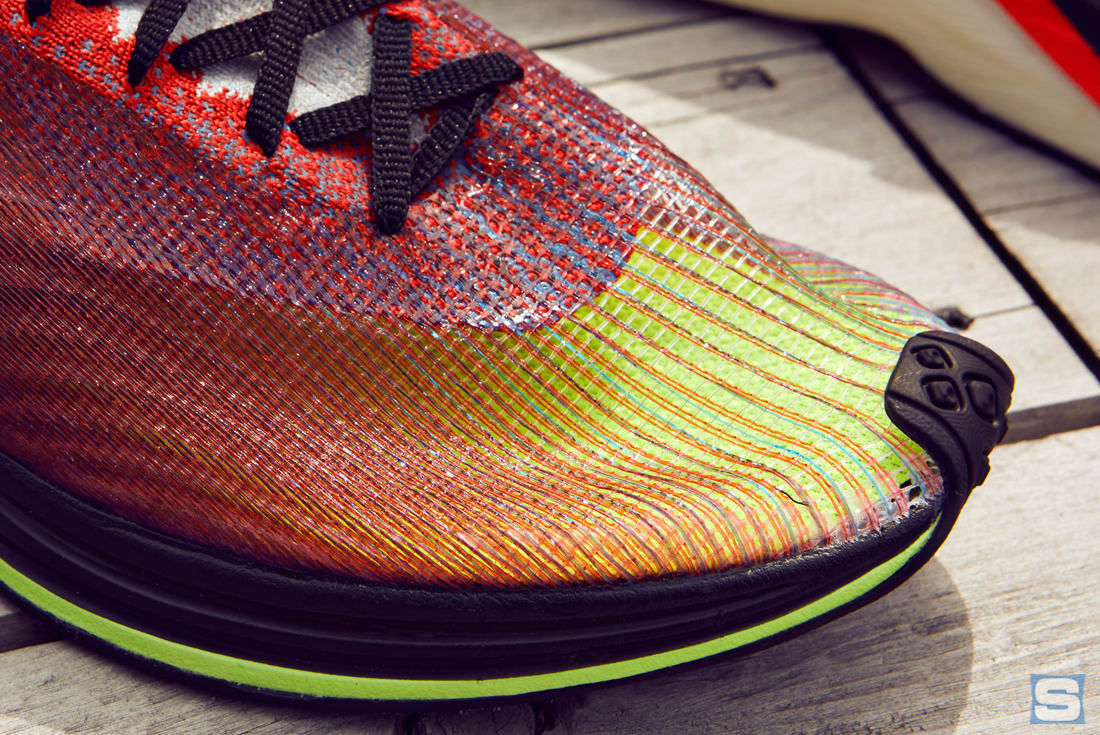 In describing Flyprint, Nike designers will remind their audience that the brand is veering from the industry norm by using 3D printing for uppers rather than soles. This is a refreshing zig where others have zagged—while Nike employees are hesitant to ever mention competitors by name, it's clear they're referencing models like Adidas' Futurecraft 3D runners or Under Armour's 3D Architect Futurist when mentioning the recent industry trend of using 3D printing for soles.
Nike's approach to 3D printing is also purer in its aspirations to serve the athlete. Yes, this maxim so frequently repeated in Swoosh marketing is cliche at this point, but it rings true here. Nike's 3D-printed sneaker is to be worn by world-class athletes like Galen Rupp (he donned it at the Boston Marathon on Monday) and Kipchoge (who will wear it at the London Marathon on Sunday) at the pinnacle of competition. Adidas' is mostly worn by people trying to look cool on Instagram. It's still unclear who is wearing Under Armour's. In this way, the Nike sneaker is more honest, and closer to the source material that cool sneakers have historically emerged from. Anyone who gets a chance to hold competing models in this same space can feel the difference—the Zoom Vaporfly Elite Flyprint is a seriously lightweight shoe, clocking in 6 percent lighter than its predecessor, that feels like it will blow away in the wind. Adidas' recent 4D sneaker is heavy, and doesn't feel like the future.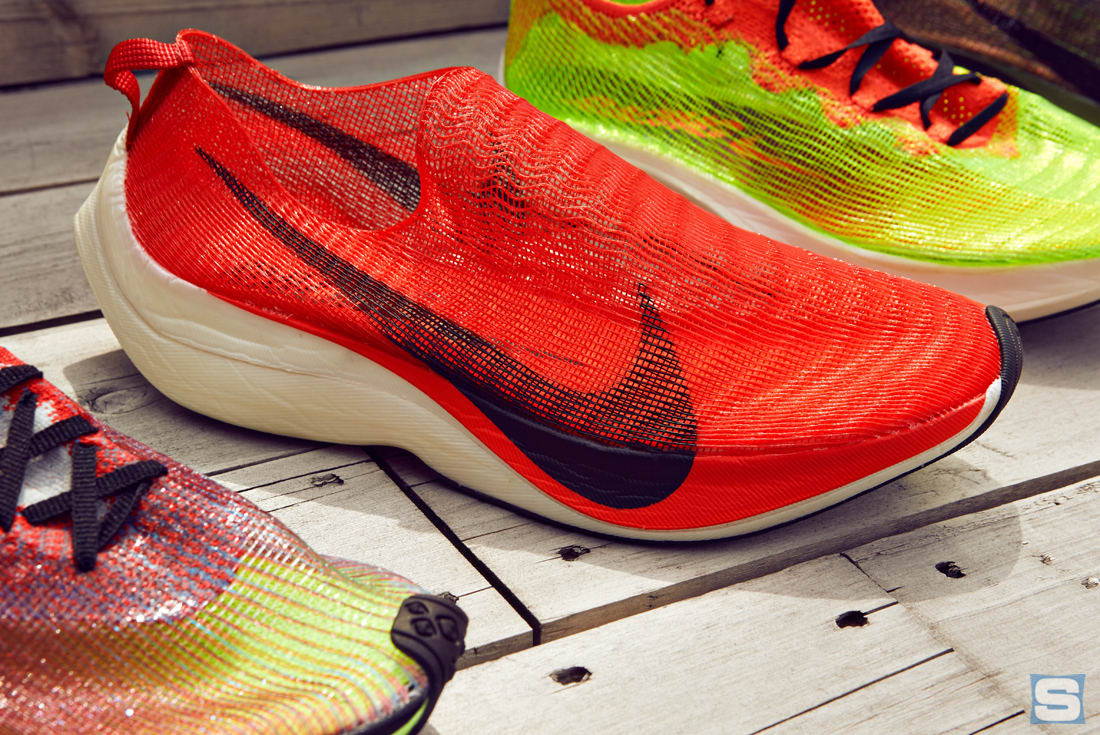 What good is this new generation of sneaker making if it's not available for the general public? When will Nike scale it so the average runner can slip on a pair? Designers aren't giving specific answers just yet, but there are plans to release more in limited numbers through summer and fall. Beyond that, Flyprint will play a part in Nike's 2020 Tokyo Olympics product offerings. The aim is to make it cross-categorical too, which makes sense given Nike's tendency to debut new tech in running before implementing it across its catalog.
"That's how these things tend to start for us: really small, focused on one athlete or a handful of athletes," Brett Holts, Nike's VP of running footwear, told Sole Collector. "And then that unlocks just a huge opportunity for us. I don't think it'd be crazy to say that this is going to be a big upper innovation platform for us."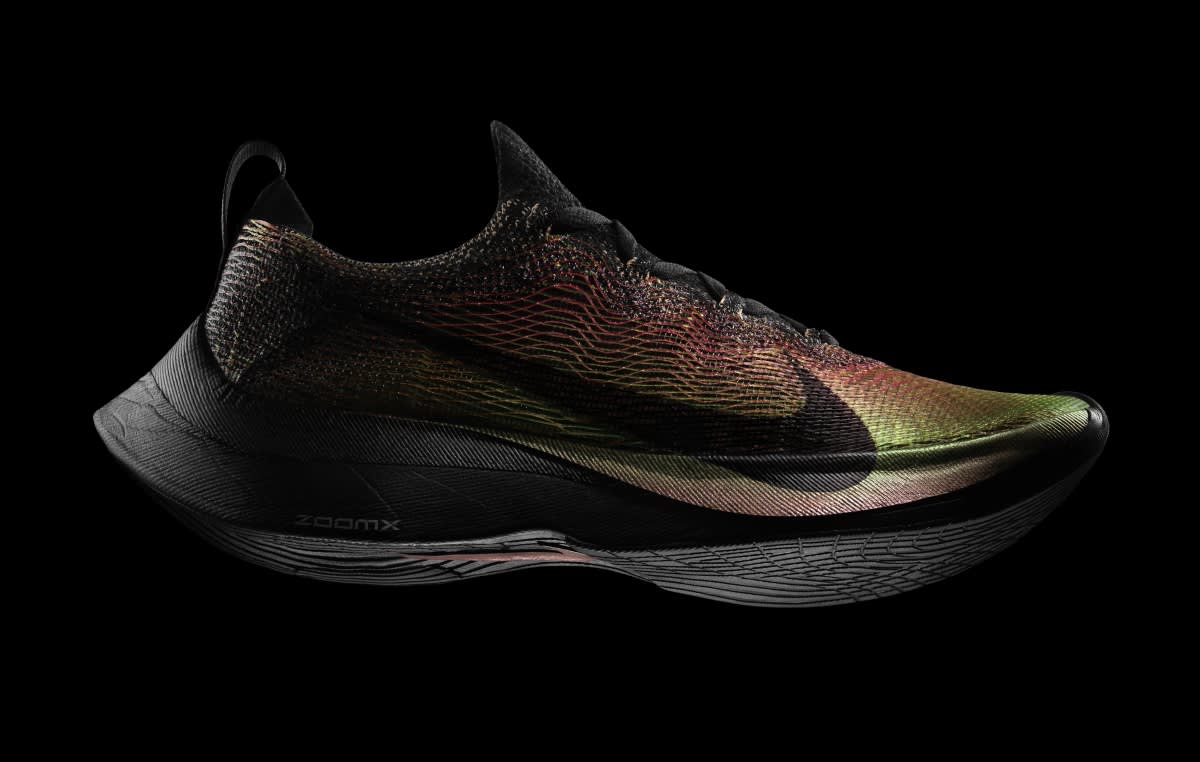 While Nike's already working on plans to propagate Flyprint, it will likely be years before it becomes as anywhere near as ubiquitous as, say, Flyknit, which debuted in 2012 and is now a billion-dollar platform. Until it even begins with that it must lean on Flyknit to an extent—the Vaporfly Elite Flyprint isn't totally 3D-printed, and uses some of Nike's knit material on the tongue.
The immediate retail future of the 3D-printed sneakers is a limited number of Zoom Vaporfly Elite Flyprints to be sold through the Nike App in London this weekend. The debut colorway has a black base that mixes in strands of color referencing their incubation and testing in Kipchoge's native Kenya: red as clay roads and green for the flora. The sneakers retail for $600—hopefully a wider scale of the tech will bring more reasonable prices.
There's a push and pull to the speed at which this shoe came to market. Nike's had access to 3D printing for years, and the technology has been around in some form for decades. In that way, the gestation period has been long. But the Zoom Vaporfly Elite Flyprint is something of a flashpoint in the timeline, the shoe having been conceived in September and quickly turned into a reality. From here, it's a matter of making use of the acceleration and momentum. In the parlance of Nike advertising, there is no finish line in this pursuit. But for the industry, to again quote Kipchoge's initial reaction to his 3D-printed sneakers, "this is where we will go."