Now that March Madness has subsided, it's almost time for the NBA postseason to get underway, and Nike is coming out swinging with a huge pack of hoops-themed retros including some models that are being reissued for the very first time.
Although details are still developing, US11 shared a look at catalog images of a collection dubbed "Champions Think 16." The theme here pays tribute to NBA and WNBA champions throughout history, with special colorways tied to noteworthy moments in each respective player's career. 
Set to release throughout the spring and summer seasons, this pack includes 15 confirmed releases, along with a final mystery drop in June.
Kobe Bryant: Nike Kobe 1 Protro "Final Seconds" aka "Close Out"
Julius Erving: Converse Pro Leather Mid "The Scoop"
Rasheed Wallace: Nike Air Force 1 High "Rude Awakening"
Kawhi Leonard: Air Jordan 1 High "Pass the Torch"
Bill Russell: Converse Chuck Taylor Ox "30 and 40"
Scottie Pippen: Nike Air Maestro 2 "Trifecta"
Ray Allen: Air Jordan 28 "Locked & Loaded"
Kevin McHale: Converse Fast Break Hi "No Easy Buckets"
Wes Unseld: Converse Star Player Ox "Intangibles"
Moses Malone: Nike Air Force 1 Low "Fo', Fi', Fo'"
Maya Moore: Air Jordan 11 Low "Rook to Queen"
LeBron James: Nike Zoom LeBron Soldier 1 "25 Straight"
Kevin Durant: Nike KD 4 "Battle Tested" aka "Thunderstruck"
Larry O'Brien Trophy: Nike Air Force 270 "Gold Standard"
Michael Jordan: Air Jordan 14 "Last Shot"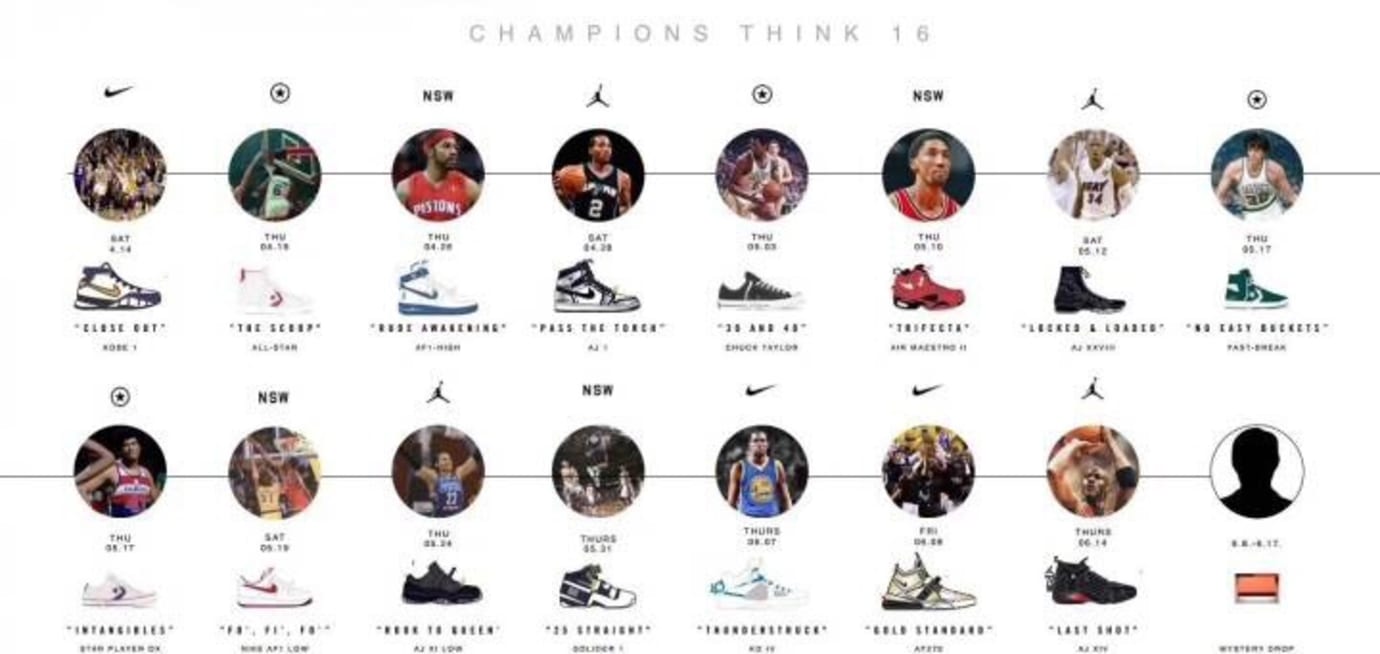 With regards to exclusivity, @_PO2345 on Twitter says some of the sneakers, such as the "Last Shot" 14s, will have wide availability, while others are expected to be highly limited.