Everywhere you turn, there is evidence of the sneaker. Columns around the room are decorated to look like its midsole. There are displays with pillows stacked on springs with the shoe sitting on top, a visual metaphor for how it's supposed to feel when worn. A Black Mirror-looking spectacle in the corner has sets of robot legs sectioned off behind a plexiglass wall that run in place together, the sneaker on their feet. Of course, every retail wall is filled with a handful of colorways of the model. This is the scene at Nike Soho in New York City, a store with the first floor of its sprawling, 55,000-square-foot retail experience almost completely dedicated to the new Epic React Flyknit ($150), which launched last week.
When Nike spends this much money and energy on marketing a new piece of footwear, it's worth paying attention. Not because we should nod and listen every time a brand beats its drums around some new innovation, but because designs underlined in this way point to where the company is going. Nike has signaled just how important the Epic React Flyknit, and its namesake React cushioning, are for months now. Mark Parker, the company's chairman, president, and CEO, has touted it as part of a "cushioning revolution," and says it will be Nike's next billion-dollar platform.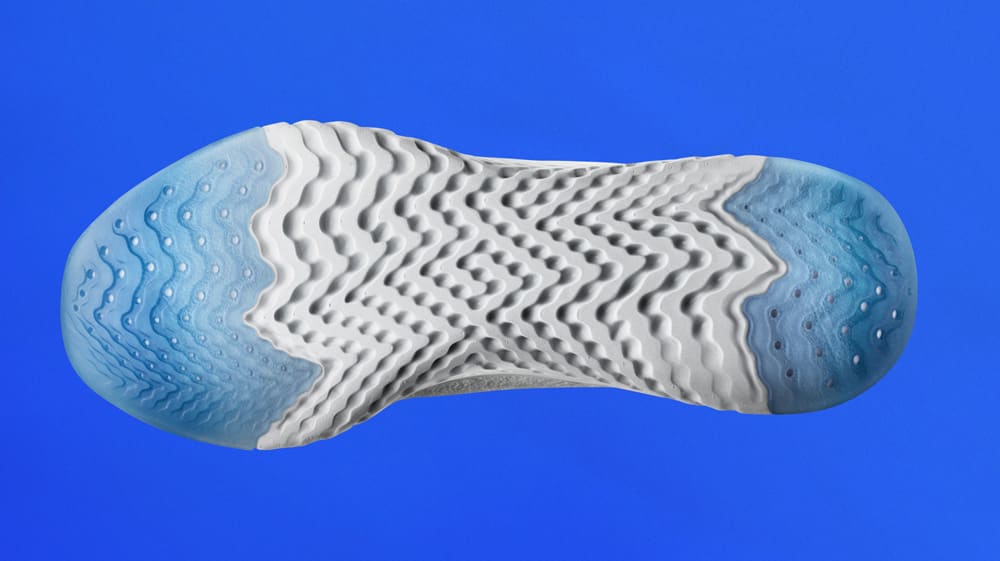 What, exactly, is React, this cushioning that Nike is so ambitious about? About three years in the making, it's an in-house foam that the brand says is its longest-lasting yet, giving runners an extra 20 percent more miles vs. other shoes. This durability comes from its actual chemical makeup—unlike most foams, it is composed mostly of a synthetic rubber compound, meaning it doesn't emit as much gas as traditional foams and, in turn, better retains its properties over time. Rubber is usually heavy and not that soft, though, presenting Nike with the challenge of synthesizing a compound that leaves behind those undesirable characteristics. React is the special sauce born of this effort, its exact ingredients guarded by Nike. While it's only in a couple of shoes for now, Nike plans to use React to replace Lunarlon, a cushioning introduced in 2008 that's become the go-to for lightweight Swoosh models.
How does the Epic React Flyknit, the shoe acting as the foam's real coming-out party, actually feel? (This writer has worn the shoes off and on for a month and a half, logging upwards of 30 miles of running in them and many more of casual wear.) The foam is soft, as promised, albeit not as springy as most Nike advertisements would have people believe. That's not to say that it feels bad, but the improvement over Lunarlon (Nike says React provides 13 percent more energy return than its latest Lunarlon) is not significant enough to feel revolutionary. To Nike's credit, the shoe does pack a bounce during a serious run, but the feeling isn't totally present during casual wear. Perhaps the unsung hero of the sneaker is the Flyknit upper, more stretchy and sock-like here than on pretty much any prior Nike sneaker save for the first LunarEpic, which was a cumbersome wear that required some dedication thanks to the tall silhouette that extended up the ankle.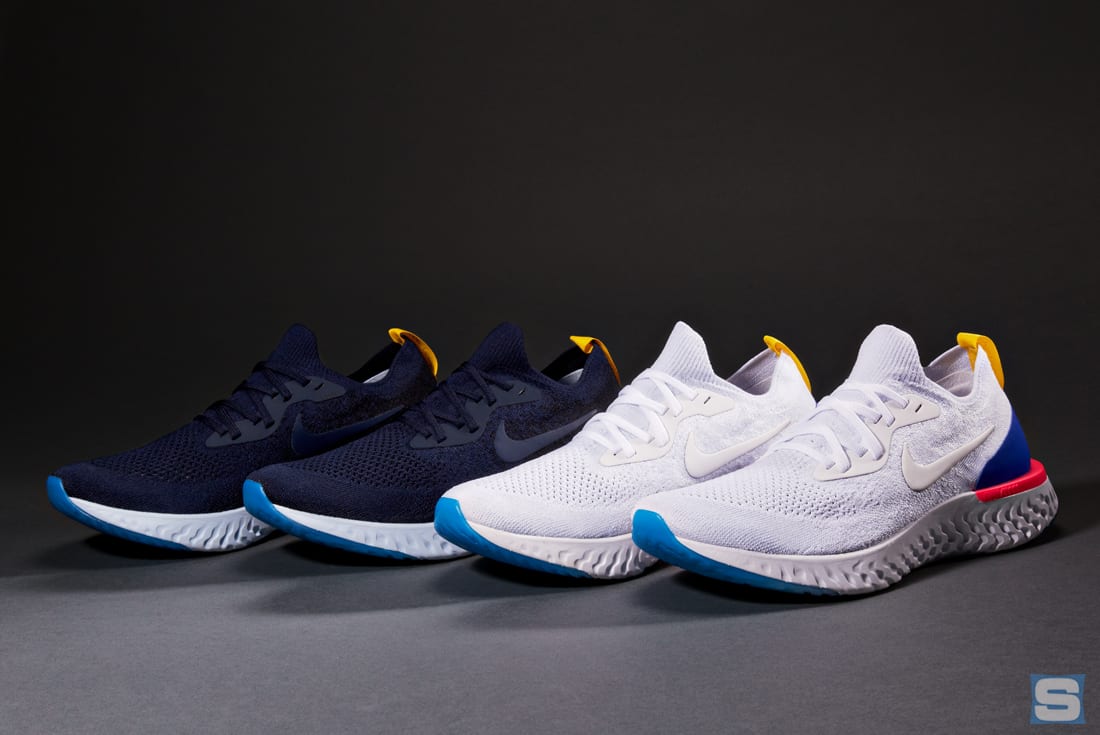 If there is a benchmark for this kind of sneaker—an energetic, knit design equally suited to legitimate running and more style-driven wear—it is the Adidas Ultra Boost, which debuted in 2015 and has been releasing steadily since. And yes, as pointed out by hundreds of internet commenters since the model's reveal, the Epic React Flyknit looks like an Ultra Boost. Their knitted uppers share a sharp quality, and both are capped on the back by a similarly shaped heel piece. React even looks like Boost; Nike says the dimpled marshmallow midsole texture of the Epic React Flyknit is the result of computational design aimed at optimizing performance, but it's hard to look at it from a distance and not see the pearly pellets of Boost. The Epic React also looks a bit like Adidas' Alphabounce from the top down, its sole splaying out in a similar fashion. 
Nike set itself up for criticism with the naming, too: It makes it pretty easy to write the new foam off as a reaction to Boost when it's literally called React. (Writers and commenters have been quick to call any new Nike product a response to Boost for a few years now, but React is most deserving of this description.)
While the Epic React Flyknit does not provide the same turbo-charged ride as the Ultra Boost in this writer's experience, Nike says the big upside of React over Boost is in weight. A men's size 10 Epic React weighs 8.45 ounces, vs. 11.5 ounces for an Ultra Boost in the same size, a difference that's palpable when holding the two in hand. (For the real sneaker nerds: A men's size 10 Epic React comes with a 27mm stack height at the heel and a 9mm offset.) And designers at Nike aren't totally buying the Ultra Boost comparison.
"It looks to me more like a Presto, which obviously came way prior to the Ultra Boost" Bret Schoolmeester, Nike's senior director for global running footwear, tells Sole Collector. "There's been a lot of shoes made over the past four or five decades that share some of the same cues. In terms of a form-fitting silhouette with an iconic topline, I would harken it more to the Presto than any competitor models."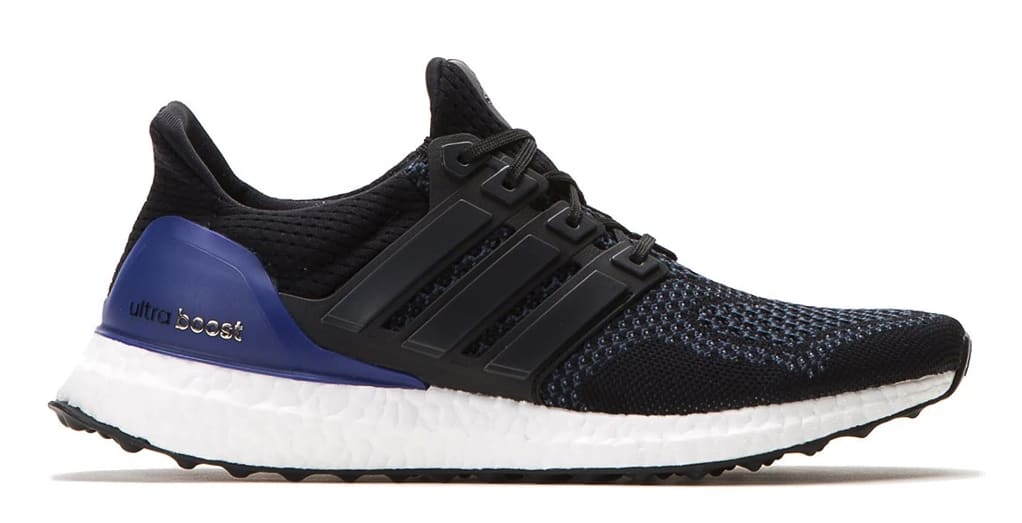 The Presto is a familiar refrain and reference point for anyone who falls on Nike's side of the argument here. But while it's a fine comparison to say the Ultra Boost looks like the Presto (which debuted in 2000) due to the similar support pieces on the back halves of those shoes, the Epic React Flyknit is a step removed from the Presto design-wise. It lacks the toe cap, uses a knit upper where the Presto doesn't, and has a totally different approach to branding. 
Nike can't relish the comparisons between its Epic React Flyknit and Adidas' Ultra Boost, but it hasn't completely ignored its rival when marketing the shoe. In a press release around the Epic React Flyknit, Ernest Kim, director of advanced footwear for Nike running, said its cushioning was not to be compared to "some no-name foam that fell off the back of a truck somewhere." Boost isn't exactly a no-name foam, but this reads a bit like a reference to the fact that Adidas did not develop the cushioning itself and sources it from German chemical company BASF. Nike CEO Parker proudly mentioned that React was developed in-house during the company's 2017 investor day meeting, which makes it more profitable—Adidas can't say the same for Boost.
Adidas has answered in its own way. On the day of the launch of the Epic React Flyknit, and going into the weekend of its debut, the brand ran conspicuously timed social media videos touting Boost as "first" and "best" in cushioning.
The irony in this veiled back and forth is that footwear industry insiders will tell you that Nike actually had the opportunity to use Boost—or "Infinergy," as it's called at BASF sans brand connection—before Adidas and passed on it. Martin Vallo, who helped develop that cushioning at BASF, wouldn't confirm this piece of lore when I asked about it via email, responding only with his own query about what the information would be used for.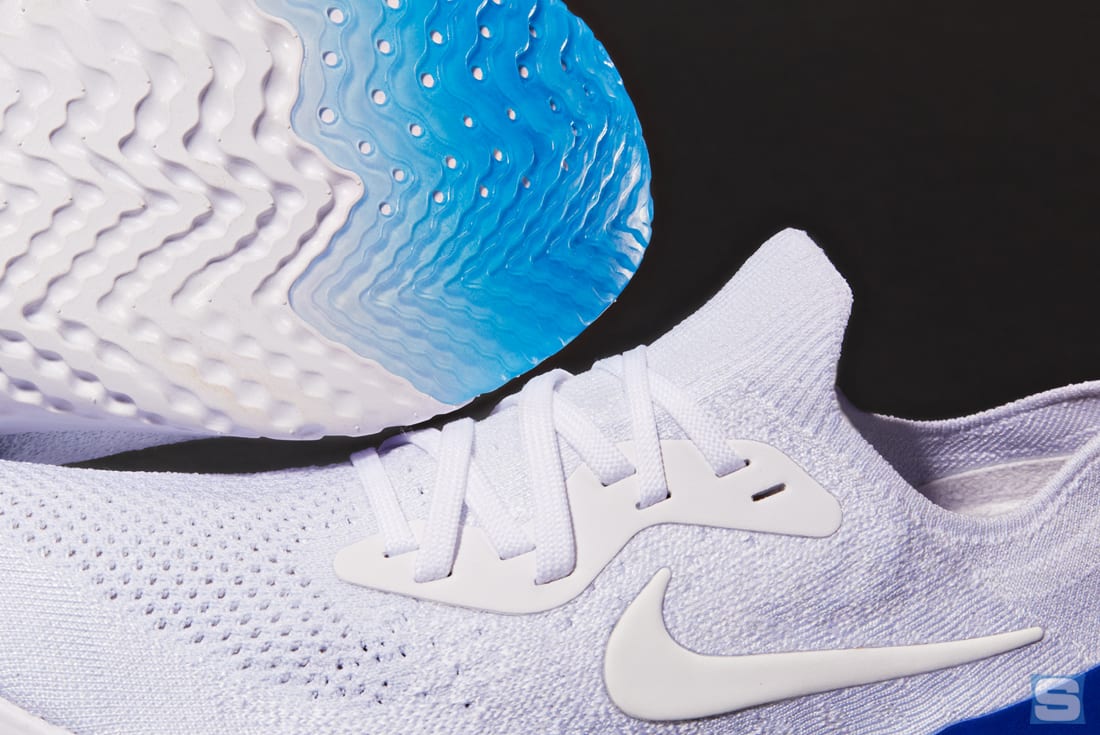 If one believes the narrative about Nike looking for an answer to Boost, the most heralded footwear cushioning of this decade, it's important to remember that the Swoosh's response has not been singular. Nike execs describe it as a revolution, pitching React as part of a wave of new innovation that also includes VaporMax and ZoomX, the sneaker technology at the center of Breaking2, its sub-two-hour marathon attempt event in 2017.
It's hard not to wonder why Nike labored so much over convincing sneaker nerds and the general public of ZoomX as the next big thing in sneaker tech only to pivot months later to focus so much on React. At this point, ZoomX still feels like the more believable and interesting of the two. It's tied to a legitimate moment in sports history after Eliud Kipchoge logged the fastest-ever marathon time in the Zoom VaporFly Elite, a shoe equipped with ZoomX. There's even an independent (albeit Nike-funded) scientific study proving its advantages over Boost. 
What's more, the ZoomX family of sneakers (and the Zoom Fly, which looks similar but lacks that foam) is just better, bolder design. Those silhouettes did not have an obvious predecessor, and felt more futuristic as a result. Crucially, they better tick the box of visual innovation—you can't really distinguish ZoomX from other types of foam on sight, but the shoes were united with chunky soles countered by sleek uppers and well-placed Swooshes that made them feel fast. React doesn't communicate its message nearly as well. Schoolmeester, who helped develop the Epic React Flyknit, says there is a message, though. He claims that ZoomX was about pure speed, and isn't as well-rounded as React. 
"I would call React our Swiss Army foam—it doesn't sacrifice any zones," Schoolmeester explains. "Whereas Zoom is really meant to go fast, I think React is about having fun—getting out the door for a run that you wouldn't have gone for, or going for another mile. It's a more approachable shoe."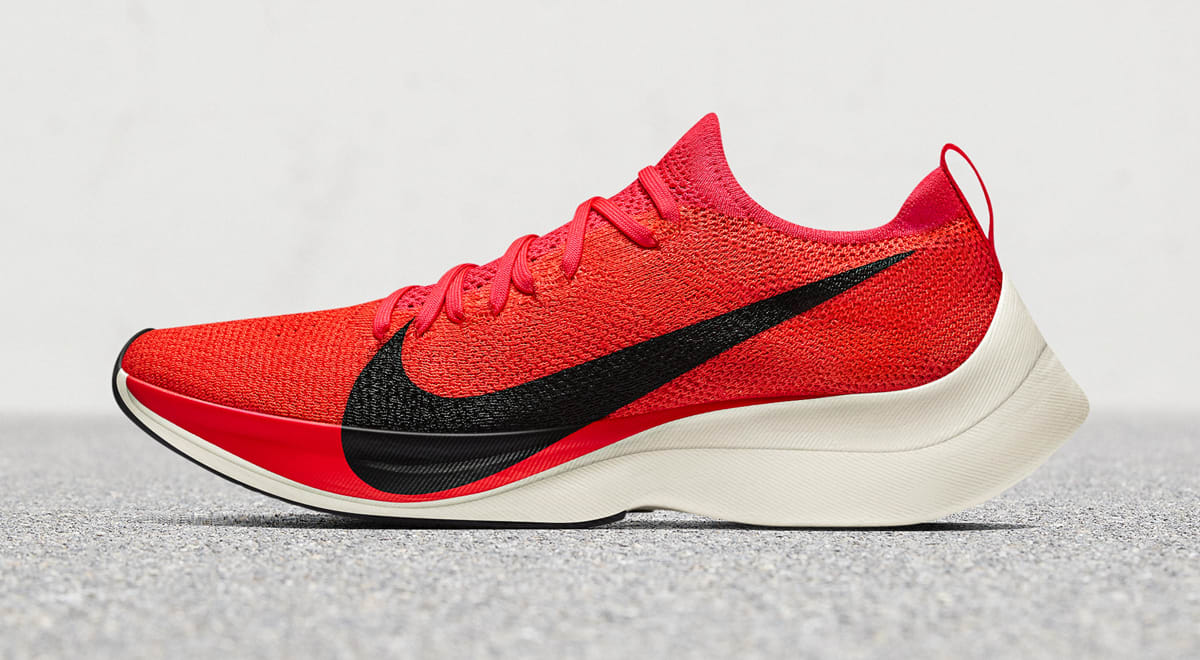 Part of the answer to why Nike can't rely totally on ZoomX comes from the chemistry. Leading up to the launch of the Zoom VaporFly 4%, the only ZoomX shoe so far to get a wide release, Nike reps would often describe the sneaker as a race day shoe, explaining that it was not for regular wear, as it would lose its buoyancy over time as the foam broke down. There is no such disclaimer around React. 
It's best to think of the ZoomX sneakers as couture, or something like a wedding dress. They are to be worn in a limited setting for a limited purpose. This is reflected in their price—the Zoom VaporFly 4% retailed for $250 and wasn't produced in big numbers, making it feel more like a marketing tool than a true moneymaker. The Epic React Flyknit, instead, is innovation for the masses at $150. Parker, the Nike CEO, in 2017 called it the cushioning platform with "the greatest potential to benefit the widest range of people."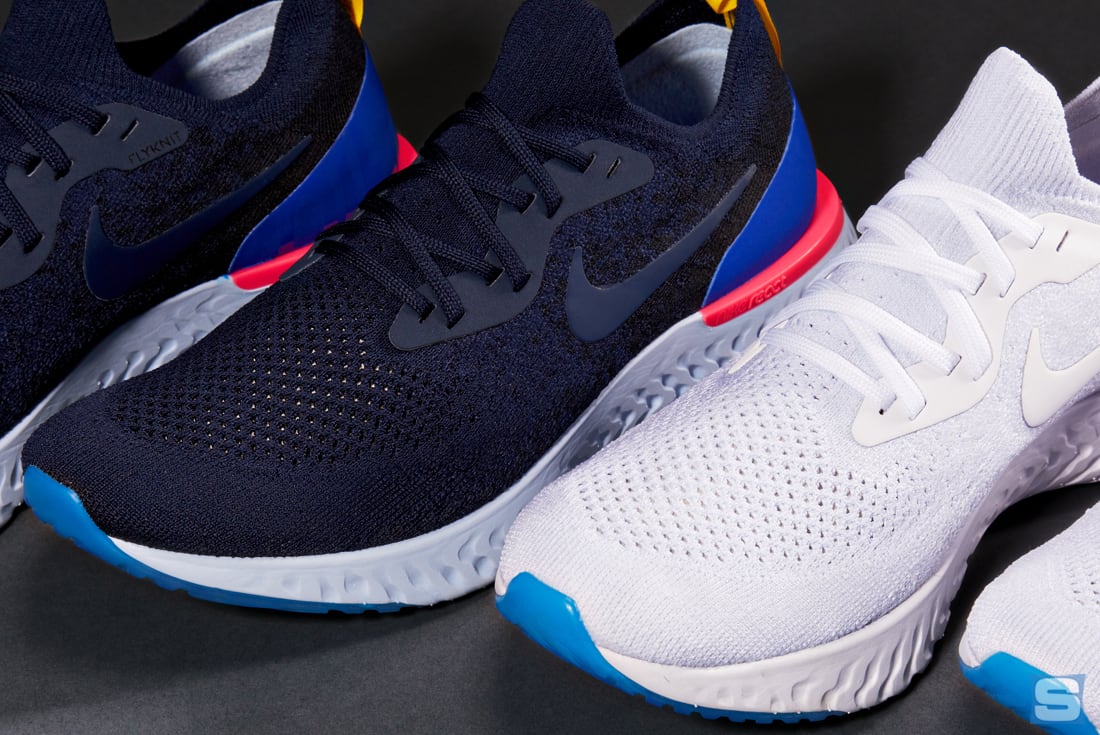 If Nike has its way, that range will be very wide indeed. The marketing push has been a protracted one, beginning with influencer events ahead of the Epic React Flyknit's launch and culminating in giant banner ads (on sites like this one) and ample social media videos about the model. Just wearing the shoe ahead of its launch, it was clear how well these efforts translated—the shoe earned more comments and questions from non sneakerheads than any other I've worn ahead of its release. The brand even used its old trick of manufactured scarcity, and the shoes are now listed as sold out on nike.com, although, they are readily available elsewhere (kudos to whoever came up with the "FOAM-O IS REAL" pun on Nike's site). It took things one step further, reminding this Nike+ app user with a push notification that he'd missed out.
Despite these efforts, the marketing around the Epic React Flyknit and its namesake cushioning still feels muddled. It doesn't help that this is technically the second time Nike has introduced the foam—it first brought it out in the Jordan Super.Fly 2017 and Hyperdunk 2017, two shoes from last summer that arrived with much less fanfare. More crucially, React is not that visually striking, and the most successfully marketed Nike innovations have always had a strong visual component. The brief on this sneaker was to make it look like what it does, but React's "fluid geometry" midsole doesn't announce its properties as clearly as hallmark Nike technologies like Flyknit, Free, or Air Max. It may seem trite to discuss marketing in hand with performance, but remember that Nike is as much a marketer of shoes as it is a maker of them.
In this writer's opinion, React does not trump Boost. The aforementioned specs on weight may make the Epic React Flyknit look better than the Ultra Boost on paper, but the former lacks the same snappy feel that's made the latter a mainstay. Then again, the Epic React Flyknit is not a bad shoe by any means. It is just too safe at a time when Nike's new models are somewhat stagnant. It feels fine, but not forward-thinking and, frankly, more reactionary than revolutionary.