A friend of mine who went skydiving for the first time described what she felt like those first moments landing on the ground. While others in her group were riding high off the adrenaline, she said she was soberly trying to process the fact that she just plummeted from 12,000 feet up in the sky.
"My whole outlook on the world changed after that," I remember her telling me. I didn't fully grasp exactly what she meant or felt like in that moment until recently.
I sat at the edge of the bed in my  room at the W hotel in West Hollywood one afternoon blankly staring at the wall and contemplating what I had just experienced. "I'm really fucking out of touch with reality," I thought to myself as I tossed off a striped Foot Locker shirt that was new as of that morning, but now smelled like a mix of sweat, dirt, and trash.
Just a couple hours earlier, I was at a section of downtown Los Angeles commonly referred to as Skid Row, a name derived largely from its large population of homeless individuals. In fact, it's one of the largest stable populations of homeless in the country with over 2,500 people.
All things considered, one could say I live a plush lifestyle on the East Coast. I'm not saying I'm a millionaire, but my bills are paid on time, sliced papaya with coconut shavings is usually on my grocery list, and my apartment building has a bowling alley and indoor basketball court in the basement (flex). I'm also blessed enough to get free sneakers sent to me from time to time.
"I don't know clothes and shoes well, but they seem to signify to kids that they're special."
I took a break from living in the lap of luxury to participate in Foot Locker and Fred Jordan Mission's annual back-to-school giveaway. Take a brief walk down the streets lined with tents and cardboard housing of East 5th street and Towne Avenue and you'll get an understanding of why these opportunities are needed in this corner of the city.
In its 29th year, the event brings underprivileged kids free pairs of sneakers and socks, as well as clothing, school supplies, dental checkups, haircuts, and hygiene kits. My job there was half working as a sales associate, and other half community service. Around 100 full-time and part-time retail associates from Foot Lockers throughout the Los Angeles area take time away from their stores to participate in this day every year.
Sidenote: I actually used to work at a Foot Locker in order to make my way through college. Putting on that referee shirt and nametag that morning was a nostalgic reminder of days when I had to hustle socks and shoe cleaner in order to pay for journalism textbooks that are pretty much obsolete now.
My 22-year-old self used to consider Top Ramen for dinner in exchange for having enough money to buy a fresh pair of Air Force 1s as slumming it. Little did I know that I was about to see firsthand what "slumming" truly meant.
"The LA Unified School District says that more than 80 percent of the students—that's more than 700,000 kids—come from homes of poverty," Willie Jordan, president of the Fred Jordan Mission, told me before I got to work serving the families lined up for the giveaway. "They don't know where their next meal is coming from. So obviously, there's never enough money for new shoes or school clothes."
At 84 years old, Jordan has been working the streets of Skid Row for 65 years. In addition to that, she's dedicated her life to missions work, building orphanages, schools, and hospitals in Japan, Liberia, Hong Kong, Argentina, Taiwan, and Mexico. It's safe to say Jordan has seen some literal and figurative shit.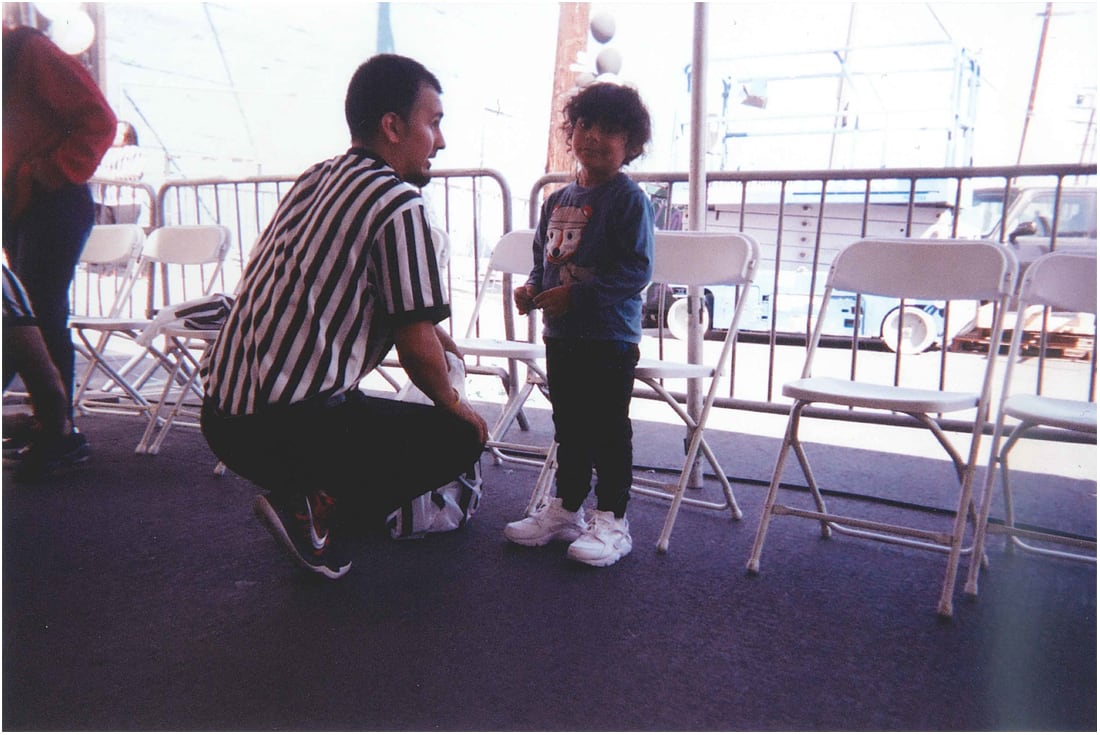 "I meet people every day and they have the feeling that no one cares if they live or die," she told me amidst a wave of people walking out of her mission with new sneakers. "With everything that's happening in the world today: slaughters in Las Vegas, earthquakes in Mexico, craziness, we need to have some hope. Today, there's lots of hope in the eyes of these kids."
I linked up with an actual Foot Locker store employee that day for a quick training rundown. The assembly line, so to speak, goes like this:
1. Greet the kids and get a sense of what kind of sneakers they like.
2. Measure their feet.
3. Walk the kids through the chapel of the mission to pick out shoes.
4. Help the kids try on the sneakers.
5. Hand the kids off to a volunteer nurse who'll take them for a quick check up, etc.
The Foot Locker employee's final instructions: "Keep up the energy and smile. You'll never forget this day in your life."
I walked up to the front of the line outside the mission to serve my first family. It was a group of three kids, ages ranging from seven to eleven years old. There was dirt on their faces as if they haven't bathed yet, or in quite some time, and their clothes were tattered. 
"They don't know where their next meal is coming from. So obviously, there's never enough money for new shoes or school clothes."
Immediately I knew that this was not the normal press trip with cushy accommodations and free swag that sneaker people like myself are used to being pampered with. This is reality. This is what millions of people throughout America live through everyday.
"So what are some of your favorite Jordans?" I asked one of the kids awkwardly and to no response. I don't know what I was thinking. These kids probably weren't spending time on the internet criticizing footwear on the daily like I do.
I followed up with, "What's your favorite color?" and got a bit more reaction. "Blue," one of the boys sheepishly responded with. I knelt down to measure his feet and a stench wafted as I took off his shoes. His socks were worn thin and dotted with holes.
As I breathed through my mouth and tried to figure out whether the kid was a size 1 or 1.5 on the Brannock device, I was reminded of something that Andre McDowell, founder of charity It's From the Sole, once told me: "There's tons of people that want to help the homeless, but nobody wants to deal with the homeless."
In my inexperienced opinion, I'd say that's true. It's one thing to write a check or donate some sneakers and clothes that you were going to throw away in the first place. I'd probably fall on that side of the spectrum. It's another to actually bend down on your knees and serve the needy in real life. In my humble opinion, the latter is a lot harder and a lot less popular.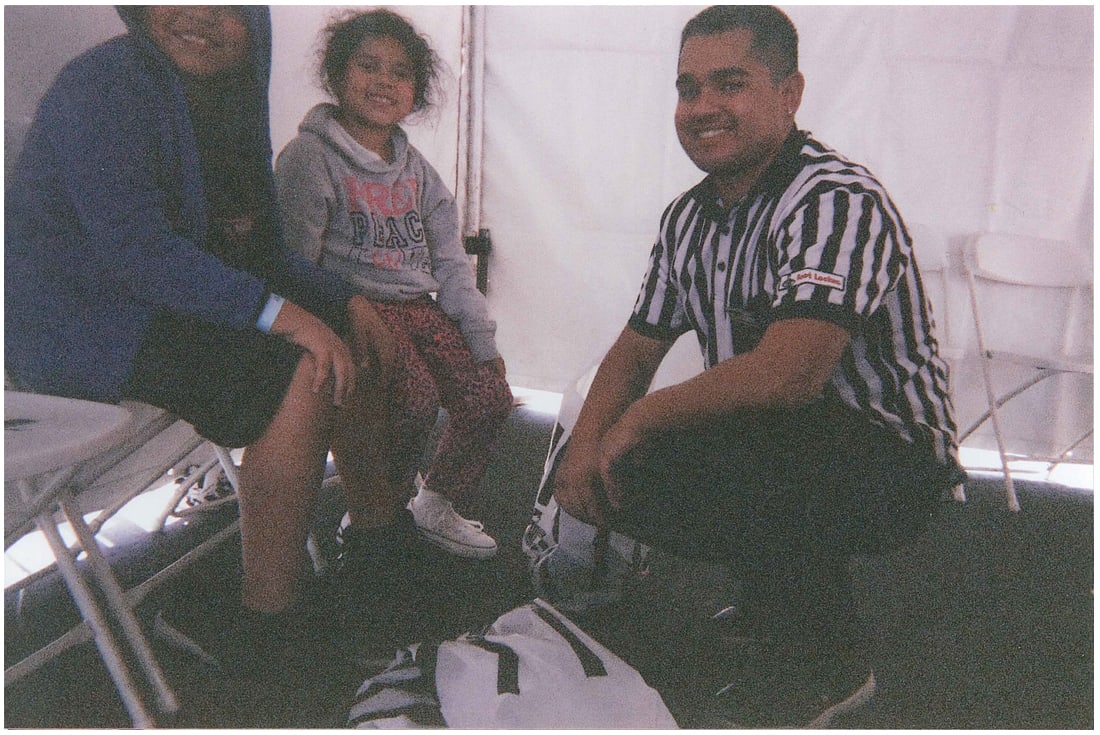 I took the family through the mission and sent the boy off with a pair of black and blue Air Jordan 1s and fresh socks. "What brought them here?" I thought to myself, choking back a couple tears of empathy. I also wondered what difference one new pair of sneakers really makes in the grand scheme of things.  
"I think it gives them confidence. Other kids go to school wearing these expensive athletic shoes," Jordan said, recalling a time 70 years ago when she was humiliated for coming to school barefoot. "Why shouldn't these kids have something? Why shouldn't they have a little self confidence?"
That was one something I could identify with. Thankfully, I've never had to wonder where my next meal was coming from, but I do know what it feels like to get sneaker shamed as a kid. I'll go even farther to say that everyone who's into sneakers has at least had that feeling of wanting shoes that were better than the ones they actually had at some point in their life.
"I don't know clothes and shoes well, but they seem to signify to kids that they're special," Jordan said. "You just want to know that you matter because so many people in this world have no one." 
I went through the same cycle with different kids. Most were happy not because of just the free shoes, but more because of the free poster that Foot Locker stuffed their shopping bags with.
One, skewing closer to being a teenager, was particular about which sneakers he got for free. He specifically asked for a pair of OVO Air Jordans as I measured his feet, a pair that I (predictably) wasn't able to find in the giant crates of sneakers inside the chapel. I did, however, find some royal blue Nike Foamposites and Air Jordan 5s, but those still weren't up to his standards.
No matter how confused I was about that, my purpose there was to serve. And as anyone who's ever worked in retail knows, you have to give the customer what they want no matter how thankless they may be.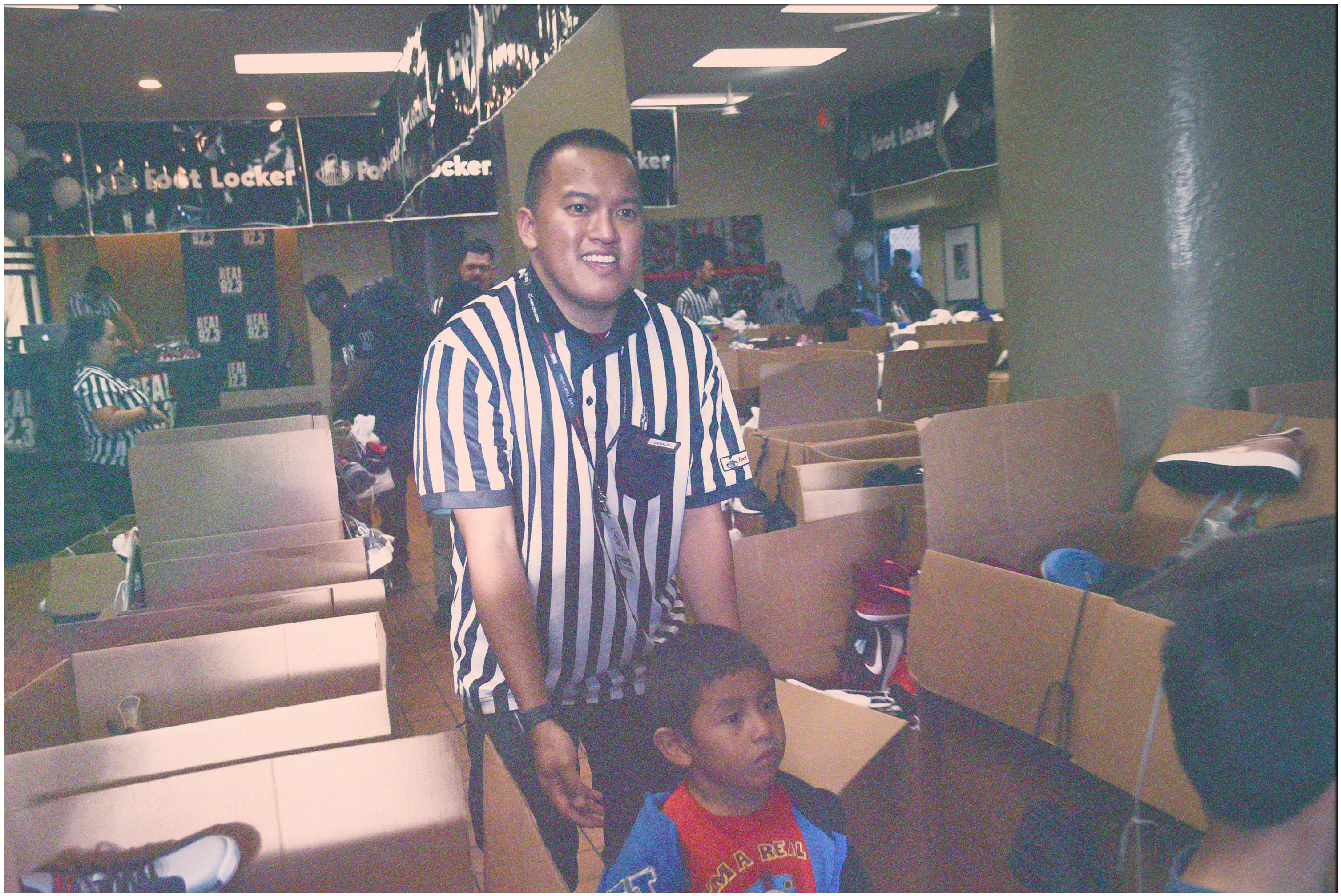 After a few hours, we left the Fred Jordan Mission for the day and I headed back to my a deluxe hotel room in West Hollywood. Like my skydiving friend, I felt the gravity of coming back down to Earth and the disorientation of how I'd been living my life up to that point. Hyping up sneakers is what pays my bills, allows for that fancy-ass sliced papaya with shaved coconut, and affords the overpriced rent in my apartment building.  I reminisced about those times I felt down on myself or jealous of other people over a pair sneakers. I thought about those kids on Skid Row who were just satisfied to get shoes that fit and were wearable, and I realized how trivial my own insecurities were.
"A couple weeks ago, I was upset that [name redacted] at Nike told me he was sending Off-White Air Jordans, but never did," I thought to myself as I stared blankly at the hotel wall. "So what? This is all meaningless."
My outlook on the world changed that day.
We should all just make the most of and enjoy whatever we have, as much or as little we think that might be. Whether we like it or not, our sneakers are already in the process of decaying, no matter how we try to vacuum seal them or how carefully we try to wear them (or not wear them).
What really matters is what we do while we're wearing those sneakers. Jordan gave me this piece of advice when I asked her how she keeps from getting burnt out after doing this for all these decades: "If you feel down, and like no one cares, just reach out to make someone's life better, even if it's for just a few minutes. You know why? Because there's always someone who has it worse than you."