Adidas Originals celebrated the opening of its new flagship—the world's largest—in Chicago on Wednesday night. The 4,966-square-foot shop at 1532 N. Milwaukee Ave. opens to the public today, Oct. 5, and according to the brand, the new store is custom-built to fit its Wicker Park neighborhood and Chicago at large.
The location, which took over an entire historic building formerly divided into two storefronts, is a love letter to the nearby L train. Benches throughout the store are modeled after the ones in Chicago Transit Authority stations, and the brushed ribbed steel on the walls and even the signage through the store are inspired by the CTA.
That extends to the artwork too. The massive sculpture that fills the main storefront window by local visual artist Pose is based on CTA railroad ties, the artist said—a visual representation of the way in Chicago "all cultures insect through transit."
Jillian Wendt, Adidas Originals' senior manager of in-store communications, explained that the store is explicitly designed to reflect and connect with Chicago's artist community. Her favorite element, she said, is a wall gallery curated by local art nonprofit IPaintMyMind with works by emerging artists. The installation will change quarterly, a "constant evolution that follows the pulse of art in Chicago."
Other elements include works by Southside graffiti artist Tubsz, dressing rooms with decor inspired by classic Adi styles like the Stan Smith, Superstar, and EQT, and a community wall etched with a map of Wicker Park. A wall of speakers in the back is a nod to one of the space's former tenants, Reckless Records.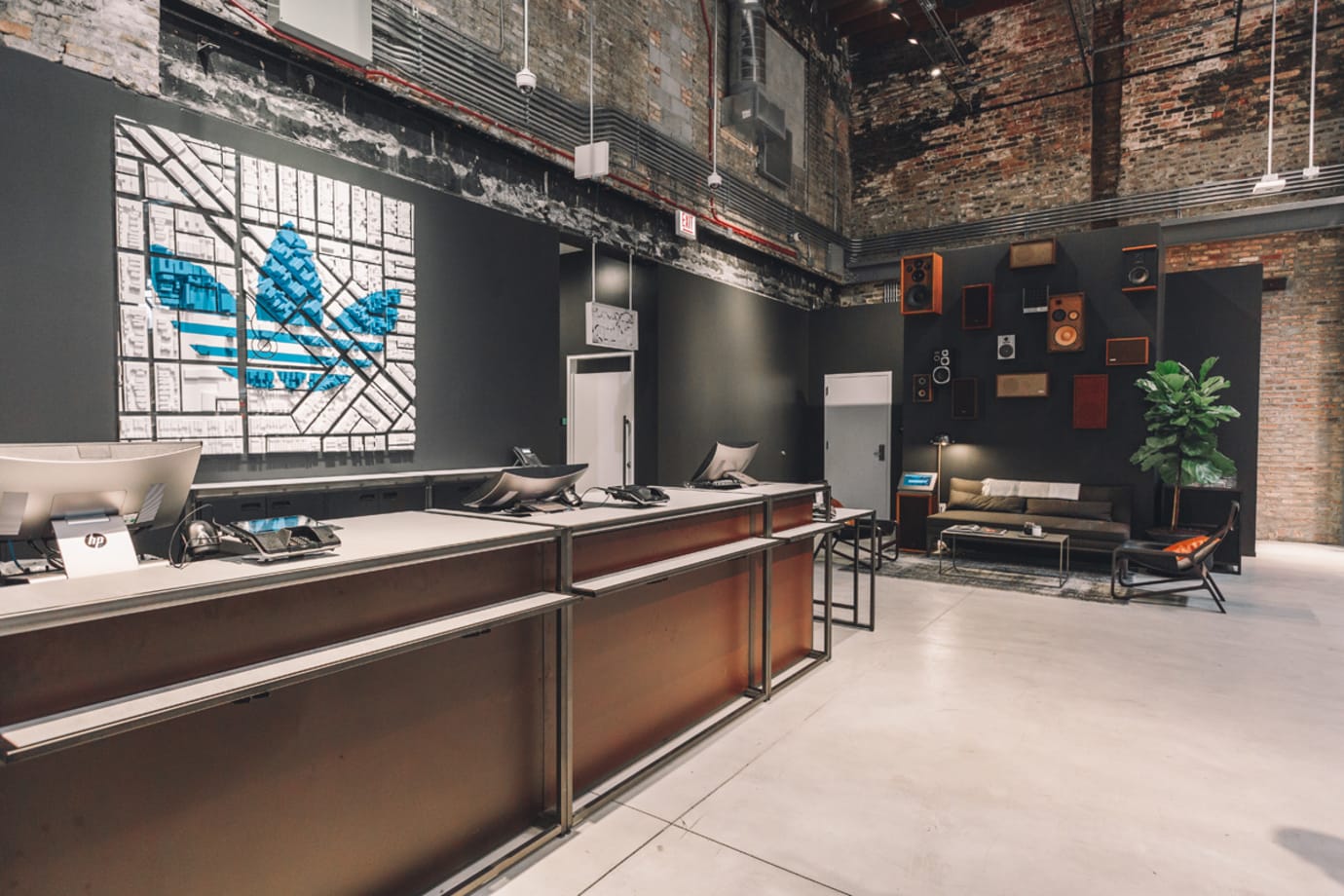 Wendt said the community focus extends to the store's staff. "We're making sure we hire and work with DJs, creators, artists, and musicians, and that allows us to connect with the culture," she said.
Elz the DJ, Knox Fortune, and BJ the Chicago Kid sonically baptized the new space on Wednesday night, and Adi brought in Harold's Chicken Shack's legendary fried chicken and okra, as well as paletas from Nini's Deli, to feed the invite-only crowd of brand friends and family who came out to celebrate.
To further mark the opening, Adidas released 300 pairs of the special-edition $150 EQT Support ADV Wicker Park, exclusively for sale at the new store and reserved through the brand's Confirmed app.
For opening week, the new location—the fourth Adidas store in Chicago—will feature limited-edition collaboration product from White Mountaineering, Alexander Wang, and Mastermind Japan. Wendt said the store will be the hub for collaboration and Consortium product and a product mix calibrated for the Chicago consumer. And yes, she said, that includes making sure the store stocks products fit for the Windy City's legendary winters.