Allegations of widespread corruption shook the world of college sports on Tuesday morning, exposing the clandestine cash exchanges that sway young athletes. Among the 10 charged is Adidas Global Marketing Director for Basketball Jim Gatto, who is facing federal charges of wire fraud and money laundering.
Charges are also being brought against Merl Code, a former Nike employee who ran its Elite Youth Basketball program before leaving for Adidas; assistant basketball coaches from Arizona, Auburn, Oklahoma State, and the University of Southern California; and others.
The complaint against Gatto, filed in the Southern District of New York, alleges that he funneled money to high school basketball players and their families in exchange for guarantees that those players would play at certain schools and go on to sign endorsement deals with the sportswear company sponsoring those schools upon turning professional. One player is alleged to have received $100,000 to commit to an unnamed school and eventually ink an endorsement contract with an unnamed sportswear company.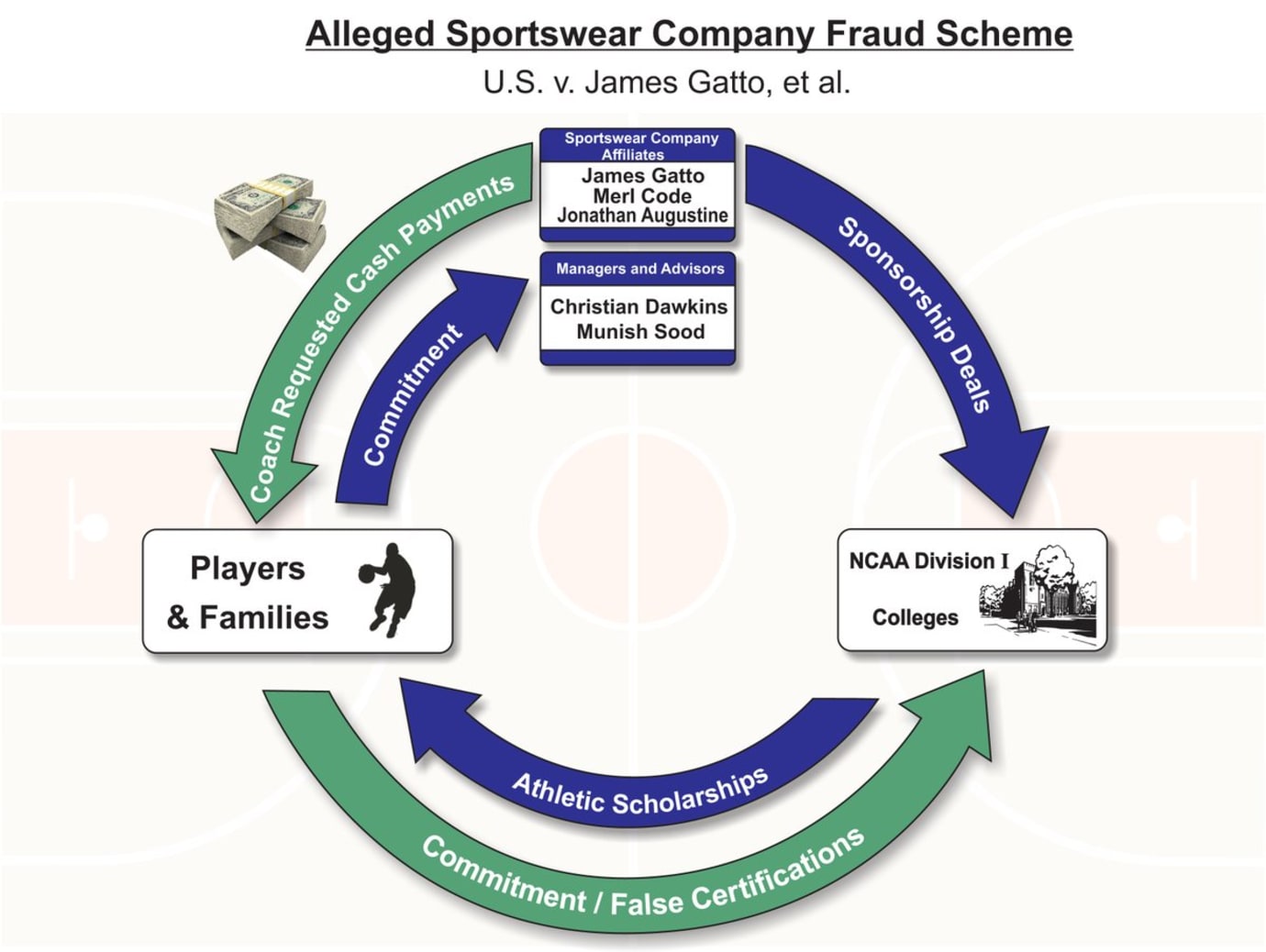 Court papers obtained by Sole Collector do not mention Adidas by name, which is customary, as the company is not being charged. They do, however, refer to "Company-1," which is described as the "multinational corporation that designs and manufactures shoes" that Gatto works for. No colleges are mentioned by name, but the filing describes the implicated "University-6" as a public research university located in Kentucky with approximately 22,640 students, a number matching the size of the University of Louisville's student body for 2016-17.
Gatto and Code are alleged to have created a "sham purchase order" using company money for one of the bribes. In quotes pulled from a wiretapped conversation, Code complained about Gatto's inability to make the $100,00 invoice move through the company without issue. The payment was eventually registered with the company as on the books, but "not on the books for what it's actually for," according to Code.
Adidas said it plans to cooperate in the investigation.
"Today, we became aware that federal investigators arrested an Adidas employee," a spokesperson reached for comment on Tuesday told Sole Collector. "We are learning more about the situation. We're unaware of any misconduct and will fully cooperate with authorities to understand more."
UPDATE 9/26: In a new statement provided to Sole Collector, an Adidas spokesperson says that Gatto has been placed on administrative leave. "The company has engaged outside counsel to conduct a thorough investigation," a spokesperson said. "In all aspects of our business, Adidas is committed to compliance and ethical business practices."