In 2003, armed with a one-megapixel digital camera, game design artist Ryan Santos flew to Nike's world headquarters in Beaverton, Oregon with a mission. There, he would photograph individual sneakers, putting them on a lazy Susan and rotating them slowly to capture every possible angle. Santos would take the photos with him back to EA Canada, where the game was being developed, and begin the long process of rebuilding them as digital objects for NBA Live 2004.
This approach had never really been used prior to that point. While there was some overlap in sneaker obsessives and gamers, the Venn diagram had yet to truly affect footwear in video games.
"Not a lot of people understood the value of it, but luckily we had a great team who believed in the authenticity of it," Santos tells Sole Collector. "A lot of the people who worked on the team, who played hoops, who grew up with basketball—there's always a connection with footwear. If you idolize Michael Jordan, or Penny Hardaway, or Magic Johnson, you wanted to be like them and wear their footwear."
Santos, who started work on the series in 1997, had long been campaigning for better sneakers in the games. Reebok had the NBA apparel deal in 2001, so that year's version of the game featured its footwear. Adidas sneakers followed in Live 2002, but the big turning point was the introduction of Nikes in Live 2004. This represented validation: A basketball video game modeled after the NBA can only be so lifelike without the inclusion of the most dominant sneaker brand. EA Sports had talked to Nike about having its shoes in prior versions, but never got its approval until 2003. As a result of Santos' efforts in Beaverton, hundreds of Nikes made their way to NBA Live 2004, which also featured unlockable codes for certain models and a 3D sneaker wall.
Shoes in basketball games have taken many steps forward since then, with the detailed silhouettes appearing in the upcoming NBA Live 18 going through an almost automatic rendering process. Now, designers use a 3D-scanning rig that photographs shoes from every angle and digitally recreates them.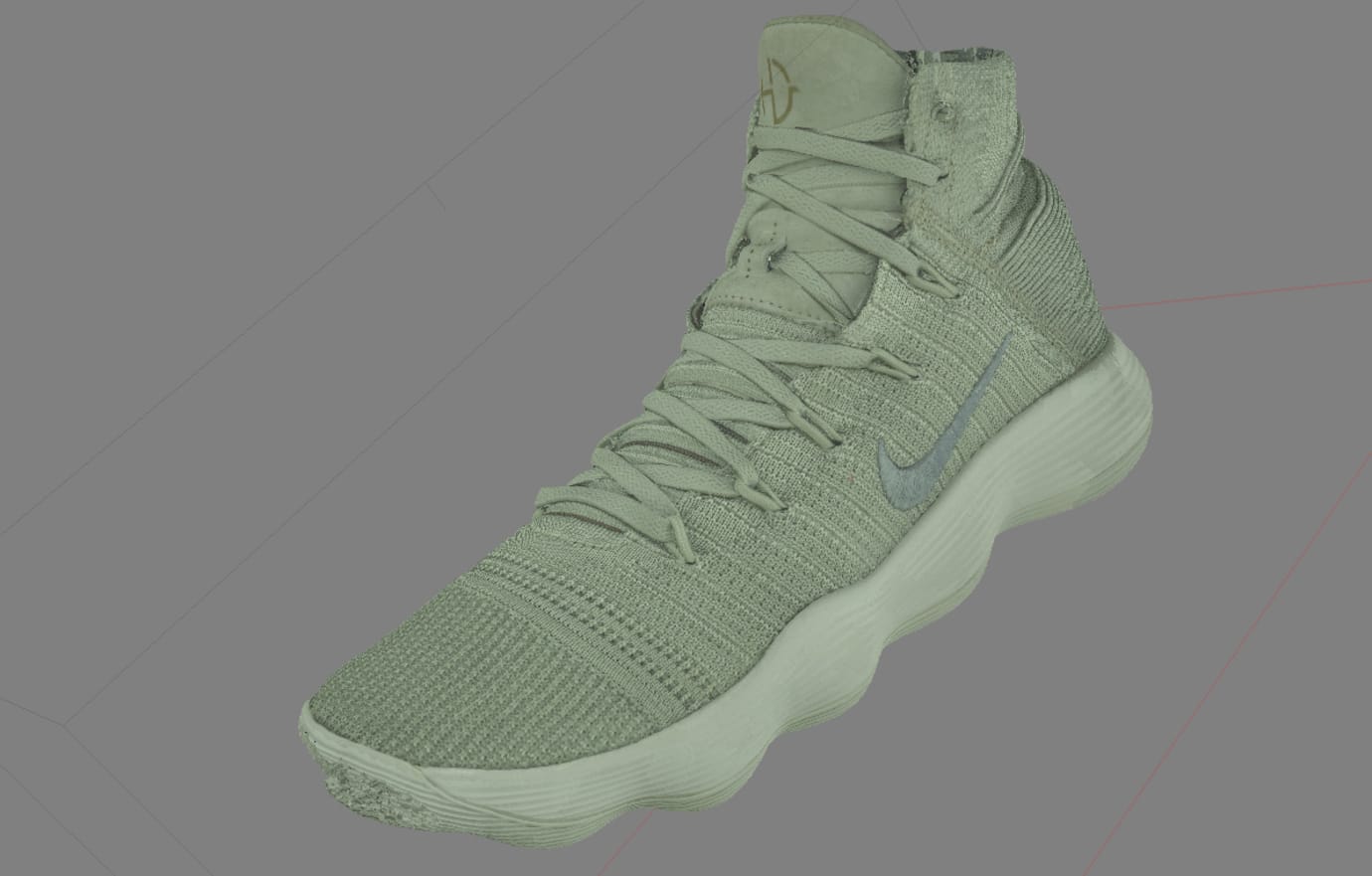 "Basically, we press a button, and it takes all the photos from different angles, and reconstructs that shoe in full 3D," Santos says. "We have an artist touch it up and make sure everything blends right, but the photos construct the geometry, and the color, and texture."
Obtaining the sneakers is also a more seamless process now that brands are eager to work with developers to get their footwear in games. The mission in the NBA Live series now is to have any sneaker that big-name players like Steph Curry, James Harden, or LeBron James are wearing be available in the game, which means sourcing pairs from Under Armour, Adidas, and Nike.

It's not just about the new, performance designs they have either. In fact, much of the buzz the in-game sneakers are able to generate each year with previews and unlockables centers around retro and hype models. Jordans are hugely important in this respect, with Santos and his team working extra hard on models like the Air Jordan 11, its patent leather and the lighting reflecting off it being a particularly tough material to recreate.

"The patent on the 11s, we have special lenses to cut the glare to make sure it scans properly," Santos says, "because you get a lot of really blown out highlights and stuff that has an effect on the data."
Where do sneakers in video games go from here? The benchmark from a graphics perspective is already very ​high—some previews of upcoming sneakers look so much like the real things that readers of sites like this one will at times confuse them for restocks. Santos is hoping to incorporate even more limited models in the future, and is working on partnerships with sneaker boutiques to make room for small-scale collaborations. There are some limitations, though: Despite frequent fan requests for Yeezys, the shoes haven't made it into the game yet.
"That's one of those things where it's a lifestyle shoe, but until we see somebody hooping in it it's not really meant for the court," Santos explains. "But if an NBA player were to rock some Yeezys on the court, or play in some running shoes that's plausible...It's definitely one of those ones where if we can convince the Adidas guys, and Kanye, to put them in the game, I'd definitely put them in the game." For what it's worth, Nick Young actually wore a pair of Yeezys in a 2015 game, so maybe it's about time for EA Sports to start scanning them.