When 21-year-old Tyler Wesley got a direct message from Adidas on Twitter asking him for his sneaker size, he didn't know what to expect. Wesley, of Denver, Colorado, caught the attention of the sportswear brand after going viral in May thanks to a video that showed him rising out of a walker and taking confident steps, despite being paralyzed five years earlier.
5 years ago I was involved in a roll over car accident that left me paralyzed from the shoulders down. This is my progress today.. ♿️🚶🏾 pic.twitter.com/gMY131Lrik

— Tyler Wesley (@T_Wes44) May 21, 2017
The package he eventually received, which arrived at his house on Tuesday, included a pair of Kanye West's Adidas Yeezy Boost 350 V2 "Cream White" sneakers and a hand-written note from their designer.
"I had no idea they were gonna send me Yeezys from Kanye," Wesley told Sole Collector. "I was pretty surprised."
Wesley shared the message on Instagram, along with a photo of his new footwear.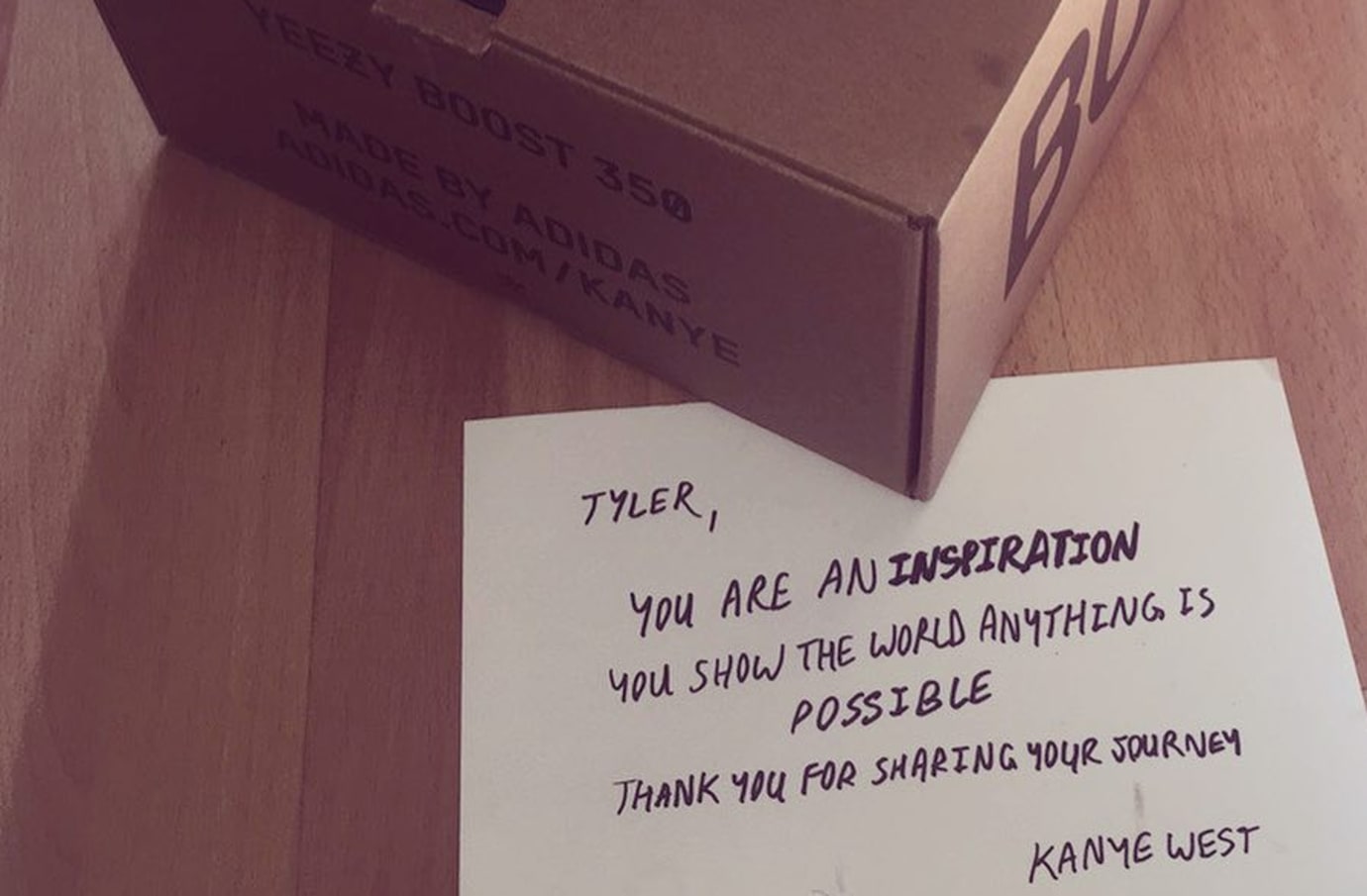 "You are an inspiration," the note from West reads. "You show the world anything is possible. Thank you for sharing your journey."
Wesley broke his C4 vertebra in a roll-over car accident in 2012, which instantly paralyzed him from the neck down. He's been working on recovery with constant therapy since, and has taken to posting about his progress on social media, where he's received strong support since his big moment in May.
"I just want everyone to know about what a spinal cord injury is and how it really affects people's lives," Wesley said. "It's just a life-changing event for someone—for basically the rest of their life."
While Wesley hasn't had a chance to wear his new Yeezys yet, he says he's planning to bring them out on a special day, ideally at a Kanye West concert.