The most important meal of the day has been changed forever by one sneakerhead. Donald Andrews, better known by his Instagram name Paypa Boy, has been posting videos of himself pouring up bowls of cereal in pairs like the Kaws x Air Jordan 4 and "Cream" Adidas Yeezy Boost 350 V2. While we can't confirm if the shoes are legit, he's certainly been making waves on social media.
The sneaker world collectively lost their minds, but the 30-year old (who claims to be Kanye West's nephew) says he is just trying to inject some fun back into the game. When he isn't making sneakerheads cringe pouring cereal and milk into someone's grails, Andrews is running his clothing boutique, Dream Team, in San Francisco.
We interviewed the man behind the madness to discuss how he thought of the idea and what he has up his sleeve next. 
What got you into sneakers in the first place?
I been into sneakers since I was a youngin'. I really got in the game back around 2000, 2001, 2002 when the gray 9s dropped. This is like the era when the patent leathers bounced back, the Space Jams and so and so. It was just a big thing comin' up in the early 2000s, and just growin' up not havin' kicks, being raised by a single parent, and I was given the opportunity to make my own money. I started investing in myself, and we had these shoe stores in the city called First Step. That was like our exclusive shoe store. They always showed me love, and I just went H.A.M. I'm talkin' about that's when they had Bred 1s, and Royal Blue 1s in 2000 for $99.
What made you decide to pour some cereal and milk into your sneakers?
Just being funny. If you know me, you know I'm just a funny dude. I'm just full of joy right now because I really made a concept of livin', and I really pushed it to the limit with this Yeezy shit. People are doin' too much. There's too much altercation. Too much hate over not gettin' a pair. There's people losing their minds. So, I'm gonna just add fuel to the fire, and fuck 'em up. I'm gonna shake the game up, and that really shook the game up. That wasn't even the shoe that did it. It was the Kaws 4s.
Why did you do it with the Kaws?
The Kaws weren't even hyped up until the release when people found out they couldn't get em. Everybody just thought the Kaws was gonna be a quickstrike. So, like I said, I'm just havin fun with the game bruh. I've been in the game for decades. The love has been gone. It ain't fun no more. Ain't nothin' really happenin'. It's like the shoe game ain't poppin'. Every week's a new drop, and so on and so on. What about Kaws? Kaws don't exist no more. It's on to the next shoe. There's a big commotion about 'em. Now they here. They left. Now it's back to the Yeezys. There's a big commotion. Now they're here. Then it's on to the next release.
Are you really pouring milk and cereal into these shoes, or is it some illusion?
If you look at the last one I did with the Captain Crunch with the Triple White Yeezys, if you look closely you can see the milk leaking through the side of the shoe. That's proof right there. There's no cup. There's no green screen. There's no after effect. It's straight milk and cereal into the shoe.
On your Instagram you refer to yourself as, "Kanye West's nephew." Is that a joke, or are you really Kanye's nephew?
I'm really Kanye's nephew.
Is that how you have this Yeezy connect?
Of course.
 
 "If you look closely you can see the milk leaking through the side of the shoe."
Are you going to keep this going?
That's my signature right now. I gotta keep it goin'. It's such a big influence right now. We been poppin'. I've been tagged in so much shit. How did I know this one little kid from S.F. could shake the game up like this, and have a big influence? It's real.
Have you seen a lot of other people doing it now?
I've seen people doin' it. Like, pictures of them having cereal in the shoe, but I ain't seen no milk being involved. They scared. These shoes mean too much to these people.
Do you rock the sneakers afterwards?
Yeah. I rock them the very next day besides the Yeezys. I don't like the Yeezys cause it's just not my style. I do own a pair of 750s, but that's just because I drew all over them. If you check my Instagram you can see. It's like all my dreams on there. Ferrari logos, GTR logos, Roc Nation logos, a bunch of music notes, everything. So, I clean 'em out, and throw 'em in the box. If somebody wanna buy 'em they can buy 'em.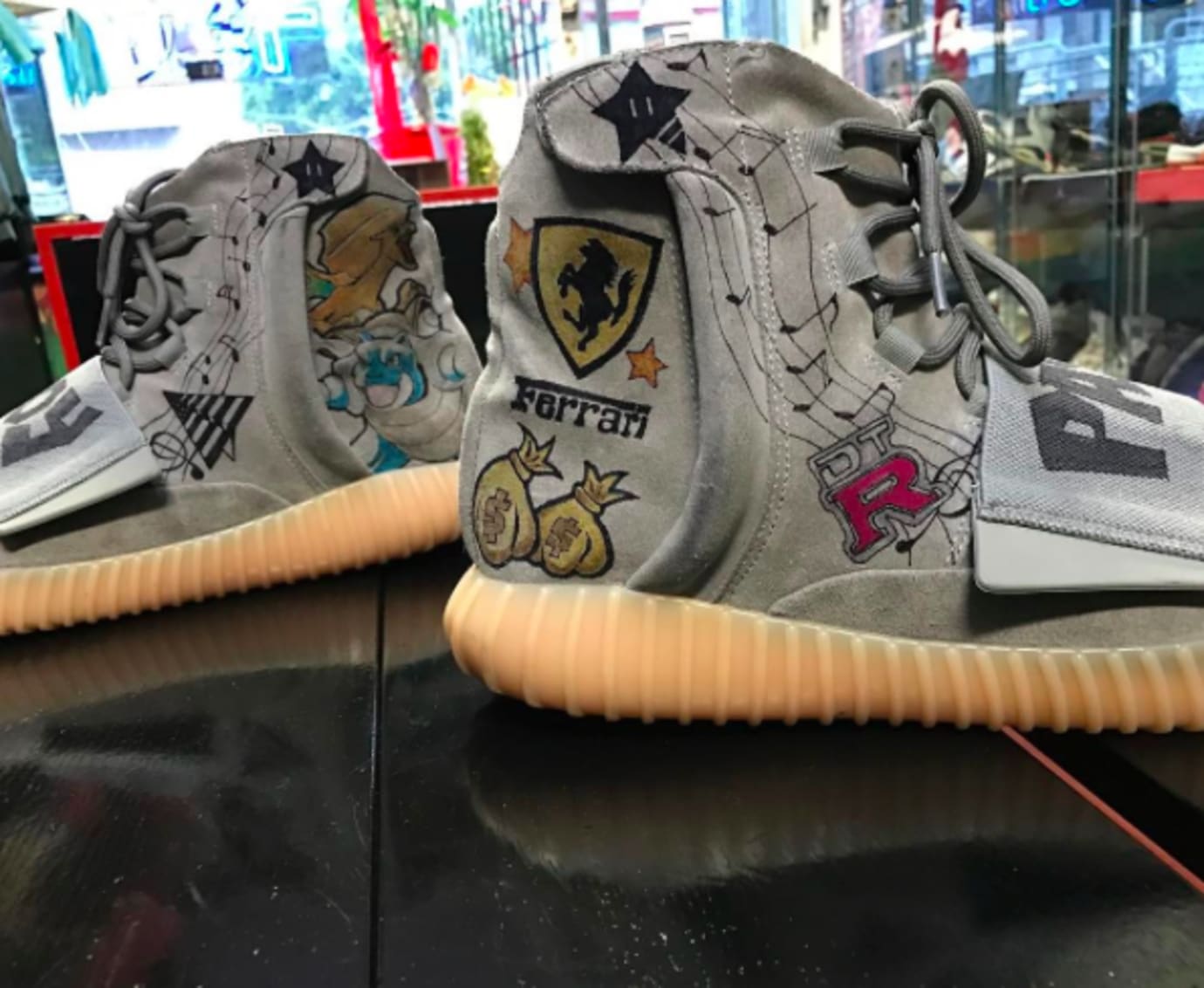 You're Kanye's nephew, but don't like the Yeezys?
I don't like the 350 low tops. It ain't my style. I'm from the dope boy era. I like the big, beefy style kicks. If you check my closet I got every pair of Yeezy 1's, and I'm rockin'and rollin'. It's not like I'm dissin' my uncle. It's just 350s don't fit my style. 
What is it exactly that makes a sneaker so good to eat cereal out of? I don't know the experience.
You gotta try it one day. You'll like it. It definitely adds flavor to the game. That's a fact. Other than that, it tastes just like the good ole regular cereal man, just a little more flavorful.
What's the best cereal to eat out of a sneaker?
Me personally, I gotta go with the exclusive purple box Rice Krispie Treats. Not Rice Krispies. Rice Krispie Treats. It has like chunks of Rice Krispie Treats. Captain Crunch is my second go-to, man. They really off the chain. I could eat boxes of them daily.
What about the milk? What type of milk are you rockin' with when you're doing these videos?
Straight 2% milk. To me milk is milk man.
Can we expect a Paypa Boy x Kith Treats collab?
I definitely would wish to tap in, and link up with the boy, and definitely make something happen, but you now when you don't expect something to happen and it happens it's just so much of a blessing. So, now I'm really out here on some real new innovation. I'm gettin my own cereal spoons made, and I'm lookin for a cereal right now. It's called the Paypa Boy Money Bag Bites. Coming soon. Believe that.
Have you ever thought of eating other stuff out of shoes, like ice cream?
They labeled me the Cereal Killer. I need to just follow the lane. I created the path. I'm runnin' with it.
"It definitely adds flavor to the game."
If there's one shoe you wish you could eat cereal out of, which shoe would that be?
The automatic lacing Mags. I got a pair of Mags, but I want the official power lacing ones. If I can't get my hands on 'em for the right price I'm goin old school with 'em. The first generation.
You gonna throw the lights on too? Isn't that a little dangerous?
You know I am! That's a fact. That's the fun.
Now that you figured out you can do this with your kicks are you gonna never use bowls again?
Nah. I'm gonna use bowls. A sneaker is really small. It can't really hold a lot of cereal. It's more back and forth. This is just letting the world know it's still funny out here. There are people out there who respect the game enough to show a joyful mood.