Puma has found great success with its Fenty by Rihanna collections, and is now looking to protect the line with a lawsuit against Forever 21. The German footwear company filed a design patent, trade dress and copyright infringement lawsuit against Forever 21, a brand notorious for copying designs, after they released a collection of their own that closely resembles the Fenty by Rihanna x Puma footwear.
According to the lawsuit, Puma is accusing Forever 21 with copying three of its most popular designs—the Fenty by Rihanna x Puma Creepers, Bow Slides and Fur Slides in an attempt to "trade on the substantial goodwill of Puma, Rihanna, and the Fenty shoes."
Puma makes it's case with a complaint stating: "Puma's 'Creeper' sneaker and 'Fur Slide' and 'Bow Slide' sandals have enjoyed substantial and noteworthy success, and are currently being sold in both brick-and-mortar stores and online retailers, such as Neiman Marcus, Nordstrom's, Urban Outfitters, and Bloomingdales, among others." Per Puma, "The demand for the Fenty Shoes is so great that the Puma website has been overwhelmed with traffic on days that the shoes launch and, in fact, crashed the day the 'Fur Slide' was first offered for sale."
The patented design of the Creeper, a sneaker that, "routinely sells out within minutes of the launch of each new version due to overwhelming demand," is clearly copied in what Forever 21 calls "Yoki Sneakers," a shoe that is widely available for only $25.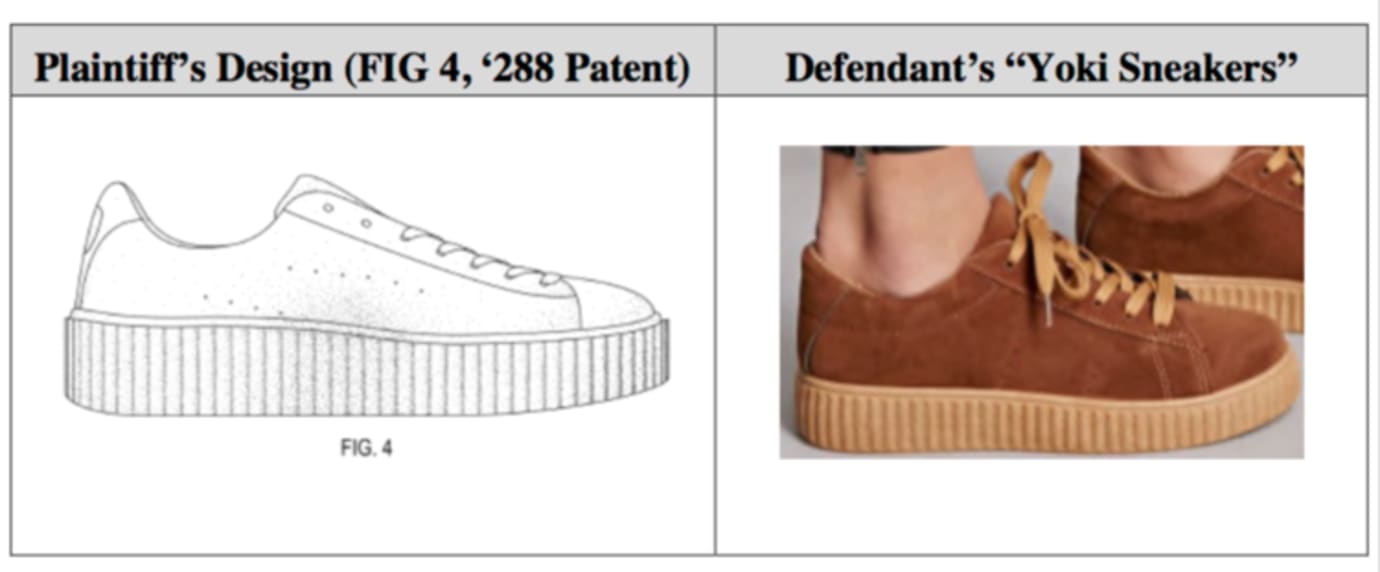 The complaint continues by addressing infringement on its "Bow Slides" and "Fur Slides." Forever 21's are undeniably similar in design and color.
Puma claims: "In an attempt to ride the coattails of Puma's substantial investment in and success with the Fenty Shoes, [Forever 21] is using the Fenty Trade Dress to offer for sale, distribute, market, and/or sell competing shoes that are confusingly similar to the Fenty Shoes. As reflected in side-by-side comparisons, [Forever 21's] infringing shoes are confusingly similar to the Fenty Trade Dress."
In addition to the strong accusations of copyright and trademark infringement, Puma is also claiming rights to the pale pink and olive green colors used on the "Bow Slides." As of now, this doesn't seem like a lawsuit that will go in Forever 21's favor at all. Read more details on Puma vs. Forever 21 on The Fashion Law here.