Seated at a table at Nike's world headquarters in Beaverton, Oregon, alongside powerful Nike brass—CEO Mark Parker and design vet Tobie Hatfield are present—is a 21-year-old whose opinion might be the most important one in the room. At the front of the room sneaker designs are pitched, the products then passed around the table, making a crucial stop in front of Matthew Walzer, who's flanking Hatfield. Walzer whispers words of approval to the designer on his left after close inspection of a prototype outfitted with magnets on a drop-down heel that allow for fluid entry.
The occasion is the final round of Nike's Ease Challenge, a competition announced in October, 2016, calling for ideas from outside designers to better equip athletes of all abilities. The retail product to eventually come from the competition will be an extension of the Flyease line, a collection of easy-access shoes traceable back to Walzer. He's been on the brand's radar since 2012 when, as a high school student with Cerebral Palsy, he called on Nike to make more shoes for people who had difficulties putting on traditional models.
Emerging triumphant from a field of over 100 submissions this spring is Brett Drake, an engineer and Nike fanatic from Wyoming. His intention with his winning design, which went through several iterations during the building process, was to make something requiring limited manual input from the wearer.
"I wanted a system where, once their foot goes in, the heel [of the shoe] actually has the ability to rise up and connect and they don't have to hold it in place," Drake tells Sole Collector. Eventually he arrived at the solution of lightweight neodymium magnets that hold a movable heel counter in place. Athletes wearing the shoe enter through the heel, letting it down, sliding their foot in, and flipping it back up.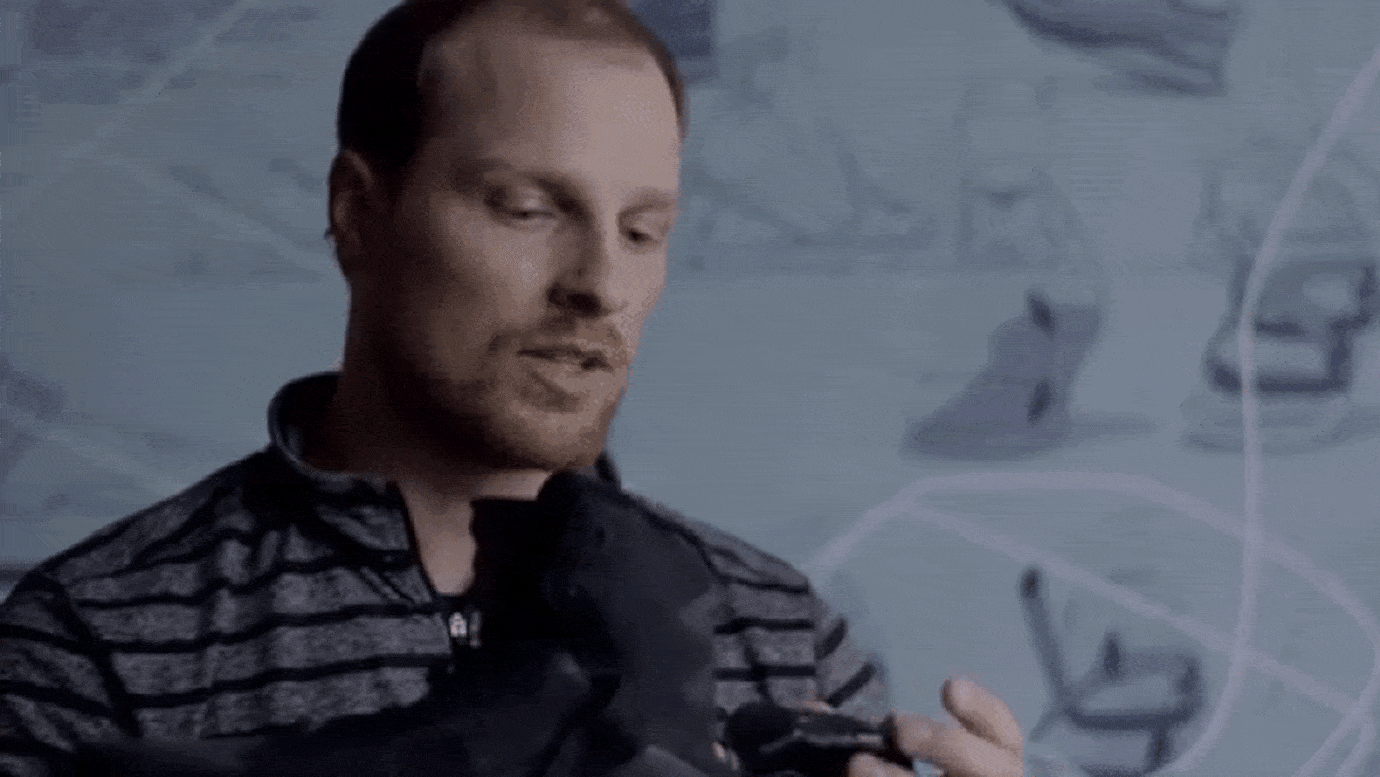 That Drake doesn't come from a design background makes his approach all the more impressive. He even admitted to not being a designer during the final round of the competition at Nike, only to be corrected by Parker, who insisted that this level of creation made Drake worthy of the term. What may come as a surprise is that Hatfield, who has his name attached to a number of important Nike designs, feels a similar way about his relationship with the discipline.
After 27 years at Nike, Hatfield tells Sole Collector that he still isn't totally comfortable with the term "designer." He's spoken at design schools, but never got a degree from one. Still, he thinks the title comes down to one's creativity, and names Nike co-founder and early tinkerer Bill Bowerman as a reference point in the argument.
"I guess I like the term 'innovator' better, maybe 'cause it's a little more all-encompassing," Hatfield says. "People probably don't think Bill Bowerman was a designer, but he was a designer too. But he didn't go to design school."
Drake's creation will fit into a lane of Nike design that is forward-thinking with respect to fit and fastening. In a press release, Nike calls it an "adaptive fit" system, placing it alongside models like the self-lacing Nike HyperAdapt 1.0, a silhouette that may come off as gimmicky but has real implications for athletes who have difficulties tying their shoes. There is also the aforementioned Nike Flyease line, which debuted at retail in 2015 via the LeBron Soldier 8 Flyease and has expanded to include more basketball and running models since. According to Hatfield, models like these are just the beginning of Nike's efforts in this area. Of course, these sneakers aren't limited to being worn just by a specific group.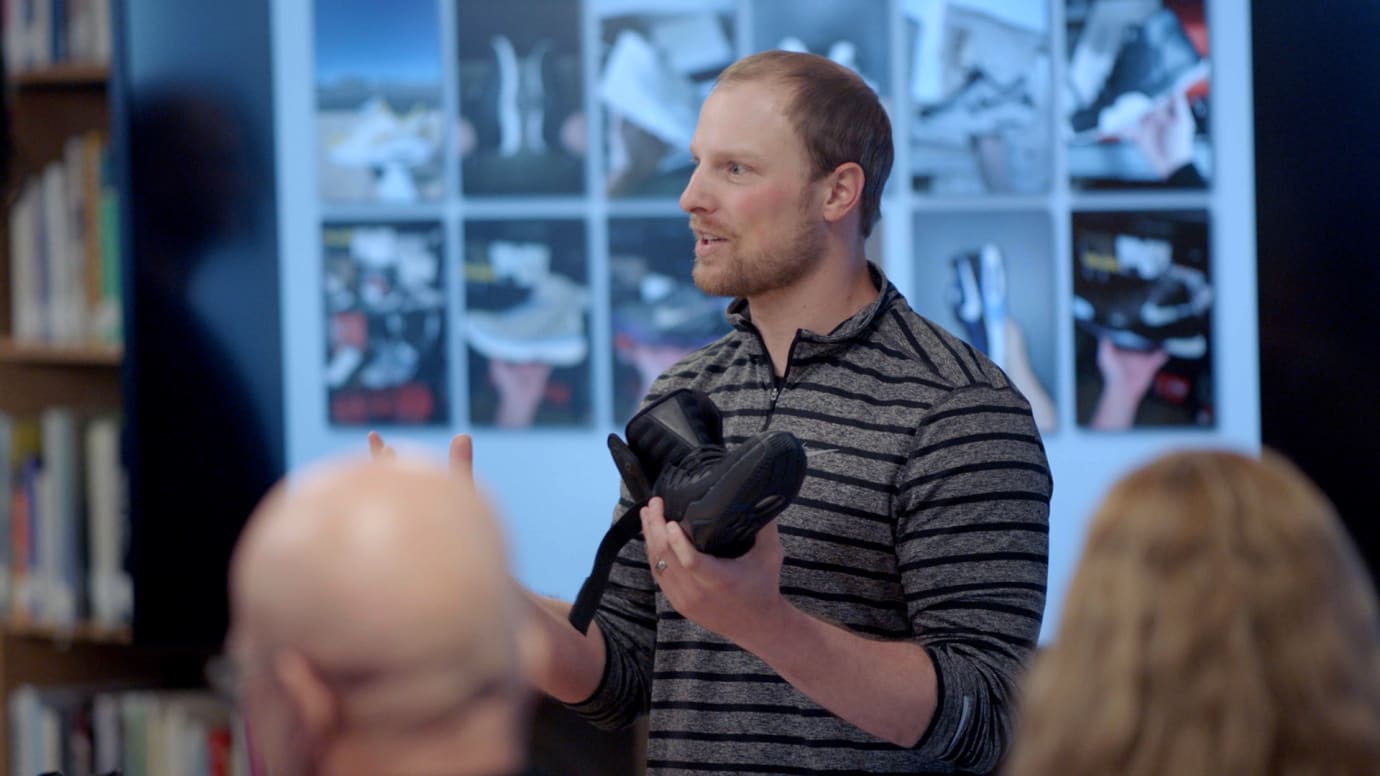 "It's not a disability shoe, it's a shoe for everyone. It's just that the focus and the impetus for it was first for those who have limited abilities," Hatfield explains, "but it's a shoe for all abilities."
It's up to Hatfield now to figure out exactly how to make the Ease Challenge-winning sneaker available for everyone. This will be a collaborative process involving Drake, who sees himself visiting Nike HQ frequently in the months to come. What began as a customized Nike Hyperdunk 2016 tested in secret by him and his wife (competition rules required finalists to keep their designs under wraps) must be ushered to retail by a team of innovators and builders at Nike.
Turning the at-home design into something that factories can actually make en-masse should be a challenge, but this is the company that managed to put a tiny motor in a pair of sneakers and make them lace themselves. In the rules for the competition, Hatfield didn't want people to consider such manufacturing hurdles.
"I didn't want that to be a limiter. I wanted the submitters, like Brett, to not necessarily have to worry about that too because that's our job." Hatfield says. "For me, it's hard to dream if you limit yourself."