Nike is a brand that inspires fierce loyalty in consumers and employees alike. Collectors rabidly stockpile its shoes. The product experts tasked with knowing the brand front and back often wear the Swoosh logo tattooed on their skin. The company's world headquarters in Beaverton, Oregon, has its fair share of lifers. Many of them have been there for decades, having started at Nike in the era when it was still finding its footing and emerging from the maverick plans of co-founders Bill Bowerman and Phil Knight. Mike Friton, an innovator and builder whose Nike career began in 1979 under the tutelage of Bowerman at the University of Oregon, was one of those. He left in 2011.
"The main driver to keep people there is more about money," Friton tells Sole Collector. "As you go up, you get more benefits, more time off. You get to this point where you can't just leave and go somewhere else and have the same thing."
He made an exit anyway, opting for a new life outside the brand. Since departing Nike, Friton has been working with the University of Oregon's Sports Product Management program as a lab instructor, passing on his years of industry experience to young sportswear enthusiasts, and running his own design studio. He jokes that he was ready to leave the company during its last big round of layoffs, saying that he volunteered to have his name on the list of employees being let go.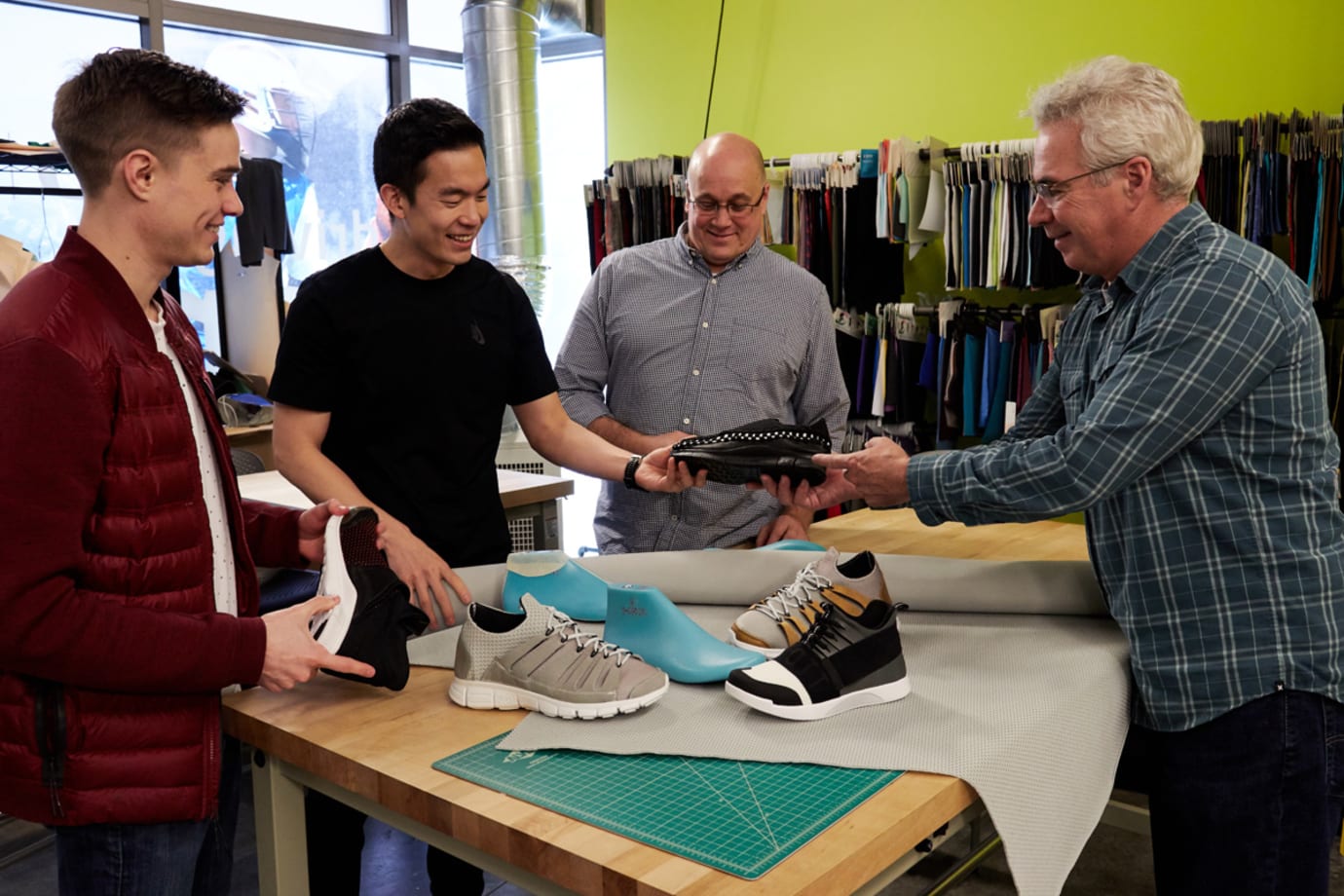 Friton wasn't media-facing during his career with Nike, so his résumé​ isn't as well publicized as other long-timers'. But he had input on juggernaut sneaker designs, helping develop the Air Presto and Nike's Flyease technology with Tobie Hatfield. He began design work in Bowerman's lab during the company's infancy and patented silhouettes like the Goatek and the Trunner.
During his time at Nike, Friton was an early member of the Innovation Kitchen, a secretive design space established around the turn of the century at its headquarters that pushes people to create forward-thinking product. As the space is partly about moonshots and concepting, many of the projects worked on there never see the light of day—things forged in the Kitchen might not find a place in an actual retail plan.
Friton says that he saw the space become more restrictive over the years. What began as something of a free-for-all is now more siloed and homed in on specific initiatives.
"We didn't have any cubicles or anything. It was just this big open space, the room wasn't even finished out yet," says Friton, recalling the early days of the space. "So, we're sitting in there, and [Nike Global Program Director] Michael Donahue called us all together and he goes, 'Hey, this is our mission: I know all of you guys have had different things you've been stuffing under the table and desk 'cause you don't wanna show it to people because you're afraid [of] what they're gonna say about it, for whatever reason—a lot of political reasons.' He goes, 'This is the space to bring all that out and put it on the table.'"
In talking to Friton about his time at Nike and how the company has evolved other the years, one gets the idea that its transition from a scrappy business born in his native Oregon to a sportswear behemoth responsible for $32 billion in sales in the last year brought him some alienation. The feeling is there when he talks about change at the Innovation Kitchen over time, incredulously describing being pestered by people attempting to narrow his creative process. It also comes through when he talks about Nike being removed from from the core group of running fanatics and Bowerman disciples that helped establish the brand.
"Everything is so glitz over there. They make all this flash," Friton says. "I worked with Bowerman for 16 years. I lived on his property for three years taking care of his cows. So I know that side of him, which very few people do, and my problem is I guess too much of a personal attachment. I feel like they don't really appreciate who Bill really was. I'm glad they do something to recognize him, but I get kind of angry sometimes. There's been times when I've voiced my opinion: 'That's not really what Bowerman was about. Are you kidding me?'"
"I feel like they don't really appreciate who Bill [Bowerman] really was."
These feelings translate to a refreshing contempt when discussing Nike higher-ups that one would never hear from an employee regularly collecting checks from the company. In conversation, Friton remembers his days working at Nike's design facility in Exeter, New Hampshire, with "the old shoe dogs, the real shoe dogs, not the executive shoe dogs," a clear shot at Phil Knight's 2016 memoir, Shoe Dog. Nike CEO Mark Parker, whose time in Exeter overlapped with Friton's, is served similar criticism.
"At that time, he was a product tester, not a shoe designer," Friton says of Parker. "He was never a shoe designer as he claims. He sticks to that though." This barb aside, Friton gives the Nike leader credit for influencing designers during his long tenure at the company.
Regardless of the disparity between the company Friton joined in '79 and the one that exists today, it's clear that he still cares about the state of sportswear—that much is obvious when he discusses current projects or his view that much of what the sneaker industry is selling is "fake news." He's worked for Nike on designs here and there since leaving his full-time job with the company, but any loyalty that may have been there has definitely dimmed. Beholden as he may be to Bowerman, Friton's left behind product allegiances: when asked, he says wouldn't be opposed to wearing shoes by sworn Nike rival Adidas if the design was good enough.