A little over a year ago, Maxwell Lund believed that becoming a sneaker designer was a far fetched dream for the average person. And for him personally, he figured it was flat-out impossible. Coming from Redwood Falls, Minnesota—a town of just 5,000—the opportunity seemed non-existent. Lund had humble aspirations of going to school and getting a job to escape the small-town lifestyle.
That all changed when he learned about the Pensole World Sneaker Championship, a design competition created by D'Wayne Edwards. With a self-taught skill set in design and a small but steadily growing fan-base on his YouTube channel, Lund took a leap of faith and entered. Now, as the 2016 WSC winner, the 20-year-old college student is $20,000 richer and just saw his design actually release at retail across the globe.
Sole Collector caught up with Maxwell Lund at the launch of his award-winning sneakers at Foot Locker's NYC33 space. Here, he talks about his design going from paper to Foot Locker shelves, attending Pensole Design Academy, and more.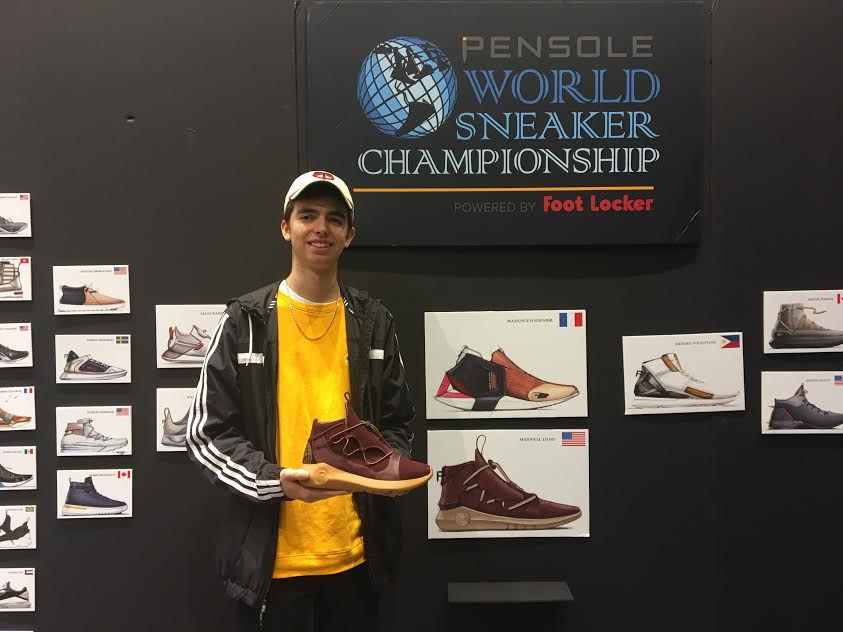 Where did your interest in sneaker design come from?
I was always interested in shoes because as a kid, I was a huge fan of basketball. As I got older I realized I wasn't going to have a career in basketball, so I would always think of ways to kind of get involved and that's where my love for shoes came in. I was always good with art as a kid, so my senior year in high school I decided to merge the two in a way. I started a YouTube channel my senior year of high school where I took the shoes that I owned and I would draw them on my iPad and upload the time lapse. I did that for like six months and then decided, "I'm going to run out of shoes to draw, why not just make my own?" I never drew another pair of shoes that wasn't my own since then. I've just been going all-in on the design thing.
When did you decide that you wanted to take sneaker design seriously as a possible career path?
You're a senior, you're trying to figure out what you're going to do, what's your next move, what's your career going to be. I was from a town with 5,000 people and it always seemed like if people went to school, they always came back, and I wasn't inspired by that at all. I didn't want to be there because there wouldn't be as many opportunities as somewhere else. I didn't understand why nobody else was trying to expand their horizons. I always wanted to do footwear design, but I was scared I wasn't going to be successful in it, so I decided to go for graphic design because I just wanted to have a career to make it out. I thought that footwear design was impossible, especially being from a small town. It's unheard of so I didn't pursue it.
I went to school for two years at South Dakota State University for graphic design, which wasn't even a design school, it was more of an engineering school. As I was there, I hated the classes, so to cope with that I would design shoes as a hobby for fun. I would post it on social media and I noticed I started to get better and better over time. I would post my designs and people liked it and they started to really follow what I was doing. So when the [Pensole] design competition came up, I had kids that I've never met looking out for me saying, "Hey, you should do this." So I decided to give it a shot, not thinking anything of it. I just tried it to see what would happen and because of that, where I am today, winning the whole thing out of 5,700 design submissions, it made me think that I could do this. After they announced the top two in April I immediately transferred schools and said, "I need to go all-in on this." I saw the possibility and I realized it was possible, so I took my shot.
What was your experience at Pensole Design Academy like?
I had never learned anything about shoes until after I designed the shoe, so this past summer I went to an Adidas-sponsored classroom from July to August. I had no idea what was going on, so I took baby steps to get a feel for things. Now, I feel like I should go back and redeem myself because I have a better idea. But, I feel like it was a great experience. A lot of the people I met there I still talk to every day. That was also the first time I worked with others. Before then, this was something I did when I got done with class. I drew shoes, that's it. It was a solo project with no goal in sight. Collaborating with others and bouncing ideas is something I really enjoyed. Going through the actual design processes was very helpful to me.
"Once you know how it's made, you can dictate your design and how to make it possible. Otherwise you're designing a shoe just to make it look cool, you're not thinking how it can actually be made."
What's the biggest lesson you learned while attending Pensole Design Academy?
There was a prototyping class. This was the first time they did it. Normally, you just sketch a shoe and present it to the end of the four weeks or however long the class was. This class was the first time they did a prototype, so you had to create an actual handmade shoe to present. Working three-dimensionally for the first time really taught me how I should approach the design. Once you know how it's made, you can dictate your design and how to make it possible. Otherwise you're designing a shoe just to make it look cool, you're not thinking how it can actually be made. It makes things more in reach.
Where did you draw inspiration when you were designing your shoe?
I designed the shoe before I learned anything. I was drawing shoes for fun, so I basically would draw shoes that I want to wear. When they published the design brief, it said to create a shoe for a 20 year old male from a city of your choice. I'm 20 years old, so I just designed a shoe for me. There wasn't really much of a story involved in it other than that. It was something I wanted to wear and my friends wanted to wear.
How does it feel to have a sneaker that you designed for sale at Foot Locker locations all over the world and online?
That's still crazy. I just saw the shoe yesterday for the first time last night. They wouldn't let me come here until 5 p.m. I walked in, saw my shoe, and got hit with everything that was happening. I'm still trying to take it all in. I woke up this morning, looked down on the ground, and saw my shoes. It's the craziest thing. It doesn't feel real at all. I don't know at what point this will all feel real. It's definitely an unbelievable thing that I never pictured happening anytime soon.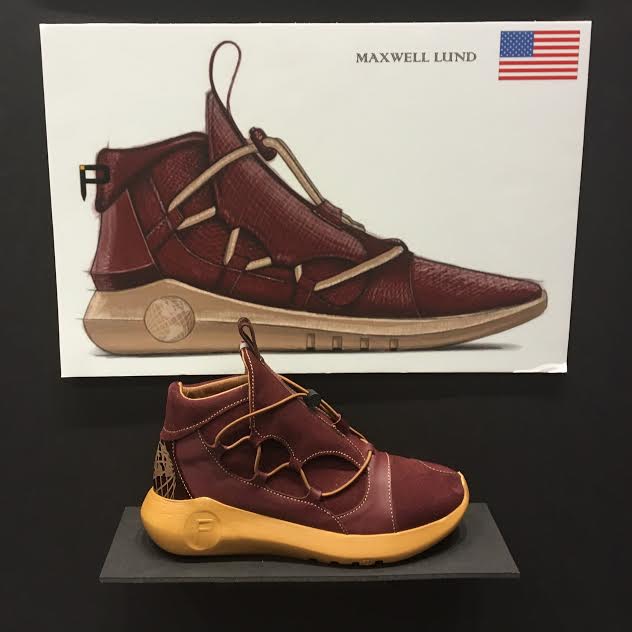 Do your sneakers have a specific name?
Nah, they actually don't have a name. It just says Pensole, OG Maroon for the color, and then Maxwell Lund.
If you could name them, what would your sneakers be called?
I never thought about that actually. I just designed shoes I wanted to wear and never thought more into the marketing side of it. It's purely what I wanted. What I felt would be cool, interesting, and different.
What were some of your favorite sneakers before you started designing your own?
The first shoe that I drew on my YouTube channel was the "Masterpiece" Kobe 9. I still think that's the best looking shoe to hold and look at. The knit on it is crazy. I think that shoe stands out the most from a design aspect.
By winning the 2016 Pensole World Sneaker Championship you were awarded a $20,016 cash prize. What's the next step for you?
I'm going to save it. I might treat myself once, but most of it will go to school. I just started college over. I threw away everything I had and started over at the University of Wisconsin-Stout. It's the only school in my area that has industrial design, which is the recommended major. What's next is to continue with that and try to better my chances by learning the correct way to do things. I think there's no reason why I shouldn't get better.
What's your dream job after graduation?
Someday I want to have a pair of basketball shoes on the court in the NBA, but I don't necessarily care where the job is. Whoever is willing to give me a shot. In between now and then is to get internships and do as much as I can to make it possible because I do not want to stay in Minnesota. I love the people there, but if I'm in Minnesota in 10 years, I failed. I want to be in New York City or Portland. Somewhere I can do what my dream is.