In the summer of 2014, Paul George's leg basically folded in half during a scrimmage with the USA Basketball team. The replay clip was nauseating. The kind you avoid watching and discuss in hushed tones. The gruesome lower right leg injury had huge implications for his career and, by extension, his relationship with Nike, who had been in talks with the Pacers small forward about a signature line. For a moment there, it looked like Paul George wouldn't be coming back to the NBA, let alone getting his own shoe.
Nike designer Tony Hardman said there was a point where nobody at the brand knew if they'd be moving forward with a Paul George signature shoe or not.
"You don't know if a guy is gonna come back from an injury like that," Hardman told Sole Collector. "That's a crazy injury to try and come back from. So, even for me as a designer, it was almost like the resource was kinda put on hold for a little bit. We don't know what's gonna happen with Paul."
Of course, for George, his focus in the period was primarily on securing his health and the future of his career. 
"It wasn't really on my mind whether I lost the shoe or if that dream was out the window or not," George told Sole Collector. "During that time period I was more concerned that my job was at stake."
In retrospect, Hardman calls the injury a blessing in disguise in that it gave the design team more time to get to know George. It also pushed back the debut date of the Nike PG1 shoe, which was originally scheduled to release in 2016. 
George said that work on the shoe slowed in the wake of his injury, with the process picking back up as he progressed in recovery. In Nike's time spent learning about George's footwear preferences and personal style, they found he didn't necessarily want the type of bleeding edge tech shoe created for Nike Basketball signature athletes like LeBron James.
"It's a conscious decision from Paul—he literally wants to play in like, a Janoski," Hardman explained. "That's his steez. He just likes real simple, real clean, real traditional, and it's almost been like a little bit of a battle because at Nike Basketball, we're really trying to push futuristic design language. And for him he's like, 'Nah, that's not my steez. I want something simple.'"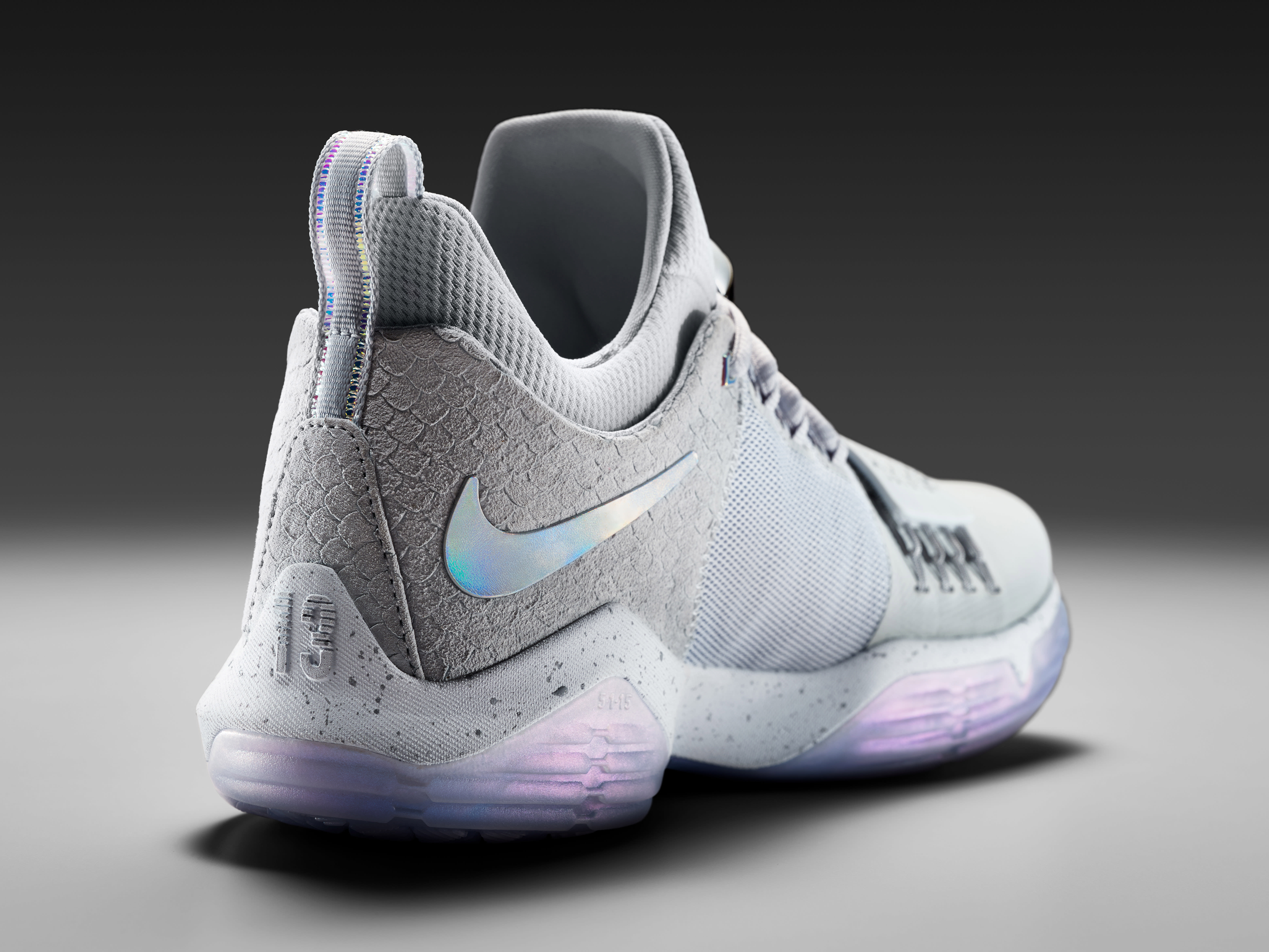 The turn away from peak sneaker tech gave Nike the opportunity to make George's a more affordable alternative to models like LeBron's, which sits at the top of its range at $175. George's shoe will retail for a base price of $110 when it hits retail in March. It's an important move for Nike to make too in the wake of criticism from Foot Locker about its basketball designs being too expensive, especially for kids.
"I really wanted to target kids that look up to me but can't afford the $200 pair, $150, $180 pair of shoes to play basketball in," George said.
The shoe's design stands out in Nike Basketball's increasingly crowded line of signature offerings, which will consist of five lines upon the release of George's Nike PG1 in March. While other models are built with Flyknit and synthetics, George's isn't afraid to sport more traditional materials. That's not to say that some people at Nike weren't afraid.
"People kinda freaked out a little bit on campus like, 'We can't—that's old. We can't use leather and stuff like that.'" Hardman said. "We can, actually."
George provided insights during the creative process, telling Nike designers about his affinity for shoes like the Huarache and Zoom Crusader that offered a tight fit. (So great was his preference for a tight fit, in fact, that Nike discovered he'd been wearing the wrong size sneaker for years.) He also wanted to keep the model low, lining it up with the shoes he'd grown accustomed to playing in.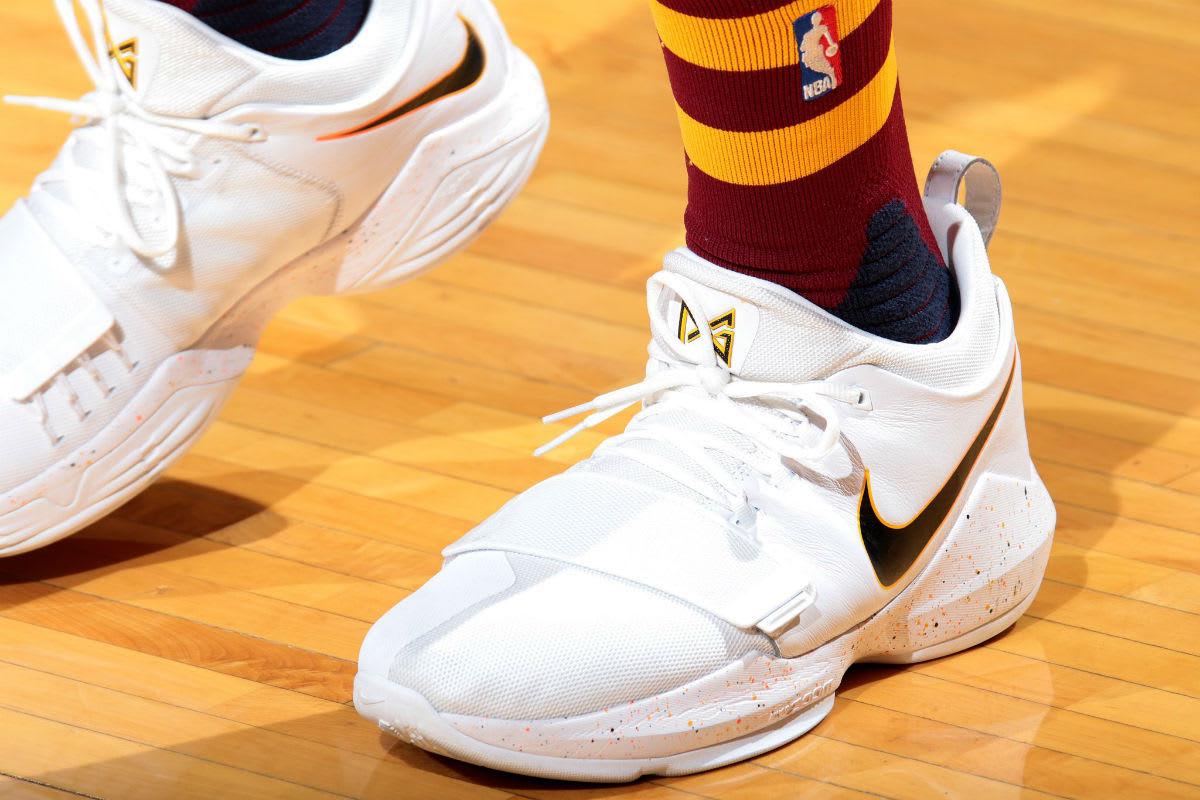 He even had a sketch ready to go when the project began. While the actual creation of the shoe was handled by Swoosh professionals, Nike did end up using the strap suggested by the sketch for the final shoe. George says it took several iterations for the brand to land on a design that he was comfortable with, and the project seemed to be in jeopardy again when he wasn't satisfied with what Nike had come up with.
"I remember like, two or three sketchings before I got to the one that I like, I almost was to the point like, 'Man, this shoe is never gonna be made 'cause I don't like this shoe.' Once we came up with the finalized product, I was blown away."