While most designers attend art and design school, D'Wayne Edwards broke into the industry without ever stepping foot in a college classroom. His story starts in Inglewood, California with just a No. 2 pencil. Edwards turned his infatuation with drawing and later customizing his high school basketball team's sneakers into a successful career in footwear design spanning more than 25 years, from holding a Footwear Design Director position at Jordan Brand to founding Pensole Design Academy. At 17 years old, he won a Reebok design competition, but was too young to be hired. A short two years later, he became the youngest professional footwear designer in the industry working for L.A. Gear. By age 23, he was the head of footwear design at L.A. Gear.
Edwards' career came to a pivotal point when he moved on to Nike and Jordan Brand. There he would design the Nike Goadome Boot, Air Jordan 21, Air Jordan 22, and much more.
Today, as the founder of Pensole Design Academy, Edwards is giving back to aspiring designers because not only does he love to create, but because he loves to help other people create, too. Pensole provides a hands-on curriculum in footwear design to prepare designers for working at a company. The best part is that it's completely tuition free—something Edwards values, as he wasn't able to afford college.
While he broke into the industry at such a young age and eventually realized all of his dreams, it didn't come without challenges and hard work. As just the second African American to become a designer in the sneaker industry, a lack of diversity was ever present. While Edwards is doing his part to infuse the industry with a diverse set of Pensole alumni, the industry still lacks Black designers.
Here, Sole Collector caught up with Edwards to talk about his personal journey through the sneaker design industry, Pensole, what brands can do to better promote diversity, and more.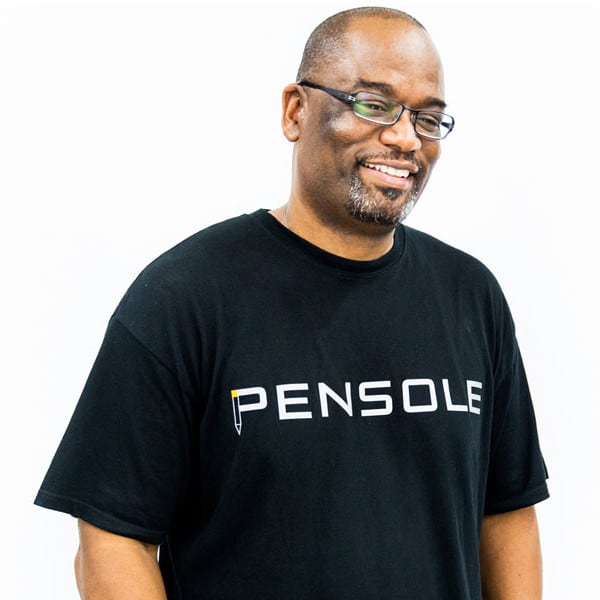 How did your love for sneaker design come about?
It started with footwear first. I started with sports figures when I was 12 years old. I would always draw them from the little baseball cards and once I got down to the shoes, it was more complicated. So instead of drawing the whole figure—mostly football players—I gravitated to just doing the shoes because that was more challenging for me. From there it turned into drawing basketball cards and the shoes. By the time I got into middle school, Inglewood High School was right next door, so we would go there to play basketball. The high schoolers would get Nike catalogs. So it was the first time we would see the new Nikes coming out before it hit stores. They got a chance to pick what shoes they wanted to wear during the basketball season. We were in middle school and couldn't choose our own shoes yet. I would borrow the catalog and just start drawing the shoes from the catalog. That was back in 1984.
Were you into collecting and wearing sneakers before you got into designing?
Back then, I was drawing them. I wasn't really designing them. I was basically just repeating what I saw. Then once I got into high school I started doing my versions of what I thought the shoes should look like. At that time, the Los Angeles Lakers, who played in Inglewood, would practice at our high school. When the Lakers would practice at our high school, I started asking Magic [Johnson] and [Michael] Cooper and [James] Worthy, "Hey, can I have your sneakers?" They were like four or five times too big for me, but I started collecting basketball players' sneakers because the Lakers practiced at my high school. That was in '86. At the same time, that's when I started customizing too. Our school colors were green and white and at that time, sneakers only came in white/white, white/silver, white/red, black. So I would go to the shoe repair shop and get some duct tape and shoe dye and I would tape up the whole shoe except for the Swoosh and paint that green, so it would match my school uniform. Then I started doing my teammates' and the girls' basketball team.
When did you decide that footwear design would be your career choice?
Probably in '88, when I was a senior in high school. I won a Reebok design competition and the problem was I was only 17 years old, so they didn't hire me because I was too young. That was kind of the first taste of what the footwear industry was because I got to visit the office that they had in Santa Monica, California. Before that, I was just drawing and doing it for the love of drawing sneakers. I didn't know it was actually a career path. There was no Google. There was no way I could log online and type in "career path in footwear" and see what happens. It was really a hidden opportunity that I didn't know was there. Once I won that competition, at least I got a taste for the fact that Reebok thought I was good enough to be a designer in the industry when I was 17.
Your career as a footwear designer is full of great accomplishments like designing the Nike Goadome boot, Air Jordans 21 and 22, and much more. What was your personal favorite achievement?
From a design point of view, it would be designing the Air Jordan 2 Nu Retro. That came out in 2003. It was actually the last shoe I drew as a high school senior. It was my version of the Air Jordan 2. Twelve years later, I was in Jordan and redesigning the Air Jordan 2 was one of the first basketball projects I got. It was one of those moments where I felt like I was where I was supposed to be because it was something I had did 12 years prior, but I was getting paid to do it, which was even better. Design-wise, that shoe has more personal significance because of where I was at that time in my career. As far as career-wise, it's actually helping people. Probably north of 20 people—mentoring them and helping them get into the industry while I was in the industry. Even though it was a dream of mine to design footwear and to be in this industry, I don't feel like it that was my destiny, I feel like that was just a part of the journey that I was on to do what I'm doing now. I would say the thing that I value the most of my entire career is just being in a position to help other people.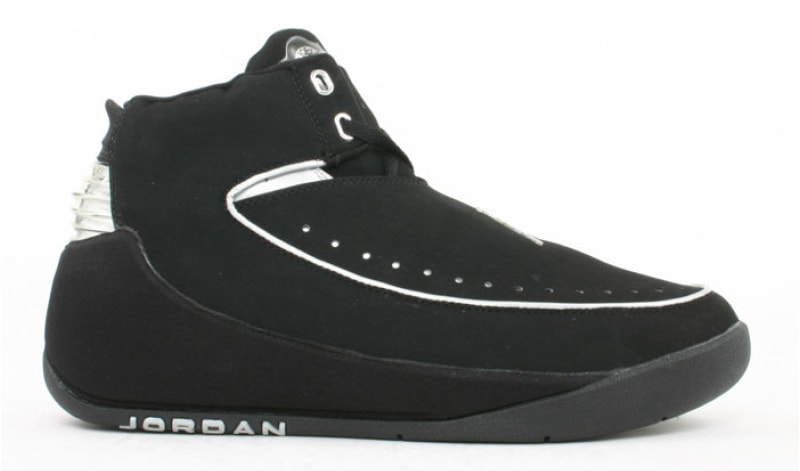 Basically providing a platform for today's aspiring footwear designers. You're even continuing that with Pensole.
Yeah, absolutely. I didn't have that platform when I was trying to get in.
Who were your mentors in the industry?
I did have a guy by the name of Robert Greenberg who's currently the chairman of Skechers. He owns Skechers. He was the one that gave me a shot when I was 19. He was my first professional mentor where he didn't have to give me a shot. He saw that I had talent, that I was hungry, and he gave me a shot. That's something that's always stuck with me even until this day. I see him twice a year in Vegas at a trade show and I tell him, "Thank you for giving me an opportunity." It's just that moment when someone believes in your ability and seeing how far that took me—it just motivated me to do the same to other people that also are hungry.
When you were an aspiring footwear designer, there weren't design schools to attend and you had no education in art and design. How hard was it to break into the industry?
It was hard and easy at the same time. It was hard because I didn't have any formal design education, I didn't go to college, I'm Black, and the whole industry at the time was about 95 percent white—if not greater. I got a chance to work at L.A. Gear and I was the only Black person in the design area, The other Black people were in accounts payable, one or two in marketing, but beyond that, there wasn't very many. It was difficult for me, because I felt like an outsider in this new world that I wasn't used to. I'm from Inglewood and I didn't really see too many white people on my normal day-to-day. Inglewood was like 50 percent Black and 50 percent Hispanic. It was just a culture shock for me, honestly. Robert looked beyond that and gave me a shot. That was probably the more difficult part because I'm 19 at the time and everyone else that I'm working with is in their mid-20s, white, and all college educated. So, they're looking at me, or at least I felt like they were looking at me, as just a little Black kid that Robert wants to help out, and not really understand that I was hungry and had talent. I didn't talk a lot. I just worked a lot and listened a lot. I learned from all of them. My getting into the industry was personally a little bumpy because of the racial division that existed, but I didn't necessarily feel that at the company. The people were great to me, it was just an uncomfortable situation for me because I wasn't used to being in that environment. After that, I just busted my ass doing everything I could to move up and learn as much as I can.

Earlier you said that when you got in the industry, it was about 95 percent white. How does that compare to diversity now?
In footwear design, it's less than five percent.
So, it's still about the same.
That 95 percent when I got in was all jobs in the entire footwear industry. Footwear design? It was 99 percent white back then. I was number two. Wilson Smith was number one and E. Scott Morris was right after us, so at that time it was like 99 percent. It was less than one percent people of color designing footwear back then in 1989 when I got in. When you fast forward almost 30 years later, it hasn't even got to five percent. But if you look at the top endorsees for footwear, almost all of them are Black. 
There are plenty of Black people involved with footwear brands when it comes to signature athletes and celebrity collaborations.
Oh yeah, bruh. There's a little bit of an imbalance there.
It's not like the companies wouldn't want to find more people of color to work with them, the bigger problem is they don't have anybody of color in charge of hiring anybody
How do you think companies can promote more diversity behind the scenes?
Honestly, that is one of the hotter topics in our industry. It's not like the companies wouldn't want to find more people of color to work with them, the bigger problem is they don't have anybody of color in charge of hiring anybody. So, when you don't have anyone in charge, specifically focused on a very specific diversity angle, then it's going to get left on the table. Yes, every company has a diversity program. Every company has people working in their diversity departments, and some of them are of color, but most of the time they're not. What I've found is that the word "diversity" has gotten diluted. Today, diversity, from what I've seen in companies, is pretty much everything but white male. When you dilute the actual idea of diversity, it further sets it back, where you don't pay attention to the true numbers of what you look like, versus who buys your product. So it is an issue that companies say they're trying to focus on, but it's slow. It's slow because it's not a real business initiative. You take a company like Intel—they've set aside $350 million specifically for hiring more Black men and women to be a part of their company. I don't think one footwear company has made that kind of position. Or any other type of company, quite honestly. It takes a real stand to make change and as much as the companies want to make that change, they just want to put forth the effort to make that change happen.
What advice would you give to people trying to break into footwear design?
I would open it up to beyond the footwear design industry to design in general, but my advice is to be a designer that inspires others. The reason why I say that is because if you're inspiring someone else, you're doing something right. Whether that means you're working hard to improve your craft so you can be better, or whether that means you've created something that's unlike someone else's product. But ultimately, if you're inspiring other people with your ability—the gift that you were given—you're not wasting it. One of the things that I see often is people waste the gift that they have. That gift being the ability to draw and the gift to turn that into design. People waste it. They don't work on their craft. They don't spend every day trying to get better. I think that's one of the things I see a lot from kids. I just hope that a small percentage of people in the world can do what they can do and don't waste it. And I hope they go on to create things that inspire other people. If they can do that, they did something right.
In what ways, in addition to celebrating Black history, do you think brands can make an impact on Black history and Black lives today?
Bluntly, I think they could show their consumers that they can do something other than run, jump, and dunk. I think they should highlight other career opportunities besides being an entertainer, actor, rapper, or athlete. I think they should expose these kids to the other opportunities within the industry that are more attainable. Highlight the marketing dude, highlight the accountant, highlight the engineer. Highlight these careers that aren't as sexy as what you would see on TV or online. Highlight the real possibility of being in this industry instead of just being a consumer. What's crazy is we as Black people have history in the footwear industry. Back in 1883, there's a guy by the name of Jan Matzeliger. He actually created the process of attaching the upper to the bottom of a shoe. He took a process that would produce 50 pairs of shoes in one day to 700 in one day. The derivative of his invention is still how shoes are made to this day and you have a guy who made that back in the 1800s, yet there's probably less than 10 engineers that are of color in the industry. For me, his story should be highlighted because that was the origin of how we make shoes.
How can you celebrate the new career opportunities that have happened every single year during February? A lot of Black History Month sneakers seem to be just a black shoe with red and green or gold accents. It's doesn't represent a specific person or cause, it's just another colorway that gets released and without the BMH branding, it could be released any other time of year.
Yeah, it's a bit of exploitation. Right now, I think the focus for some brands is just to make money, not necessarily to make an impact. But just like anything else, consumers have a choice. If people weren't buying it, they wouldn't release it, so clearly people are still buying it and they're going to keep releasing it. Until the consumer says "no more," they're going to keep doing it. On many levels, we can complain, but if we keep supporting it, we don't really have much to complain about.