Adidas doesn't want people reselling its sneakers. At least, that was the message sent at Wednesday's launch of the blue Ace 16 Purecontrol Ultra Boost, a limited colorway that was available at Adidas' new 5th Ave flagship store in New York City. Shoppers lining up to buy the shoes this morning were greeted with a message posted next to the door warning that resellers were not welcome.
"Adidas-Group will not sell product to any person who Adidas believes intends to resell merchandise," it read. The message went on to say that Adidas doesn't allow for the purchase of goods with the intent to resell and that resellers would be refused.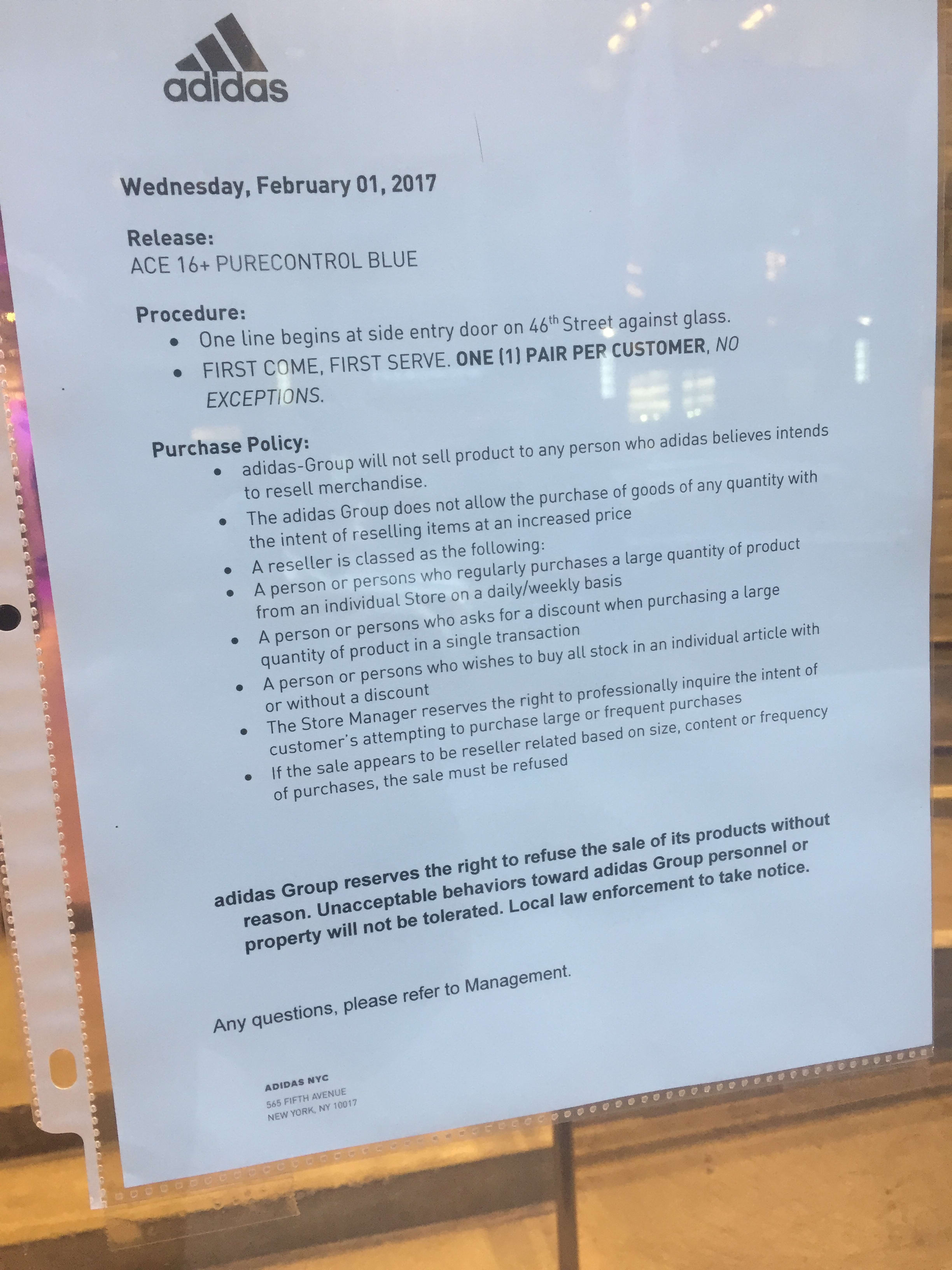 Unsurprisingly, resellers aren't happy about the decree against footwear flippers.
"It seems like a crazy policy," said Andre, a New York City-based reseller who runs @solestreetsneakerco and was present for the release. "I know that companies don't wanna admit to the fact that they like reselling. They don't wanna admit to the fact that the higher-ups at the companies get their jollies when they see their sneakers selling for four times the value at Flight Club, but they do. Everybody knows they do."
​What's more, it doesn't sound like the message deterred anyone.
"They didn't actually enforce it at all. There were people there who I know they knew were resellers. There were people there who I know were there to resell and [Adidas] didn't actually stop anybody."
​For what it's worth, the first-come, first-served way in which the shoes were released today directly conflicts with a release plan mentioned in an Adidas press email announcing the shoes. In that email, Adidas said the shoes would be available for purchase by invitation at the 5th Ave store.
Why is Adidas taking this measure to stop resellers? Should we expect more releases to be handled this way? Sole Collector reached out to the store to get answers, but neither the manager nor any customer service reps could be reached for comment.