Love is dead: Meek Mill and Nicki Minaj are no longer a couple. Nicki confirmed her new relationship status via Twitter on Thursday.
To confirm, yes I am single. Focusing on my work & looking forward to sharing it with you guys really soon. Have a blessed New Year. Love u🎀

— NICKI MINAJ (@NICKIMINAJ) January 5, 2017

How is Meek taking the breakup? Not well judging by his social media movements. Hours ago, he posted the below photo on Instagram, a stab at the wedged Giuseppe Zanotti sneakers Nicki Minaj has worn before. His caption reads, "If you walk out don't wear these they wack."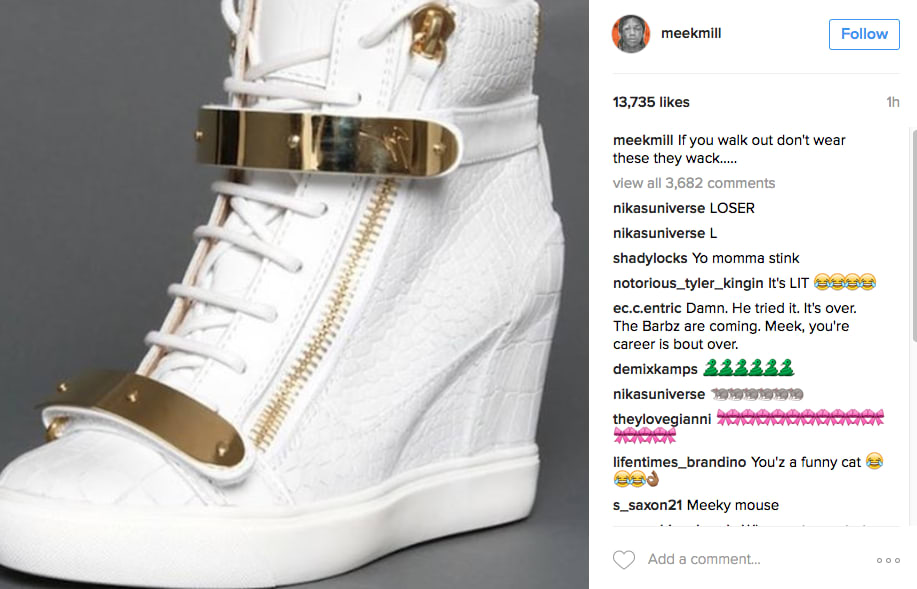 Nicki Minaj wore the sneakers in Ciara's 2013 video for "I'm Out."
What's even funnier than slandering your ex-girlfriend's sneakers on social media after you separate? Deleting the slander shortly thereafter, which appears to be exactly what Meek Mill did here. The photo is nowhere to be found on his Instagram now.
Meek's move is especially unsettling if you remember Nicki Minaj going to bat for him over footwear before by blurring out his Air Jordans so as not to offend Puma, the brand he endorsed at the time.
From here, it appears that there is little chance that they'll be better as friends.