Under Armour released a piece of smart technology in 2016 that tracks, analyzes, and monitors your runs, bike rides, and other workouts. But unlike some of the fitness gadgets you may be accustomed to seeing (like say, a watch), UA dropped a "smart shoe"—specifically, the Gemini 2—that enables you to track all the important details of your run. That includes distance, speed, pace, elevation, duration, and more, with zero charging required.
"The concept of the smart shoe is something we've been working on for five years," says Will Phillips, GM and VP of connected fitness for Under Armour. "We've been spinning it, testing it, iterating it, and changing it with our innovation team, and [2016] is the first time we put it into the market."
How exactly is a shoe able to collect this type of information? There's a tiny chip built into it just below the arch which is completely unnoticeable and sends workout details to its companion app called MapMyRun in real time. You don't even need to be carrying your smartphone with you to track the data.
But why infuse smart tech into shoes as opposed to watches, glasses, or tees? "Shoes are ubiquitous. Everybody wears shoes," says Kevin Haley, president of category management and innovation at Under Armour. Furthermore, "With a shoe, you don't wash it, dry it, put it in the bath, or take it in the shower. It's easier to work with as a form factor."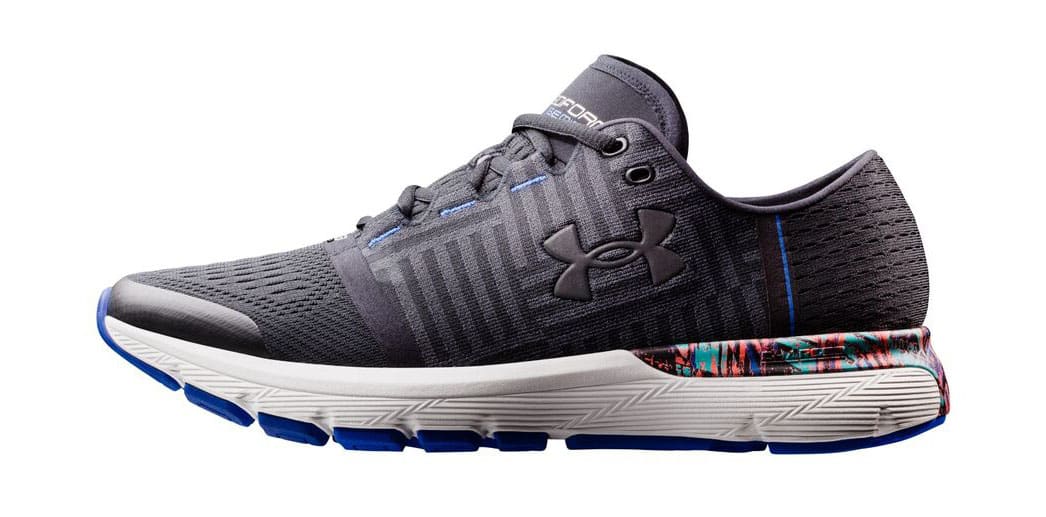 Under Armour will be dropping three new running shoes that contain smart technology in Feb. 2017: the SpeedForm Gemini 3, the SpeedForm Europa, and the SpeedForm Velociti. Like the Gemini 2, the shoes are incredibly light (just 7oz for the Velociti) and don't sacrifice any of UA's tech. The brand's SpeedForm technology is featured in each for adaptable fit. The Gemini and Velociti even have Charged Cushioning—just like the Curry 3.
Aside from the new silhouettes, Under Armour has updated the smart tech itself. Haley, who works closely with professional and Olympic athletes, as well as top trainers and sports scientists, was inspired by the sensors he saw at Olympic training facilities a couple years ago that can measure your "readiness" to workout.
"Basically, an athlete steps into the track system," Haley says. "They jump up and down, and [the sensors] measure things like ground contact time, rate of force production, how high and high long they're jumping, etc. And [those numbers] measure your neuromuscular fatigue."
If your fatigue is high, you should consider doing a workout that's not too strenuous. If your fatigue is low, it could be one of those days to go H.A.M. Haley was intrigued with this type of testing and thought that Under Armour could take things a step further with its newest smart tech innovations. He wanted that chip found in the Gemini 2 to have "jump testing" capabilities, which is exactly what Under Armour made possible in its 2017 line.
"The jump test is a 10-20 second exercise," Phillips explains. "You put your shoes on, open the MapMyRun app, jump six times, and we're able to give you guidance as to how hard you should go that day. Should you go really hard, do your normal workout, or pull back today because your body is just not ready for it?"
This notion of being able to influence or change your behavior right before you train is a crucial development in the running world. It allows you to work out even more effectively and maximize performance based on how you're feeling in that moment—not just in that day or hour, but in that exact second.
The best part of the upgraded tech, according to Haley, is that "It's focused on you. This is customized for you, so it's not like, 'Hey, runners tend to do x,' or 'After a long run that you had yesterday, runners tend to need a day of rest, so lay in bed.' No. This is you. It's not about the absolute number. It's about the relative number. Relative to you, your body, and your training habits."
The SpeedForm Gemini 3 and SpeedForm Europa each retail for $160, while the SpeedForm Velociti lists at $140. All three will be dropping in Feb. of 2017.