My heart is racing and palms are sweaty. There isn't vomit on my sweater, but my credit card is ready.
I'm trying not to cause a scene at the office so I don't have to justify spending $220.50 on a pair of sneakers made by Kanye West to my seemingly unreceptive coworkers who don't understand the struggle of buying a coveted sneaker.
I'm a 22-year-old Kanye West "Stan" and avid sneakerhead. I've been trying to get my hands on a pair of Kanye West-designed sneakers since the first Nike Air Yeezy released in 2009 and have never been successful. No, it's not because I'm clueless on how to purchase a pair, but because I've never cared to learn today's process of buying hyped releases, which, depending on your method, takes a fair share of knowledge in HTML, social media, and all around finessing your sneaker plug. I have a better-than-average understanding of these things this year and I did my homework.
Friday, February 19, 9:55 AM: The "Pirate Black" adidas Yeezy Boost 350 is slated to restock on the adidas website at any second. Although there has been a time pattern forming around previous releases, this release time is completely random.
I'm sitting at work. Coffee on my desk, two Macbooks with three browsers open on each, all sitting on adidas.com/yeezy. One is logged into the messaging app Slack. Me and a bunch of e-friends formed a Slack chat in which we share any and all information we have to increase our chances of landing a pair and ultimately share the experience with each other, because apparently no one else gets it.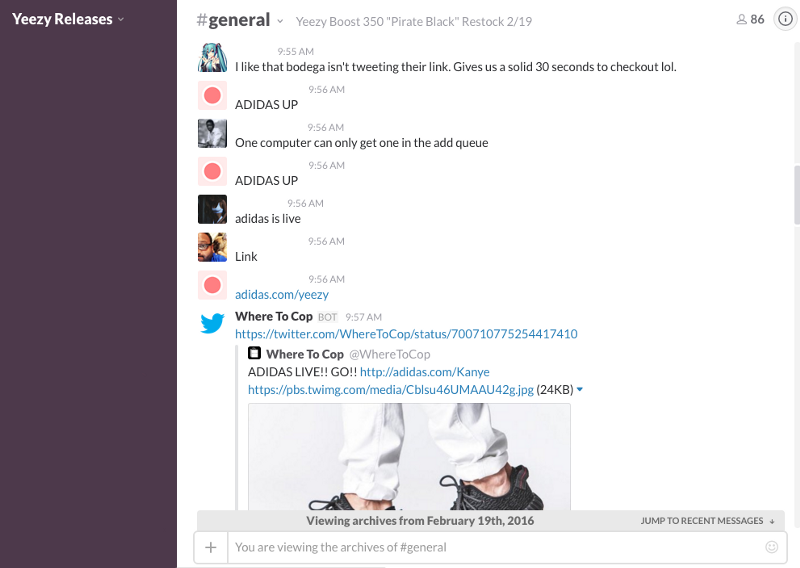 9:56 AM: Someone just posted in the chat. "ADIDAS UP." Here we go. With my hands trembling (mostly from the coffee), I refresh the six tabs as fast as possible. I was expectedly and instantly hit with a splash page and put into a queue along with presumably thousands of others fiending to get their hands on arguably the most popular shoe in recent memory.
A splash page is a minimal webpage used to capture the user's attention. The queue automatically refreshes the page every 30 seconds, letting in a random user access the purchase page based on algorithms. Depending on who you ask, this is adidas' way of making the release as fair as possible to everyone.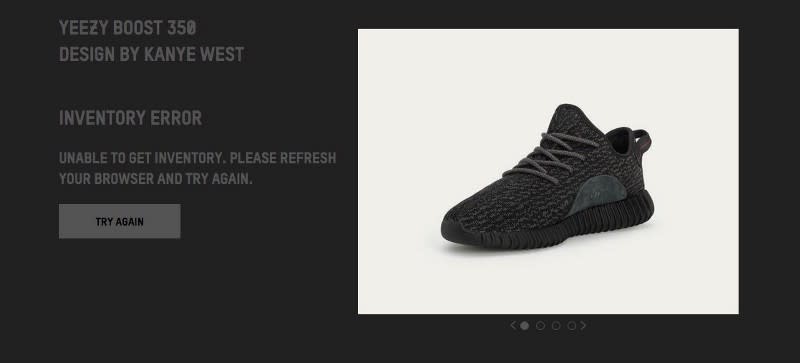 Hmm, the splash page looks different from the other releases. The newcomers (including me) inside the Slack chat and impatient and spamming "should we refresh?!". If you refresh, you risk the chance of getting sent to the back of the line in the queue. If you don't refresh you run the risk of the website timing out. Pick your poison.
Someone in the chat quickly noticed that the "Try Again" button simply refreshes within the page rather than refreshing the browser page. Everyone spammed the button, but no one got to the page where you can actually see the sizes and the "Buy" option.
10:06 AM: I see the light. I see the sizes. I have the option to "Buy." This is further than I usually get. I select "10.5" and click "Buy Now." Maintenance error. I refresh. Maintenance error. Refresh again. There they are. I can see them in my shopping cart icon.
"Shit," I murmur under my breath. I've never gotten this far and blacked out. I forgot what I learned while doing my homework. Should I log-in to my adidas account so that they have my address and credit card information on file? Should I check out as a guest? Which is faster? This must be what separates the successful resellers and first timers.
I make the executive decision to log-in to my account. I click "Log-in." Maintenance error. I try refreshing. Error. I try hitting the "Back" button instead. I see them in my cart again. This must be a pro-tip.

I click "Checkout." Smooth. Too smooth. I fumble for my debit card but I don't even need it. I know my credit card information by heart. This time I'm prepared.
I click "Confirm." "Fuck!" Maintenance error. Knowing better this time, I click "Back" rather than refresh the page. I'm back in the saddle. I enter my credit card information again and click "Confirm."
The screen goes white.
I did it. I fucking did it. I got through. I imagine this is what it feels like when someone crosses the finish line to a 26.2 mile marathon after months of carrying out a rigorous training plan. This was the pinnacle of my sneaker collecting career thus far.
Was it because my office recently upgraded their Internet package? Maybe. Were the sneaker gods on my side? Maybe. Did my homework pay off? It had to be one of the above because I landed on the confirmation page and instantly printed it out.
I let out a sigh of relief. Time for round two.
I had another adidas account prepared with a different credit card number and address, but I never thought I would get this far. I strap myself in again to go through the aggravating process.
10:21 AM: I've gone through the vicious cycle between the maintenance error page and cart page one too many times. Frustrated, I check my phone. I see I've gotten an e-mail from Chicago City Sports, an urban sporting goods store whose Instagram raffle contest I entered.
The e-mail reads, "You won!" Two pairs?! I deem two pairs are enough and close both my laptops to wrap my head around what had just happened. I just scored twice as many pairs as most and I should be happy. But I'm a millennial and I demand instant gratification. I wanted them now. I can't possibly wait for them to be shipped.
10:31 AM: I send an email to the representative over at Chicago City Sports and ask, since I live in Chicago, if I can pick them up at the store. The customer service rep responded almost instantly and told me I can pick them up on Saturday. Ugh, I guess it's better than waiting 3–5 days.
---
Saturday, February 20, 10:04 AM: I drive 25 minutes to the store to pick up my grails only to find out they switched up the transfer and my shoes are actually another 45 minutes away at another store in the suburbs.
Traffic could not have been slower. Thankfully, The Life of Pablo was available for streaming, so I played that loud as shit over my 2005 Nissan Maxima speakers to ease my anxiety.
11:15 AM: I'm sitting in my car. I look to see if anyone is watching me. They're in my hands. I run my hands over the black primeknit upper and down each groove of the textured midsole, and squeeze the responsive adidas Boost sole from the bottom of the shoe. Time to get home.
12:30 PM: I drive home as frantically as if I just received that magical "I'm home alone" text. After running every 50/50 orange-to-red stop light I encounter, I make it home ticketless. I lock the door behind me, and slip them on. Wow. This is my Cinderella glass slipper moment.
---
Tuesday, February 23, 5:20 PM: Fast forward three days to the expected arrival date of the second pair from adidas.com. They're here. I come home from work to a package at the front door of my apartment building (ballsy I know).
I repeat Saturday's ritual and slip them on. Alternating between the size 10 and size 10.5. I take the obligatory Snapchat's to stunt on my peers who probably don't give two shits.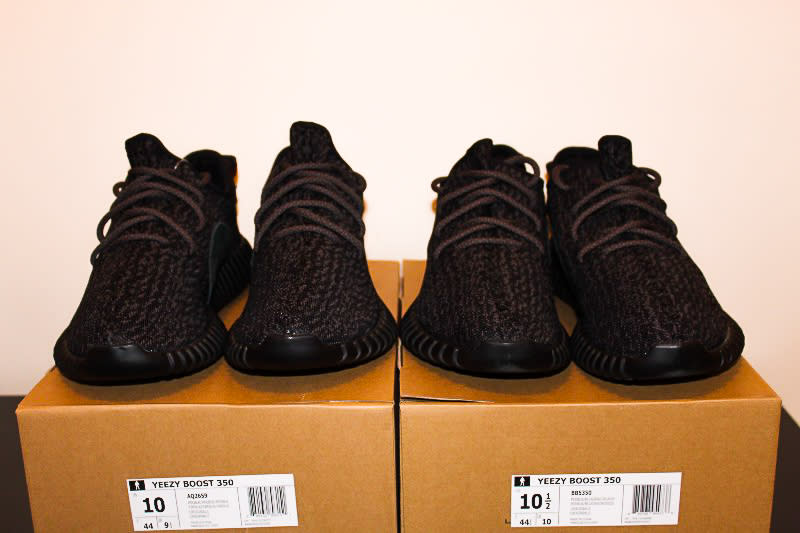 "This is all I get?" I think to myself. Some fire emojis on Snapchat from people who don't even understand what I had to go through to get these shoes?
I sit and think. "I don't need two pairs, do I?" No. I don't. So what should I do with the other pair? I ultimately had two options:
A. Keep the shoes for myself.
I've earned these babies. I've supported Kanye through his ups and downs; I appreciate the texture, the silhouette, the technology, everything that this shoe represents. When I have a bad day, at least I can have two pairs of Yeezy Boost 350s to look at, right? Wrong, that's selfish. It's 2016, I'm trying to be a better me.
B. I could sell them.
I only have one friend that I would consider offering the shoes to for box price. This means I trust him not to resell them. I trust that he will actually wear them, and lastly and most importantly, that he will appreciate them.
I tried being a good guy and let him know that I'm offering him the chance to buy the shoes for retail and that he's the only one I've offered. He came over the next day to try them on. He takes a picture for Snapchat. "To cop or not to cop," he types. Red flag.
He didn't appreciate them enough, so I considered my other options. One user in the Slack chat was Yeezy-less. We formed somewhat of a bond after we both were handed Ls trying to purchase the previous 'Oxford Tan' colorway. After that we both had enough. We both agreed that if we got an extra pair, we would sell to each other for the price we paid for them. Reality check—it's cutthroat world in the sneaker community. Money makes the world go 'round. Sorry.
"Reality check—it's cutthroat world in the sneaker community. Money makes the world go 'round. Sorry."
I hate resellers. Resellers are like Max Greenfield's character in The Big Short. They feast on the under-educated and are too ignorant to know any better. Resellers, are what in my opinion, are what is wrong with the sneaker community. But, it is what it is. I get it, and some people have to do what they have to do to get by. But resellers already have the means to purchase the first pair to flip, so I don't want to hear it. I worked three jobs in college to get where I'm at. But these shoes can pay the rent of my 500-square-foot studio apartment for a full month. This amount can let me breathe easy and even treat myself to that extra visit to Mariano's to buy deliciously overpriced food.
Saturday, March 5, 6:37 PM: It's been two weeks since I've had both the shoes in my possession. With work and other responsibilities on my plate, being conflicted about how much money I could make on shoes was the last thing I wanted to worry about.
I tried being a good real friend and ended up being a shady friend. I judged my best friend's worthiness to me based on his opinion of the appearance of a shoe. I gave him the hope that he too can own the most highly sought after shoe and stunt on the Chicago streets, just to disappoint him by telling him I can't part ways with them just yet.
I burned bridges and backstabbed an e-friend who will never feel the joy I received from the shoes. In the sneaker culture, an agreement in which we would sell each other shoes for the retail price is a bridge that should not be burned. I let him down and come next release, I might get a taste of my own medicine.
Sixty two percent of Americans have less than $1,000 in their savings. I have that amount sitting in my closet, yet I'm still trying to reason with myself that it is morally right to sell the shoes for a profit that even Mark Cuban would be proud of rather than help some swagless homies.
The guilt I currently feel has taught me the obvious. I value my real life friends over sneakers. They hold me down when times get tough. But can I say the same about my online friends? Are they worth the value of the shoes? Material things can be the ray of light in your bleak 9-5 work day.
I still don't know what to do with the extra pair, but I do know one thing: next release, I'm going for one pair and one pair only. Why? To give myself some sanity, and hopefully give someone else the opportunity to have the same delusional, emotional relationship with Kanye West and his shoes as I did, for market price.
¯\_(ツ)_/¯
:kanyeshrug: