There's more than one way to make a name for yourself in the NBA. The guys with the handles, shot, or dunks may get the most shine, but being an elite defender can get you recognized as well.
Tony Allen made a career off of being a stopper and has been named to the NBA All-Defensive First Team three times during his career. He also recently received another honor that may rank at the top of his official accomplishments.
Following a Grizzlies-Lakers matchup earlier this season, Kobe Bryant gifted Allen an autographed pair of sneakers with a message reading "To Tony, the best defender I ever faced!"
"He's going to go down as arguably one of the best players that ever played that game," Allen said. "For me to play a hard 12 years of going against him, it's definitely a credit to my hard work, how I take pride in my craft, and how I hold my head on the defensive end."
As for what Allen did with his personally-signed sneakers, they're now part of a special collection stored at his mom's house. "I gave 'em to my momma," he explained. "I bought her a new house. She's got a lot of memorabilia in her house of me from growing up and as a kid, so I just put them there."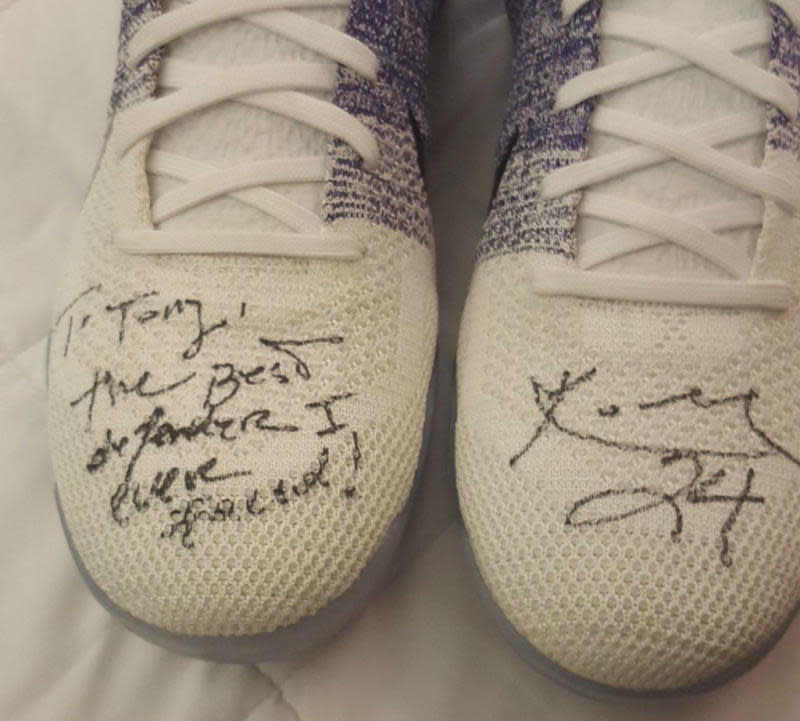 When Allen, a longtime adidas endorser, shared his gift from Kobe on social media, the shoes appeared to be very strategically positioned as to not show any Nike logos.
"I couldn't have adidas find a way to dock my check," he joked. "I'm team adidas forever."
Regardless of the brand of shoe Bryant signed for Allen, the fact that his future hall-of-fame competitors recognize his skills should have adidas cutting Allen checks for a long time to come.
"It was flattering. It was an honor." Allen said. "But before it's all said and done, it's going to be more than just Kobe saying it."