The pairs I've collected over the years have meaning for me in that they represent a collection of small goals that I've succeeded at, some form of wealth I've built on my own, relationships created in the industry, and—let's be real—a physical manifestation that proves I have good taste. But it's not easy to explain that to other people.
My mom stopped bothering me about my sneaker collection three or four years ago when I unloaded three pairs of DS ASICS and bought myself a $1k leather jacket, and still walked away with a profit. My father realized it was a legitimate interest when the sneaker boutique I was working at was profiled in The New York Times. But when internationally acclaimed interior designer Genevieve Gorder used my sneaker collection to prove to an estimated 1.5 million national TV audience on that collecting sneakers can be very, very dope—that was next level.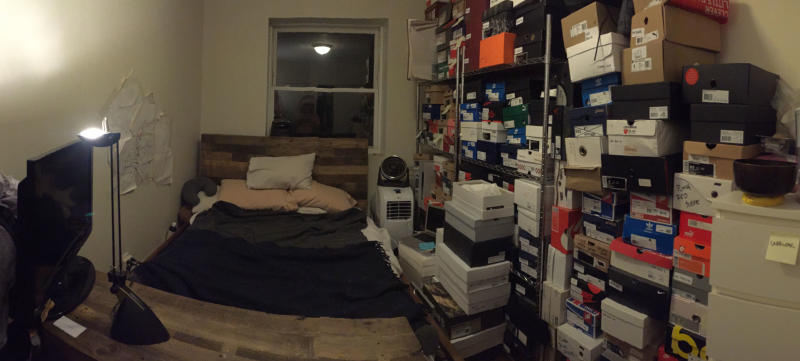 My overloaded bedroom went from from a hoarder's wet dream to something that a respectable adult could live in, while still keeping my collection intact. And it all happened on national TV during the typical soccer mom time slot on The Rachael Ray Show.
A few months before, I had been surfing Netflix and kept being "recommended" an HGTV show, 'Dear Genevieve,' that was apparently about a designer who went into peoples' homes and fixed their shit up. I turned it on while I was doing dishes and followed along as she listened to her clients and shifted her designs to their needs. The work was amazing. I ate the episodes up ravenously.
I saw via Twitter that she was looking for people to send in questions for an upcoming piece on The Rachael Ray Show and I decided to submit my questions immediately. I took a couple photos of my room and wrote in asking how I could make it better, then turned off the light and went to bed. Less than 12 hours after I sent the email I was on the phone with a producer of Rachael Ray's show who asked for me to tell her my story and provide more pictures. Then I got the email: They were going to feature me on the show.
"These 240 pairs were something that she had to deal with and make sense of."
I told Genevieve Gorder privately that I wasn't going to give up anything. There were some pairs of sneakers that I was going to get rid of anyway because they were just taking up space, but for the most part, these 240 pairs were something that she had to deal with and make sense of. She had to make them an obvious commodity.
I didn't want to do that drop front plastic container display thing (the lack of air circulation can create moisture problems and expedite the natural disintegration of sole materials and glues) (also I think it looks not dope). I didn't want open shelves because sunlight will discolor sneakers over time, and I wanted to keep my shoeboxes at least for a minute. I didn't know what she could do.
Twelve hours later I was led back into my apartment with my eyes closed and they revealed the room to me. She solved all the problems: the shelves were hung away from the windows and the window was covered by curtains to be drawn during the day when I'm not around. UV rays are entirely minimized, and the shoes are safe. She set up eight shelves that hold nine pairs each, offering a large enough space to create compositions, blending colors and styles. It becomes an exercise in pointillism, using my collection as a medium, playing with aesthetic and utility. These are the shoes that I wear, but also what I like to look at. Genevieve gave me both.
The filming crew had been stuck in my apartment for 17 hours. They all spoke to me with a message they didn't have to deliver. Wes, one of the camera operators, said that he felt like he really knew me after growing to understand the collection over the course of the day. Srael, another camera guy, told me he had been convinced over the day that the collection was really an art collection. He described opening each shoebox like opening another treasure. Each one was a surprise, and as he said, "a delight."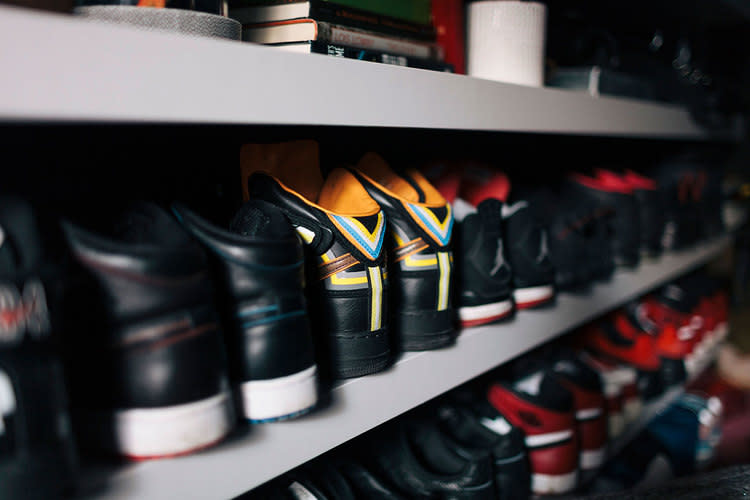 What started as a horror show of a living situation is now something that includes a display of my collection that I use every day. Rachael was quick to point that out during the studio portion of our segment. "You sold this for future relationships," Rachael said to Genevieve. "It's gorgeous. No one's ever going to say, 'get rid of your shoes.'" How many of us have been told that collecting sneakers means we're not serious people? But what's so different about a collection of movie posters? When properly displayed, a sneaker collection can offer the same amount of aesthetic interest, but is functional too. We just have to know how to do it.
"You want to make it look like artwork instead of obsession. And when people don't understand it, they'll always say that," Genevieve said. "Since meeting [Pete] and knowing about this project I have met so many dudes who do this … It is serious business."
What I got out of this is an awesome bedroom by Genevieve Gorder, but also a reminder that my sneaker collection isn't anything I have to apologize for. It's my collection and it's fucking awesome. And anyone who has anything else to say about it just doesn't get it, and that's on them.