For Devin Booker, Thursday's game between the Los Angeles Lakers and Phoenix Suns wasn't only a final matchup against Kobe Bryant, but a chance to inherit some wisdom from his basketball idol.
Booker made the most of his opportunity to impress the legend, dropping 28 points to help lift the Suns to a 119-107 victory. Bryant had sat out the previous three games between the Lakers and Suns, so it was his first and last head-to-head againt Booker.
"That is the first and last time I got to play against him," Booker said. "That is the memory that I get to tell everybody and there is going to be proof of it. Thank God it wasn't an off night and I would have had to remember it as one of my worst games. Luckily I played pretty well and we came out with a win. I am 1-0 versus Kobe."
Following the game, Booker had a chat with Bryant, during which he was gifted a signed pair of Nike Kobe 11 sneakers. The inscription simply read: "Be legendary." The rookie shooting guard is off to a pretty good start.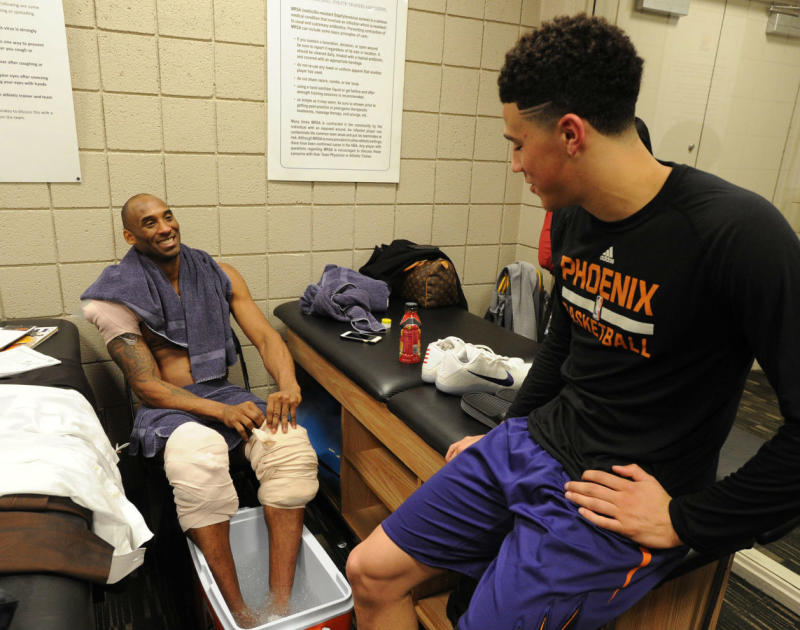 image via NBAE 2016