You know Bobbito Garcia. Even if you're not an old 'head, the fact that you're reading these words at all is likely thanks to him. As far as anyone can tell, he's the first dude who wrote about sneaker culture at all, between launching dozens of hip hop careers through his radio show "Stretch and Bobbito," not least of which include Jay-Z, Nas, and Busta Rhymes. Add to that an onslaught of collaborations he's created in the last three decades with Nike and adidas, including an unprecedented seven Air Force 1s in one year. Bobbito's "Mac and Cheese" Air Force 1 collab predated the Flax AF1s by a decade, and they're still sought after to this day. The collaborations are still rolling, with PUMA Clydes coming this summer, but Bobbito has taken the next step. He's designed his own shoes.
You'll be forgiven if you've never heard of Piola. The small French sneaker brand is still cementing their presence in the market with an upscale look that sits somewhere between Common Projects and Fiet. Not typical sneakerhead fodder. But what makes Piola unique is kind of why Bobbito was drawn to them in the first place.
"Designing a model was the next logical progression for me because I've been blessed to have done collabs," Bobbito said. "But for me the opportunity was to design a shoe from scratch that is not an iconic silhouette."
This is the first time that Bobbito has created his own shoe from the ground up, but it's not for lack of trying. He's been preparing for this since before he was ten years old.
"I was sketching logos back in 1981, my freshman year at Brooklyn Tech High School. I was drawing sneakers and painting them as early as the '70s," he explained. "I've had my hand in defining what kind of shoe I want to wear outside of what's available for decades now." 
For many it feels like we're in the middle of sneaker saturation, collabs coming from every angle and nearly a dozen releases dropping every week. But Bobbito thinks it's the perfect climate for his new shoe, or any shoe. 
"I honestly think 2016 and moving forward is the best time ever if you're interested in sneakers," he says. "Back in the day we had to search and go on whims and words of mouth to different boroughs and different cities. Now you can cop something that's exclusive in Milan, Italy from your home. That gives the ability for anyone who's really into it to truly be original and gives a lot of options." 
Piola is working on the industry from top down, and helped guide Bobbito through the process of creating shoes from the sole up. This is not the typical collaboration where Bobbito took an existing sneaker and colorblocked it. He worked with the brand to design each millimeter of the Por Fin, the name of the sneaker that Bobbito created to suit his lifestyle now. He isn't the whippersnapper he was in the '70s, and has evolved his taste along with what he needs from the shoes he puts on his feet.
The Por Fin is Bobbito's version of a tech bent. If you've been watching tech sneakers advance the last couple years what you'd anticipate from a new tech shoe is some combination of engineered meshes, Hyperfuse, and  textiles. But Bobbito came to sneakers in the '70s when Nike's Air Max program hadn't even begun. In his classic context, the Por Fin is all about function.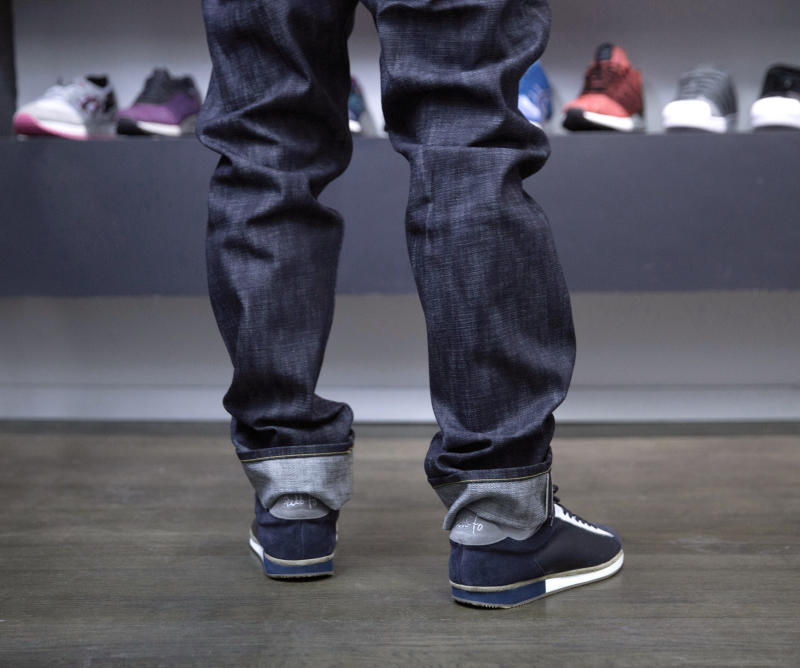 "The upper is pure basketball," he explained, "[The sole] was really inspired by running shoes of the '70s, which I wanted." These are shoes that will last the whole night on his feet behind the turntable, he says, which is as important as any other feature of a shoe. 
The Air Force 1s, Superstars, and Suedes go without explanation. These are shoes that look dope but are also easy enough to throw on without a second thought. It's one thing to submit your feet to Saint Laurent torture for some high-end event, but when you're running out of your house day after day you're going to grab the shoes that aren't going to fight your feet and are going to stand up to daily wear. That's where we get our classics, the shoes we reach for the most. 
"There's no shoe that's going to have longevity if it's not comfortable." Bobbito isn't too shy to say that he hopes the Por Fin becomes a classic that way, and that's part of the reason he made sure they were as comfortable as they are.
Bobbito knows this isn't going to be easy. The look of these Piolas isn't exactly what's the most in style right now, plus they lack brand recognition. But he doesn't seem to be nervous at all. 
"Most people we mention Piola to have never heard of it. To me, that's cool," He said. "If the brand does well, I've helped them and they've given me the opportunity of a lifetime." 
This Piola Por Fin model will drop globally on March 25 through premium boutiques, including Extra Butter in New York City.