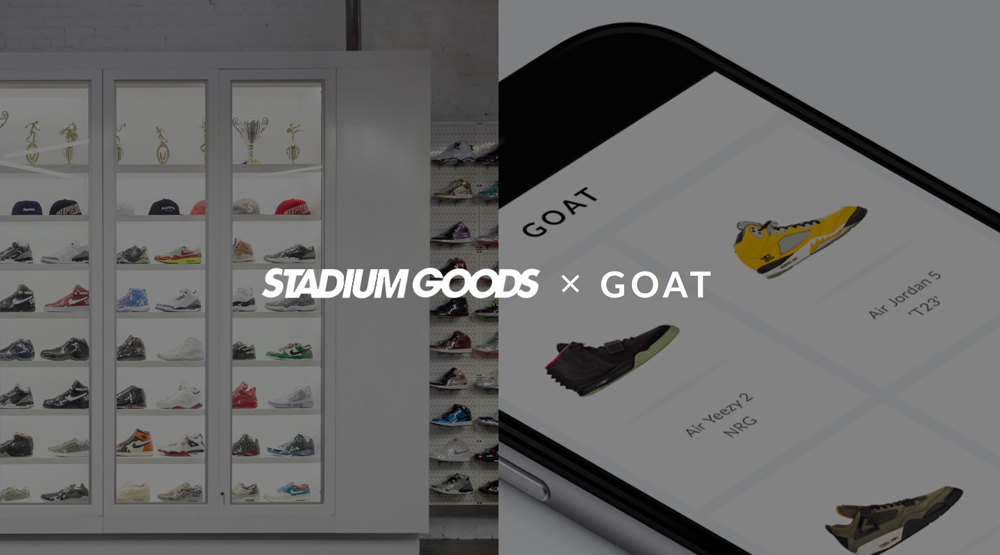 by Julian Jimenez
Things just got a lot easier for sneaker buyers and sellers thanks to a collaboration between consignment shop Stadium Goods and marketplace app GOAT.
The partnership brings Stadium Goods' consignment inventory into the GOAT mobile app.
"As Stadium Goods continues to aggressively extend the reach we provide our sellers and buyers, we're thrilled to be partnering with like-minded companies that are truly innovating," said John McPheters, Stadium Goods co-founder and CEO. "We believe together, GOAT and Stadium Goods will offer sneaker enthusiasts the most premium and user-friendly mobile shopping experience."
This move will essentially combine the two channels to make one user-friendly marketplace.
"GOAT sits on the cutting edge of mobile innovation and we're excited to be aligning ourselves with such a trusted player in the space," Eddy Lu, GOAT co-founder and CEO, said. "Through this exceptional alliance, we look forward to bringing Stadium Goods collection of thousands of authentic sneakers to our mobile community."
Stadium Goods previously upped its presence in a similar manner by partnering with eBay to make its stock available via the online auction house.
The planned move will go into effect this winter. In the meantime, the GOAT app is now available for download on iOS and Android devices.