P.J. Tucker's road to becoming a starting NBA small forward may not have been a typical one, but one thing has always been constant. Whether it was during his college days at Texas, his early NBA career with the Raptors, his years spent overseas, or more recently with the Phoenix Suns, he's been a sneakerhead every step of the way.
He's such a big collector, in fact, that last year he took the number-one spot in our year-end #SoleWatch Power Rankings. With a combination of OGs, PEs, and hyped favorites, Tucker has proved worthy of the title, wearing more heat on court than any of his co-workers.
To find out more about the reigning #SoleWatch champ's sneaker game, we went straight to the source, and spoke to Tucker about where he finds his kicks, giving back, and what we'll be seeing later in the season.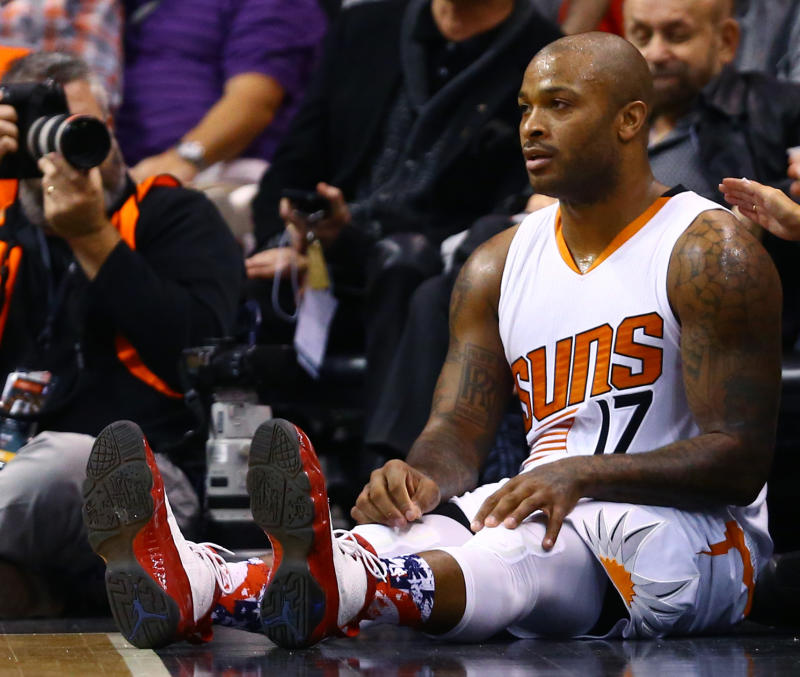 You've really become known for the sneakers you play in. Do you follow all the attention it gets?
It started a couple years ago, and now people are watching all the time 24-7 on Twitter and Instagram and all that stuff. It's always funny to see people watching what I'm wearing. It's cool.
What about fellow players? Do they ever mention your sneakers?
All the time. Every game, someone says something.
What sneaker have you've played in got you the biggest reaction?
Probably the Red Octobers. Everybody was like, "I can't believe you did that." I wore both Zen Yeezys—the 1s and the 2s—but when I brought the Red Octobers out, it was another level. Everybody on Portland was like, "You buggin.'"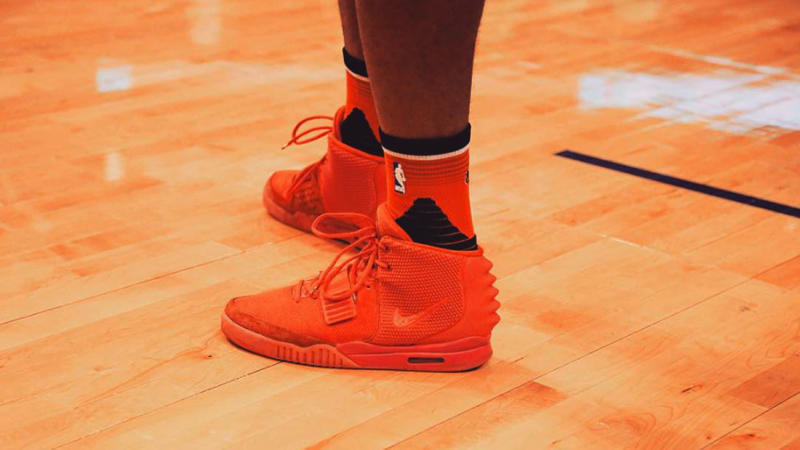 As you know, there's a lot of debate about how the Yeezys rank in comparison to Air Jordans. Having played NBA games in both, what's your take?
Nothin' will ever jump over the Jumpman. Come on. Yeezys aren't even basketball shoes. You can play in 'em, but they're not basketball shoes. It's not even a question.
Have any pairs surprised you as far as being a pair that looked good, but was also a good shoe to play in?
The Yeezy 2 actually were not that bad to play in. They've got good grip; the lace locks are good. I love playing in the Yeezy 2, I'm not even going to lie.
Sometimes we see you start a game in one shoe, and then switch out at halftime. What's the reason behind that?
Superstition. I do it all the time. If I give up too many points on defense, or I'm not playing well, then I'll switch out.
Where do you find all of your older stuff? Do you have a go-to spot?
I get my shoes from everywhere. Iit's gotten to the point where people hit me up that used to own a sneaker shop somewhere in the middle of nowhere, and they closed the shop, but still got a bunch of old [size] 14s left. They hit me up. I get stuff from all over the place.
How do you decide what to wear on any given night? Do you take the city and opponent into account?
Sometimes, I do. I can't wear another guy's shoe if I'm playing against them. But other than that, no. I've got so much stuff that our equipment guy will come and put in storage. When we are getting ready for road trips, he brings a few different pairs out of storage.
We've seen you wear a few pairs of old Phoenix Suns PEs. Do you have any more of those left?
I do. I wore the white Marions [Air Jordan 5], and I've got the black as well. I'm going to bring that out soon. I have a bunch of Amar'e stuff, but it's too big. I want to bring out the Amar'e CB34s bad. I wear 14 and his are 16s.
Were those sneakers that were just left around when the players left Phoenix?
No, stuff I've tracked down. Some stuff I just got from random people. Like I said, I get stuff from all over the board.
You recently auctioned off some sneakers for charity. Is that something you plan to keep doing?
It's always fun because I have so many shoes. I give away a bunch of stuff, but at the same time, the auction raises money for Kicks for Kids—the charity that we did it for. They were able to buy a couple thousand kids shoes just off that one event. We're going to make it bigger and bigger.
Do you pay any attention to the negative comments you get on social media when you play in these hyped pairs?
[laughs] Listen, I've been doing this all my life. I've always been a sneaker guy. People now want to call me a hypebeast and all this stuff, but I just love sneakers. I don't pay attention to that stuff.
You even wore cool sneakers back when you played at Texas. Did you ever get any backlash from the coach or other players, for not wearing the team shoes?
Back in college, coach didn't like it at first. Me and LaMarcus [Aldridge] would get Jordans early and we would bring out a lot of old and early stuff. But coach was eventually like, "As long as we win, I don't care what shoes you wear." [laughs]
You said that other players mention your shoes during games, but do you ever do the same? Do you keep up on what other guys are wearing?
All the time. I like Jared [Cunningham]. He's a good guy. Jared always brings back a lot of old LeBron stuff. I always watch him. I always talk to Swag [Nick Young] when we play. Now he's with adidas. It's a little tougher when you're with adidas. But he'll still, every once in a while, bring out some heat. Jarrett Jack got a lot of heat. Everybody knows everybody.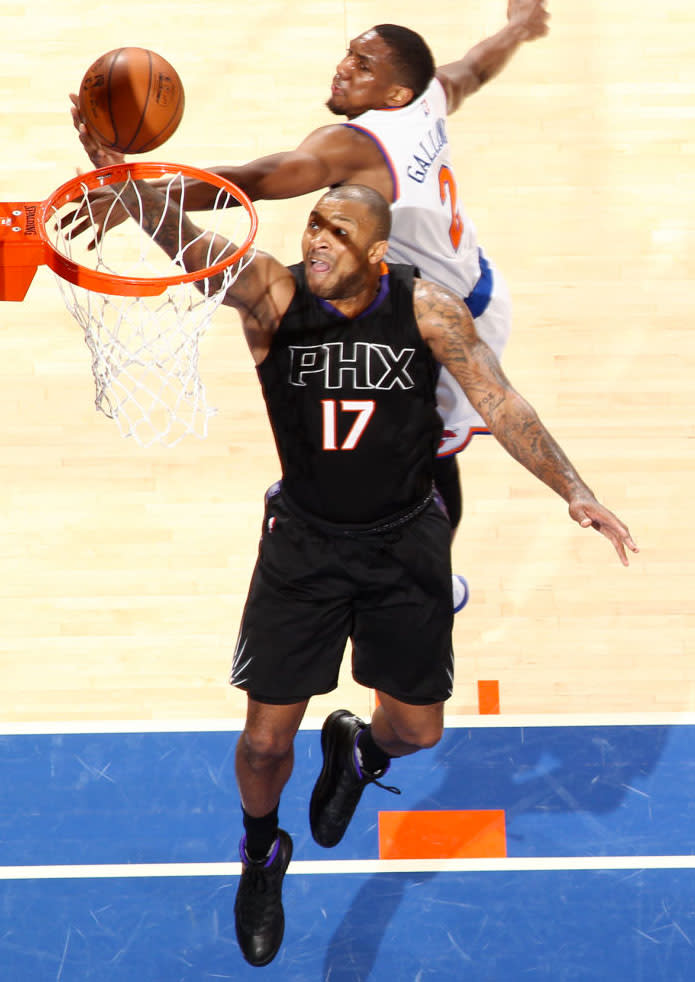 Do you have any pairs that are off limits to play in?
Just the MAGs. Everybody is begging for me to play in the MAGs, but I can not play in the MAGs. I can't do it.
Is that because they're too important to you, or because they just aren't basketball shoes?
You just can't play in them. They're so high and they've got that sole.
Is there anything we should look forward to seeing you play in later this season?
I've got one pair that I think everybody will think is pretty dope when I decide to wear them. I'm bringing out more old-old stuff. Just be on the lookout for that because I'm going to be switching it up.