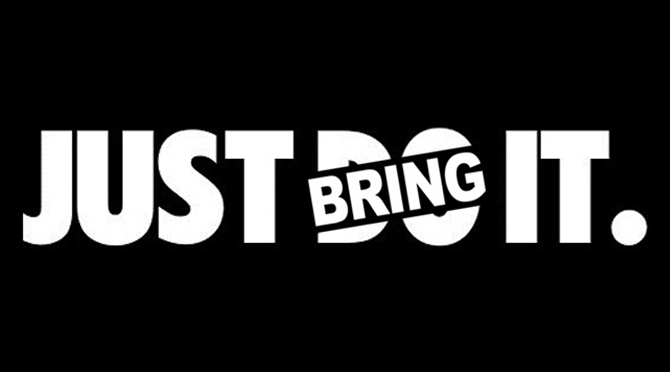 by Brendan Dunne
Ever protective of its intellectual property, sportswear giant Nike may be looking to oppose a trademark filed by the WWE for the phrase "Just Bring It."
The presumed reason for Nike's opposition is the overlap between "Just Bring It" and "Just Do It," a Nike slogan coined in 1988 and no doubt the most famous phrase associated with the brand.
The professional wrestling company first submitted a trademark application for the phrase in October, 2014. In December, 2015, the trademark was published for opposition.
Nike hasn't yet filed an opposition to the trademark, but on Jan. 28, 2016, it submitted a request (via law firm Banner & Witcoff) for a 30-day extension of time to oppose, giving the brand until Feb. 27 to file an opposition.
The WWE plans to use the trademark for clothing, including tops, shirts, jackets, bottoms, pants, shorts and more. The WWE's website currently offers a few "Just Bring It" pieces of merchandise here.
"Just Bring It" is a catchphrase of former professional wrestler-turned actor Dwayne "The Rock" Johnson, who recently signed an endorsement deal with Nike rival Under Armour. The phrase has appeared on The Rock merchandise since 2000.