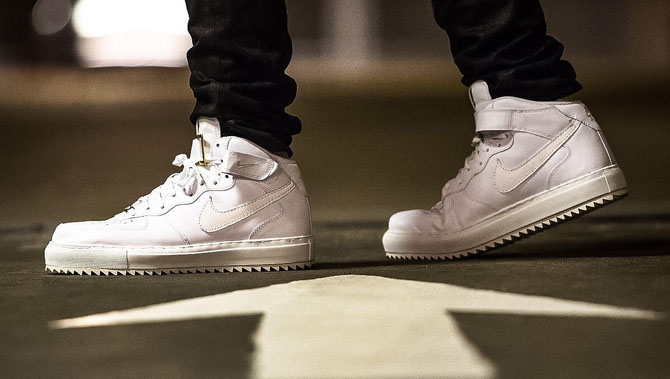 The word "influencer" has become incredibly diluted over the past few years due to the overabundance of self-written social media profiles, but there are still a few real ones out there. John Geiger is one of them. Want proof? Just take a look at the comments section of this post, and any other talking about the Pittsburgh native and watch the love and hate pour in. Ever since he came on the sneaker scene by using social media to display his incredible collection and pull off some extraordinary antics, Geiger has a knack for getting people's attention on the Internet. Then, he teamed up with TheShoeSurgeon and released a series of limited custom Air Force 1s in the "Misplaced Checks," which featured luxurious fabrics and exotic skins; something Geiger has prided himself on because of his love for the Nike classic and high fashion details.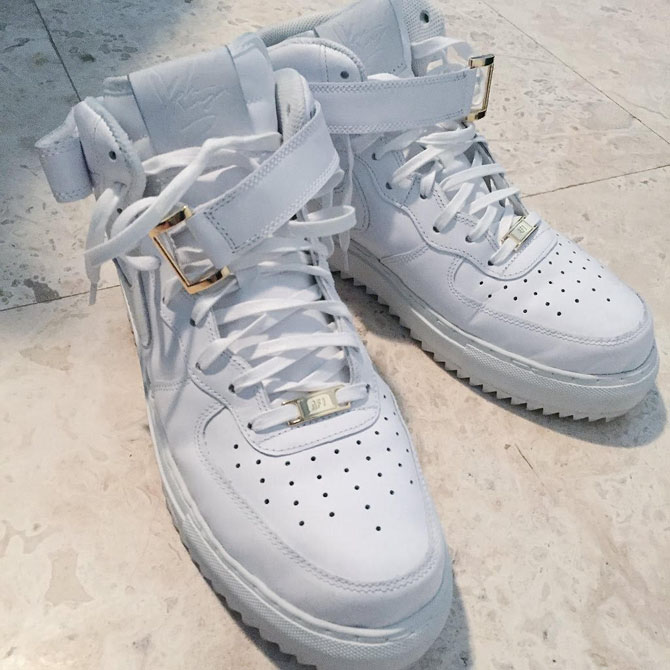 And now, he's continuing to paint a portrait of his love for causing mayhem in the sneaker world by releasing another collaborative custom with TheShoeSurgeon; the $650 "Lux Force 1," which dropped this past weekend.
To no one's surprise, it's gotten mixed reviews for a plethora of valid and preposterous reasons. It comes with the territory of being an influencer. And Geiger knows the impact he's had on the sneaker world. Shit, he'll tell you himself. But he'll also tell you how hard he worked to put himself in a position to succeed, too. Does John Geiger have a spare set of keys to success?
Obviously, your Misplaced Checks series has come and gone with great buzz. What'd you learn from that experience?
I've learned a few things. One, being the most important and something every person that wants to create anything should read; Go do it. Just start it, and from start to finish, follow through with the idea. I can't tell you how my life and my attitude now flows with how I move and get stuff done. Such a weight off my shoulders and a breath of fresh air, really. Everyone has ideas. Just get up and go do it. See the vision all the way through, and just stay tunnel vision from opinions.
The second thing I learned from that situation was about the impact of the Internet and how to really use social media. All the hate and love, you gotta balance it and know how both are going to help you. People tweeting me and writing crazy shit about me is only further letting me know I'm doing it. By "doing it," I mean, you are talking. So you see it, and you have to either fuck with it or not. But you respect it. Everyone has Instagram and Twitter, everyone has 24 hours in the day, and if I use the time more wisely and I know the balance to post and tweet what I'm feeling or working on. You really can't do shit but try and use that format. It's right in front of you and it's a free tool. I'm not saying I'm the best, I'm just stating this is what has helped me. If you want to post memes all day, that's cool, but I'm not. This is a brand and you will see things I'm working on daily or releasing soon.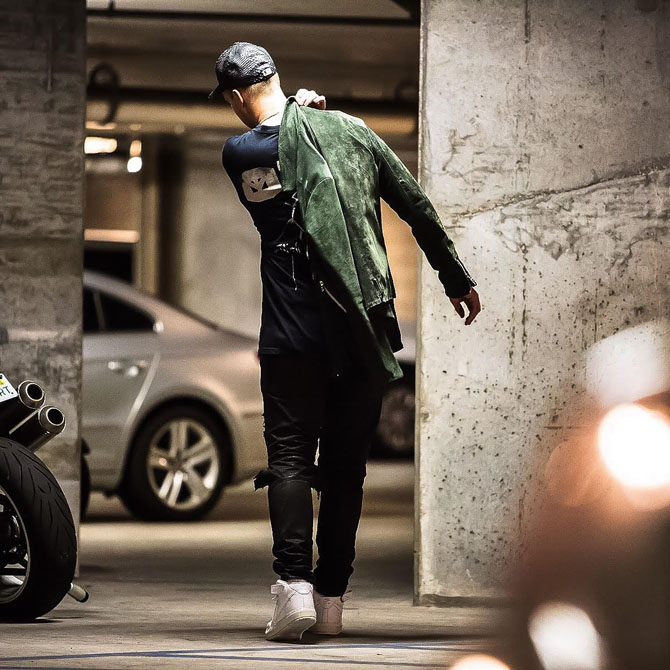 We're starting to see brands like Nike and Jordan cash in on the "luxury" sneaker trend, adding premium details to otherwise general release version of popular sneakers. Do you think you've helped create this phenomenon?
I do think this, but I definitely would not take credit. Like i said, everyone has Instagram, so without even knowing, you may see an image and when you are in design mode, you add something you've seen because it's fresh in your head. Not saying anyone is copying, but a lot of ideas coming out by major brands are just seeing what's hot or what's going on, on the Internet. People tweet me everyday and say I brought back Air Force 1s, but I will never say that about myself and never have. What I do know is the younger crowd who didn't grow up on AF1s and follow me probably fuck with them based on my views on the shoe. I looked up to Mayor and (DJ) Clark Kent, those guys are the reason I wear the shoe so i know what it is now. The way I'm going to differ from the rest is my own line, my own silhouette. 100% John Geiger design. The way I dress and how I've always been was mixing high-end and low-end. Bridging the gap between low- and high-end is what I'm going to do. I don't want to get into too many details about the shoe. It's a little behind but it should be ready months after the Lux Mids drop. It's about that time. I've put in a lot for this project. Took the biggest risks financially and mentally. I had to.
I did catch glimpse of the soles and there seem to be a few iterations, but the most prominent one looks as though it resembles the Jordan 3 midsole a bit. I'd be remissed if I didn't ask if that is any indication as to the direction the silhouette will be? More basketball lifestyle-focused, considering you were a baller in your heyday?
Good eye [laughs]. I think just that one part looks similar to a 3, but it definitely doesn't look like it. The Jordan 3 is my favorite Jordan. I wanted to make shoes that fit my lifestyle and the way I dress, bridging the gap between high-end and streetwear. You ever wonder why people pay $1,000 for Loubs but always complain how they hurt? Me either.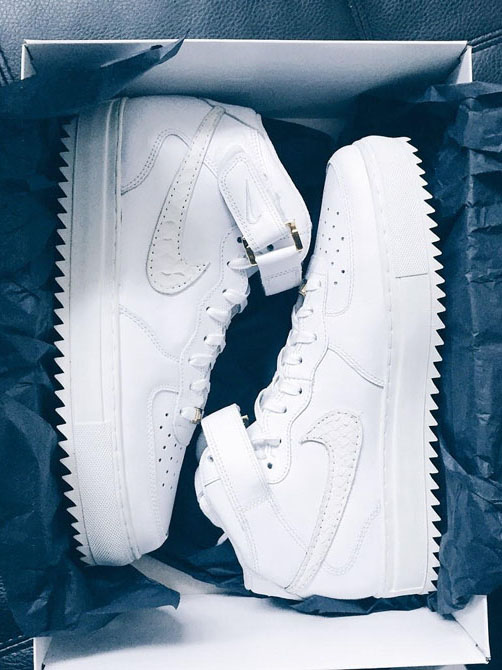 You do a lot of traveling, and also have a lot of connections at both sneaker and high-fashion brands. Do those travels and relationships inspire details you put on the shoes?
Every single thing I create or ideas I come up with are all travel- and friend-related. I was in Paris for New Years texting Davin (owner of Premium Co.) about different designs for our collab collection. 4 A.M. texts and ideas firing back and forth. Anyone close to me knows that I rarely sleep. I have this weird feeling I'm out of time and I want to hit the world with ideas back to back. I'm almost scared of doing nothing.
The midsole and the bottom has always been something I liked, and using a mid was perfect to me. We got the soles from Italy, and as always Dom (TheShoeSurgeon) is producing them in downtown LA. The snakeskin added was just more luxury. It's real python. The sole is more so a runway look, and that's what I wanted to add to the mids. The box, the insole, the gold hardware are all things I wanted to add, and Dom is the smartest in the game on where to get materials sourced.
Do you still have any type of relationship with Nike?
I talk to a couple guys. Trent Casper (Director of Merchandising for Team Sports) is the guy I talk to most. He's a Pittsburgh guy, so it's only right. A couple guys in Sportswear. I tried to hit up Ken Link (Design Director of Jordan Brand) the other week and congratulate him on Jordan Brand. He read the message and never replied. Probably because of the sour relationship with Nike and Revis at one point. Ken was always a good dude. But he could answer my texts. All that stuff just builds fuel for me. I take everything in, I don't judge and I go get what I want. Ken Link is fucking awesome. Just wish we ended closer than it is now. Kind of sucks.
It sounds like there is still a little bitterness with Nike about how everything went down with your friend, Darrelle Revis. Why do you still support them by using their shoes as your base?
Air Force 1s are my all time favorite shoe, so I really had no choice. I think when I did my taxes I spent close to 70k in 2015 on Forces, between NIKEiD for the black and also the red Misplaced Checks, and just overall with everything else I'll release. Pretty crazy. I wouldn't say it was bitter, just that we were all fighting for the Revis 2, and higher ups were not having it.