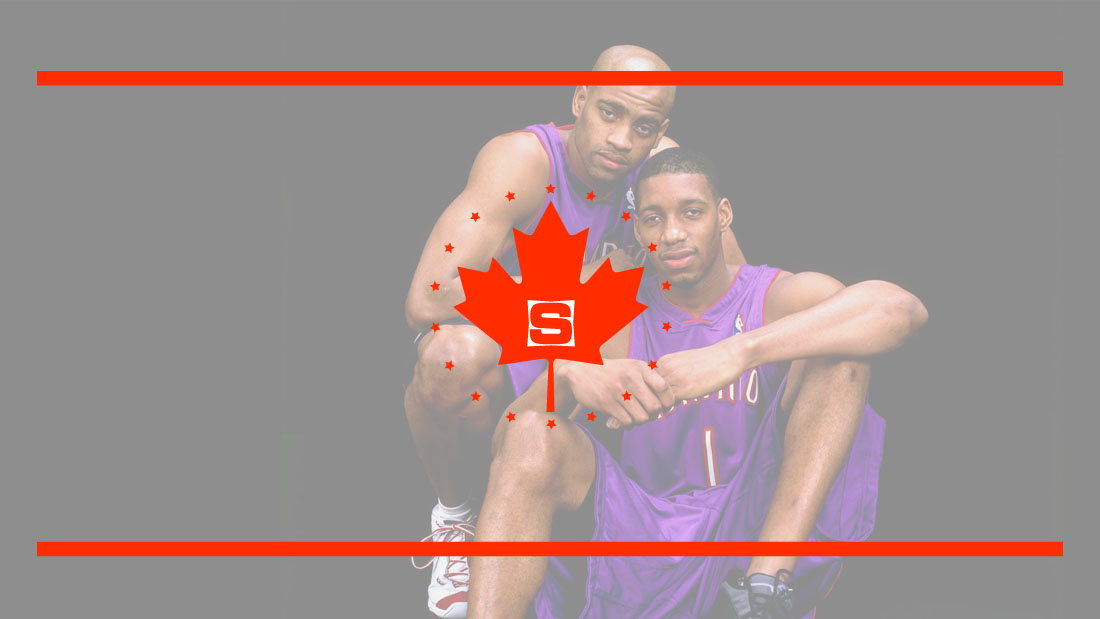 by Brandon Richard
The Toronto Raptors have only been in existence for 21 years, but the team has already compiled a solid resume of sneaker moments. From Vince Carter putting streetball brand AND1 on the map, to team ambassador Drake's Jordan Brand affiliation, the Raptors have consistently been part of the sneaker discussion. Even current players like DeMar DeRozan, Amir Johnson, James Johnson and Anthony Bennett make Toronto one of the biggest sneakerhead teams in the league, and a must-follow in #SoleWatch.
As the NBA heads to the Air Canada Centre for All-Star Weekend, we're taking a look back at the biggest sneaker moments in Raptors franchise history. See the models that left their mark below.
10. Jason Kapono Goes Back-to-Back in the Bayou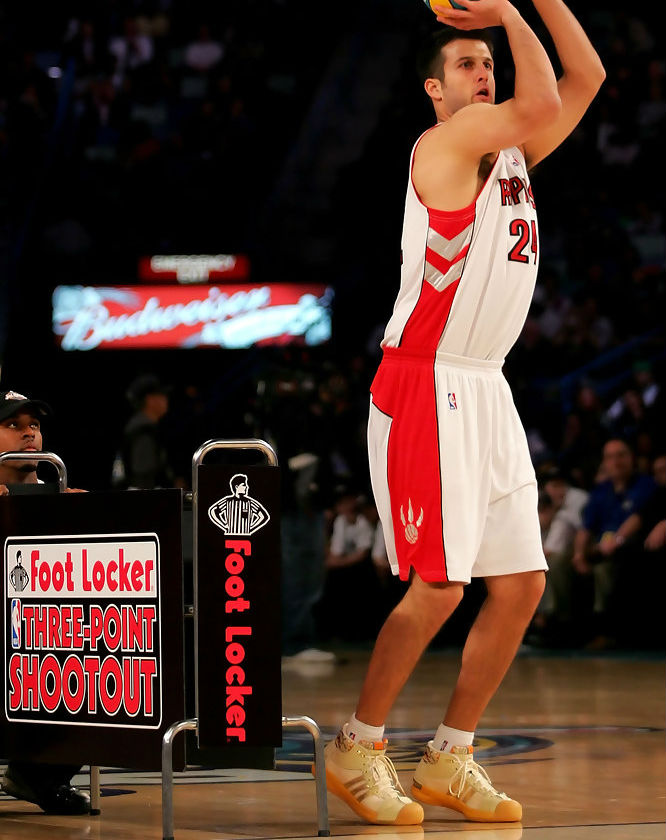 Year: 2008
Shoe: Gabriel Urist x adidas TS Pro Model
Long before Meek Mill and Drake engaged in a war of words last year, it was sharpshooter Jason Kapono who went back-to-back for Toronto in 2008. Kapono became the fifth player to win consecutive Three-Point Contests—one as a member of the Miami Heat and the second as a Raptor. His final round score of 25 was the best in contest history until Stephen Curry clipped the mark in 2015.
Kapono found the zone in an adidas TS Pro Model collaboration with jeweler Gabriel Urist. Part of the brand's REMIX project, the luxury sneaker was limited to 600 pairs and released exclusively in New Orleans and Asia to celebrate All-Star Weekend.
---
9. Marcus Camby's All-Rookie Campaign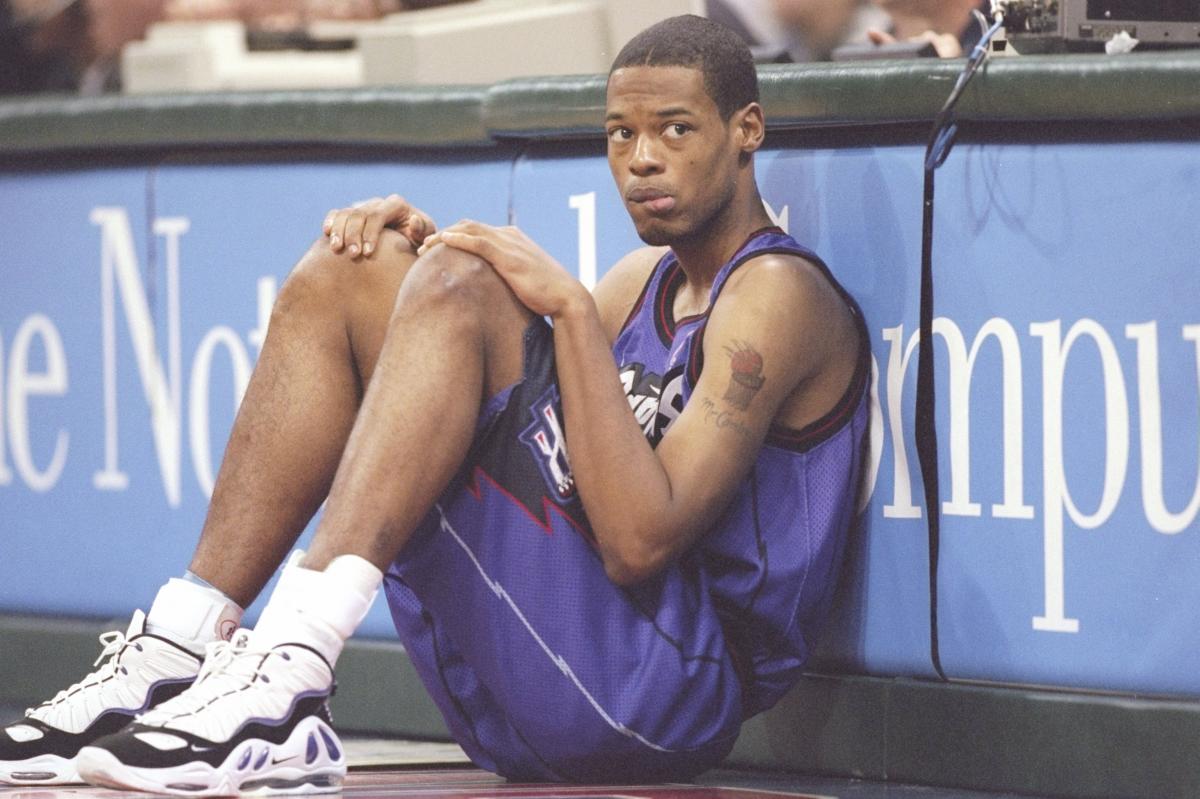 Year: 1997
Shoe: Nike Air Max Uptempo III
Marcus Camby's Raptors career was brief, but he made an immediate impact during his stay in Canada. With averages of 14.8 points, 6.3 rebounds and a team high 2.1 blocks per game, Camby was named First Team All-Rookie.
Camby played a large portion of his rookie season in the Nike Air Max Uptempo III, which wasn't a signature shoe, but looked right at home along with the Raptors' uniforms.
---
8. Chris Bosh Scores Career-High 44 Points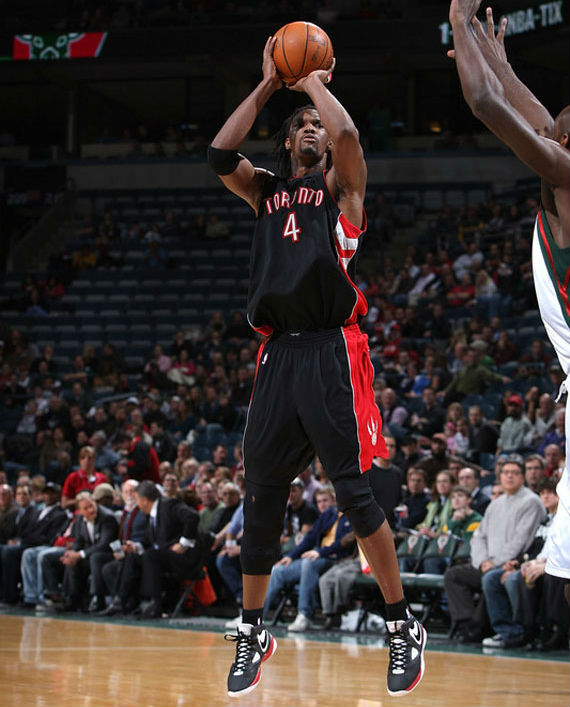 Year: 2010
Shoe: Nike Huarache 2010 PE
Before he took his talents to South Beach, Chris Bosh was the face of the post-Vince Carter Toronto Raptors. With the Raptors, Bosh was a 5-time All-Star, and left as the franchise's leader in points, rebounds and blocks.
In one of his best performances as a Raptor, Bosh scored a career-high 44 points against the Milwaukee Bucks on Jan. 20, 2010. Despite his big numbers, the Raptors still lost, which explains why he bolted in free agency a few months later.
Bosh dropped 44 in a player exclusive colorway of the Nike Huarache 2010.
---
7. Lou Williams Reps OVO En Route to Sixth Man Honors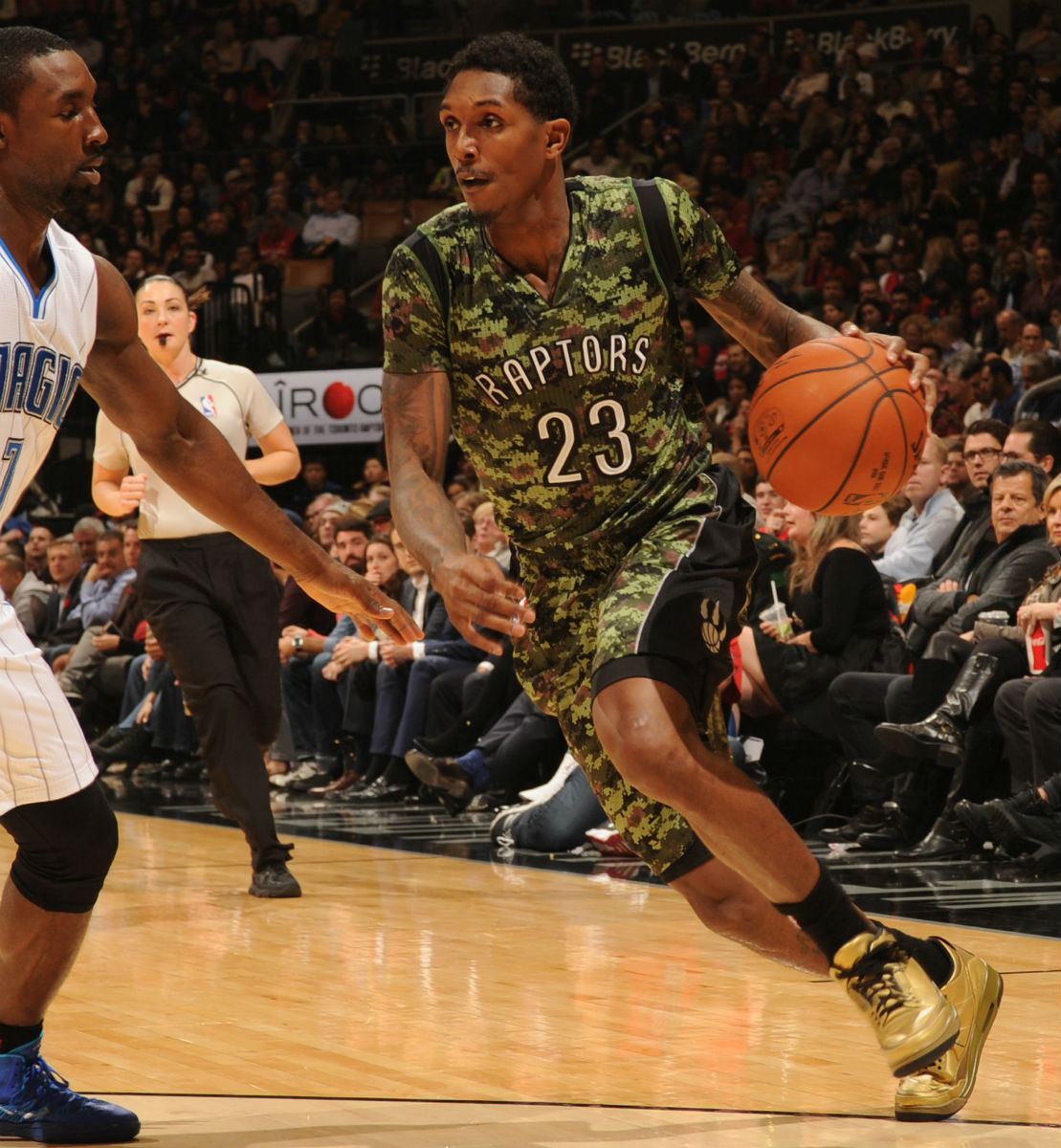 Year: 2014
Shoe: Air Jordan 3 Retro "OVO"
While he's not complaining about life in Los Angeles, there's probably a part of Lou Williams that misses his situation up north. In his one year as a Raptor, Williams competed for a playoff-bound team, averaged a career-high in scoring, and was name-dropped in songs by team ambassador Drake. Not only was he mentioned by Drizzy, but he also received exclusive "OVO" Air Jordans to wear on the court. Among them, the all-gold Air Jordan 3 owned by a select few friends and family of the crew.
At season's end, Williams became the first ever Raptor to win the Sixth Man of the Year Award.
---
6. Terrence Ross Has No Problems Winning the Dunk Contest in Houston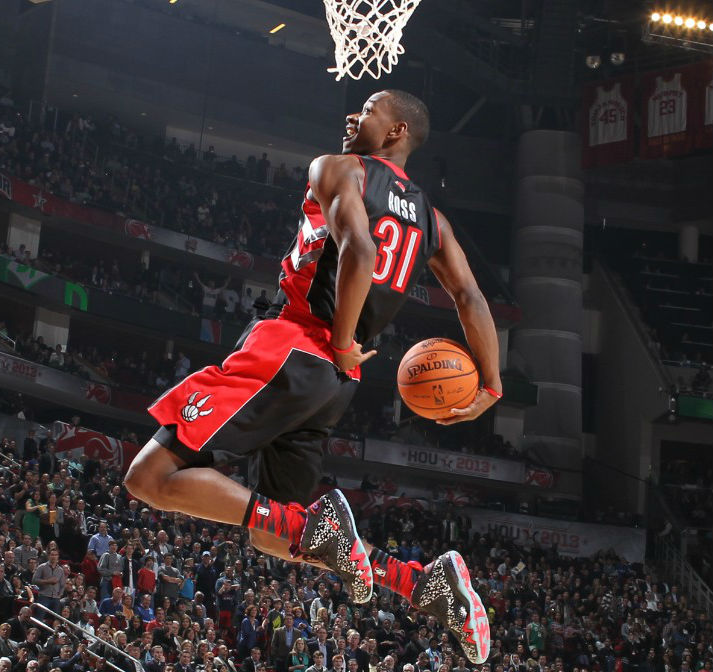 Year: 2013
Shoe: Nike Air Max Barkley Posite "Area 72"
Performing in a dunk contest is difficult enough, but there's an extra sense of pressure trying to live up to Vince Carter's precedent as a Toronto Raptor. Taking on he challenge head-on, Terrence Ross accepted an invite to the 2013 Slam Dunk Contest in Houston.
Making a name for himself, Ross bested the field by showing off elite athleticism in a solid series of dunks. His best? A tribute to Carter, donning the high-flyer's old Raptors jersey for a teammate-aided 360 off the side of the backboard. Receiving 58% of the vote in the final, Ross defeated defending champion Jeremy Evans to bring the trophy back to the T-Dot.
Ross took flight in Houston wearing the Nike Air Max Barkley Posite in a colorway inspired by Area 72—a fictional top secret testing facility imagined for All-Star Weekend. The dunk contest added that on-court context that truly makes basketball sneakers memorable.
---
5. DeMar DeRozan Asks Fans to Design His Sneakers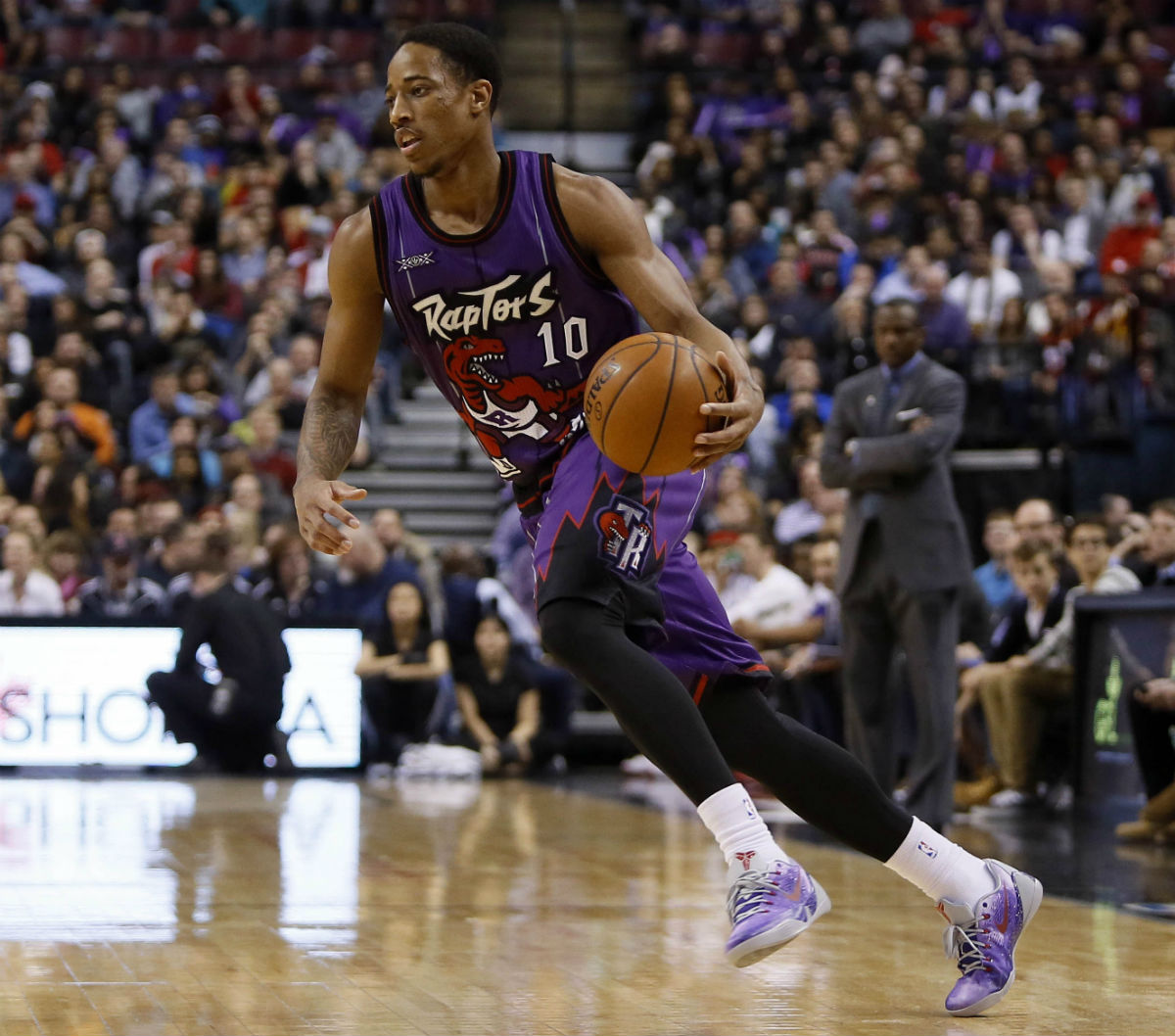 Year: 2015
Shoe: Nike Kobe 9 EM
Brainstorming creative ways to connect with his fans, DeMar DeRozan used Twitter to launch a sneaker design contest in 2015. Fans were asked to use NIKEiD to create custom colorways of the Kobe 9 EM for DeRozan to wear throughout the Raptors' 20th Anniversary season. As promised, he wore fan-designed Kobes on five different occasions, and made sure each winner received a personal pair in their own size.
---
4. Alvin Williams Clutch in Toronto's First Playoff Series Win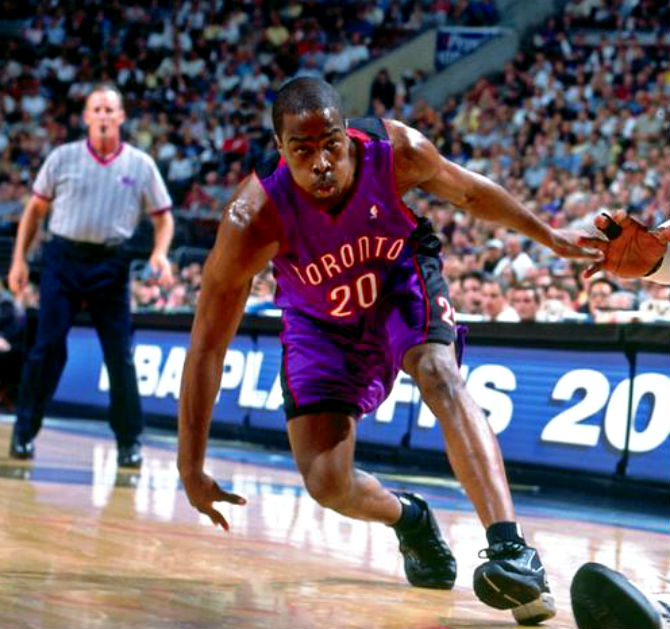 Year: 2001
Shoe: Nike Air Flight Disrupter
Though he's not a household name, Alvin Williams comes up often when you ask Raptor fans who their favorite player is. Williams, who wore Raptors purple in eight of his nine NBA seasons, had the most memorable moment of his career when he came up big in the team's first round playoff series against the New York Knicks.
He averaged 17.4 points per game in the series, an improvement of more than 7 points over his season average. In Game 5, he scored 18 and hit a late three-point dagger to clinch the series for Toronto—their first and only playoff series victory in franchise history, to date.
The biggest moment of Williams' career occurred in the Nike Air Flight Disrupter, a Max Air loaded hoops shoe also associated with Jason Williams.
---
3. Damon Stoudemire Puts the Franchise On His Back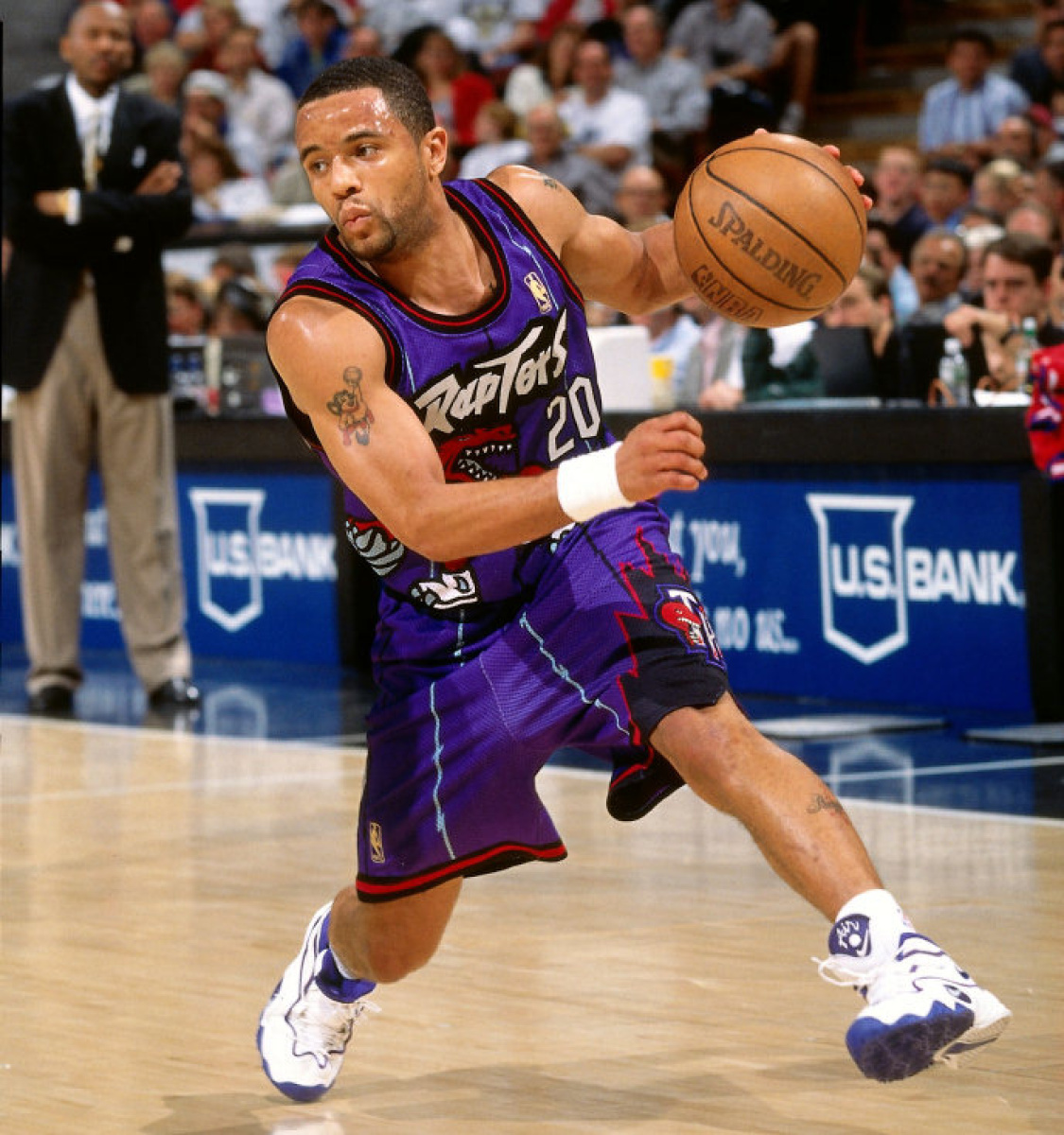 Year: 1997
Shoe: Nike Air Flight Turbulence
In need of a face for the expansion franchise, the Raptors made Damon Stoudemire their first ever draft pick in 1995. Part of a field that featured Jerry Stackhouse, Rasheed Wallace and Kevin Garnett, it was Stoudemire who won Rookie of the Year honors for the 95-96 season.
In Stoudemire's sophomore season, during which he averaged a career-high 20.2 points per game, the point guard was pegged to help lead the Nike Air Flight Turbulence. He wore Raptors purple on the court, but famously laced up the black and white colorway for his very own commercial. It wasn't quite a signature shoe, but "Mighty Mouse" is the player that comes to mind when the model is mentioned.
---
2. Tracy McGrady Dazzles in Dunk Defeat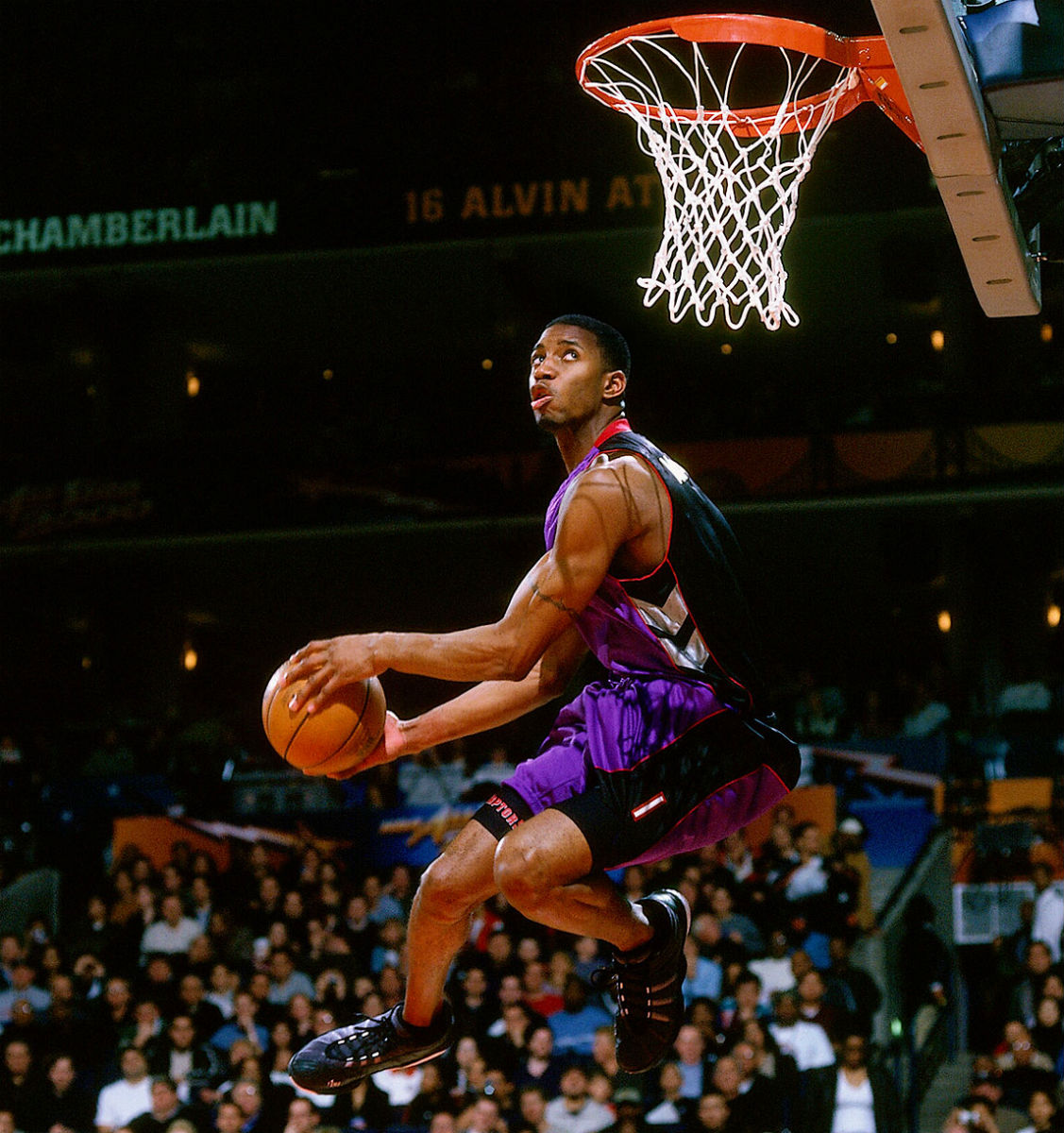 Year: 2000
Shoe: adidas Lithicon
What's overlooked about the 2000 Slam Dunk Contest is how good the rest of the field was. Tracy McGrady, cousin and teammate of winner Vince Carter, didn't go home with the trophy, but put on a show that makes the 2000 contest one of the greatest ever as a whole.
In the first round, McGrady almost matched Carter, scoring 99 points to Vince's perfect 100. Highlighting his performance was a double-clutch 360 off a lob that earned him a score of 50 to close out the opening round. He wasn't able to complete his second dunk in the final, which dropped him to third behind Carter and Steve Francis, but his first four amounted to one of the contest's best all-time displays.
Overlooked sneakers for an overlooked performance, McGrady dunked in a PE version of the adidas Lithicon, a forgotten model from the brand's Feet You Wear era.
---
1. Vince Carter Elevates the Slam Dunk Contest To a New Level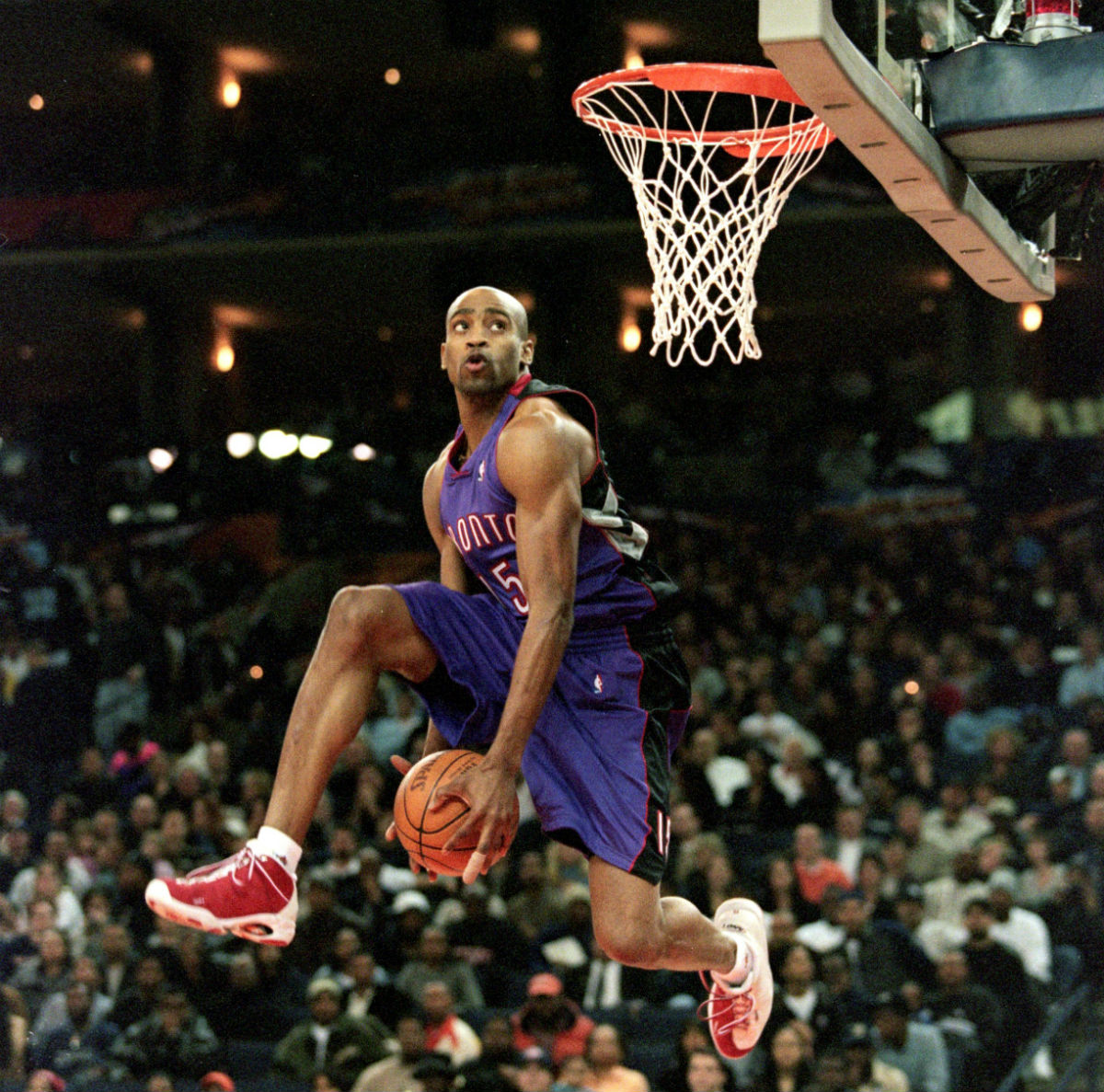 Year: 2000
Shoe: AND1 Tai Chi
Truth be told, Vince Carter could account for half of these moments by himself, but in the interest of variety, we'll stick with his defining night as a Raptor.
Carter's reputation as an otherworldly dunker was something that had grown since his days in high school. He was instantly received as a star during his rookie NBA season, largely in part to his knack for highlight-worthy slams. Adding Carter to the field for the 2000 Slam Dunk Contest wasn't only a no-brainer, it was the star-studded weekend's most anticipated event.
Somehow exceeding expectations, Carter put together a lineup of never-before-seen dunks that kept the crowd, NBA stars included, out of their seats. From the reverse 360, to the behind-the-backboard 360, to the "Elbow Dunk," to the teammate assisted between-the-legs windmill, Carter set the new gold standard for the weekend's showcase. Carter gesturing that the contest was over as Kenny Smith made the same proclamation on commentary is one of the iconic moments in NBA history.
Carter's performance in the AND1 Tai Chi was a real turning point for the company, which enjoyed early 2000s success primarily because Vince validated it that weekend. Sixteen years later, the streetball brand is still producing new colorways of the shoe that helped usher in Vinsanity.