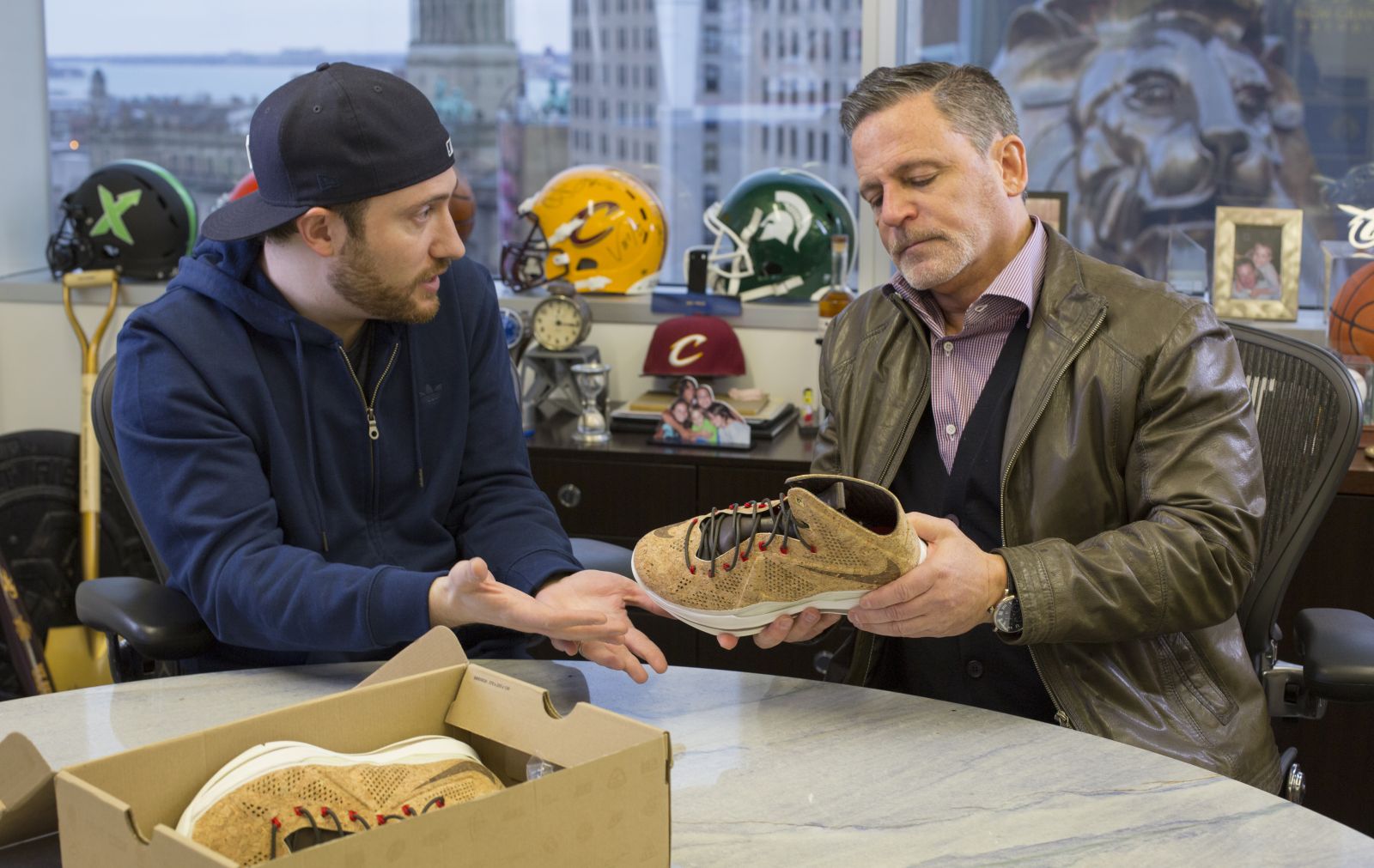 by Pete Forester
The future of sneaker reselling is happening right now.
After founding Campless, a site that monitors the buying and reselling sneakers on eBay, Josh Luber started to get a ton of attention in the sneaker industry. The exhaustive tracking of sneaker sales caught the attention of sneakerheads and anyone with a vested interest in flipping sneakers, but Luber had a bigger plan.
His idea wasn't a store. It wasn't an auction platform. It was something entirely new. The problem was that no one was interested in it.
Enter Dan Gilbert.
The billionaire investor and owner of the Cleveland Cavaliers was watching his sons buy and sell sneakers through eBay and he wondered if there was anything to it.
"The amount of interest and activity among my boys and their friends about sneakers was just crazy," Gilbert said. "Then I start asking other people that have teenage boys, and it's almost 90-95 percent of the people that I asked said the same thing."
It was Gilbert's first window into sneaker reselling that would end up planting a seed in his mind. He saw problems within the culture. Transactions were murky, information was limited, and it was based on trusting strangers with your money. But he also saw an opportunity.
"I've just always wondered why a stock market of things had not emerged yet on the Internet. You always had a great case for a stock market," Gilbert said. "It's worked beautifully for the last 200 years in this country, if not longer, and the Internet is a vehicle that takes it to a level where anything can be done that way."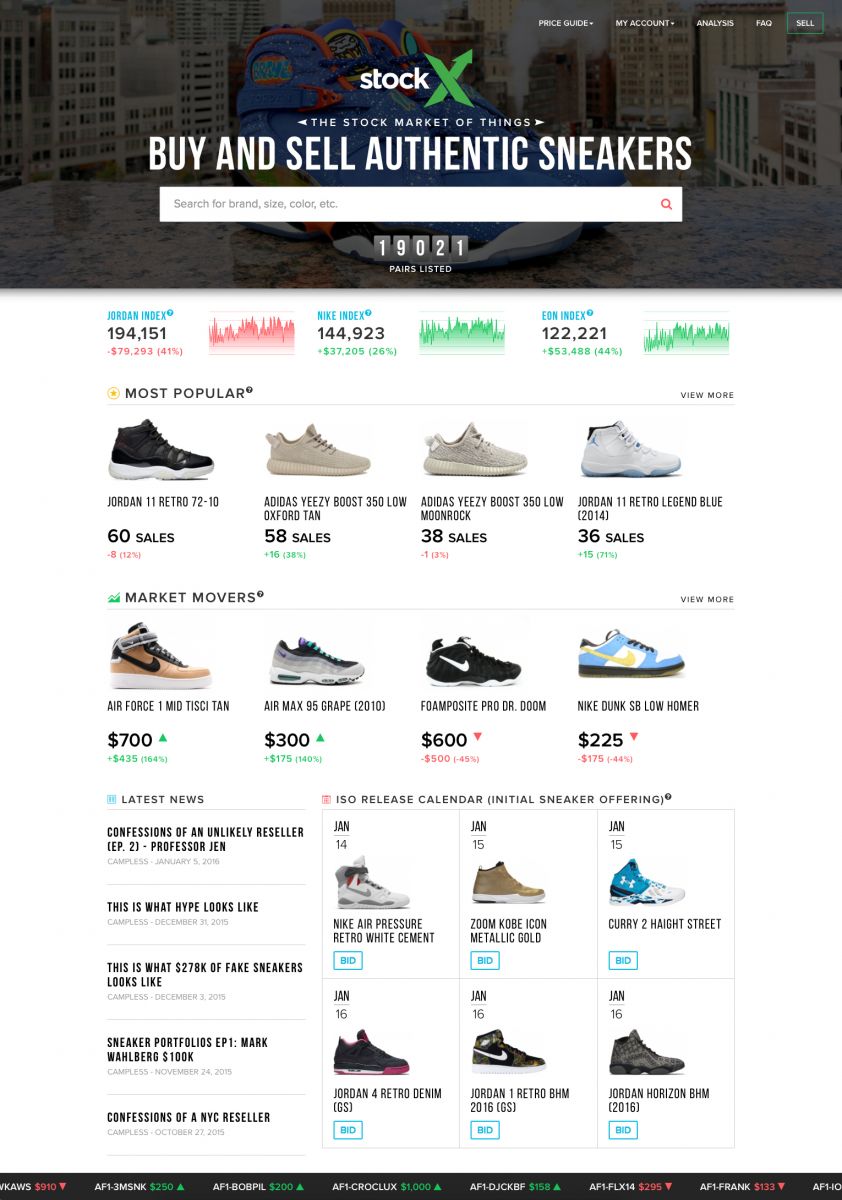 As Luber was turning down partnerships that offered directions counter to his own, Gilbert was looking for someone to help make the idea a reality. When Gilbert found Luber they talked about the million dollar idea: a stock market for sneakers.
Luber's work at Campless gave them the data they needed, Gilbert's passion for building companies offered the resources and their combined passion for commerce offered the energetic sustenance a project like this would demand. Everything clicked and in the middle of 2015, Luber moved his family to Detroit, where Gilbert's based. StockX was born.
The easiest way to describe StockX is how its founders do: "The stock market of things." The actual stock market is a peer-to-peer marketplace where assets are sold, as slices of ownership in a company.
What the stock market offers is a marketplace for this commerce to happen. The stock market doesn't sell you stock, it just offers a place to buy and sell them. Whenever you're considering a stock, you can find the full history of stocks from first purchase to the most recent. This ensures that a buyer is fully educated on what they're getting into and the seller knows what to reasonably ask for.
StockX offers the same thing, but for sneakers.
We know from watching Campless develop over the last four years that they've been able to take eBay data to make histories on the value of a sneaker. This information is powerful for both buyers and sellers because information creates an arena where everything is fair. It makes it much harder for anyone to be taken advantage of.
"Imagine selling stocks like the secondary market for sneakers. One guy on one corner would be selling a share of Google for $180 and another guy on the next corner is selling it for $400," explains Gilbert. "Nobody would really know or feel good because you just don't have the last comps and the last sales."
The current system of auctions and Twitter sales offers something of a perfect storm of problems. First, you have to deal with buyers and sellers essentially face to face. Even if you're not looking at the other person in the transaction, you're interfacing with them directly, getting money from them directly, and sending product to them directly.
"When you buy a share of Apple stock from the New York Stock Exchange, there's an actual seller on the other end of that specific trade, but you'll never know who that is and you don't care who that is," explains Luber. "All you care about is the price you got the stock for, and you know it's authentic because it's from the New York Stock Exchange. We set up the same construct here."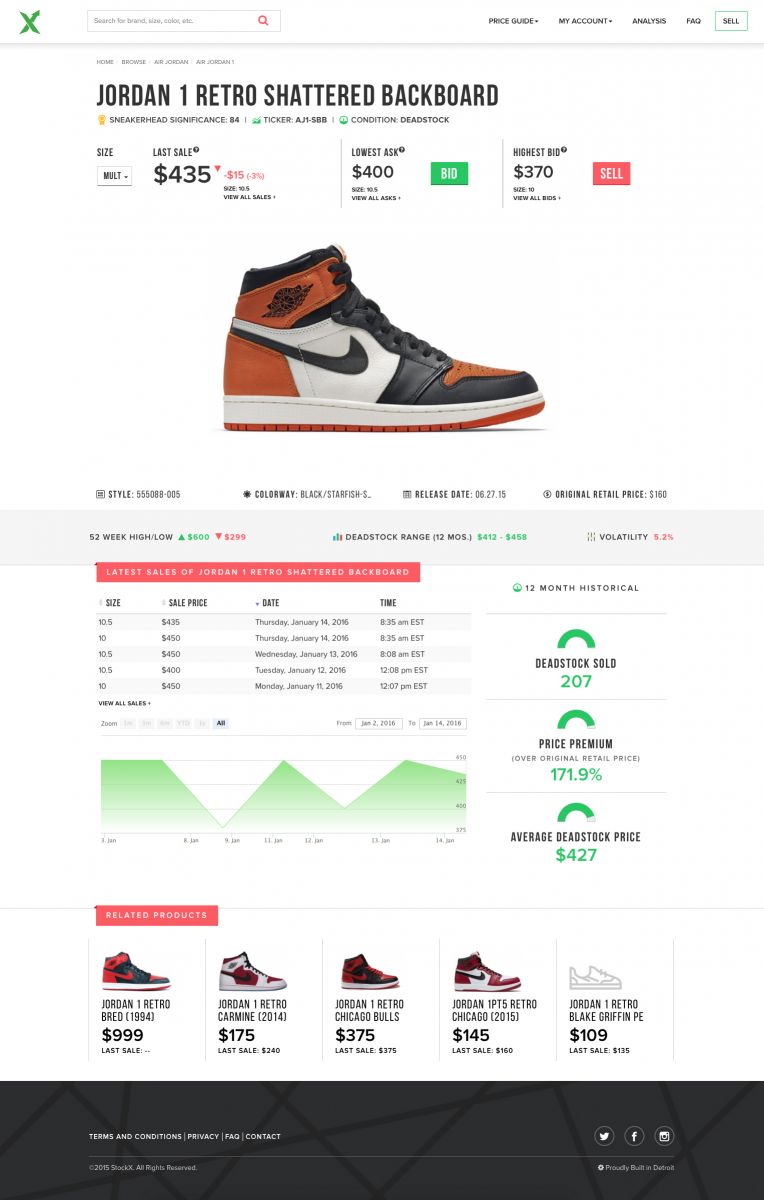 So how does it work?
If you were looking for a pair of "Bred" Air Jordan 1s on eBay, you'd type that in and get dozens of results. Each auction would have its own photos, description and variables. And with each of those listings comes a seller who you don't know and you can't vet.
On StockX there's one page for all "Bred" Jordan 1s. There's one page per product, and no uploading photos. On that page you can find the full sales history data from Campless on the shoe with a market price, provided by Campless and StockX history. On a drop-down menu you choose the size and you're brought to a page with every pair that's available and each of their prices, and you can compare to the market price. If you click "buy," the seller sends the shoes to StockX who authenticates them, and then you get your shoes. If you don't like any of those prices you can submit a bid that remains live until a seller decides they like your price and accepts it. There are no legit checks, there's no dealing with unknown sellers, there's no wondering about pricing.
If StockX gets the shoe and finds it's not authentic, they will send the shoes back to the seller, penalize them financially and do what they can to work with their other sellers to find the same pair of shoes for the same price (as long as the price was within reason). If they can't find anything, they'll refund you with their apologies.
Not everyone is going to understand the breadth of StockX until they get their hands on it. DJ Skee was one of those people.
"I was skeptical because there are so many different things in the marketplace and there's so much noise out there and a lot of people are trying to solve this problem. Now it seems like everybody has their own sneaker consignment store," Skee said.
If you're like Skee and have a lot of social influence, you'd think that discretion is key, but for him there are more crucial issues that StockX is solving.
"The biggest challenge with anything in the community is fraud and fakes," Skee explains. "As well as people trying to con other people over and get cash, and with what [StockX has] in place it's probably one of the most secure ways to buy things because the second you lose that layer of security or trust that will kill any brand... They kind of realize that and have taken a lot of steps to position themselves in the proper manner."
This system is set up so that any interest level can make use of it. Whether you have a ton of volume and want to become something of a day trader in sneakers (something that Gilbert says they're anticipating), or just need to cop a pair of Jordan 11s for your buddy's birthday, you can dive as deep as you want.
Gilbert has a history of investing in projects like StockX. He built his empire with Quicken Loans, which just launched Rocket Mortgage, another financial platform that connects homebuyers with banks who are looking to invest in each other. Rocket Mortgage doesn't create their own deliverable; instead they're the liaison between the two parties. StockX is the same.
"We're the bridge that you drive over. We're the bridge. We're not the destination," explains Gilbert.
StockX connects buyers and sellers directly, allowing the product's life to extend beyond the retail experience, while having the same dependable platform. And its potential reaches much farther than sneakers. Handbags, watches and cars were all items that Gilbert mused about possibly putting on the platform.
"That might work," he said. "The possibilities are nearly endless."