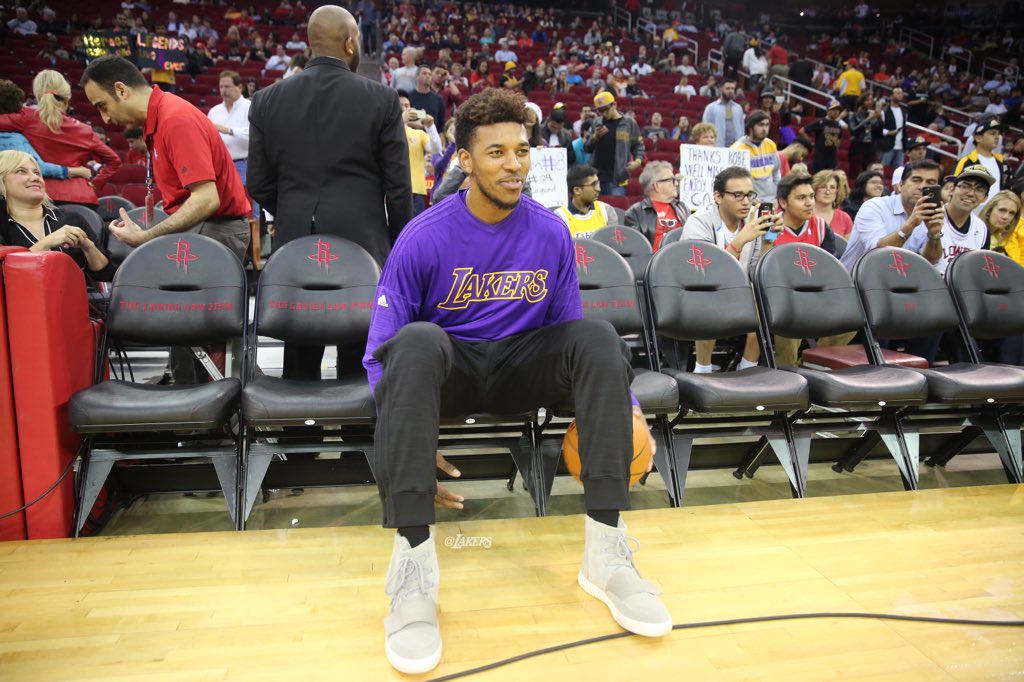 by Brandon Richard
There's probably nobody enjoying Kanye West's Nike diss song "Facts" more than Los Angeles Laker Nick Young, who received a personal shoutout within the lyrics. That much was confirmed when teammate Julius Randle sent out this tweet following the track's release:
Man can't nobody tell @NickSwagyPYoung nothing now lol

— Julius Randle (@J30_RANDLE) January 1, 2016
Randle was correct — a day later, Young played the Philadelphia 76ers wearing West's "Core Black" adidas Yeezy 750 Boosts. Still riding the high from his brandmate's co-sign, Young spoke to reporters following the Lakers' 97-77 victory over the Phoenix Suns Sunday night. Fresh off stuffing the stat sheet with 3 points and 1 rebound, Young was asked for his thoughts on taking on the defending champion Golden State Warriors on Tuesday. His response?
Nick is always going to Nick. Check explanation for how LAL will get ready for GSW: "Yeezus" (via @World_Wide_Wob) pic.twitter.com/Dg7fWYEreR

— Michael Lee (@MrMichaelLee) January 4, 2016
That's right, the key to stopping one of the most dominant NBA teams in recent years is listening to "Facts." When the reporter asks for clarification on whose facts Young would be listening to, he responds, "By Yeezus, you know? He jumped over the Jumpman."
The best part of it all is that Young is probably legitimately more excited about his name drop than the Lakers' current win streak. Hard to blame him.