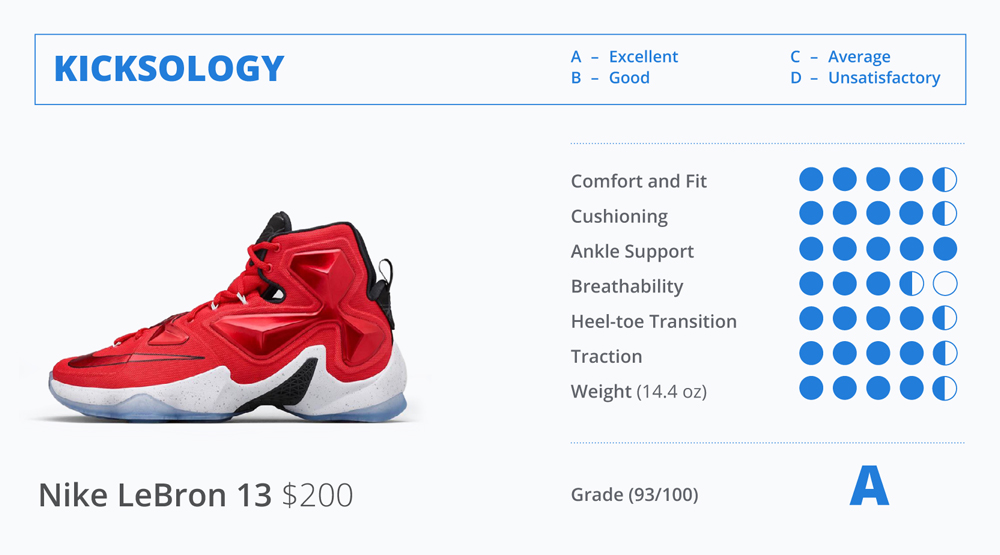 LeBron James recently signed a lifetime deal with Nike, cementing his already stable position as Nike's current top endorser. That means it's no surprise that Nike would use a person in such a position to help lead new innovative technology. But at times, Nike is arguably even better at marketing that innovation, than the innovation itself. Sometimes it takes a try or two to get that technology right. The LeBron 13 doesn't necessarily introduce any new technology, but it implements recent innovations like Hyperposite and hexagonal Zoom better than any shoe before it.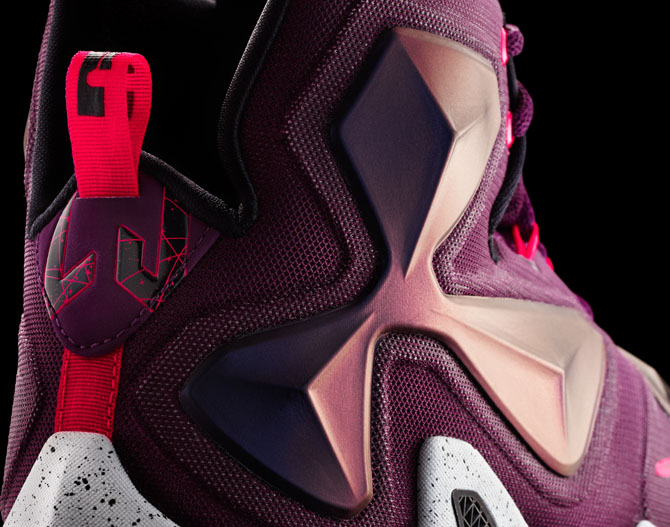 This is most dramatically apparent in the Hyperposite. To be very frank, as cool as Posite looks, I've found it to be mostly a gimmick when it comes to performance. It's bulky, stiff, heavy, and just something that's not necessarily suited as an upper material.
As evidence, look no further than the LeBron 12 and 12 Elite. While the 12 wasn't bad, the upper was restrictive in comparison to the Elite - which replaced the Posite with skeletal TPU overlays. The Elite was just as supportive, but flexed much more naturally. Want more evidence? There's that whole thing where LeBron didn't wear the 11 much.
On the LeBron 13, however, Hyperposite is finally utilized in a way that actually enhances the shoe, rather than being detrimental to its performance. The careful shaping and placement of the Posite allows it to provide support and abrasion resistance with no (or at least minimal) sacrifice to range of motion and flexibility. It stays clear of flex points, which created stiffness in past models. It's still not perfect — the segment of Posite that lays across the top of the foot ended up "floating" (more on that later) and not doing much good, but it was still my best experience with a Posite-based shoe ever, by far.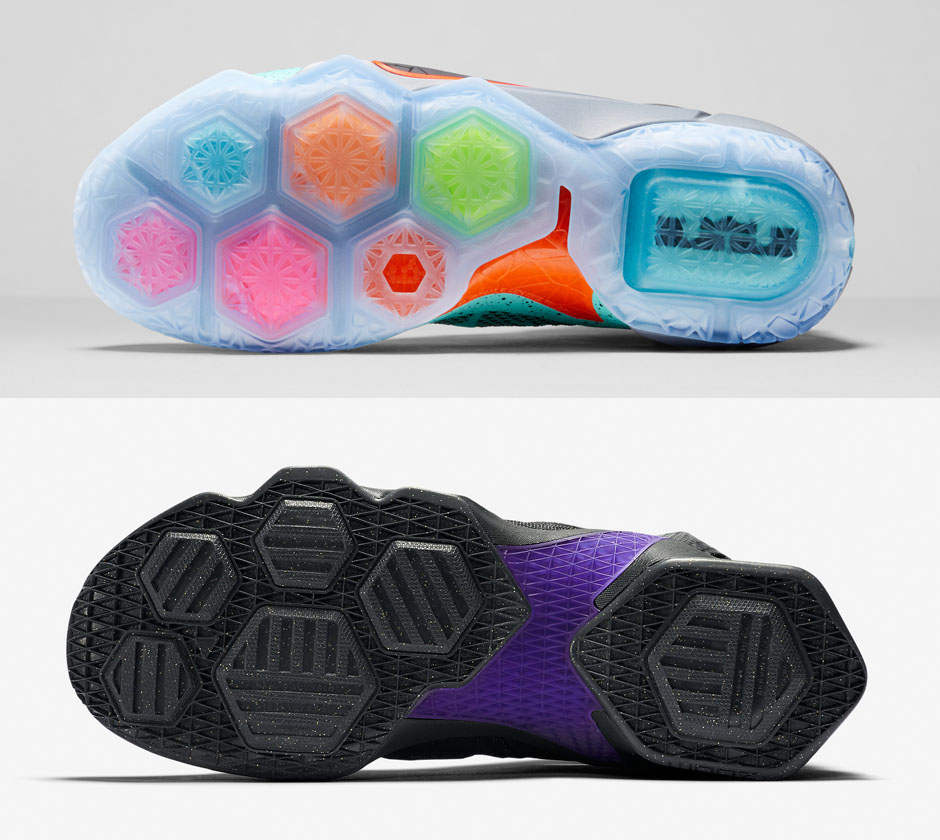 The next area where the LeBron 13 improves on previous technology is the cushioning. The LeBron 12 introduced the hexagon-shaped Zoom concept, and while it was very good, it got even better on the 13. Not only did cushioning improve, but court feel as well — two elements that often have inverse relationships. The way this was achieved was through better segmentation and placement of the bags. The 12 offered more pods, but the 13 aligns better with the anatomy of the foot, allowing for a more natural range of motion — which is the whole point of the hexagon Zoom. The largest units — 13mm bags — fall perfectly in place with the ball of the foot and the heel. Combined with the midfoot shank, I found the cushioning-to-court feel ratio second only to Jordan Brand's Flight Plate system. That shank may look cheap in comparison to something like carbon fiber, but the 3D geometric pattern makes it extremely strong.
I don't have many complaints with the LeBron 13, but one of the biggest is with the overall construction of the shoe. A sock-like upper may seem like a great method — and in some ways it is — but it doesn't allow for enough dynamics when it comes to the shoe's fit. What that means is there's bound to be bunching and bulging on a shoe with this style construction, as opposed to a traditional tongue method, which better allows an upper to cradle the entire foot. The dynamic Flywire does allow you to snug the fit, but as you tighten things up, the support is coming more from the laces and Flywire than the rest of the upper — so much so that when fully laced for play, the pod of Hyperposite that lays across the top of the lost most contact with my foot as it bowed up, rendering it mostly useless to even have there. These sock-like uppers have the benefit of being able to have less layers and seams on a shoe, but when they're so heavily reinforced anyway, it often makes me wish for a more traditional construction. The upper is also less than perfect when it comes to breathability, however that's a minor problem. I've said it before, and I'll say it again - I've never in my life hooped in a shoe didn't get sweaty by the end of a run. So, while the breathability may not be fantastic, it's a non-issue.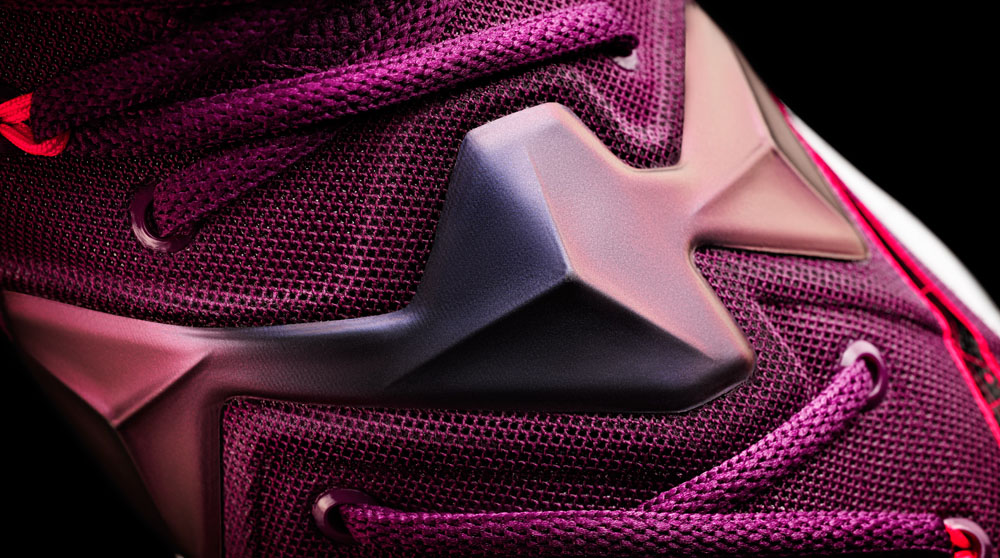 My only other complaint on the shoe is more of a personal preference than a problem. The collar is very high. Its thick memory foam molds perfectly to the ankle, forming a very supportive, protective and reassuring fit. Despite the height, it provides a reasonably good range of motion thanks to the notched heel, but rather than angling down from the top eyelets like the LeBron 12, it gets even higher. Again, it's not necessarily a bad thing, and some people may like it, but it's excessive for my taste.
Over the course of the past 13 years, the LeBron line has represented a number of different things to me, depending on the timing. In the earliest days, while tame from a design and innovation standpoint, it represented phenomenal performance value. But it's also represented tech that was more about marketing and visual appeal than functionality later in the line. It currently represents a happy medium between those two places. It has playability of a shoe like the Air Zoom Generation, united with visual technology of a shoe like the LeBron 11. It's not a great value like the early days, but it works much better than some of the latter. This is the shoe I've been waiting for from the LeBron line for a long time.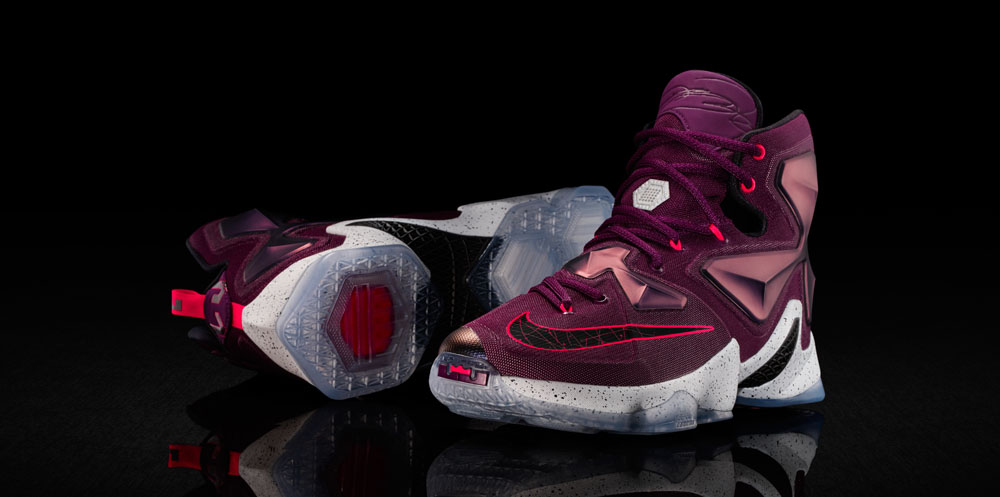 Grade Breakout
best for: players looking for maximum protection with minimal compromise to quickness
colorway tested: Mulberry/Pure Platinum/Vivid Purple/Black key tech: Hexagonal Zoom Air; Dynamic Flywire; Hyperposite
sizing: true to size
pros: cushioning, support, court feel
cons: sock-like construction makes the fit less dynamic than a standard tongue
buying advice: From a performance perspective, I've been disappointed with many of the shoes from the second half of LeBron's still-growing signature line. The 13 gets things back on track though, making it my favorite model since probably the Zoom LeBron 5. It's expensive, but it's also up there in "best-of-class" territory. If you're a small guard in need of the quickest and lightest shoe possible, you may want to pass. But thanks to the terrific design and evolved technology, what you lose in speed is kept to a minimum in comparison to what you gain in protection and stability.