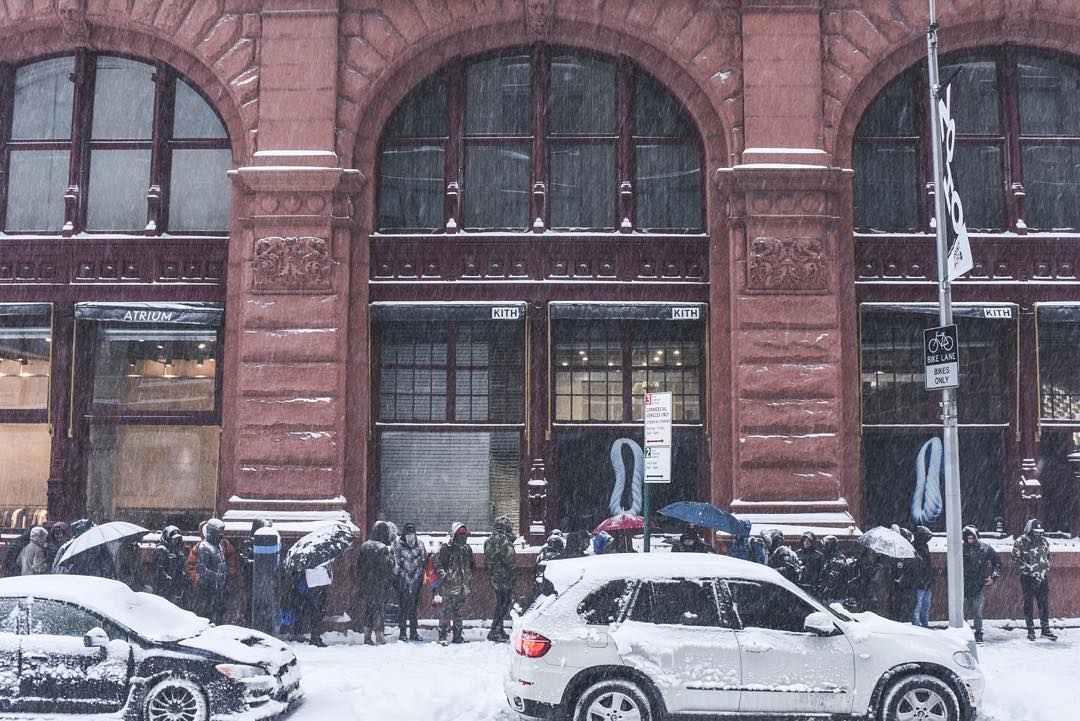 by Brandon Richard
At what point is acquiring a pair of sneakers just not worth the health and safety risk?
That's a question many sneakerheads on Twitter are asking today, following the launch of Ronnie Fieg's adidas Tubular Doom collaboration in New York City. Sneakerheads were spotted lined up outside of Fieg's KITH boutique waiting for the release, despite frigid temperatures and a freaking BLIZZARD.
Clearly, New Yorkers are no strangers to snow storms, but several local businesses closed their doors with more than a foot of it on the ground already. Kith eventually followed suit, but apparently after they took care of the line for Tubular Dooms.
When there's a blizzard but you gotta get the new Ronnie Fieg Tubular Dooms pic.twitter.com/iGMw3YHnVh

— JustFreshKix.com (@JustFreshKicks) January 23, 2016
The reaction online has been mixed thus far, ranging from disappointment that customer safety wasn't immediately addressed to crediting Kith for building a loyal customer base.
Blizzard outside and people are lined up in front of Kith for some kicks smh #Newslaves

— DAME DASH (@GrownManStuff_) January 23, 2016
Kith should've cancelled this in-store release. Cats catching pneumonia over sneakers. pic.twitter.com/yDLrb6UA4G

— Ray P (@rayp_photos) January 23, 2016
Kith/Ronnie Fieg customers are so loyal. That says volumes about the brand + the fact that they'll stand out in a blizzard for a new drop.

— Rania Bolton (@raniabolton) January 23, 2016
Don't be mad at Kith for doing their business. Nobody told you to go out and wait on line for some sneakers in a blizzard.

— Postmate Pussy (@TheNastyPastor) January 23, 2016
In this case, more facts are needed before blame is assigned in either direction. Fieg himself offered the following explanation for not closing up shop on Instagram:
"The reason we didn't reschedule is because there were people who traveled from different states and people who were staying in the city ready for the drop. It wouldn't be fair to them to change it up. Nobody forced anyone to come to the shop. I don't like having people waiting in the cold to buy shoes, I don't get off on that. If I would have had a full staff this morning, I would have set up the line in the shop but we were undermanned and we did everything we could. Before you say, "fuck this guy" just remember I've been doing this for 20 years and I already know the right and wrong things to do."
The good news is that no incidents were reported from this morning's lineup.