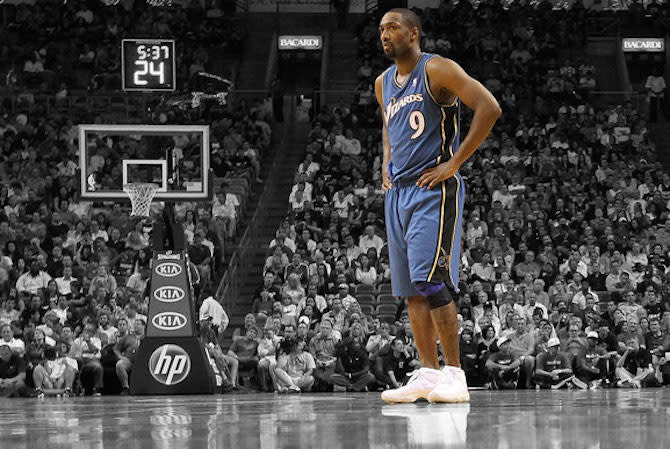 Gilbert Arenas is a bit of an enigma. At his peak, he was as good as any player in the NBA. At his worst, a participant in an infamous gun drawing dispute in the Wizards' locker room in 2009. That incident, which resulted in an indefinite suspension, was the start of the end of a career that had already been derailed by a serious left knee injury. Stops in Orlando and Memphis proved to be unfruitful, and Arenas hasn't played professionally since 2012.
Though his career ended prematurely, Arenas left his mark, especially in the world of sneakers. The former second round pick had multiple signature shoes with adidas and could be described as the NBA's first "sneakerhead." Sadly, he doesn't get nearly enough recognition for being an industry trendsetter.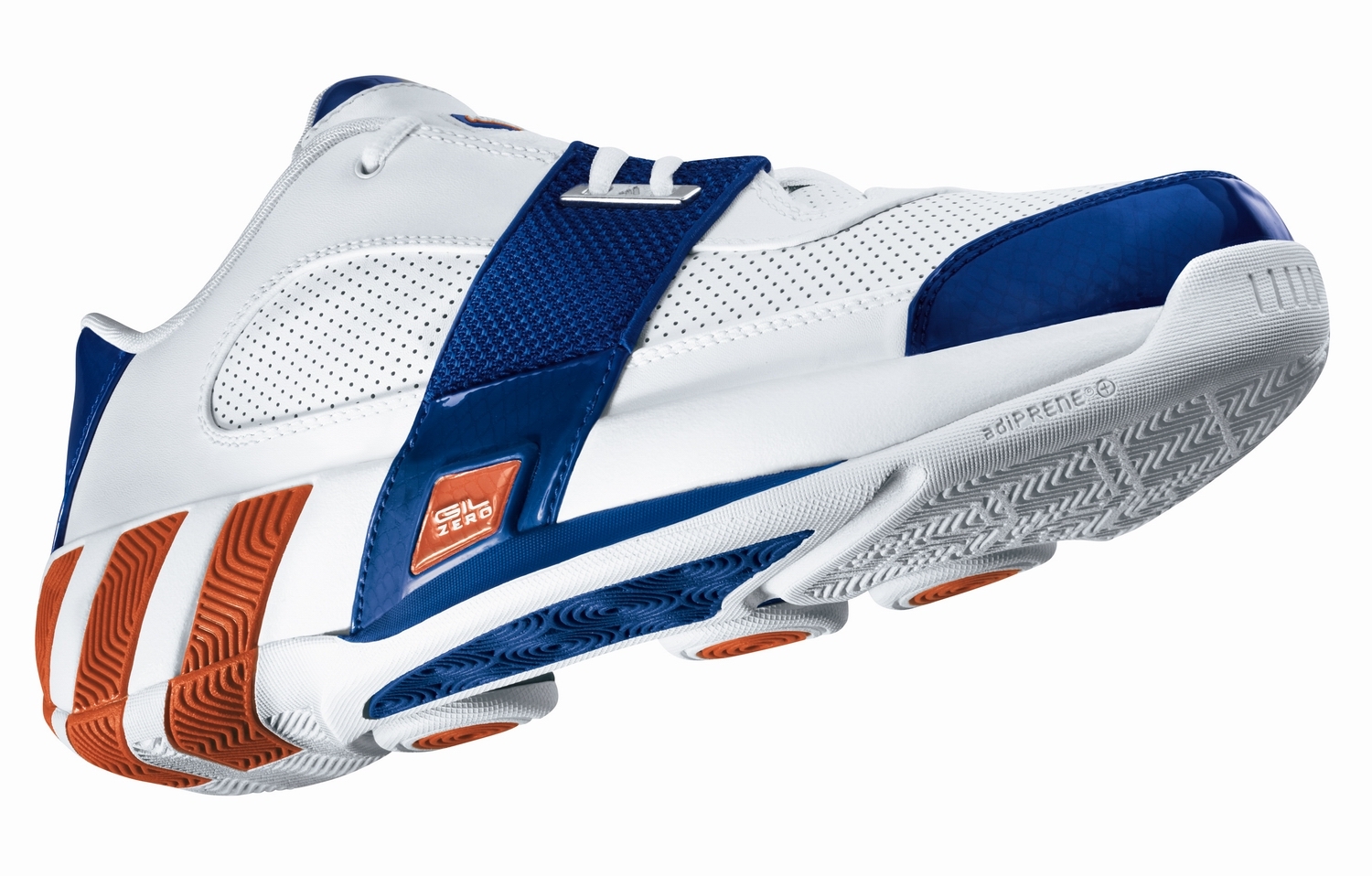 Kobe Bryant can be credited with making the low-top signature shoe popular, but Arenas beat him to the punch —three years earlier. The adidas Gil Zero, Arenas' first signature shoe, was unveiled in December 2006. The ForMotion loaded low-top was designed by Kyle Pulli with input from Arenas, who preferred playing in a low. He wasn't the first player to have a signature low-top. He wasn't even the first adidas athlete to have one, but he did quietly usher in the modern trend.
Before it became commonplace to see signature models released in a variety of collectible colorways with predetermined nicknames, there was 2008's Gill II Zero. The Remix Collection consisted of no fewer than 20 different colorways inspired by elements of Arenas' life. Broken down into underground, elite and preferred tiers, adidas released pairs linked to Barack Obama's election, Arenas' status as the NBA Live '08 cover athlete, the video game Halo and the Washington Redskins. There was even a white-based "Cust0mize" colorway with a glossy surface that allowed wearers to add their own designs with dry erase markers. This set the tone for what's happening with custom colorways and themes today.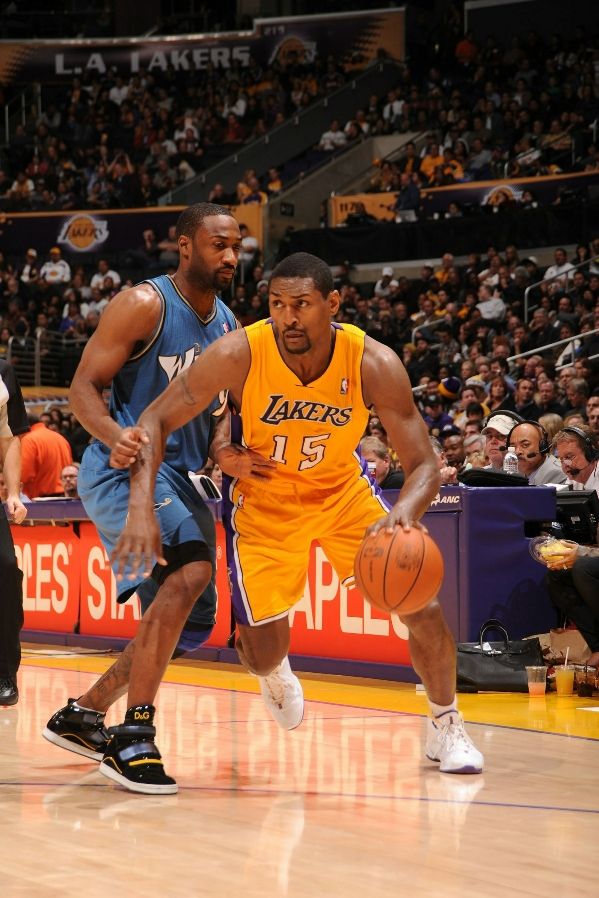 Then there was the unforgettable 2010-2011 season, during which Arenas (who was traded to the Orlando Magic mid-season) wore a different pair of sneakers for every game after parting ways with adidas. While Bryant did something similar during his sneaker free agency in 2003, it felt more organic with Gilbert. Older models, new releases, samples, customs and player exclusives from all brands were part of his rotation. He even broke out a pair of Dolce & Gabbana high-tops in Los Angeles. Now, as documented in #SoleWatch, many of the league's top stars switch up their sneakers from night to night. Still, nobody does it quite like Arenas did.
To chronicle this exciting season, Arenas launched Sneaker Champ, a website that highlighted his daily game shoes. At seasons's end, he started a Twitter-based giveaway of every sneaker he had worn. The winners, who successfully answered trivia questions, were listed on the site as well.

Arenas was also one of the first players to co-sign customs. In 2011, he commissioned Mizzee Customs to work on a Magic-inspired Air Jordan 6. He didn't get to wear the shoes in a playoff game as he had planned, but he did break them out for Dwight Howard's celebrity All-Star game later in the year. Since then, LeBron James, Dwyane Wade, Jimmy Butler, Iman Shumpert and Nick Young have all worn customs on-court.
These days, Arenas is still active when it comes to sneakers. While he recently got in some trouble with his Instagram account, following a series of universally criticized comments regarding the WNBA, he can still be found giving pairs away to his followers. 
Gilbert Arenas' story is complicated. He has his flaws, but we all do. Beyond that, he comes across as a genuinely nice guy who still takes time to give back to fans who have supported him along the way. Above all, he's unique. A creative thinker. A trendsetter. The Sneaker Champ. And today, he turns 34.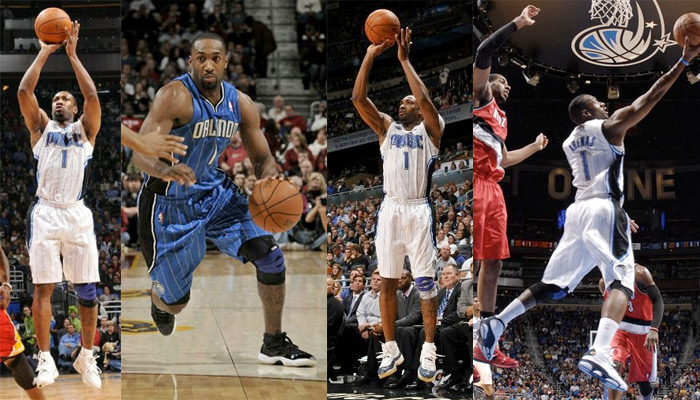 Brandon Richard is a writer for Sole Collector who won two of Gilbert's Sneaker Champ giveaways. You can follow him on Twitter here.