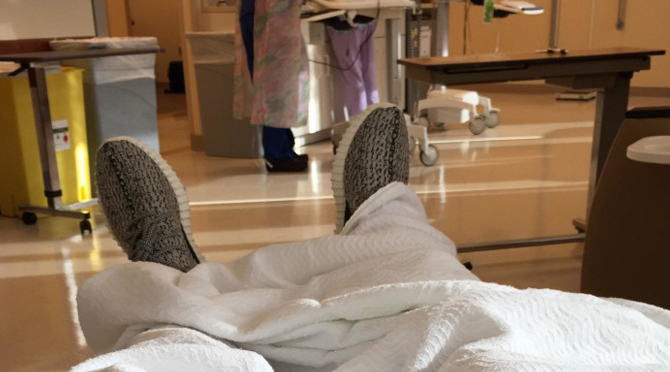 by Brendan Dunne
A colon cancer patient says that his adidas Yeezy 350 Boosts carried him through his chemo treatment when other shoes wouldn't do.
Steve Johnson tells the story of his battle with cancer at the Kiel Colon Cancer Foundation website. Johnson says his chemo blistered both of his feet, making simple activities like taking a shower or even standing up incredibly painful. At one point, before he started wearing the Yeezys, Johnson shattered his ankle just from stepping on a parking bumper.
A friend prompted him to switch to proper shoes, so he brought out a pair of Yeezys that he'd planned on keeping deadstock. Johnson says that when he put the sneakers on, he felt like a new man.
"The Boost soles felt like clouds on my feet," Johnson says. "I was instantly able to move better and walk into treatments unlike before...I honestly credit these shoes for helping save my life and getting me to and from my treatment appointments."
Read about the rest of Johnson's story here.