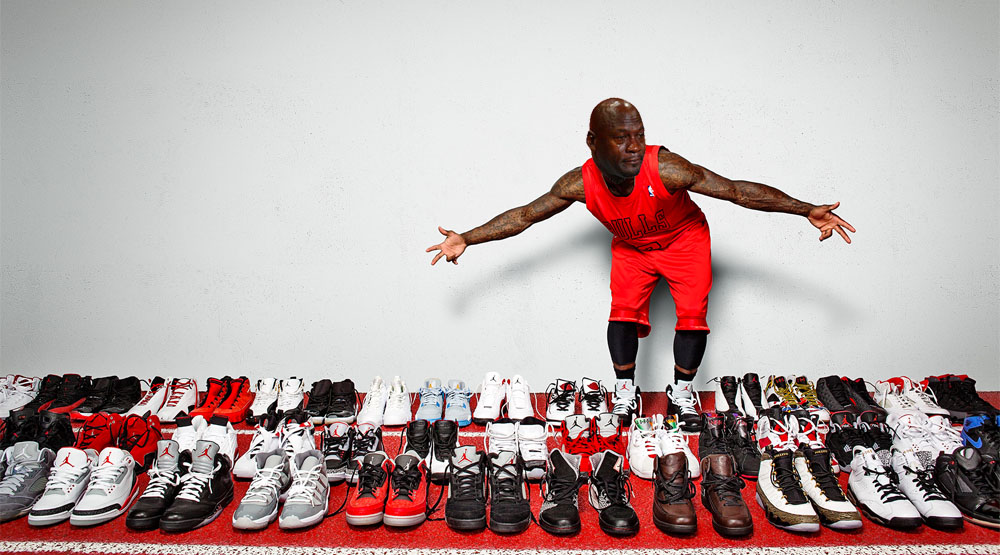 by Brandon Richard
Time Magazine recently named German Chancellor Angela Merkel its Person of the Year. Tennis star Serena Williams was chosen as Sports Illustrated's Sportsperson of the Year. If the Internet were to recognize one individual that owned 2015, it'd likely be Michael Jordan.
No, Jordan doesn't have any social media accounts. He's not on Facebook, Instagram, or Twitter, but his image pops up everywhere. Crying Michael Jordan is a meme that traces back as far as 2012, but it began picking up momentum when forums like The Coli and Boxden hosted threads, in which the image was Photoshopped into different scenarios last year. Its origin? Jordan's Basketball Hall of Fame Speech from 2009, during which the usually collected icon shed a few tears as he reminisced about the game.
The best thing about the meme is that it's applicable to just about any situation. Sports is an obvious field, but there's also music, movies and politics. SB Nation even turned the image into a pancake.
Crying Jordan is also heavily used by Sneaker Twitter, where heads never pass up an opportunity to poke fun at misfortune with a quick Photoshop. Recapping how the Meme of the Year impacted the culture, we've rounded up this year's 20 best sneaker-related Crying Jordan memes.
20. When You Miss Out on Yeezys and "Shattered Backboard" Jordans on the Same Day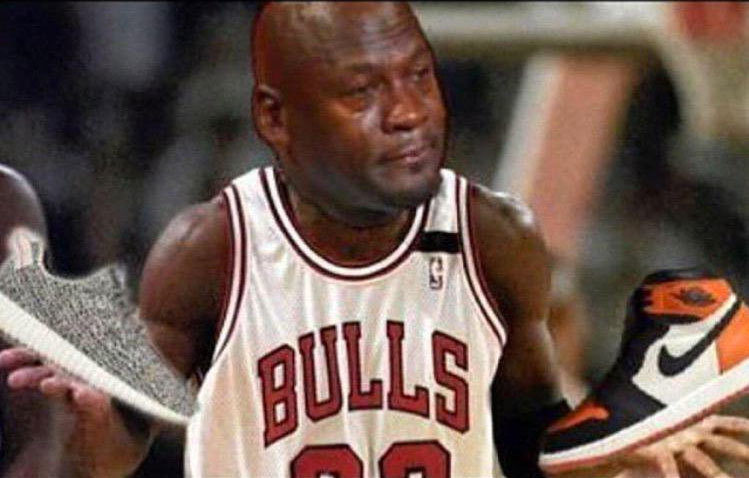 On a day during which sneakerheads had the opportunity to score both the Yeezy 350 Boost and "Shattered Backboard" Air Jordan 1, most came away with neither.
---
19. When You're Paying More for the Same Shoes Every Other Year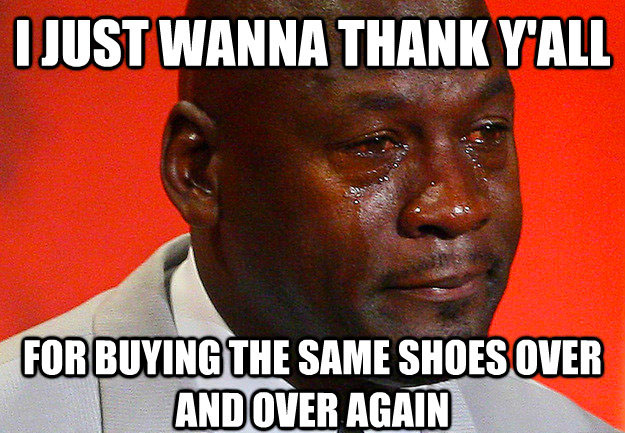 Case in point, "Bred" Air Jordans 1s and "Olympic" Air Jordan 7s are rumored to be releasing next year.
---
18. When You Realize Yeezys Aren't the Only Adidas Shoes That Sell Out Now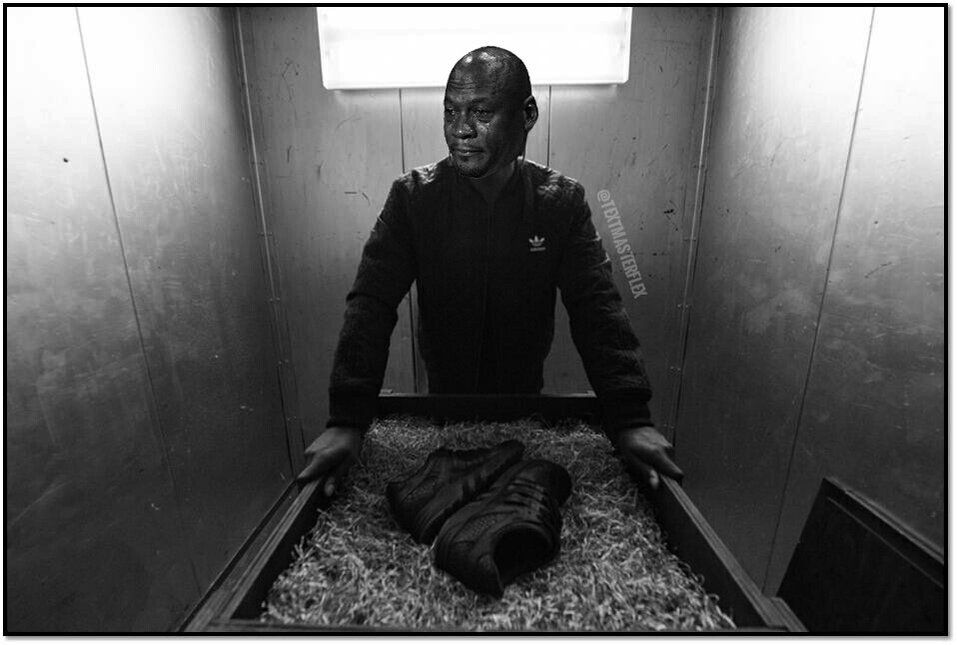 It's ironic (or maybe not) that this photo is dark, considering that adidas dropped Pusha T's "Black Market" collab at 3:00 a.m. EST, when most hopeful buyers were sleeping.
---
17. When a Sneaker Company Butchers a Classic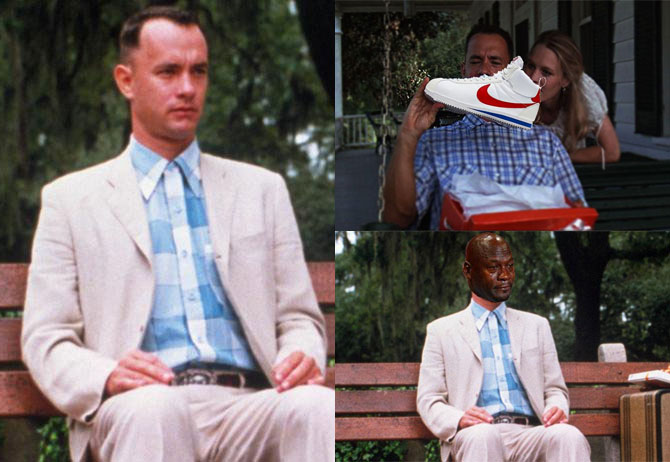 Nike's Cortez appeals to a very specific group of people. Never has that group expressed any desire to see it scaled up into a chukka.
---
16. When You Can't Buy Regular Looking Sneakers Because There Are Bolts on Them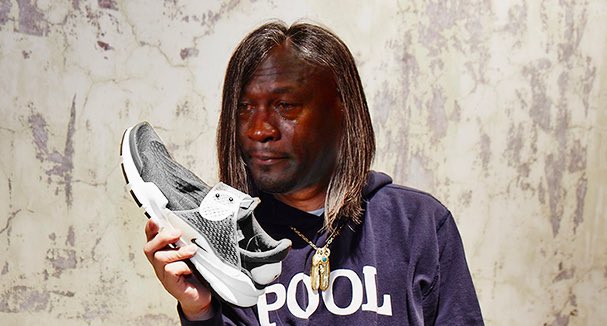 Hiroshi Fujiwara's imprint has been on a roll with its Nike collaborations, which makes them extremely tough to cop at retail.
---
15. When Little Drake Gets "OVO" 10s and You Don't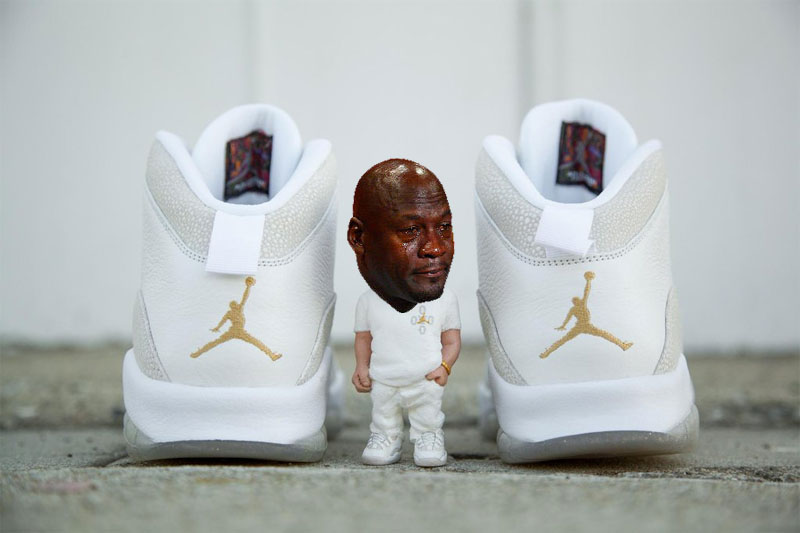 With its October "OVO" Air Jordan 10 restock, retailer BAIT also offered a handpainted Drake sculpture, which had on the sneakers that you probably weren't able to buy.
---
14. When It Turns Out That You Actually Wanted Something Else for Your Birthday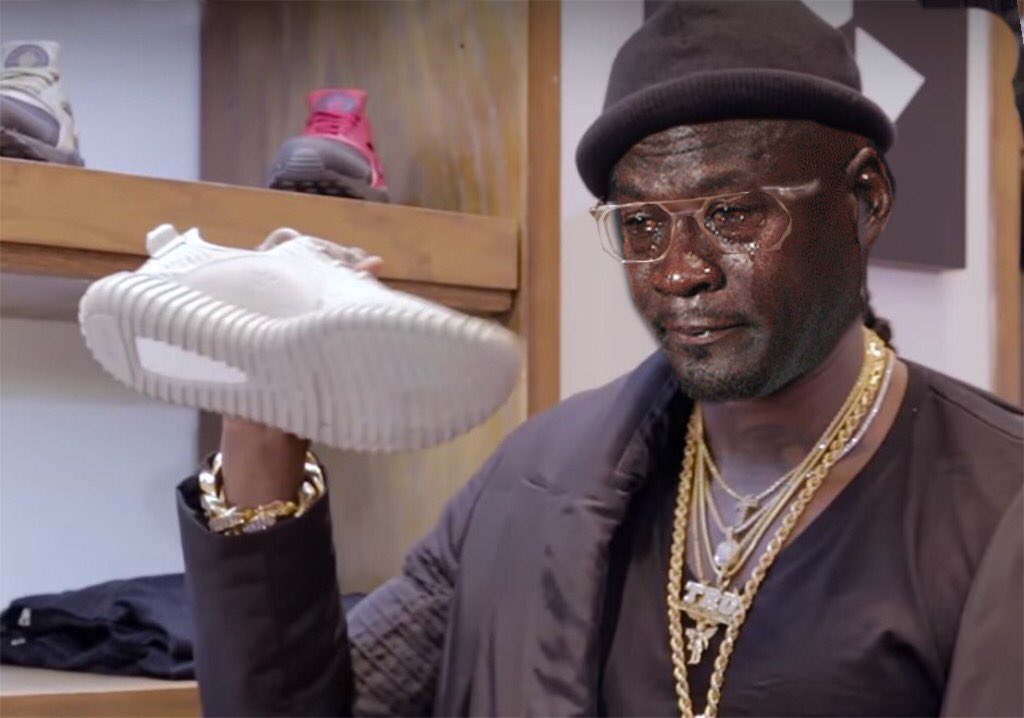 When Complex took 2 Chainz sneaker shopping last month, he grabbed a pair of "Moonrock" Yeezy 350s. His name wasn't on one of those boxes stashed in Kris Jenner's basement?
---
13. When You Didn't Help Sell Classic Air Jordans for This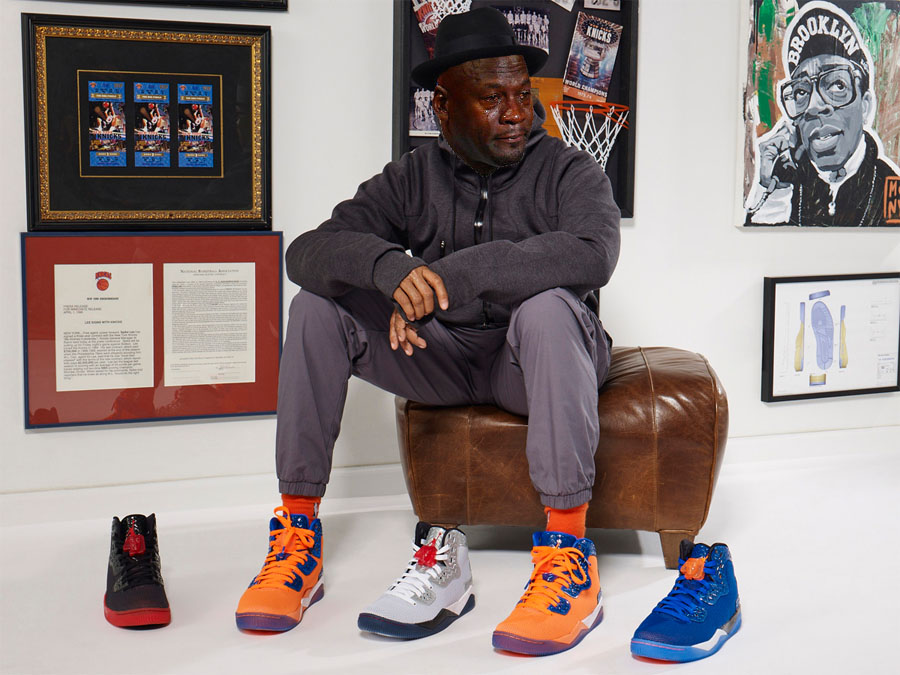 The new Air Jordan Spike 40 is reportedly based on an old Tinker Hatfield Sketch. There's a reason why Tinker originally said "nah."
---
12. When The Jumpman on Your Fakes Is the Star of the Next Bring It On Movie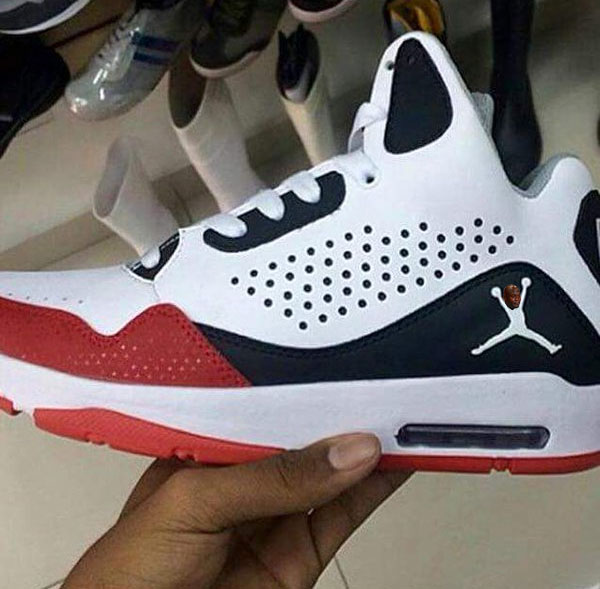 Fake manufacturers have drastically improved their craft over the years. Whoever made this pair didn't get the memo.
---
11. When MJ Crying Is Even a Phone Case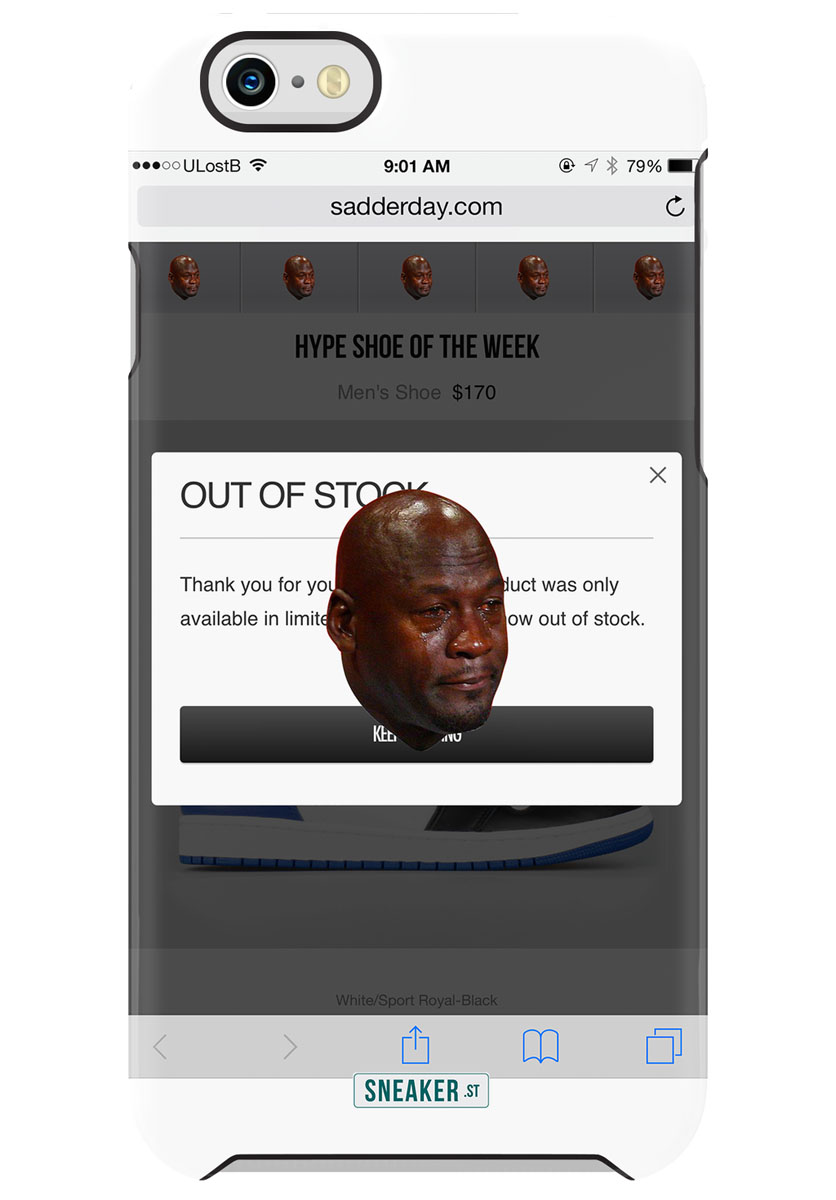 In case you want to be reminded about your latest strike out, SneakerSt really released this phone case.
---
10. When You Think You Got a Fit Off, But You End Up Looking Like a Ghostbuster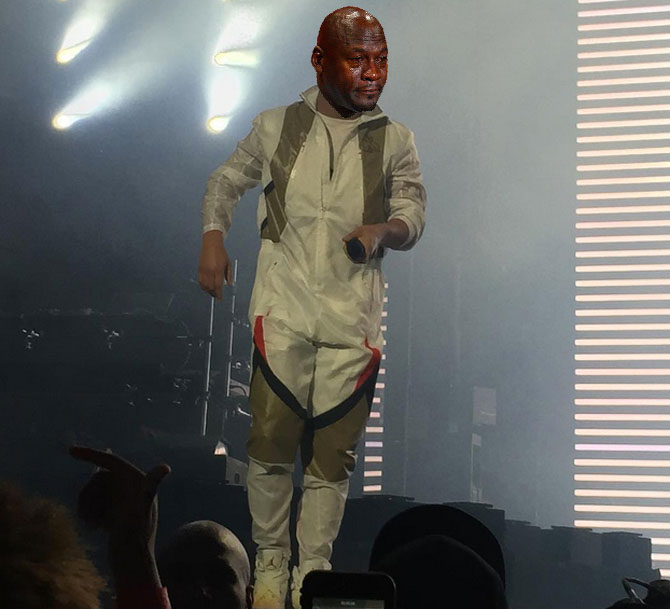 Fresh off dropping back-to-back diss tracks to Meek Mill, Drake returned to Toronto for his annual OVO Fest in August. A decisive victory over his rival didn't stop the Internet from slandering his Jordan flight suit.
---
9. Nike Finally Unveils Power Lacing Nike MAGs...for Michael J. Fox Only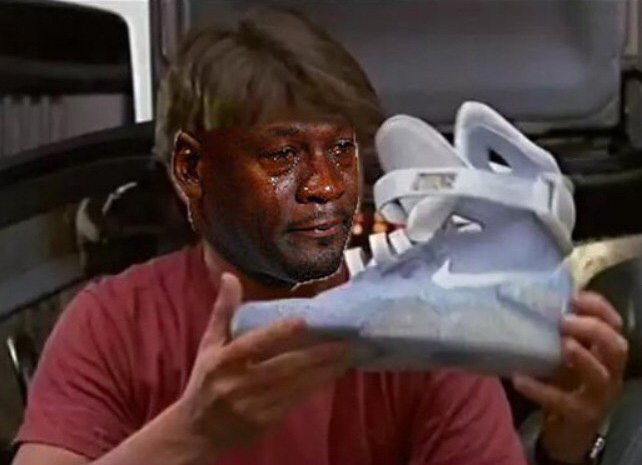 An event 30 years in the making, Nike finally unveiled an auto-lacing version of Marty McFly's MAG sneakers on Oct. 21, coinciding with the date he and Doc Brown traveled forward to in the sequel. Some sneakerheads were somehow hopeful that power lacing MAGs would end up being an online release on the same day, but only one pair was created as a gift to Michael J. Fox...for now.
---
8. When Yeezy Season 1 Makes You Look Like You're Trying On Your Big Brother's Clothes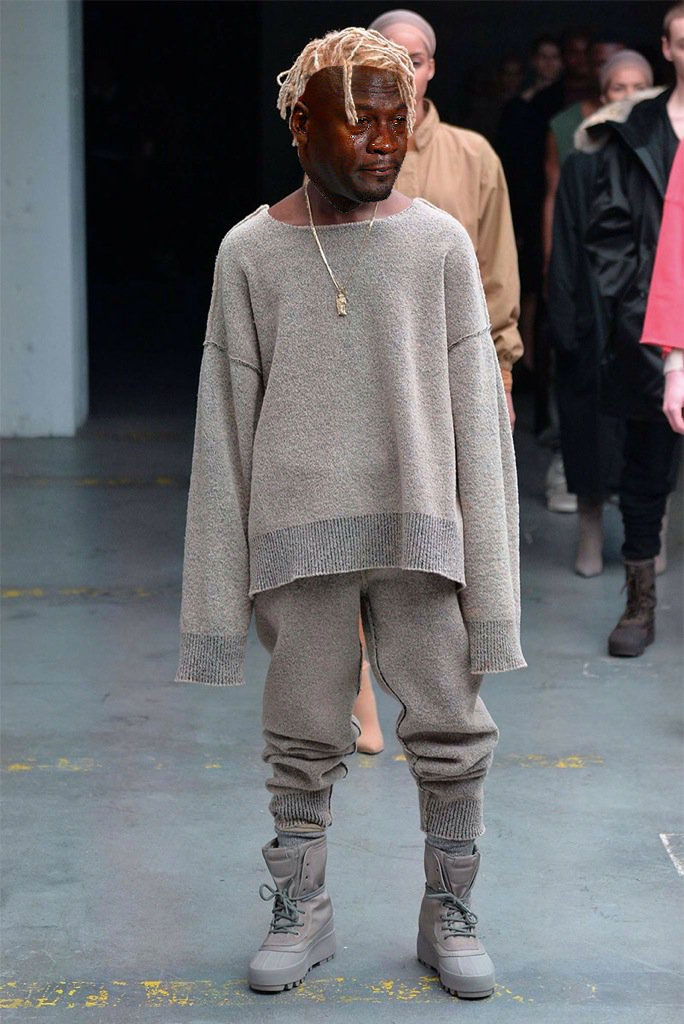 The bad news? Yeezy Season 1 wasn't exactly the timeless sportswear you were hoping for. The good news? You were priced out of leaving the house looking like this.
---
7. When You Get the Out of Stock Message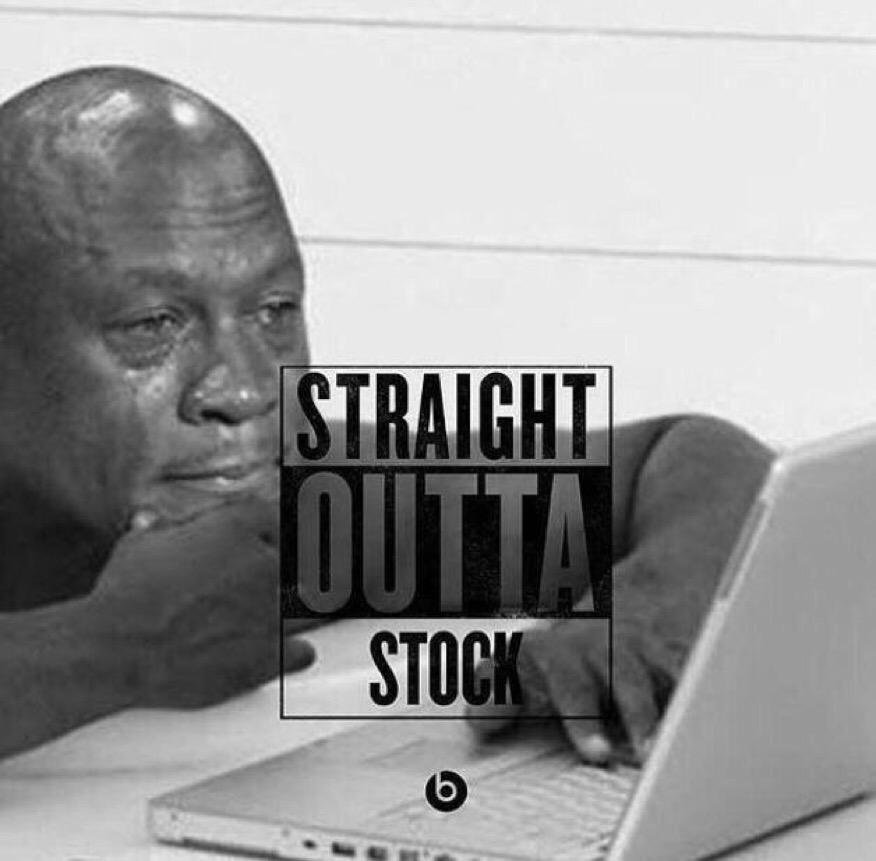 Few things will break your spirit for the hobby like getting an out of stock message on a pair of sneakers you really want. There's few better ways to express that pain than with the popular Straight Outta Somewhere generator.
---
6. When Adidas Drops Off a Truckload of Sneakers at Your House With No Yeezys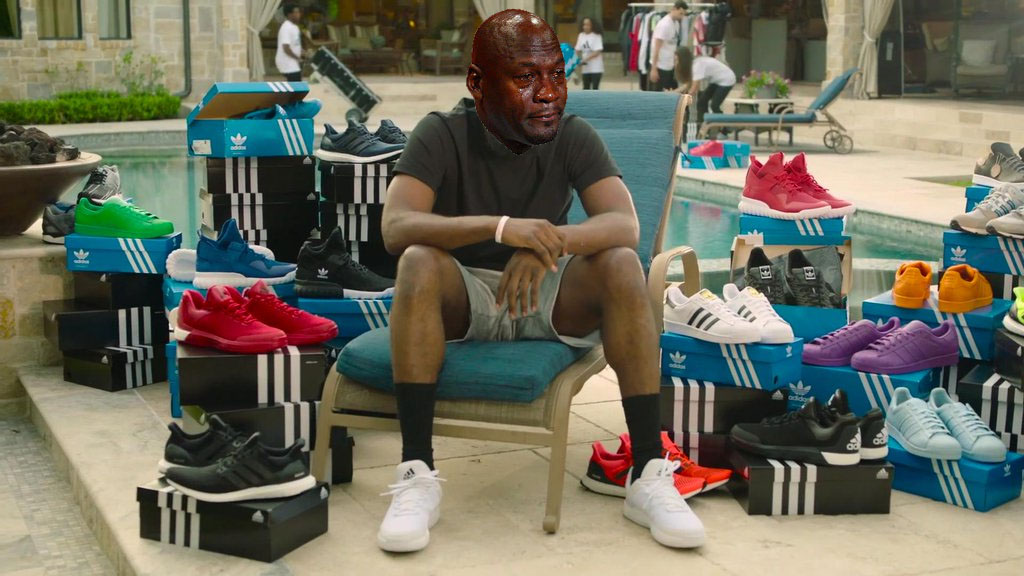 To celebrate its multi-year endorsement deal with James Harden, adidas showed up to the All-Star's house with a truckload of sneakers. Several pairs were unboxed around his pool, with not a single pair of Yeezys in sight.
---
5. When You Don't Appear to Be Happy With Your ANTA Deal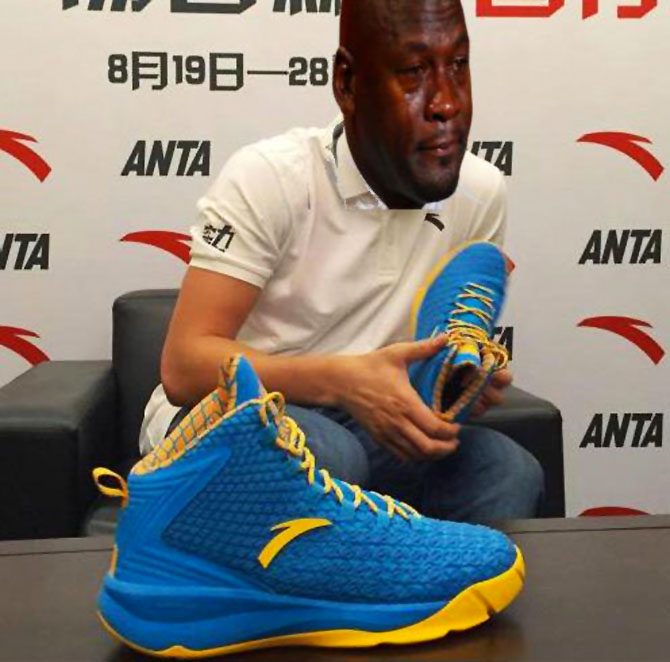 During a summer promotional trip to China, Klay Thompson appeared to be less than pleased with the footwear supplied by his new brand, ANTA. The photographer probably just caught him at a bad moment, but his frown went viral.
---
4. When It's Not in Your Cart Yet
Nikestore created the "Waiting For Your Turn" page to help deal with some of the checkout traffic that plagued past releases, but having a place in line will make you feel more hopeless than not having one at all. Seriously, you're not getting the shoes.
---
3. When You Had a Better Chance Landing on the Moon Than Buying "Moonrock" Yeezys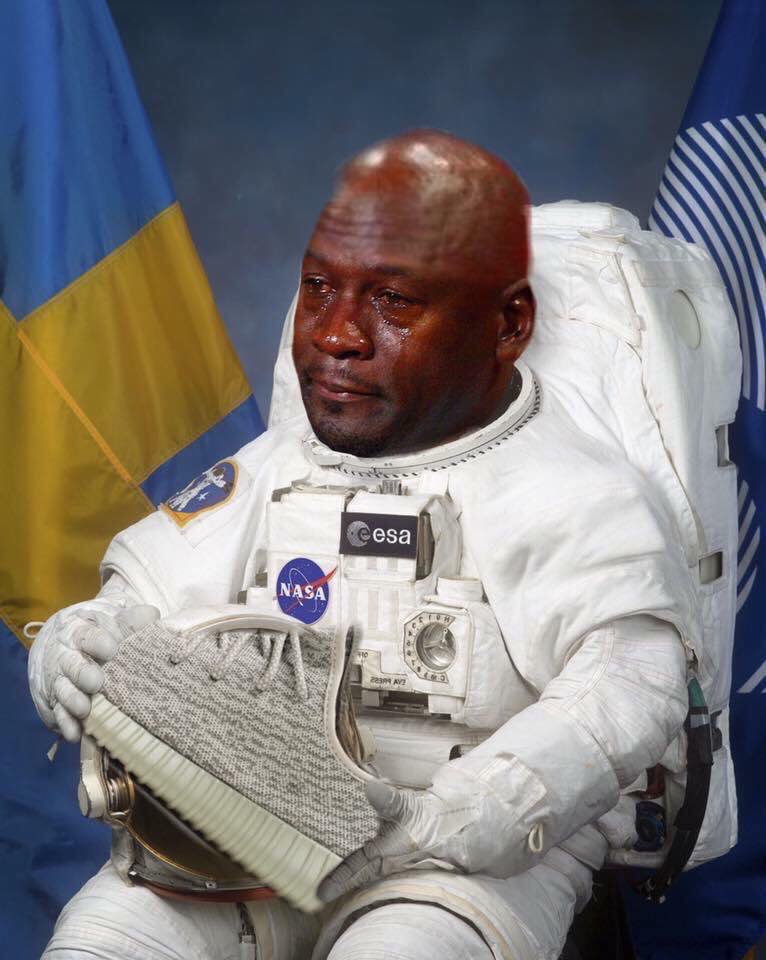 "Moonrock" was the third colorway of the adidas Yeezy 350 Boost to release, but it wasn't any easier to get than the previous two. In fact, adidas didn't even announce its online drop — disappointed shoppers discovered a sold out landing page and it was a wrap.
---
2. When You Have to Finance Your Sneaker Purchase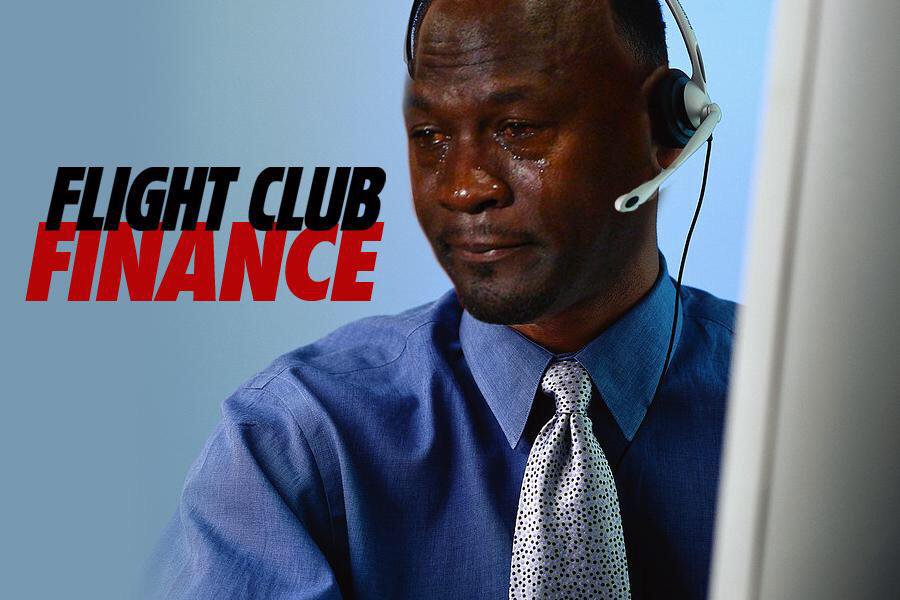 This summer, shoppers noticed that consignment shop Flight Club added an option to finance your sneaker purchase(s) at checkout. With an inflated 10% APR, what's already expensive could run the buyer an extra hundreds of dollars. Truth is, people willing to go into debt for sneakers are going to do it with or without financing, but Flight Club removed the option anyway.
---
1. When Jordan Collaborates With the Most Popular Streetwear Brand in the World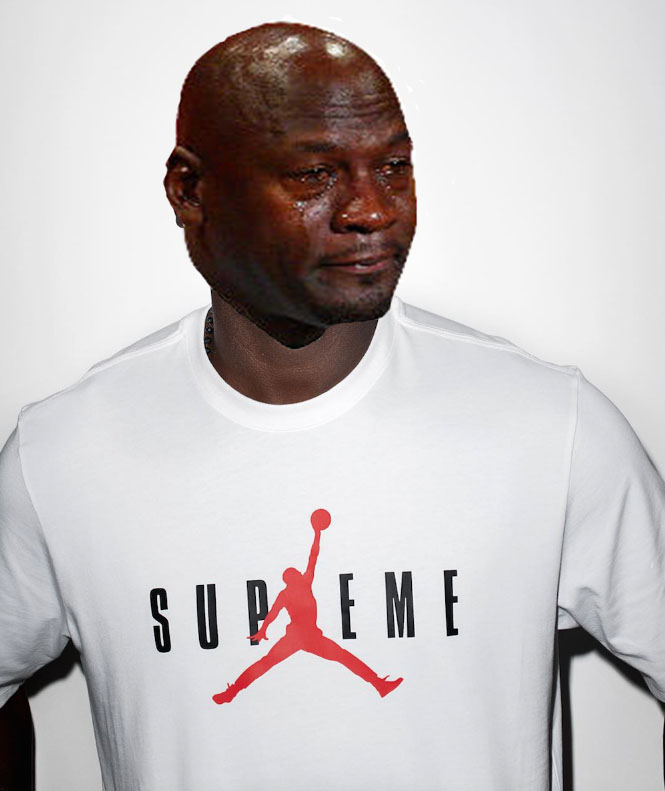 Because of recent trends, word of Jordan Brand's Supreme collection wasn't the most surprising news in the world. However, seeing Michael Jordan wearing a Supreme-branded t-shirt in a Terry Richardson photoshoot was probably something most sneakerheads would have deemed unthinkable.